Chasing Places is the brainchild of the travel-loving, adventure-seeking husband and wife duo:

Josh and Pat
GET IN TOUCH
Tell Us What You Think about our Travel Articles. 
We enjoy hearing from readers and love to make new friends and acquaintances.
Email us directly: [email protected]
Like and Follow Us on Facebook: https://www.facebook.com/chasingplaces.net
Another fun way to connect with us is by becoming a member of our Facebook community page…looking forward to meeting you!
WORK WITH US
Chasing Places is thrilled to work with a reputable company/organization that are in line with our business goals and values.
Let's talk! We are open to:
Guest blogging

Sponsored traveling and blogging opportunities.  

Private Advertising arrangement through banners and links
We get around 70 thousand pageviews every month, and a big chunk of this is organic.  This means that we have high-quality articles that our readers find informative and valuable. The people we tend to attract to Chasing Places are people who genuinely love traveling.  AND we're not done yet, we are still growing!
Pat, the creator of Chasing Places is also a freelance writer so if you have a business proposition or collaboration idea, she would be happy to hear it!
Where Did It All Begin?
About 8 years ago, Josh and I met on a cruise ship traveling around South Pacific. No, we were not having a relaxing luxury holiday, we were actually working as crew members.
Like Rose and Jack in Titanic, we fell in love (cue the cheesy music). Our ship did not sink and no one died! But we had a problem. Josh and I are not from the same country. It was a classic 1st world and 3rd world romance, which means our main problem was finding a way to be together.  Well, we didn't have much money or connections at that time so ended up going for the 'dreaded' long distance relationship.
It was a struggle but we made it worked.  I continued doing ship contracts and Josh decided to go back to school. Until finally, he saved enough money to visit me in the Philippines. He also suggested that we should use our time to see other places in Southeast Asia. And that's where it all began. We spent a month traveling around, seeing places, learning about other cultures and getting to know each other better.
From then on, traveling became a passion, a need, a drug. We knew we couldn't travel forever – we had jobs, families, and responsibilities. But the passion for travel has never left us.
Chasing Places is the product of our LOVE for travel.
The first thing that you must know about us is that we are not millionaires (although I wish!). Josh and I are able to travel the world because we choose to. This means that we have made sacrifices and compromises along the way to pursue our passion, to achieve something that truly makes us happy.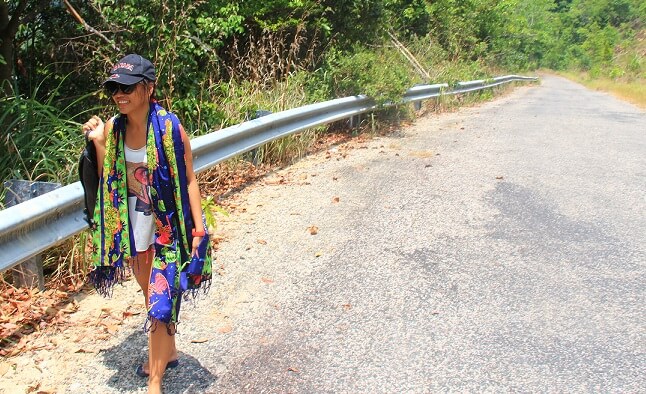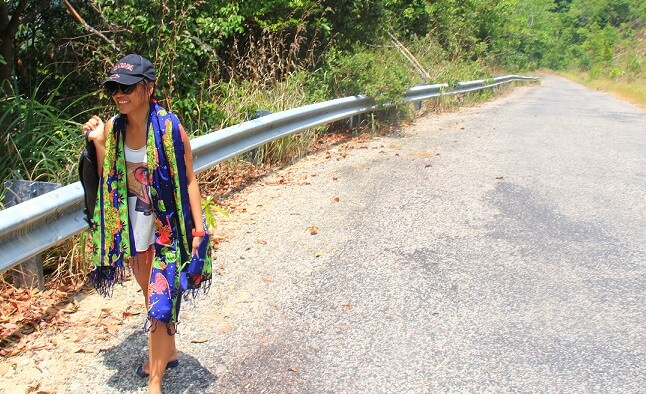 My Story
Former classmates, mentors and my own mother told me that I could have been a lawyer, professor or even a politician (yikes!). I am none of those. I write for other people, "assist virtually" or give private language classes. The internet has become my workplace and computers are my co-workers. I sometimes talk to walls and most people I meet lift their eyebrow when I tell them I work online.  In return for these compromises, I have the flexibility to see more of the world.  I willingly work on a weekend if it means that I can travel the week after.  I save money to book a plane ticket rather than to buy the latest smartphone in the market.
"Traveling is not a right, it is a privilege.   A privilege that I have had to work hard for."
I am from the Philippines. Though I am proud of who I am, having a Filipino passport unfortunately made seeing the world more challenging for me.  I often needed visas to enter countries. This means I had to prepare and submit a whole lot of paperwork just to prove my worth as a tourist. But that's not even the worst part. Despite my time and effort preparing my visa applications, I've experienced rejection way too many times. There were even instances that I was mistreated by consular officers. Because of these ugly experiences, I wanted to give up traveling. But in the end, I just couldn't.
"Everyone can do what they want or get what they want if they are willing to fight for it."
Why I Travel?
Traveling has made me who I am today and it has helped me determine what I value in life. And despite my admitted failures, weaknesses and ongoing challenges, I can honestly say that I love who I have become.
In the beginning, traveling was nothing but a subject of my daydreaming days. I perceived it to be an endeavor reserved for the rich.  And as you may already know, I eventually found myself living that dream. But it isn't as glamorous as I initially thought it would be. In fact, it is a lot of work.
So what is pushing me to travel more?
At some point traveling has become more than something that I can brag about or a badge of achievement that I wear on my chest.  The person that I am today and the values that matter to me, are a result of my travels.
Yes, it's fun to actually see world-famous attractions that I've read about. It's nice to meet new people. It's exciting to do an activity for the first time.  But the excitement these things bring doesn't last. What stays with me are the lessons I pick up along the way.  Traveling has taught me that:
The most beautiful things in the world are made by Mother Nature – and they are usually free.
Not all people think and live the way I do.
If I don't open my heart and my mind, learning will not take place, change will never happen.
I know I am getting too deep but hold on!
Do I expect you to have an earth-shattering, mind-changing trip? No, I didn't have that either.  It was something gradual for me, and it is still an ongoing process of traveling, discovering and growing.
What I am saying is that it all starts out by planning your trip better, by maximizing time and by doing the things that you enjoy rather than what you can brag about.
How We Travel?
We always travel following a certain budget and plan. In all of the years of discovering new places, we realize that careful planning is the key ingredient to a very worthwhile travel experience. Our travel goal has always been to maximize time, budget and opportunities while having fun of course! Before we go on a trip, we plan it well.  We research places we want to see, we draft up an itinerary and we book flights and hotels well ahead of time.
Because we travel on a specific budget, we make compromises. For instance, on some trips, we sleep at 2-star or 3-star hotels opposed to 4-star hotels, so we have enough money to do other activities.
It is all about making compromises and adjustments when it comes to traveling the smart way.
What Makes Us Different From Other Travel Blogs?
I don't write because I want to show you the places I have been. I write because I want to save you time, money and energy in researching practical information that will make your travel experience better. At Chasing Places, this is what we do:
We make the plan.
We do the trip. 
We share what we've learned.
These are just some of the questions we answer in our articles:
"How do I get from the airport to my hotel?"
"In which neighborhood should I book my accommodation?"
"What should I know before visiting the area?"
"Is it safe to travel there?"
"Are there places I can see for free?"
As much as possible, we only want to offer useful information and tips that have been proven to work.  We never write articles about places we haven't personally visited.
Remember this: Where you travel is less important than how and why you travel.
So there you have it!  If you have reached this part, then you pretty much have a good picture of who we are and what Chasing Places is all about.
DISCLOSURE
Advertising, affiliate commissions, and partnerships with hotel, flight, and transport providers are the THINGS that support this site operation and my writing.  For User Privacy Information related to Advertising, visit our Privacy Page.
If you appreciate what we're doing and wish to give back to the site, you can use our affiliate links to plan your awesome trips. When you purchase products or services from our affiliate companies, Chasing Places will not charge you any additional fee.  It's a win-win situation for everyone; so I hope that you continue to appreciate and support us.
I try to give accurate travel information as much as I can. My aim is to help you, but there may be times that information may change for reasons beyond my control.
All images, videos, and texts on © chasingplaces.com must not be used without permission. Should you wish to use any of the images and articles, please write to  [email protected] for loading fees and rates.