Boracay is considered to be the most popular beach destination in the Philippines. We have visited Boracay on multiple occasions and we always had a great time.


Background
Boracay lies off the northwestern tip of Panay Island in Western Visayas Philippines. It's land area measures 10.32 km² and belongs to the province of Aklan.
Why You Should Visit
Boracay Island is an award-winning island, earning recognition for its incredible beauty from reputable travel publications like Travel + Leisure and Conde Nast Traveler.
A visit to Boracay is a good introduction to Philippine Island traveling for the following reasons:
– It has white powdery beaches and crystal clear water. (not a lie or an exaggeration!)
– It's big enough that it won't bore tourists staying for more than a couple of days.
– It's very tourist-friendly with well-developed infrastructures like hotels, resorts, entertainment and leisure spots.
-It's easy to get to as it is only a 40-minute flight away from the capital city, Manila.
Boracay has developed a reputation for being a mass tourism and party island, but it is a much more flexible holiday destination than most people think. You can find resorts outside the bustling areas and they are on or near beaches that are just as nice as the main beach (White Beach).
Despite having many luxury hotels, Boracay also caters to budget and mid-range travelers. If it's your first time visiting a Philippine island and you want a beautiful, yet convenient and fun island to visit, Boracay is an excellent choice.  If you hate the crowds, there are ways to get around that, just as long as you plan your trip accordingly.
How to Get to Boracay
The first step to getting to Boracay is by booking a flight well in advance.  Many tourists fly to Manila, the capital of Philippines, before taking going to Boracay.
There are two airports that visitors to Boracay can choose to fly into: Kalibo (airport code KLO) and Caticlan (airport code MPH). Kalibo, is an 'international airport' and it has a longer runway than Caticlan. Subsequently, larger planes and more tourists fly into Kalibo.  Kalibo is roughly 1.5 to 2 hours away from Boracay Island. Caticlan typically has only 'prop' planes landing there which are not as safe.  But it's very convenient being only a few minutes away from Boracay's ferry terminal.
What's the best way to get the cheapest flights to Boracay?
We have flown to Boracay on various occasions.  There are a bunch of airlines that fly into both Kalibo and Caticlan and their prices tend to be quite comparable to one another with the exception if a sale is on. It's probably best that you use a price comparison site that will find you the cheapest flight price while saving you the time of searching various websites.  We used BookingBuddy for our trips to Boracay.
Here is a more detailed information on flying to Boracay:
Getting Around Boracay
The tricycle is the primary public transport option available to tourists. They can be gas or electric powered.  The electric ones follow a designated route like a public bus. Hotels on Boracay can arrange private transport upon request.
Take note that Boracay roads are narrow. The main road on the island runs along White Beach can be especially busy in the early evening and during high season.  Some locals offer motorcycle rides for a set price, although they are not government regulated.
To help ease traffic, we recommend that you walk as much as possible especially if you're just staying around White Beach.
For more detailed information, read: Boracay Transportation Guide
The Beaches of Boracay
They are main reasons to visit the island. There are many beaches around Boracay island. Most of them are public but some of the nice ones are private properties.
The best accessible beaches on Boracay are:
White Beach
This is the most popular beach on Boracay Island. Most of the hotels and tourist establishments are found around this beach area.  It is divided into sections called: Boat Station 1, Boat Station 2, and Boat Station3.
For more detailed information: The 7 Things You Need to Know about White Beach, Boracay
Bulabog Beach 
This beach is located on the eastern side of Boracay Island, opposite to White Beach. Bulabog Beach is a hub for water sports.  Kiteboarding and windsurfing are quite popular from November to April, when the wind current is strong.  During other months, the beach is a favorite location for various water sports.
Although it is less developed than White Beach, Bulabog also has hotels, restaurants, and bars. Some tourists like to stay on this beach because it is generally quieter than White Beach.
Learn More About Bulabog Beach 
Puka Beach 
Located on the northern tip of Boracay Island, Puka Beach is a stunning and serene spot that hardly has any development. It is called Yapak beach because it is near a village of the same name. Stretching about 800 meters, this gorgeous beach is unique due to the texture of its sand, which is heavily mixed with crushed Puka shell.
Puka Beach is a must-visit. For more information, read:
 9 Things You Need to Know Before Visiting Puka Beach, Boracay
 How to Get from White Beach to Puka Beach
Ilig-Iligan Beach
Situated on the northeast coast of Boracay Island, Ilig-Iligan Beach is a delightful piece of sandy paradise that not many tourists know about. Ilig-Iligan is a short 7-minute ride from Puka Shell Beach (2.5 kilometers between the two beaches). You can even walk to it from Puka if you have the time. The trek takes about 30 minutes.
Read more: 6 Things You Don't Know About Ilig-Iligan Beach, Boracay Island
What to Do on Boracay
Despite its size, Boracay is such a versatile island in terms of activities and leisure. You can always choose to lounge on the beach all day, but you also have a choice to go island hopping, windsurfing, zip-lining, jet skiing and snorkeling. If you're the type that wants to do something fun and active, Boracay is a great island to do just that.
For more details: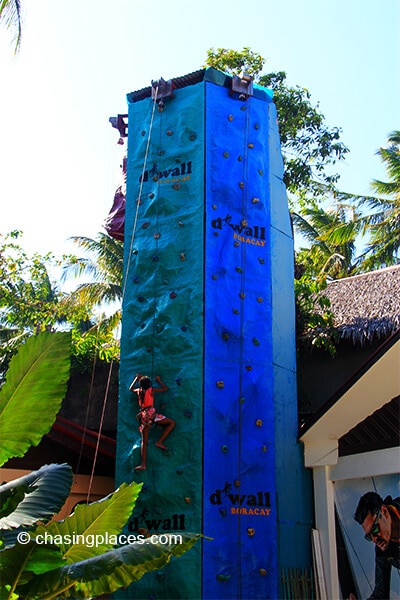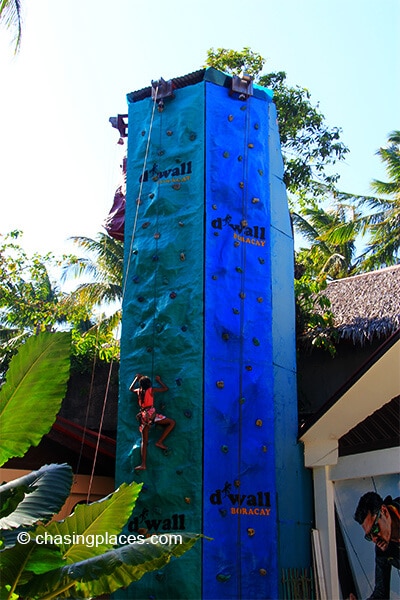 Where to Eat and Drink
Boracay is the most developed beach in the Philippines. It has a good selection of restaurants and eateries.  It has fancy western restaurants but it also has Filipino fast food chains and cafes perfect for those on a budget.
You can find beachside restaurants along White Beach. Many of the good ones are around Boat Station 2, close to D'Mall.  More affordable restaurants are usually found across the main road from White Beach.
My recommendations:
Mang Inasal – try out that oh so delicious Filipino Inasal Chicken.
Gerry's Grill – has reasonably priced seafood and has tables facing the beach.
Lemoni Café and Restaurant – suited for those looking for a clean and cozy western restaurant.
You have plenty of choices when it comes to bars and clubs on Boracay. Just walk along White Beach from Boat Station 1 to Boat Station 3 and take your pick.  In terms of alcohol, most bars pretty much serve the same varieties. San Miguel is the staple beer and usually served in bottles. Cheap rum, vodka and spirit are available in convenient stores like 7-eleven.
You can drink in public including the beach on Boracay, but please don't leave the bottles on the ground as locals are strongly against littering on the beach.
Random Fact: Beer gets warm in the Philippines fast because of that tropical weather, so locals prefer putting ice in their beer.
What to Avoid, Security and Safety
Boracay Island is reasonably safe and locals are friendly to tourists. However to ensure a stress-free vacation on Boracay, here are some reminders:
Drugs:
Avoid buying and using drugs in Boracay. Philippine law is strict when it comes to drug abuse and the reinforcement of this law is much more aggressive nowadays. There are also cases of tourists being extorted by law enforcers.
Touts:
Unfortunately, touts are also present in Boracay. Most of them will hassle you to go on an island hopping tour. They can be annoying but they are legitimately offering the tour and do not intend to rob you.
During low season, you can get a better deal with them as opposed to arranging it with your hotel.  I usually approach a tour office (more like a shack) for my island hopping needs. I am not referring to the fancy ones, just the ones by the road. They give me more security than the touts and they are also cheaper than booking it with the hotel.  You can also approach a boatman because they usually do all the work while touts and hotels are just middle-men taking a cut.
Theft
Mugging is not common at all. There's generally no problem walking at night around the island. But as a safety precaution, do not bring a lot of cash with you, especially if you're going out drinking.
Hotel thefts are not common. I left my valuables in a 2-star hotel with no problems. But if you're staying at a hostel, don't leave valuables lying around. Put them in a locker, which is often provided.  If your hostel does not provide a locker, then seriously consider booking another place.
Find Your Accommodation on Boracay Island Fast and Easy
Boracay Island has a big variety of hotels and room types that cater to a wide range of travelers.  The island has hostels and guesthouses for backpackers and budget travelers. But it also offers mid-range hotels and luxurious resorts and villas.
We especially like staying at boutique hotels during visits to Boracay because they are usually reasonably priced, well-run and charming.
If you would like to shop around for hotel deals and compare prices, then use the hotelscombined search box below to get a feel for the room prices in Boracay right now:


Top-Rated Accommodation on Boracay Based on Guest Review Rating
Important: Mobile Users must swipe from left to right to see entire table.
Criteria:
Properties rated based on 'overall' review scores from each respective website's verified guests.
Minimum of 50 verified guest reviews required to be considered eligible for comparison.
All star ratings and verified guest review scores are tallied at the time of writing, and therefore, are subject to change.

Do you need more information on Boracay? Interested in visiting other amazing places near Boracay? The Lonely Planet Philippines Guide will give you practical and insider information to a fascinating country known for its pristine beaches and happy people.
Lonely Planet is the world's number 1 travel guide company.  Get this guidebook as a PDF or Kindle Format (EPUB).  After downloading it to your device, you don't need WIFI to access while traveling!
Choose between getting the entire e-book or just the Boracay Chapter. It's that simple! Make your trip to Boracay more memorable and meaningful.  
Medical Services
Boracay does not have a proper hospital at the moment, only clinics which have doctors and nurses. For major medical emergencies, patients are usually boarded on a boat and transferred to Caticlan. From Caticlan, an ambulance can bring the patient to Kalibo.
Before booking your flight to Boracay, make sure that you bring your medications and prescriptions and consult with your doctor if you're fit to go for a holiday.
Please take note that Boracay is a small island in a developing country. Do not expect top notch medical assistance, although there have been reports that the service is not too bad.
"Better safe than sorry!"
Medical emergencies, accidents, and theft can happen. That is why getting travel insurance is a smart move just in case something went wrong.
We particularly like a travel insurance policy that can cover the costs for lost passports, valuable documents, medical services and emergency evacuations.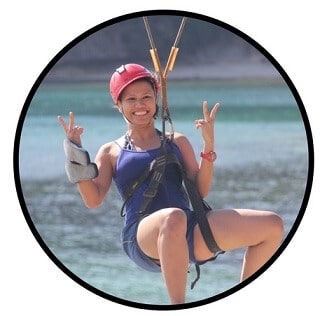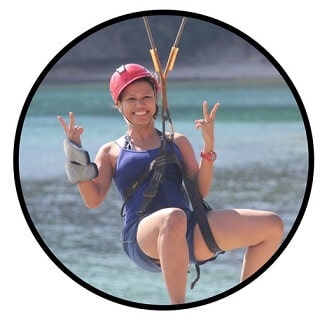 Hi there! If you've found this guide helpful, please consider booking via the links here as it helps us keep Chasing Places a free travel guide website. All the companies I mentioned are carefully selected and we used them in our travels. If you have any questions, email us!