Most tourists that visit peninsular Malaysia have never heard of Cherating Beach. Sites such as the Petronas Towers and the idyllic isles like Langkawi and Redang get much of the hype and consequently the majority of international visitors. Places like the Towers can absorb large numbers of tourists because of developed architecture, but what about beaches? Unfortunately, high tourist numbers often makes it more challenging to enjoy a truly relaxing weekend on the beach away from the hustle and bustle of everyday life. Every once and a while I like to just chill out on a quiet beach to soak up some balmy ocean breezes in a laid back environment.  Fortunately, I got the opportunity to do so recently. The location was Cherating Beach and here is my story.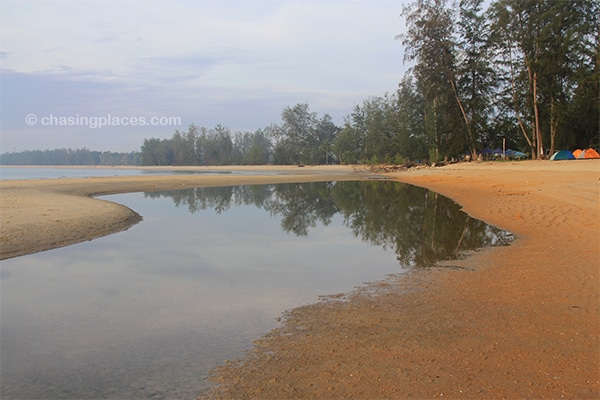 I first became familiar with Cherating Beach a few years back when I was planning a few excursions.  Until recently, I just didn't have the opportunity to make it to that side of the peninsula.  It is a unique destination for a couple of different reasons.  First of all, it is one of the only locations in peninsular Malaysia with a surfing culture (especially from October to February). Secondly, it has been regarded as a super laid back, affordable, backpacker haven.  Since I decided to travel there in April, I naturally, did not expect too many large surfing waves, so I wasn't disappointed by the tiny ripples coming in.
I was initially quite surprised by how undeveloped the beach actually is.  A similar coastal beach such as this in Thailand would undoubtedly have hundreds of beach chairs and resorts crammed next to each other to capture those lucrative sea views.  Not Cherating though.  Every morning I practically had the beach to myself.  Only when the sun started to come down did I notice more of the locals making their way to the sandy football field on the beach and the water for some swimming.  It was an interesting change seeing more locals on the beach enjoying their local environment than weekend tourists. The opposite is true on most Southeast Asian beaches.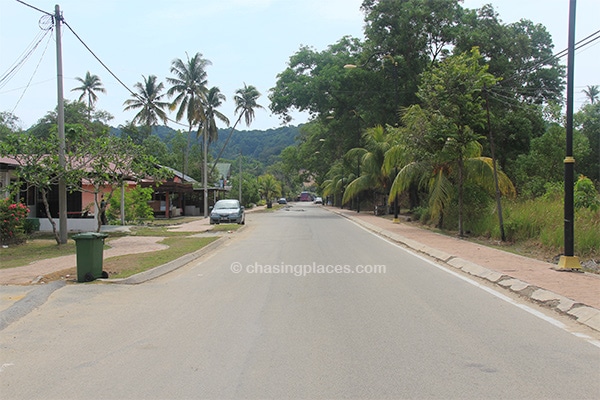 Since this was first trip to Cherating Beach, I wanted to spend as much time as possible on the beach itself. Although there are many different day trips and excursions available, I opted to be a beach bum for a couple of days. Since the water level at high tide is optimal for swimming I took a few dips before I whipped out a frisbee for some additional excitement. Like I mentioned before, this is the kind of place where you just want to bring a few great friends and a captivating book in order to enjoy the relaxing vibe as you stay right near the beach.
As I rested on the beach during my second day at Cherating, I began to study how fluctuations in the level of the tide affected the appearance of the beach.  At peak levels, the beach has a fairly steep slope to the water, but as the level continues to decrease the beach opens up.  As it became wider and wider, I could feel the beach transform into a more powerful creature. Staring out at the ocean beyond the ever widening strip of sand was like peeping into a room you have never entered before.  The ocean floor had a story of its own.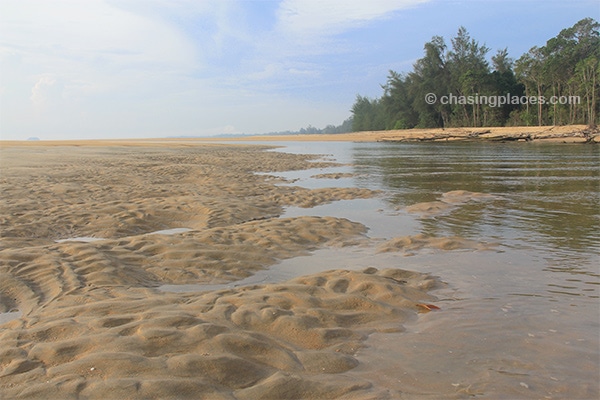 Travel Checklist: Do you have everything you need?
Staring out at the ocean was one thing, but observing the tree interior lining the beach was another. Unlike many of the beaches I have seen before, Cherating is free of tall-high rise establishments peeking through and above the trees. This creates a frontier feeling, a feeling far removed from mass tourism. Walking down the beach on the second morning, I couldn't help but notice the vivid reflections on the surface of the water. Reflections that were not obstructed by other tourists because the beach was empty. On my way back to the access road, I made a stop at the small beachside café and enjoyed a local pancake. It could have been one of the most affordable places to eat that I have encountered in such a prime natural environment. Unfortunately, some other creatures had an appetite of their own when I walked back to my guesthouse near Cherating Beach.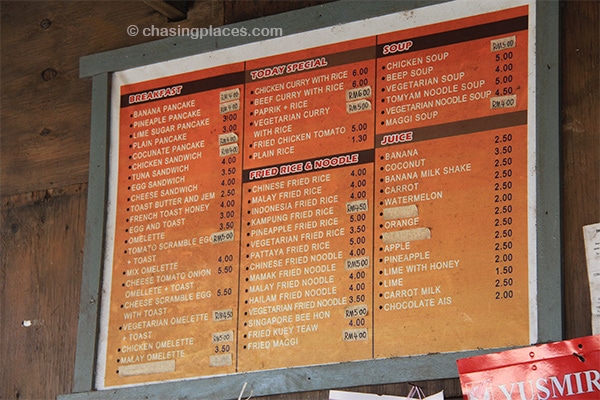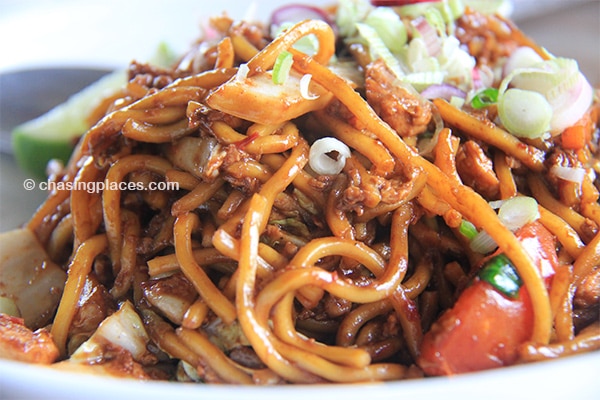 A few of the locals in the area had mentioned to me the day before that they had some resident macaques that were causing some mischief recently.  I glanced over early that morning after I heard some commotion only to notice a group of them rummaging through the garbage.  I even managed to catch one of them downing the remnants of a Soybean-based drink very much like a human. Needless to say, they were the fastest moving creatures that I saw that weekend at Cherating Surf Beach.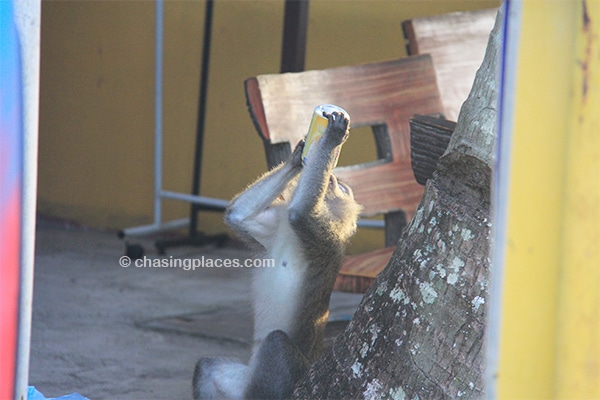 After every new destination I visit, I find myself asking the same old questions, "Would I go back and under what circumstances?"  Since from time to time I do enjoy relaxing in a tranquil environment I can honestly say that Cherating Beach will be one of the first places on my "relaxation" list.  But remember, travel experiences can also be influenced by the expectations you create before you arrive at a new destination. Therefore, it is important to consider what you really want and need before heading out on your next journey.
Cherating Beach is recommended for:
Budget travellers and families seeking a laidback beach environment removed from mass tourism.  Surfers will enjoy the prime months from October to February, but expect things to me a bit busier during surfing season. There are plenty of outdoor activities (fishing, kayaking, cycling, etc.) available if the pace gets a bit too slow for your liking.
Cherating Beach is not recommended for:
Travellers seeking an exciting night life or those looking forward to getting pampered in luxury resorts
Additional Reminders: Always look into the weather forecast before you head to Cherating Beach.  At times, there can be very heavy rain and flooding in the area around late November.
How to find the cheapest rooms near Cherating Beach?
We have visited Cherating Beach on many different occasions over the years.  We used www.agoda.com for our online bookings.  They offer a solid selection and reasonable prices. Another useful site for rooms in Cherating is www.hotelscombined.com. Hotelscombined is regarded as the world's best site for comparing room prices before booking. Since Cherating is a small place, with a local feel to it, I would suggest staying as close to the beach as possible to have access to convenience stores and other travel services (buses, tours, maps etc.).
Top Rated Properties in Cherating
Based on Verified Guest Reviews
Important: Mobile Users must swipe from left to right to see entire table.
Criteria:
Properties rated based on 'overall' review scores from each respective website's verified guests.
Minimum of 50 verified guest reviews required to be considered eligible for comparison.
All star ratings and verified guest review scores are tallied at the time of writing, and therefore, are subject to change.