After one look at Hoi An you will know that it is one of the must-see destinations when traveling in Vietnam. Hoi An is a historic town that will delight your sense of sight with its lovely charismatic riverside, grand architecture, and old world charm.  The Old Town is the heart of Hoi An and it is the reason why the town is listed as one of UNESCO's World Heritage Sites.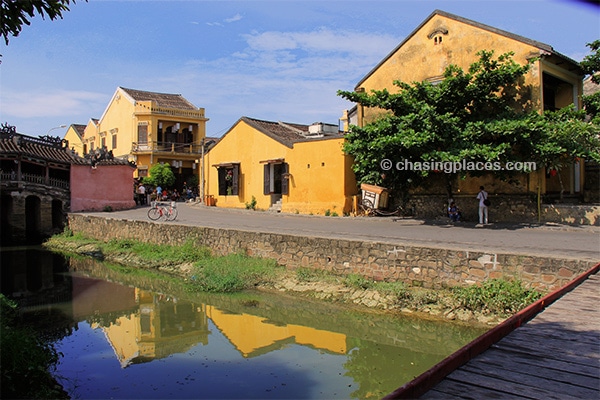 Hoi An is very good at keeping its traditional life, religion and customs intact despite growing tourism. Here, you can easily find restaurants serving traditional local cuisines, whose recipes were passed from generation to the next.  This Vietnamese town serves as a fine example of a traditional Asian trading port with its fusion of cultures and commercial maritime influences. Some archaeologists suggest that the town has been a port and trading center since 2nd century BC. But the town's trading dominance had a real rise during the late 16th to early centuries. Today, Hoi An is wealthy and welcoming, and has become Vietnam's most notable tourist hub. The city itself is composed of old structures converted into boutique hotels, lounge bars and a battalion of tailor shops. These somehow, however, do not become eyesores and they are strategically located slightly away from the core of Old Town.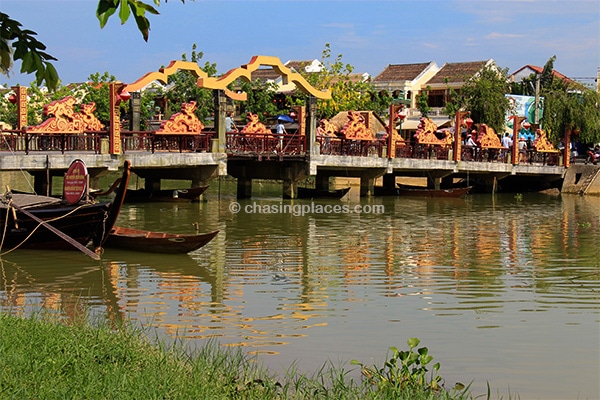 The Thu Bon River peacefully runs into town, enabling it to thrive as a trading port in South-East Asia. Despite the high tourist numbers Hoi An and UNESCO have magnificently preserved a number of Chinese temples, pagodas, merchant houses, tea warehouses and communal houses. These structures follow traditional Vietnamese designs combined with other cultural influences like Chinese and Japanese. Most of the buildings are believed to have been built between the 19th and 20th centuries. The main thoroughfare in Old Town is Tran Phu. Here, you can find the larger pagodas in town.  You can easily find Hoi An's most precious architectural gems aligned along narrow lanes. Aside from pagodas, you can find community houses and family cult houses in the Old Town. Family cult houses are specifically built to serve as a place to worship ancestors; while community houses are also used to worship other prominent people such as settlement founders and ancient sages.
Exploring Hoi An
To protect it from the nuisance brought about by 21st century living, the Old Town remains a walking and biking district. Large motored vehicles are not allowed to roam in certain sections.  Motorbike riding around the center of town follows a restricted schedule.  As a result, there is still a feeling of serenity and a laidback feel that can be felt while you're exploring the town. Hoi An's beauty and inherent tranquility is the reason why many travellers end up staying for weeks here without any complaints.
The best ways to see Hoi An's fascinating buildings and monuments are by walking or riding a bicycle.  Aside from dropping by the temples and pagodas, you should also make your way to the picturesque ferry quay and the open market. The market is a vibrant spot especially in the morning where locals and tourists rub shoulders to shop for food and other items.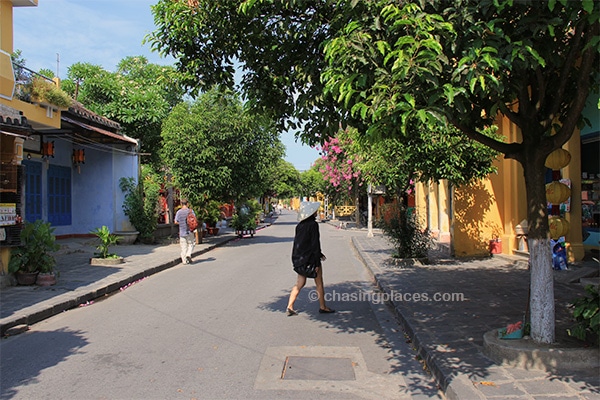 Travel Checklist: Do you have everything you need?
What to do with your Coupon?
If you want to gain access to Hoi An's historical sites, you may purchase a ticket from official tourism desks located at the entry points of the Old Town. The ticket gives you entry to five attractions only since the ticketing for these historical sites follows a coupon system.
The five attractions can include one old house, one assembly hall, a museum, a choice between the handicraft workshop or the traditional theater and a choice between the Japanese Covered Bridge and the Quan Cong Temple. Visitors are expected to dress modestly. This means men should wear a shirt and women should refrain from wearing sleeveless blouses and short skirts.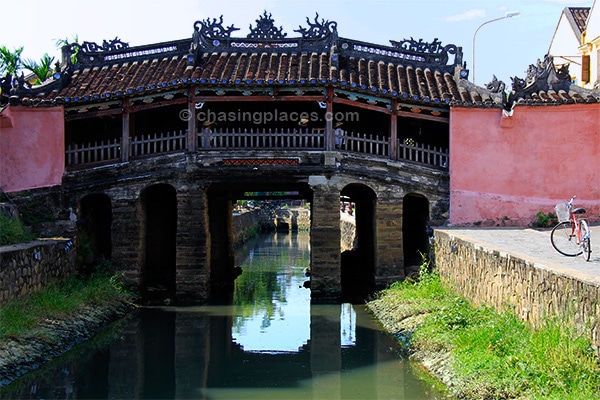 Japanese Covered Bridge
This 17th century Japanese inspired wooden bridge is situated on the westernmost section of Tran Phu Street.  It was originally built by the Japanese community who once lived in town. In the 21st century, it served as an iconic symbol for Hoi An.
Quan Cong Temple can also be found on Tran Phu.
These are four museums you can choose to visit with your visit coupon:
Museum of Folk Culture

– highlights the attire and culture of rural Vietnamese.

Museum of Trade Ceramics

– An old house that represents the traditional layout and shape of an Old Hoi An home. It also houses a number of old pottery items.

Hoi An Museum of History and Culture

– contains 20

th

century black and white photos of the town as well as 9

th

century bricks and tiles, antique canons and two-thousand year old pots.

Museum of Sa Huynh Culture

– has a collection pottery and urns that date back to the 1

st

and 2

nd

centuries.
Phung Hung House, Quan Thang House, Tan Ky House, are three major old houses that you can visit with your ticket.
How to get to Hoi An?
Lovely Hoi An sits on the north bank of the Thu Bon River. Most travelers choose the city of Da Nang as the access point to the ancient town. A number tourists that come from key Vietnamese cities like Ho Chi Minh and Hanoi, as well as neighboring Southeast Asian cities like Bangkok, Siem Reap and Singapore usually land at Da Nang Airport, the closest airport to Hoi An.  From here, you can take an airport taxi, a regular taxi or a mini bus to reach Hoi An. The journey usually takes approximately 45 minutes.
How to find the cheapest room in Hoi An?
There are many lovely guesthouses and boutique hotels in Hoi An.  Another great spot to stay is on the stunning beach about 5 km from the town itself. I used www.agoda.com for my room bookings, but another solid option is www.hotelscombined.com.  Both Agoda and Hotelscombined have solid prices and a large selection of rooms to choose from therefore they are good starting points. I would recommend a guesthouse if you're staying in the city and a resort if you want to stay on the beach.
Be sure to enjoy your time in this remarkable city!