The beautiful Perhentian Islands are one of the prized destinations on the east coast of Peninsular Malaysia. Unlike Thai island counterparts, the islands are less developed and less densely populated.  The Perhentian Islands offer absolutely gorgeous stretches of white sand and clear turquoise water, which are actually part of a protected marine park. There are also more and more well-managed hotels and resorts popping up on the Perhentian Islands.
The nearest city to 'Perhentian' that has a fully operating domestic airport is Kota Bharu. That is why it is the most popular gateway to the islands.  If you have booked a flight to Kota Bharu (try Momondo and/or BookingBuddy) with Perhentian as your final destination; here is a step-by-step guide on how to get from Kota Bharu Airport (Sultan Ismail Petra Airport) to Perhentian:
1. First book a flight to Kota Bharu Airport – also known as Sultan Ismail Petra Airport. Once you have landed, then purchase a ticket from the taxi counter at the arrival section of the Sultan Ismail Petra Airport – the official name of the Kota Bharu Airport.   You will need to travel by land from Kota Bharu airport to Kuala Besut. Kuala Besut is the access point to Perhentian.  All boats to the islands leave from the pier of this town. Hiring a taxi from the airport is the fastest and most convenient way to reach Kuala Besut port. There are no local buses or trains that service this route directly from the airport. We recently completed this journey. The fare is 78 Ringgit, and the journey takes about an hour. If you're arriving late you can book a room here in Kuala Besut. Ferries don't run late at night, therefore Kuala Besut has become a convenient 'one night stop' before catching a ferry to the Perhentian islands the next morning.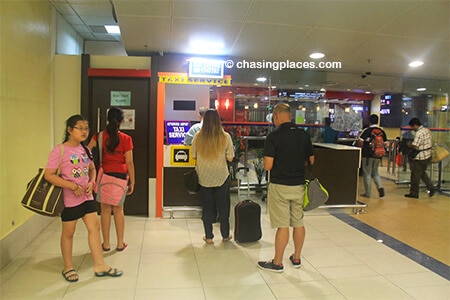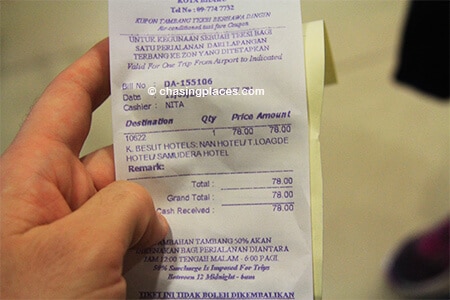 2. Proceed to the Kuala Besut Pier.  All airport taxi drivers know that most tourists coming from Kota Bharu Airport want to go to Perhentian, so they will know where to drop you off. But if your flight arrives late at night, then you won't make it in time for the last boat, which only runs until 5 pm (March-September).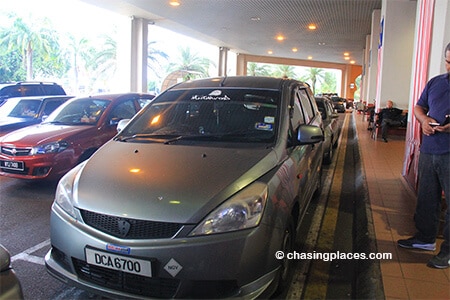 If this is the case, be proactive and book a room at a hotel or guesthouse near the port.  Because of the steady flow of tourists, there is a collection of hotels and other accommodation types near the pier.  It is important that you book your accommodation near the port if you want to walk to catch the earliest boat to Perhentian the next day.
3. Purchase your speed boat/ferry ticket to Perhentian Islands.   There are a couple of ticket stands and tour offices in the vicinity of the pier that sell speed boat tickets. Since Perhentian is first and foremost a diving site, some diving companies offer packages that include boat transfer arrangements from Kuala Besut port.
If you did not arrange for a diving package, you may purchase your ticket at one of the ticket stands before your intended departure time. You can also buy a ticket from tour offices the day before.  It is usually not busy enough that tickets will run out, but it's never a bad idea to be proactive especially during peak season.
The boat tickets sold by companies are often return tickets, and the normal price is 70 Ringgit. Some tour offices offer special discounts of up to 25%, so it might be good plan to shop around before purchasing. During our trip we got our tickets for 50 RM per passenger with a special promo from Kuala Besut to Perhentian and back.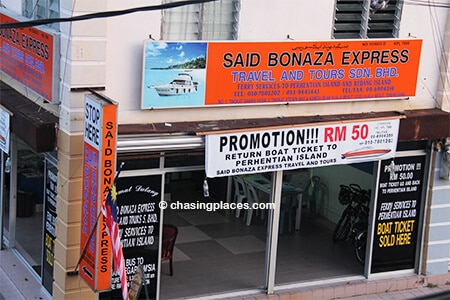 4. Show up at least 30 minutes early and find the right boat. The boats to Perhentian Island are not slow ferries, but rather speed boats that can accommodate about 15 people.  The most important thing to remember is that they are run by different companies. So when you reach the pier departure area, don't hesitate to ask the boat operators where you should go.  Unfortunately these operators are not wearing proper uniforms and the whole boarding setup is quite disorganized and confusing. The best thing you can do is show up at least 30 minutes early before your departure time; show your ticket and open your mouth. It pays to ask the people at the pier as to which boat you should take. Upon seeing your ticket, they will assign you to a boat. The first boats to Perhentian from Kuala Besut depart at 8 am in the morning. Therefore, check departure times before you check out of your room.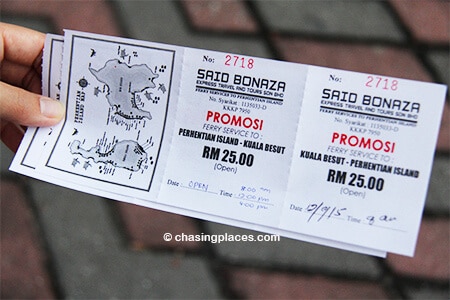 Travel Checklist: Do you have everything you need?
5. Pay the environmental fee. There is a separate government stall on the left hand side of the pier's departure area. Find it and pay the environmental fee of 5 Ringgit per person. Operators will not let you onto the boat without checking the environmental fee ticket. The trip from Kuala Besut to Perhentian will take 25-35 minutes depending on the weather.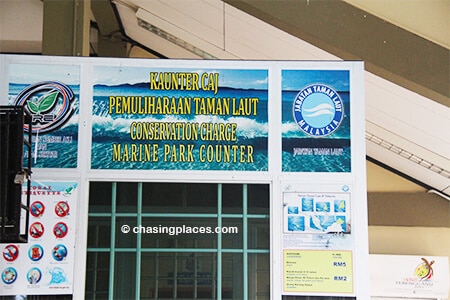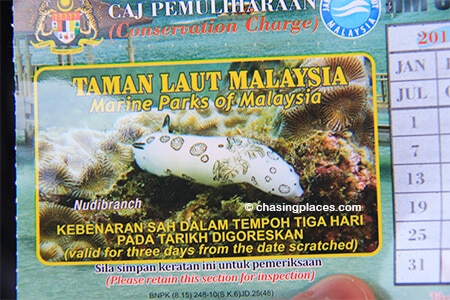 6. Inform the boat operator of your specific destination on Perhentian. There are two major islands in this archipelago that have a couple of beaches where tourists usually go to. Long Beach and the Perhentian Island Resort are just some of the common destinations for tourists.  Most major beaches have their own small dock (except Long Beach) and the boat will take you directly to your respective beach. Depending on the tide, sometimes small boats will meet speedboats going to Long Beach.  They charge an additional 2-3 RM per passenger for this small transfer.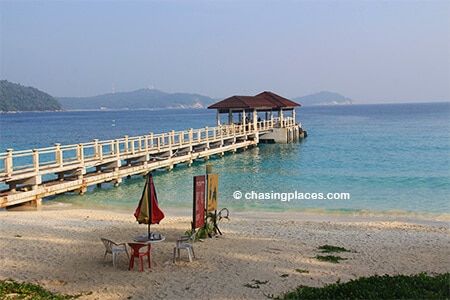 Getting back to Kota Bharu Airport from Perhentian Islands
1. Inform your hotel/guesthouse about your intended departure date and time. If your return boat ticket has the number of the operator, ask your hotel to contact them. It is important that you don't wait till the last minute to arrange your boat transfer back to Kuala Besut. Do it a day before to secure a seat at the time you prefer.
2. Proceed to the dock for pickup. Show up at least 15 minutes early and keep your ticket as the boat operator will collect it. If your speedboat isn't full, expect to stop at other resorts before heading back to Kuala Besut.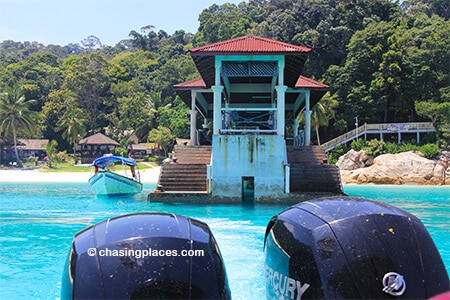 3. Take a taxi or minibus from the Kuala Besut pier.  When the speed boat brings you back to Kuala Besut, you just need to walk outside the pier to get a taxi or minibus back to the airport. The minibus will be cheaper because they take in more people. The minibus fee is 25 RM per passenger.  If you prefer a taxi, the fare should be around 70 Ringgit. Therefore, if you are travelling in a group try to hire a taxi to get from Kuala Besut to Kota Bharu. You can compare flight prices from Kota Bharu to your next destination using this link.
Accommodation Information: Kuala Besut and Pulau Perhentian
Where did we stay during this trip?
In Kuala Besut
When we arrived in Kuala Besut the night before we took the speedboat to Pulau Perhentian our main priority was staying within walking distance of the pier. The last thing we wanted to do was to wake up and arrange another transport connection. Eventually, we decided to book at T'Lodge. We don't have a direct affiliation with this property or any of the properties in Kuala Besut or on Perhentian.  Therefore, we have an unbiased opinion of the properties we stayed at. Overall T'Lodge turned out to be a satisfactory budget place to stay.  The room we had was large, but slightly outdated with basic amenities.  The staff was friendly.  It's literally about 2 minutes away from the pier and that was our priority. At the time of writing it had a score of 6.8 based on 85 verified guest reviews.  We feel that this is a pretty accurate representation of what we thought of the place.
On Pulau Perhentian
The main priority we had when finding a room on Perhentian was staying near a beautiful beach.  We didn't want to make all the effort of going to the east coast only to stay on an average stretch of sand. We eventually booked at Perhentian Island Resort. True to the reviews that we had read before visiting, it boasts one of the nicest beaches we have seen in all of Malaysia.  As an added bonus it also had snorkeling right off shore and great visibility. And now the downside – the resort itself needs a renovation. It's a bit old and could use a face-lift. At the time of writing it had a score of 6.9/10 based on 645 verified guest reviews. Based on our experience there, this is quite accurate. Despite the slight disappointment we had with the resort upkeep, we would still go back due to the spectacular location and water.
How to find the cheapest rooms in Kuala Besut and on Pulau Perhentian?
Whether you are staying in Kuala Besut the night before you take a speedboat to Perhentian or staying on one of the Islands, it's strongly recommended to book well in advance. The Perhentians are in high demand during peak season (March to September) especially with Europeans.  The three sites that we continue to rely on for booking our rooms along Malaysia's east coast are: www.agoda.com, www.booking.com and www.hotelscombined.com. Both www.agoda.com and www.booking.com are very popular with our readers to due their excellent room selections and prices. We also use www.hotelscombined.com all the time to compare room prices before booking. To save you some time, I have created links to their respective property lists for both Kuala Besut and Pulau Perhentian:
Rooms in Kuala Besut – www.agoda.com
Rooms in Kuala Besut – www.booking.com
Compare Room Prices in Kuala Besut – www.hotelscombined.com
Rooms on Perhentian – www.agoda.com
Rooms on Perhentian – www.booking.com
Compare Room Prices on Perhentian – www.hotelscombined.com
Be sure to double-check the location of your hotel with the map tool on these sites prior to booking to make sure that you're near the pier (in Kuala Besut) and close to the beach (on Perhentian).
Flight Information: Getting to the Perhentian Islands
What is the best airport to fly into when you are trying to reach the Perhentian Islands?
The best airport to book your flight into is Kota Bharu Airport (Sultan Ismail Petra Airport).
How long does it take from Kota Bharu Airport to the pier?
During our recent experience, it took about 1 hour in a taxi to the Kuala Besut pier from the airport.
What is the best way to find the cheapest flights to Kota Bharu Airport?
I would suggest using a price comparison site to get a feel for the prices first from your point of origin. In our particular case, we used two different sites: Momondo and BookingBuddy. We were pleased with the fact that you can compare prices from up to 8 websites all at the same time with BookingBuddy.  Momondo simply finds the cheapest available price by searching the sites at one time.. Here is a link to their price comparison pages if you have to purchase some flight tickets:
COMPARE FLIGHT PRICES TO KOTA BHARU – Momondo
COMPARE FLIGHT PRICES TO KOTA BHARU- BookingBuddy
Which airlines fly to/from Kota Bharu Airport?
At the time of writing, Air Asia, Malaysian Airlines, Malindo Air and Firefly were servicing flights to Kota Bharu.
Does Perhentian Island have an airport?
The answer is no.  Therefore, plan to fly into Kota Bharu Airport and then take a taxi from there to the Kuala Besut pier.
Enjoy safe and worry-free travels!
Read Other Posts on Malaysia