This is a comprehensive Dubai travel guide suitable for budget travelers. This guide discusses travel costs, transport options, Dubai attractions, food, and other essential information about visiting Dubai.
---

Dubai is the ultra-sleek metropolis of the United Arab Emirates and the commercial hub of the Middle East. You may know of Dubai as travel luxury destination, but we can assure you that it's quite flexible.
Dubai delightfully surprised us, and we have successfully explored it! Let us help you plan a truly wonderful and memorable trip to the jewel of the Middle East.
Currency: Dirhams
Estimated Daily Budget: 
For Budget Travellers – less than 600 Dirhams.
For Mid-range Tourists –  around 600 – 1200 Dirhams
For High End Visitors – more than 1200 Dirhams
Dubai Travel Quick Links
Background
Dubai is a city in the United Arab Emirates (UAE). It sits on the northern coastline of the Dubai Emirate. Not only is it the largest and most populous city in UAE but it's also a major business hub in the Middle East. Dubai is a tourist haven partly because it's a major transport and carbo hub.
Dubai is a rich city, but its wealth does not come from oil reserves as many people would think. The city's revenue comes from different sectors like real estate, financial services, and tourism.
Why You Should Visit Dubai
If there is one city in the Middle East that is purposely developed for mass tourism, it would be Dubai! The city prides itself on having the best and the grandest.
At the moment it is home to the tallest man-made structure in the world – the Burj Khalifa. This is the tower that made history; a magnificent engineering achievement that Dubai and the UAE can be rightfully proud of!
For engineering and architecture fans, the Burj up close is enough reason to visit this Arabian city.
But the tallest building in the world is not the only thing that Dubai offers. The city is a tourism powerhouse that is ideally suited for families. Some of its most appealing attractions include:
-the magnificent Atlantis Waterpark.
-the Indoor skiing center in the Mall of Emirates
-the indoor aquarium in Dubai Mall
-the plush Dubai Marina
Although surrounded by desert, Dubai sits on the coastline of the Persian Gulf. It has a few well-maintained public beaches where kids can freely run and roam around.
It is also one of the more best cities to visit to get a taste of Arabian history and lifestyle because of its tourist infrastructure and openness to foreign visits.
What Dubai is NOT as a Travel Destination
Dubai is not a 'party' destination no matter what people say. While it's true that it has clubs and bars, all attached to the hotels, this is not the best city to get drunk and party.
Despite its modernity and openness, the city still follows rigid Islamic civil laws.
In my opinion, it is best not to drink alcohol while here. Besides the fact that alcohol is expensive, there is a higher risk of drinking it here.
In general, the city implement laws restricting actions and behaviors that are otherwise tolerated in other parts of the world.
If you like beer, swearing in public, wearing skimpy clothes and openly showing physical affection, and you're not ready to let go of these things during a holiday; then Dubai is not for you.
Fortunately, many people in the world don't mind these restrictions. And these are the type of tourists who are well-suited for Dubai.
Best Time to Visit Dubai
The best time to visit Dubai is from the month of November to March because the weather is at its most ideal for sightseeing.  Winter is indeed a great time in Dubai, it is sunny most days but the temperature is nice and not humid.
In the months of May to August, the temperature rises and the heat can be too much to bear when outside.  This is the least busy time to visit Dubai but it's highly advisable to spend most of your daytime indoors.
Plan your visit to Dubai keeping in mind the month of Ramadan. This is the holy month of fasting for the Muslims and it changes from year to year. During Ramadan, all restaurants in the city are closed until sunset. Take note that it's not allowed to eat in public during the day even if you're a non-Muslim.
How to Get to Dubai
The first step to getting to Dubai is by booking a flight . This is not going to be difficult as Dubai is a huge flight hub.
Dubai International Airport (IATA: DXB) is the main airport in Dubai. Based on international passenger traffic, it is the busiest airport in the world. DXB caters to about 80 million passengers per year.
Dubai is the ideal place to do a layover for a couple of days, before proceeding to another destination.
Getting Around Dubai
Dubai Metro
The Dubai Metro is one of the most reliable and efficient public transport in Dubai. It will take you to many key attractions in the city like the Burj Khalifa (how to get to the Burj Khalifa). The Dubai Metro currently has two lines – the red and green. Eating and drinking are not allowed on the metro, and there are heavy fines for such violations.
Buses
Buses are useful if you want to get to places that are not served by the Metro. You can purchase a Nol Card and top it up so you can pay for your bus rides at a discounted rate. Jumeirah Beach is one of the attractions that are served by the bus but not the Metro.
You can also take a bus from (how to get to the Burj Khalifa)– the capital of the UAE
Taxis
Taxis are relatively cheap in Dubai, compared to other big cities like London. They are all metered and strictly regulated, so you don't have to worry about being scammed. Most of the drivers are respectful and professional and can speak enough English to take you where you want to go.
Renting a Car
You can also conveniently ride car, provided you have an international driver's license and credit card.
Things to Do in Dubai
The number of things to do in Dubai is quite extensive! After all, it is a city that has been purposely developed for tourism. These are  the Top 11 Things to Do in Dubai:
Go Up the Burj Khalifa – The current tallest man-made structure in the world.

Go for a desert adventure.

Tour around Dubai using the hop-on-hop-off service.
Do you want more ideas for activities in Dubai, here is the ultimate list of  35 Things to Do in Dubai for an Amazing Holiday.
Watch the Wonderful Dubai Marina Cruise Experience
Dubai has a large variety of hotels and room types that cater to a wide range of travelers.  The city is known for its luxurious hotels. Leading the pack is the famous Burj Al Arab, one of the highest rated hotels in the world!
One misconception about Dubai is that it's a luxurious destination because of its fancy hotels.  But the truth is the city also has a healthy selection of mid-range hotels. During our visit to Dubai, we decided to stay at Ibis Hotel because it had good guest reviews and its room rates suit our budget. Check out our review of Ibis Hotel: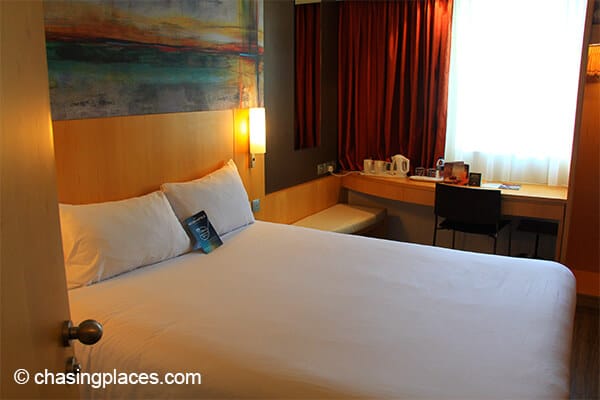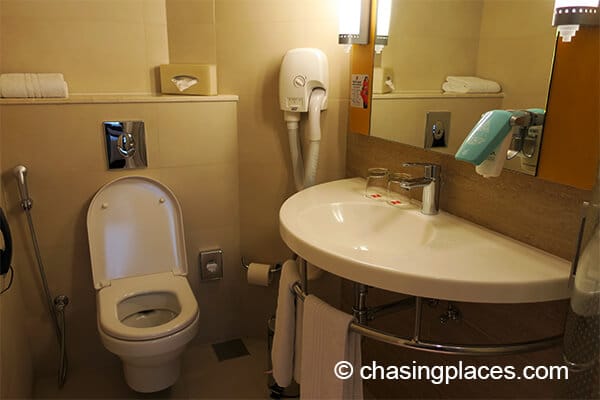 Top Rated Hotels in Dubai Based on Verified Guest Reviews
If you would like to shop around for hotel deals and compare prices, you can also use the hotelscombined search box below to get a feel for the room prices in Dubai right now:

Where to Eat and Drink
Dubai is a "foodie's" paradise. The food here is absolutely marvelous!  It is known for its extensive list of restaurants. Downtown Dubai and the Dubai Marina has some of the best restaurants in the city.
But you don't always have to pay a lot for a decent meal in Dubai. You can find mid-range' restaurants 'budget' eateries in most neighborhoods, and the food is the good and the portions large.
International chains like Nando's, Apple Bees and Tim Hortons tend to be pricey. If you are on a budget,  stick with Arabian meals offered by local chains, and they are often worth every penny.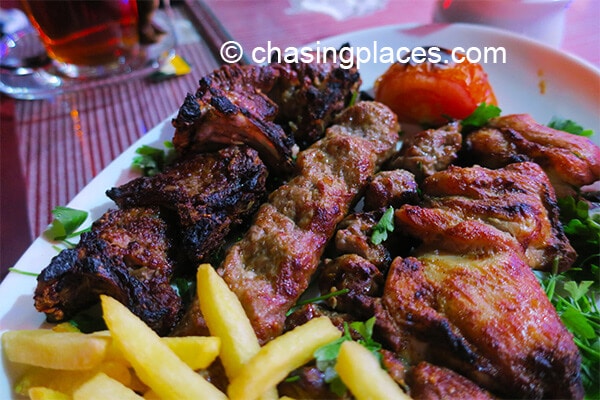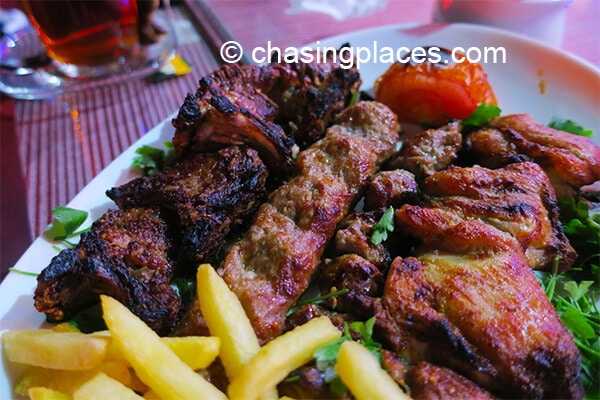 What to Avoid, Security and Safety
Dubai is a very safe city in terms petty crimes like theft and mugging; You can walk anywhere with absolutely no worry about your safety.
However, as mentioned, Dubai implement strict Islamic laws and codes of conduct. There are acts prohibited here that are otherwise, unpunishable in other countries. Some of these prohibited acts include:
Drinking in public places that are unlicensed to sell alcohol.
Being drunk in public.
Showing physical affection in public (both for opposite sex or same sex couples).
Displaying rude behavior and acts in public, especially to a UAE citizen.
It is your responsibility as a tourist to learn the laws of the country you're visiting and follow them, so as not to ruin your holiday.
For more information about traveling Dubai, read: 10 Things You Should Know When Traveling Dubai 
Medical Services and the Importance of Travel Insurance
Dubai is a highly developed city with excellent medical services. As you can imagine, getting hospital or clinic care for tourists in Dubai is expensive.
Before visiting Dubai make sure that you bring your medications and prescriptions and consult with your doctor if you're fit to go for a holiday.
"Better safe than sorry!"
Medical emergencies, accidents, and flight delays can happen. That is why getting travel insurance is a smart move just in case something goes wrong. You don't want to spend a large sum of money in case you need medical care while visiting Dubai. This can ruin your holiday.  Protect yourself from unnecessary expenses and stress by securing a travel insurance plan.
You would want a travel insurance policy that can cover the costs for lost passports, valuable documents, medical services and emergency evacuations.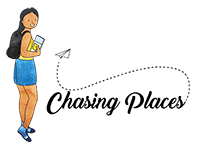 Hi there! If you've found this guide helpful, please click 'share' to help other travelers find this guide on Facebook.  If you have any questions, join our Facebook Community or Like our Facebook Page! Keep chasing places…