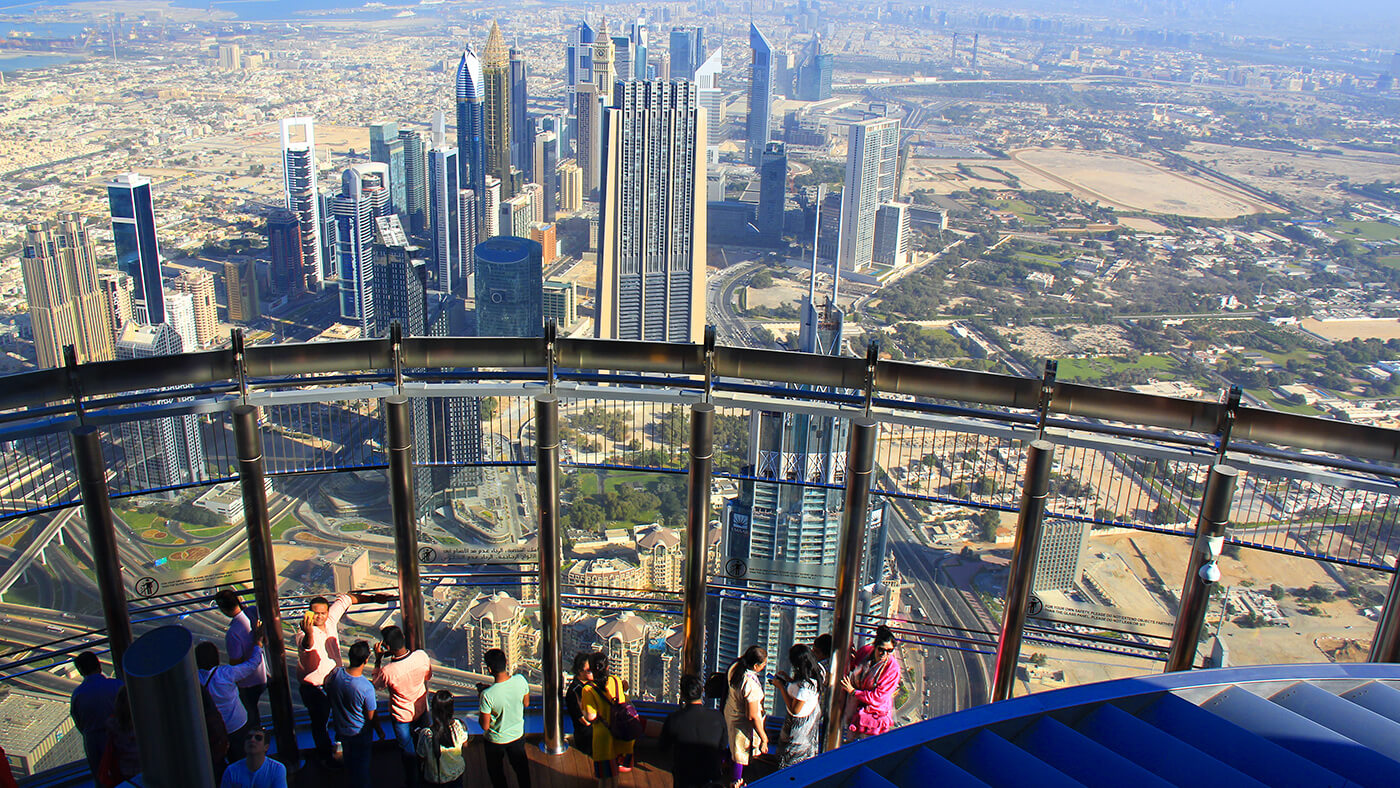 This city may be surrounded by a vast desert terrain, but the number of things to do in Dubai is astounding!
Dubai has established itself as a flight hub with millions of flights stopping over at its impressive international airport, one of the biggest in the world. On our way to Greece, we decided to spend some quality time in Dubai, and we had a fantastic adventure.
Prior to our visit, I heard feedback about traveling in Dubai from fellow travelers and expats, but one thing is true: this Middle Eastern metropolis delighted and surprised me with its diversity, ingenuity and its never-ending quest to outdo itself when it comes to development and infrastructure.
So the next time you stop over in Dubai, don't limit yourself to staying at the airport. There's simply no other city like Dubai, and I would like to encourage you to experience it!
Here's Chasing Places' comprehensive list of things to do while in Dubai.
The list is organized based on the major neighborhoods in Dubai to help you plan the best trip ever!
Dubai Things to Do List:
Neighborhood: Downtown Dubai
It is one of the most accessible and popular neighborhoods in Dubai. The one that short-term visitors can see and explore.
You can easily reach Downtown Dubai from the airport via a sleek and modern train line – the Dubai MRT.
1. Walk around (or shop) at Dubai Mall.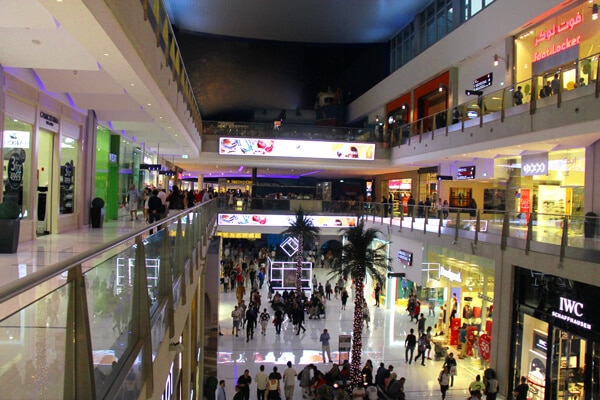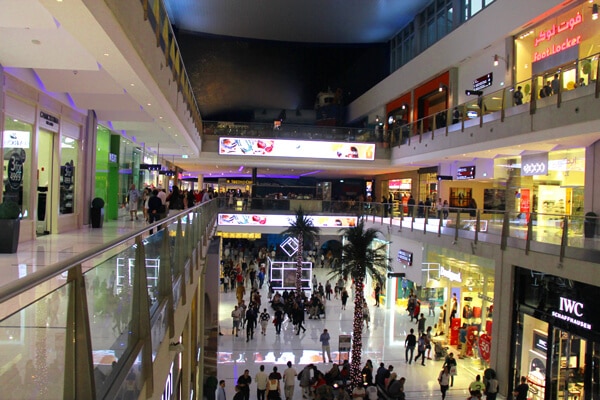 If you only have an hour or two in Dubai, I suggest that you head straight to downtown, in particular, the Dubai Mall area.
The Dubai Mall is a massive and sophisticated mall. One of the largest in the world for sure. It's a must-see, mainly because of one thing – a close-up view of the Burj Khalifa: the tallest manmade structure on earth.
Dubai Mall's interior is home to a couple of attractions and not to mention hundreds of shops. Its outdoor space is such a delight especially in the early evening.
2. Watch the Dubai Fountain Spectacle (free attraction).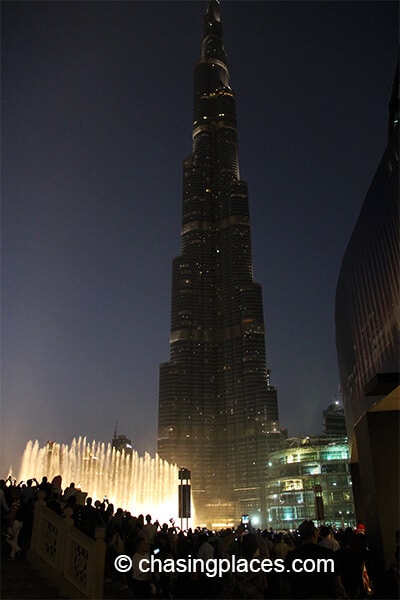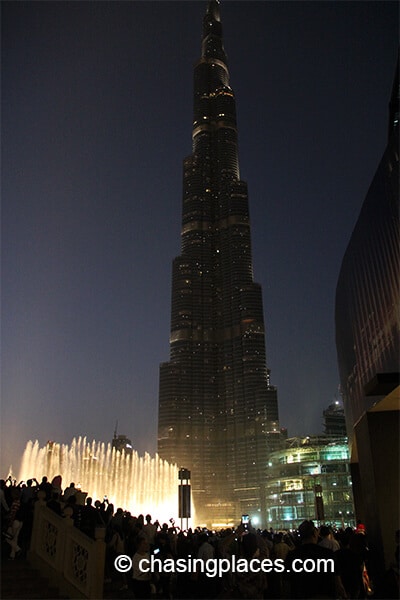 This amazing fountain show is one of the main reasons why you should you stick around the Dubai Mall area until the early evening.
I've seen many fountain show in my life including ones at the Petronas Towers in Malaysia and along the casino strip in Macau, but the Dubai Fountain Show is the best I've seen so far. It's obvious that the management put a lot of money into creating a spectacular show.
3. Take a selfie with the Burj Khalifa from the grounds of the Dubai Mall.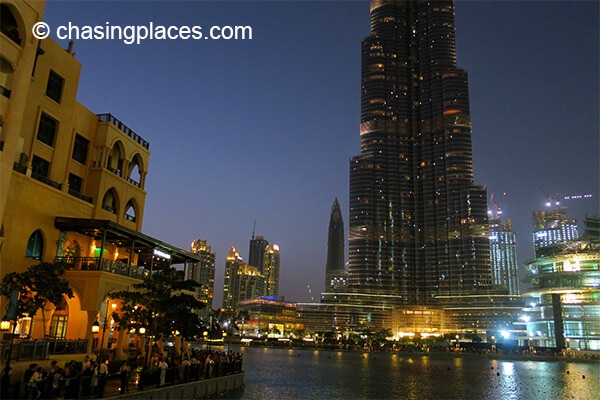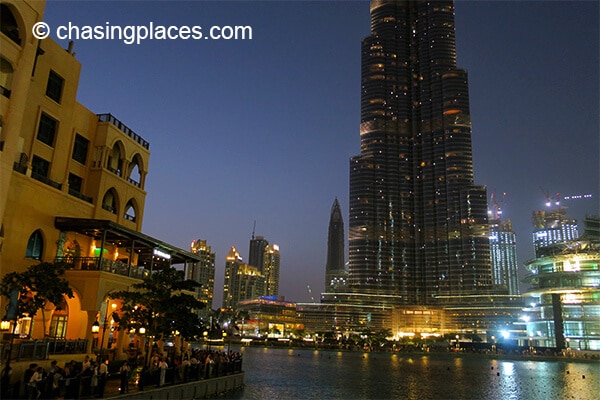 It is truly a majestic building because of its incredible height. It may be a little difficult to include the entire structure in one photo frame, but fortunately, the Dubai Mall has small bridges and elevated outdoor spaces that make excellent spots to take those "Burj Khalifa" selfies.
4. Go up the Burj Khalifa.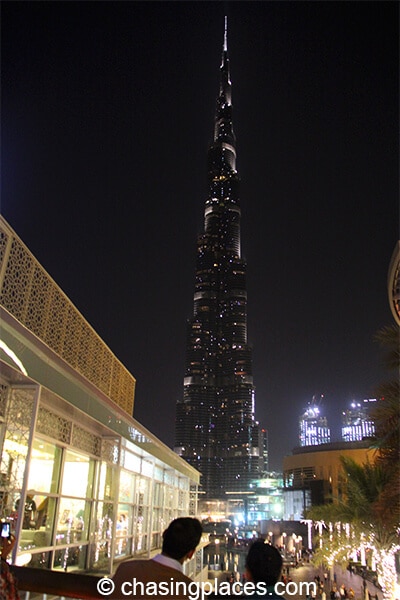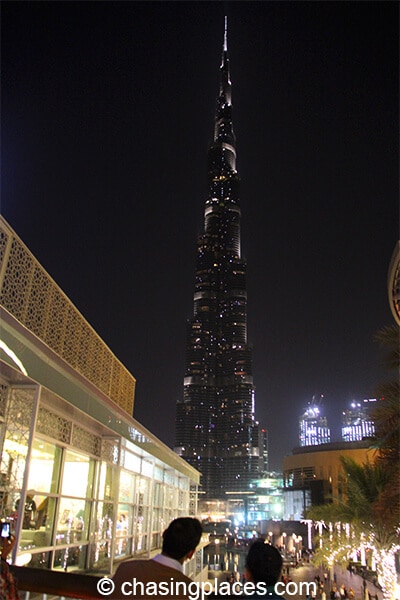 You may think number 3 and 4 are the same thing, but it's actually not. While number 3 is all about admiring Khalifa from afar, going up the viewing deck of the Burj Khalifa is an entirely different experience.
Going up the Burj Khalifa is not only about learning about this incredible structure, but it also gives you a 360-degree panorama of Dubai and neighboring cities.
The admission fee to the viewing deck of the Burj is not cheap. But if you are going to splurge on something in Dubai, then this should be it.
It was a memorable experience for us. One highlight to remember was we took the fastest elevator in the world to get to the viewing deck. The view was nothing short of spectacular!
5. Walk around Souk Al Bahar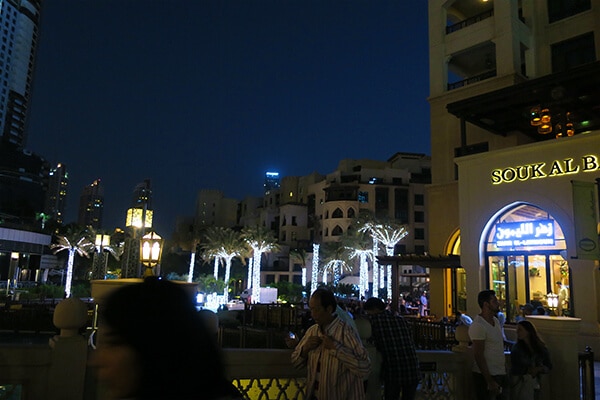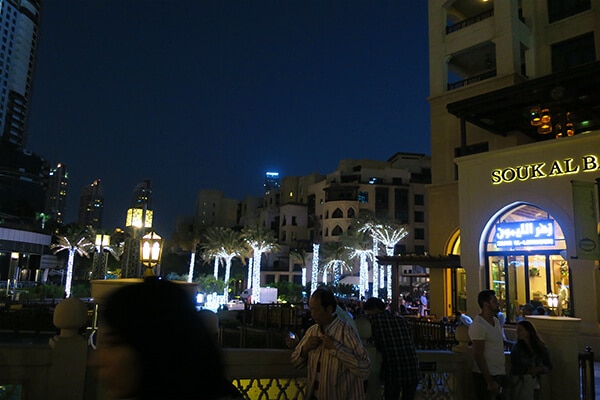 The word "souk" means market in Arabic.
When I hear souk, I always picture an outdoor dusty and rustic space.  But Souk Al Bahar is one of the most luxurious souks I've ever seen! It is packed with pretty high-end shops, cafes, and restaurants.
If you are not planning to buy anything, then there's no stopping you from just walking around and admiring the architecture and décor of this fancy establishment!
How to get to Souk Al Bahar
Souk Al Bahar is just across Dubai Mall. You can just walk to there from the Mall and the Fountain. It should only take you about 1 minute.
6. Be amazed by the Dubai Aquarium and Underwater Zoo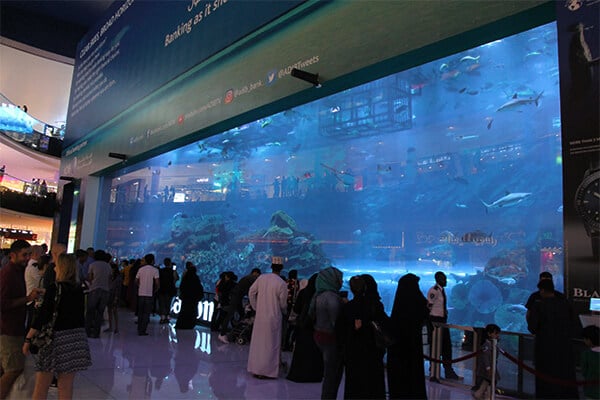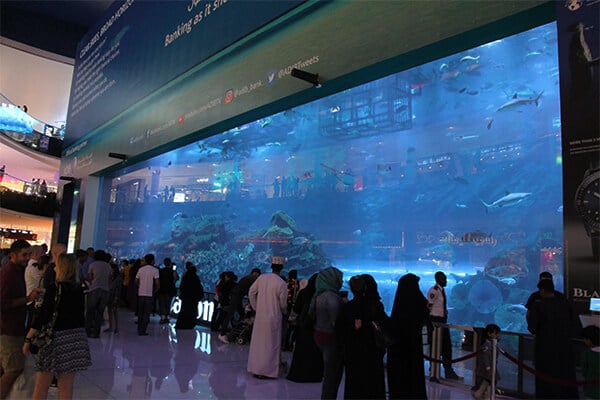 There is more to Dubai Mall than just shopping; it is also home to a very impressive indoor aquarium – one of the biggest of its kind in the world.
The "Dubai Aquarium and Underwater Zoo" is insanely impressive that it deserves a section of this article.
In case you don't have the budget to go inside, I still suggest to take the time to check out the aquarium as you can still see the front of the massive aquarium from the outside. Now is that not a treat!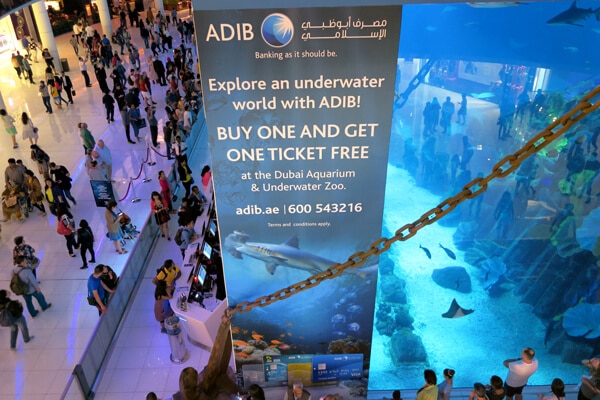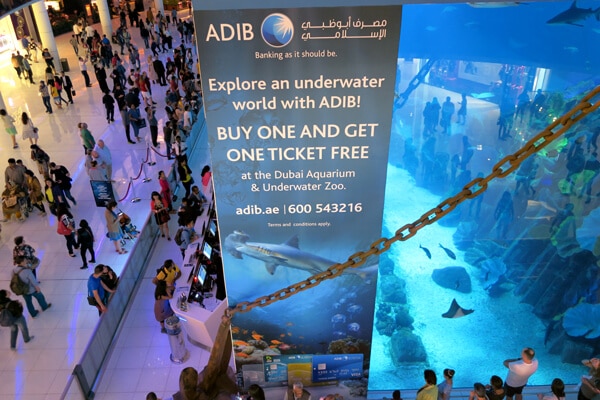 7. Skate the Ice Rink at Dubai Mall.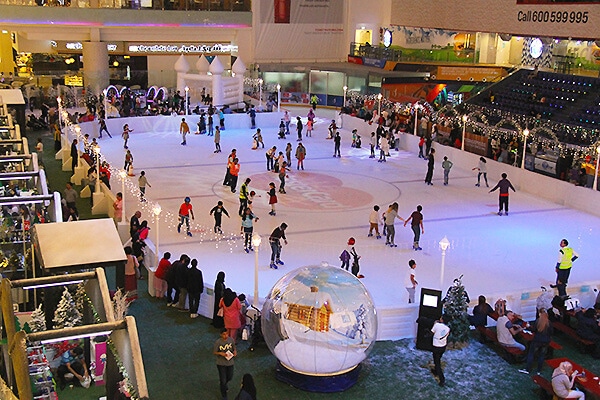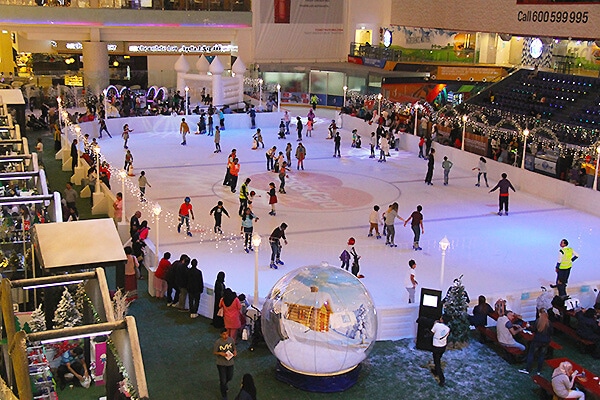 Who said you couldn't skate in the desert? Well technically you can't, but that doesn't stop Dubai from creating an ice rink inside their most popular mall.
This ice rink is especially popular among European expats as they can still slide and glide on the ice despite being in the Middle East.
Neighborhood: Jumeirah
Jumeirah – Overlooking the shimmering waters of the Gulf, the neighborhood Jumeirah is widely known for its beaches. It is populated by low-rise apartment buildings and plush villas.  The Dubai train line does not extend to most of Jumeirah, perhaps purposely, to maintain its more relaxing atmosphere.
8. Walk around Madinat Jumeirah.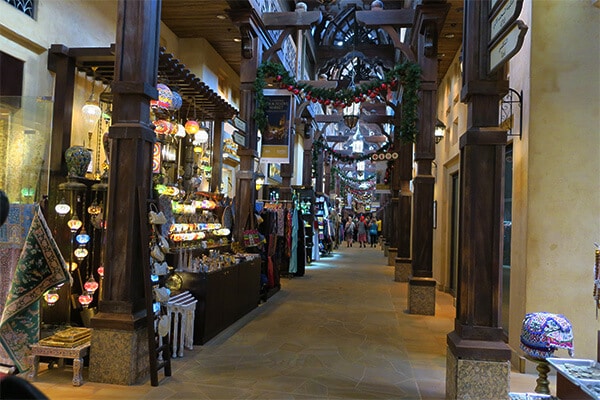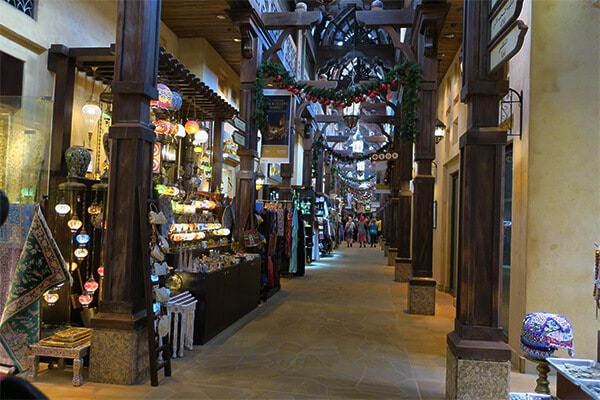 This complex sits on an artificial island and is a perfect place to explore in the afternoon. Made up of shops, restaurants, spacious gardens and eloquent bridges over waterways, Madinat Jumeirah's architecture, and style is inspired by the look of traditional Arab villages, but with a twist of course!
The twist is that the materials used to create it ultimately give it a modern and elegant look.  Madinat Jumeirah offers fantastic views of Burj Al Arab – one of the most luxurious hotels the world has ever seen!
Before visiting I heard that you needed to order something from a cafe or restaurant for you to be allowed to walk around Madinat Jumeirah, especially the outdoor area.
But during my experience, we just walked right through the entrance, and also through the shops to the outdoor area, where we got plenty of pictures of this gorgeous complex. We couldn't help but walk around the patios of restaurants in the outdoor area. But I guess the key is not to linger around for too long and try to move to another spot.
If you do have the budget, there is little reason not to order drinks and enjoy the great view of the Gulf and the Burj Al Arab in the distance.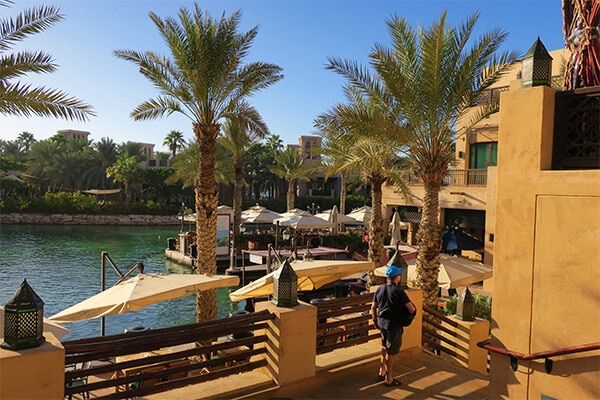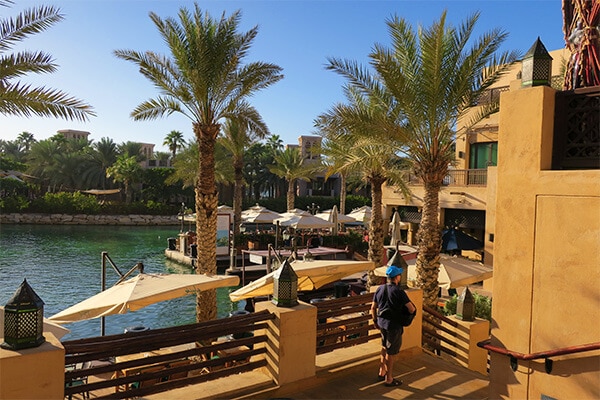 9. Have high tea at Burj Al Arab.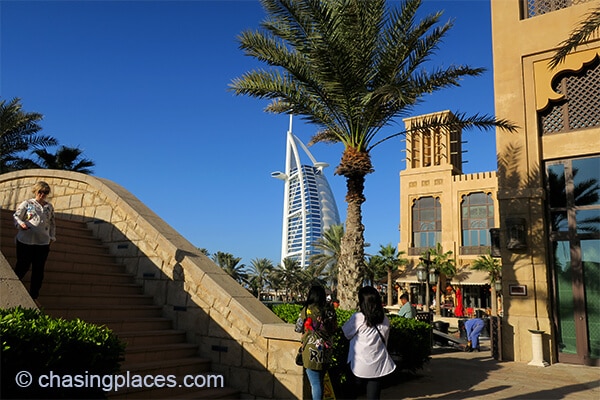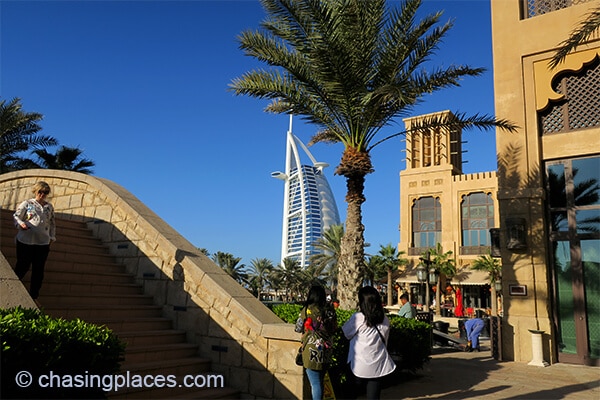 Unlike most hotels in the world, the Burj Al Arab is fully-gated like a palace. You really can't get to see the hotel up close to get an idea of how it looks like from within.
I think it was purposely done to pique interest and to maintain a degree of mystery.  The good news is you don't have to book a room to get inside Al Arab.  Instead, you can go for high tea. Yes, the high tea is still pricey and an indulging experience, but if I had the money, I wouldn't hesitate to do it.
10. Take a peek inside Jumeirah Mosque.
The Jumeirah Mosque is one of the few mosques in the Middle East where non-Muslims can set foot in. But you can't just show up here and expect to be welcomed!
You will need to enlist in one of the tours operated by the Sheikh Mohammed Centre for Cultural Understanding. Apparently, the tour price is not too bad, and you will get to ask questions about the mosque and the Islamic faith.
11. Break a sweat at Kite Beach.
If you want a more active day outdoors in Dubai, then Kite Beach is a great place to visit. This beach is a hub for outdoor sports and activities.
Can you wear swimwear on a Dubai beach? The answer is YES. However, the wearing of swimwear is permitted only within the beach area. Once you decide to leave the sandy area, you will need some clothes on to stay out of trouble.
12. Wave the day goodbye at Sunset Beach.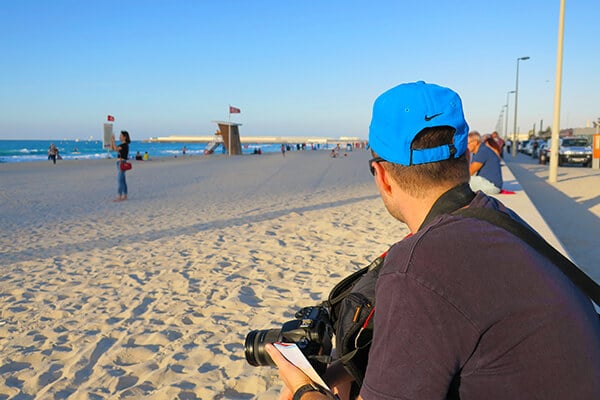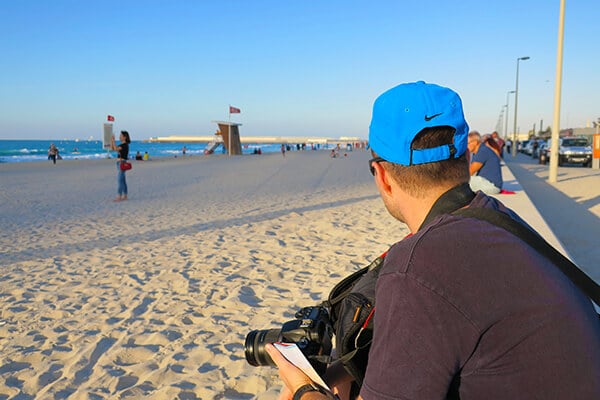 Sunset Beach is one of my favorite places in Dubai. To be honest, I never expected to see a beautiful sandy beach in an Arab country. That's why Sunset Beach came as a wonderful surprise. It is clean, long and lives up to its name!
Summer months can be unbearably hot in Dubai, so I imagine no one would dare to hang out here at this time.  But come here during winter (November to February), and the sunny, comfortable weather and the refreshing breeze will treat you well.  
If I were living in Dubai, Sunset Beach would easily become my hangout spot!
13. Shop at Mall of the Emirates.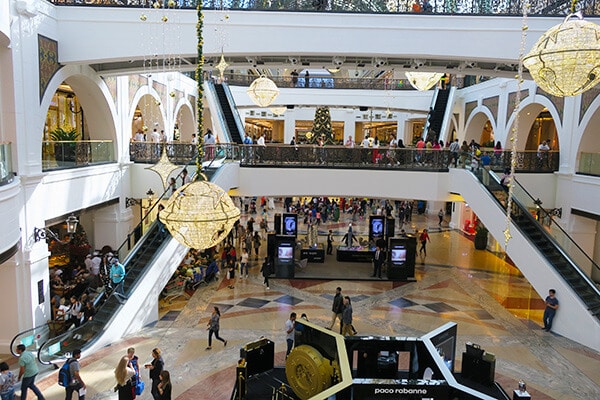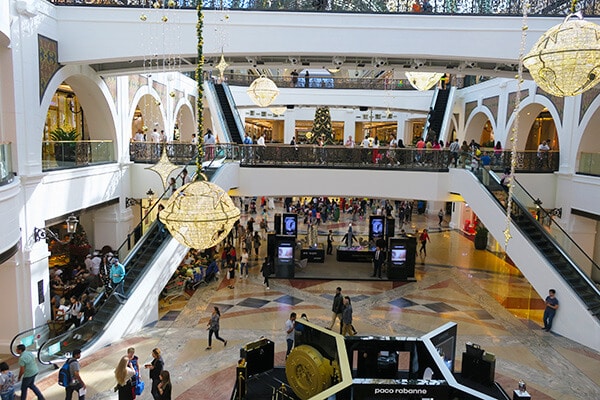 If shopping or window-shopping is something you enjoy, then I recommend two malls in Dubai for you to check out.  Dubai Mall is one of them, and the other one is the Mall of Emirates in the Jumeirah neighborhood.  
This award-winning megamall is incredibly massive with hundreds of stores, restaurants, and cafes. It is home to the Dubai Community Theater and Arts Center.
Many families are drawn to the Mall of the Emirates because of Magic Planet – one of the biggest indoor family entertainment centers in Dubai.
14. Ski Time at Mall of Emirates.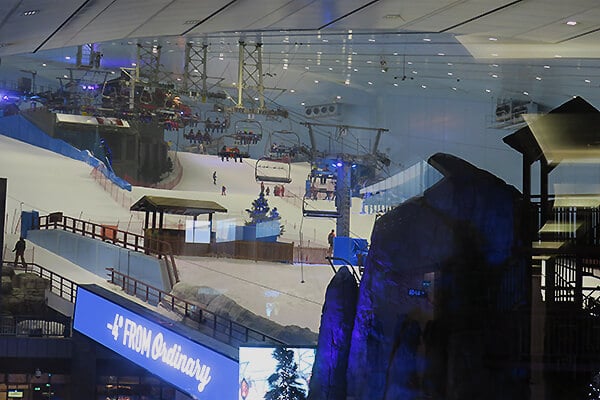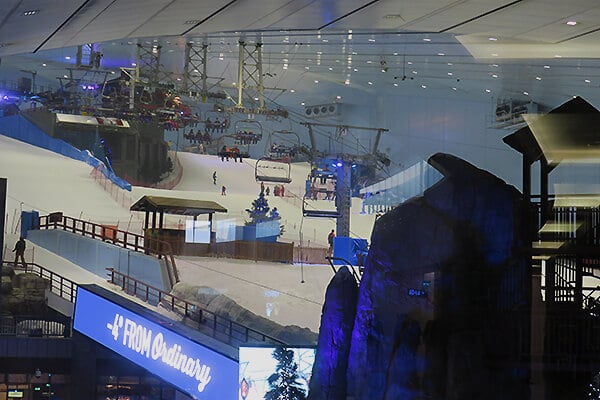 Dubai is a city that makes the impossible possible!
We all know that snow does not fall in Dubai or the Middle East for that matter. But this does not stop the city from building the first indoor ski resort and snow park in the region.
So if there's one thing you should check out when visiting the Mall of Emirates, it should be Ski Dubai.
Ski Dubai features five ski runs and a Freestyle zone. Its highest vertical drop measures about 60 meters (196 feet), which is challenging enough for novice skiers.  Other activities offered in this ski resort include tubing, tobogganing, and even 'snow fighting'.
I don't ski, but seeing Ski Dubai for the first time both impressed and amused me.
If you just want to check out this incredible indoor ski resort, just go to the viewing gallery next to the food court on the first floor of the Mall of the Emirates.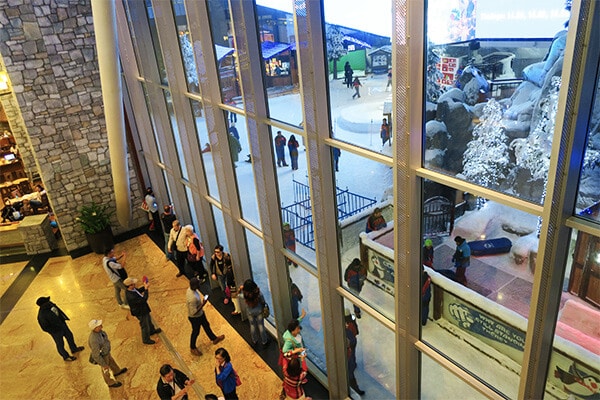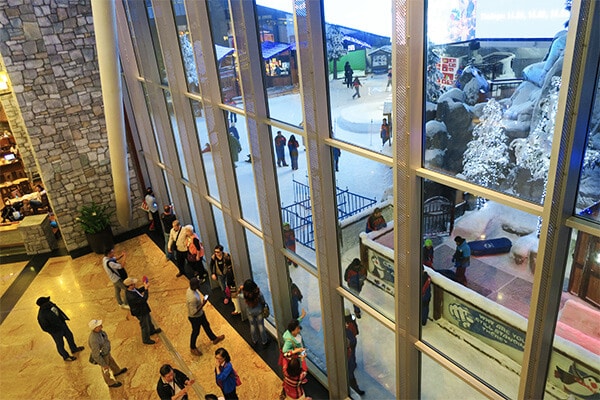 15. Stroll the Walk at JBR (Jumeirah Beach Residence).
The 1.7 km Walk at JBR is popular among families.  This beautiful outdoor strip offers an array of eateries, shops, and hotels conveniently along a pleasant sandy beach.
This public beach has jogging paths, shower, and changing facilities. From here, you can get a glimpse of the famous Palm Jumeirah and the water park giant Atlantis the Palm resort.
You may have heard of the Palm Jumeirah before as the artificial island, shaped like a palm tree. Unfortunately, you really don't get to see the tree formation unless you are looking at it from above.
16. Stroll along Dubai Marina.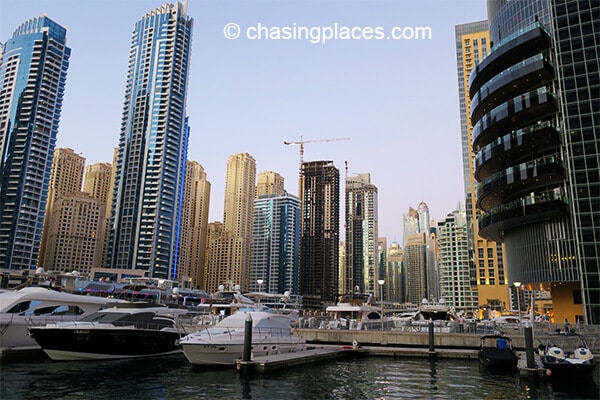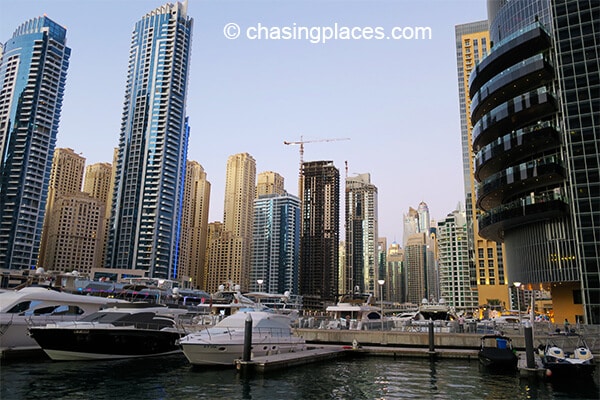 Dubai Marina is often considered one of Dubai's top attractions, and it's very much deserving of this recognition.
Dubai Marina is a goddess that will mesmerize you with her beauty and elegance.  It is home to the most expensive yachts and most spectacular buildings in all of Dubai and the Middle East.  
Located along the Dubai Creek, Dubai Marina especially dazzles at night, with all its impressive skyscrapers fully lit to provide a truly amazing visual show. The skyline of Dubai Marina can undoubtedly compete with the best in the world.
Dubai Marina is the preferred neighborhood of the rich and famous in the country. However, you don't have to spend a single penny to marvel at its beauty (except for the cost of getting there).
Walk along the marina in the early evening; it is probably the most romantic thing you can do in Dubai. And whatever happens, make sure you have your camera ready to capture that ever photogenic skyline.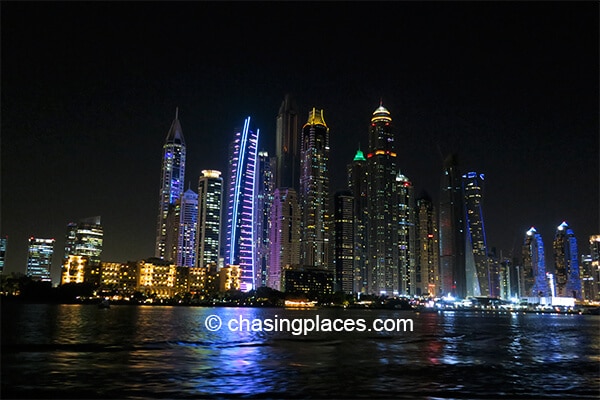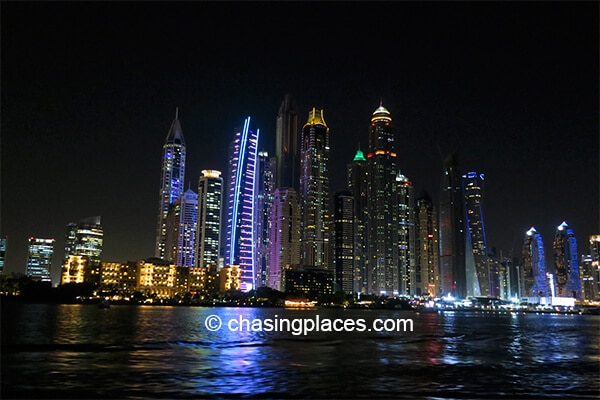 17.  Have a romantic dinner at Dubai Marina.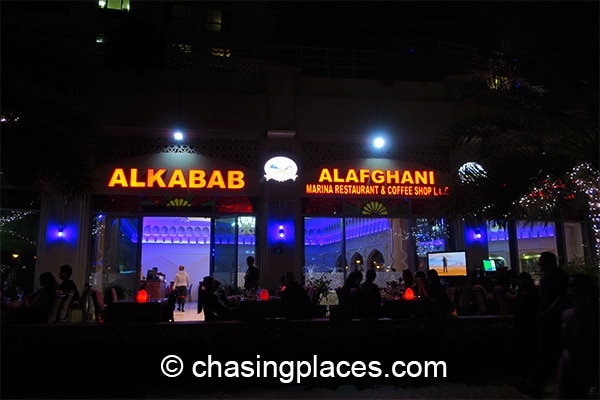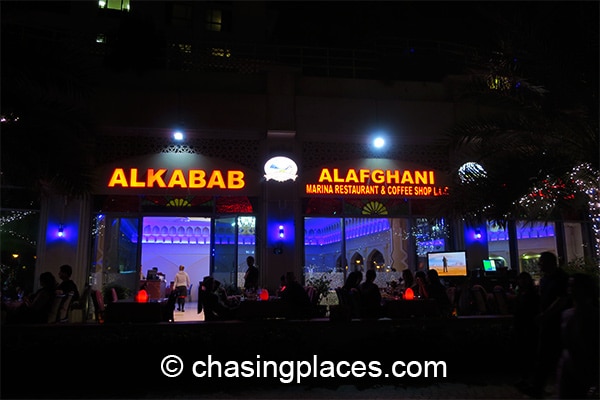 Speaking of romance, if you do have the budget, grab the opportunity to dine in one of the Marina's more than 100 restaurants!
These restaurants are nicely designed and located strategically to give you a stunning view of the water while you're dining.
Grab the opportunity to try a type of cuisine that's usually unavailable back home. For example, my husband and I decided to try Afghani food, which was a satisfying dining experience indeed!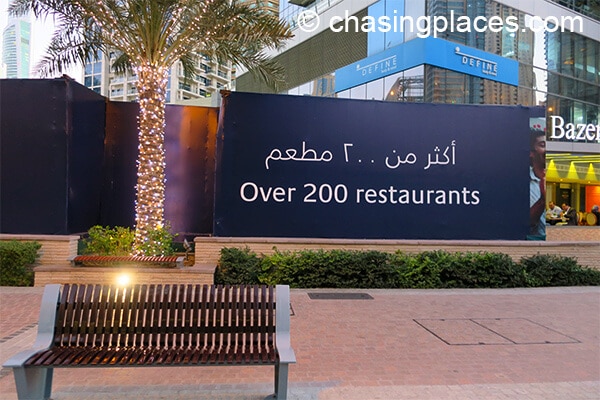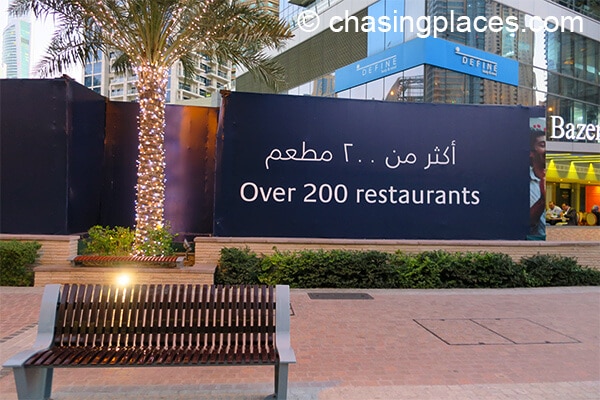 18. Cruise from the Dubai Marina through the Dubai Creek.
Out of all the things I've done in Dubai, this is one of my favorite.
Cruises through the Dubai Creek are available at the Dubai Marina area.  There are many types of cruises. One of them is going on a traditional boat called dhow. Despite being traditional, the dhow used for a cruise tour is new and well-furnished.
One of the companies that run a one-hour guided dhow cruise is called Tour Dubai. In the evenings, they offer a two-hour dinner buffet cruise.
In my case, we took the Dubai Ferry.  Despite being called a ferry, this service offers mini tourist-oriented cruises. It is the cheaper alternative to a dhow cruise, but it doesn't offer a guided English-commentary for passengers on board.
Nevertheless, I thoroughly enjoyed the Dubai Ferry cruise experience as we passed through some of the most distinctive landmarks in Dubai like the Burj Khalifa, the Burj Al Arab, and Madinat Jumeirah. My favorite part is the view of the skyscrapers in the Dubai Marina as the ferry departs.
The usual ferry route starts from the Dubai Marina, through the coast, and up until the Al Ghubaiba docks on Dubai Creek.  But at certain times of the year, the offer other routes.
Typical daily departure times are at 11:00 am, 1:00 pm and 6:30 pm. But there are also special cruises in between. We opted to take the sunset cruise and never regretted it. It was almost magical to see the buildings of Dubai glistening in the dark.
The ferries are big with complete with a snack bar and an air-conditioned interior. But I preferred staying on the open deck where the view and the breeze made an irresistible combination.
Neighborhood: Deira
One of my favorite neighborhoods in Dubai. Deira was a big surprise for me because I never even knew that such a place in Dubai even existed!
I was captivated by this neighborhood because of its markets, rich culture, and rustic settings.
19. Walk through the Gold Souq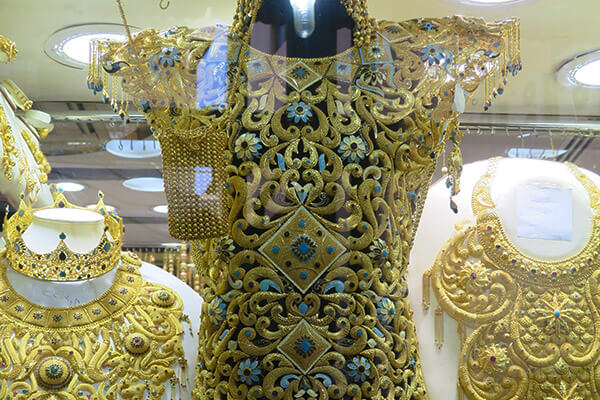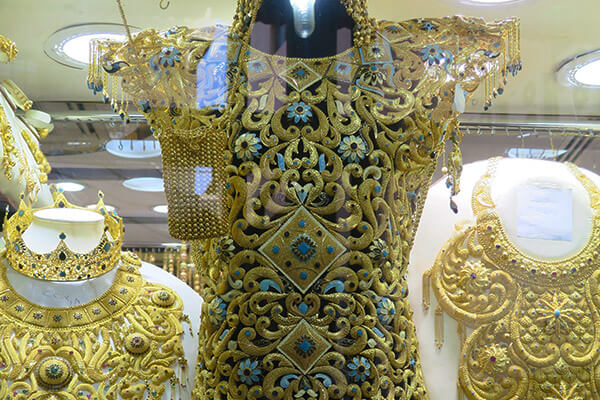 The Gold Souk is easily my most favorite market in all of Dubai.
As the name suggests, the main commodity sold in this market is gold, and there's lot of it!
The market is composed of a single street lined with gold shops on both sides. I have seen gold shops before, but this is my first time to come across a street with shops selling only gold. But that's not even the best part of this street market.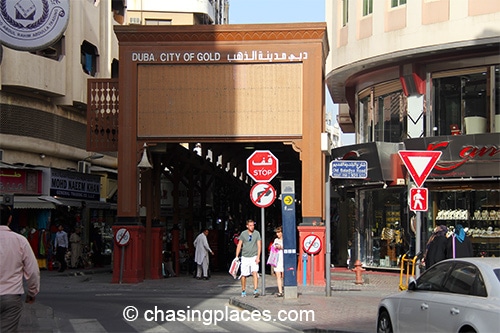 When they say it's a gold jewelry market, they really mean it! The extensive displays of jewelry pieces are just mind-blowing!
The pieces seen through the store windows are so enormous and intricate that they look like they should belong in a high-security museum or safety deposit boxes.
But since this is Dubai and no one would dare to steal because of strict laws, the shop owners don't mind parading their most exquisite gold collections.
Many foreigners were extremely delighted by the extravagant window displays that they excitedly took photos of them. I found myself joining the "tourists turned paparazzi."
I don't think I have ever seen such expensive jewelry very closely.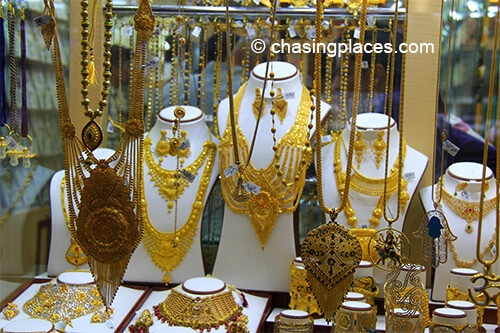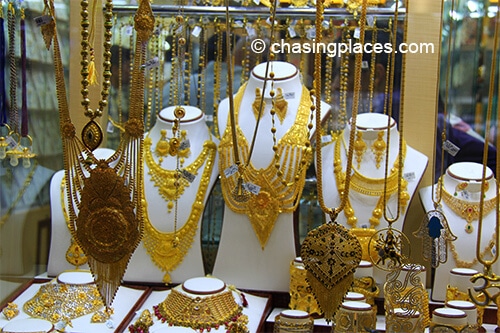 20. Smell good at the Perfume Souq.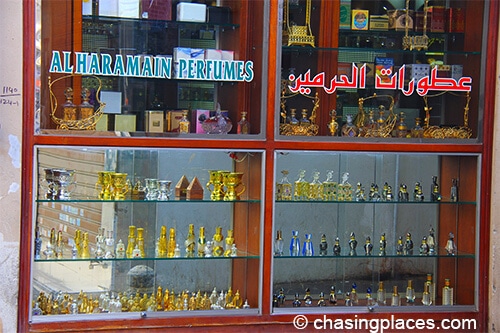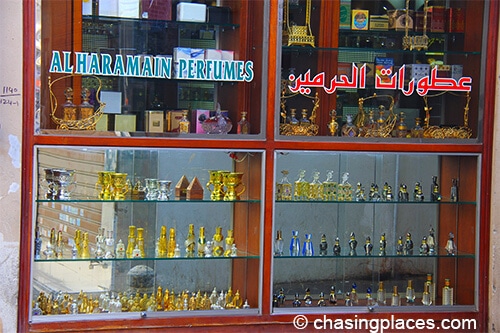 Just walking distance from the Gold Souq is the Perfume Souq, which is not as big and extensive as its neighbor.
The Perfume Souq has more low-key shops and is not as flamboyant.  As a result, it looks less intimidating and more like a regular market.  
If you would like to shop for some Arabic perfume, which is known to be alcohol-free; this is a good place to buy some. I've not tried buying myself, but I understand that haggling is a norm, so be sure to do some research on the prices to get the best deal.
21. Enjoy the colors at the Spice Souq.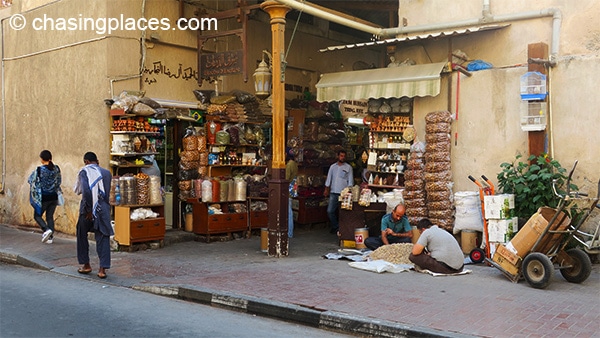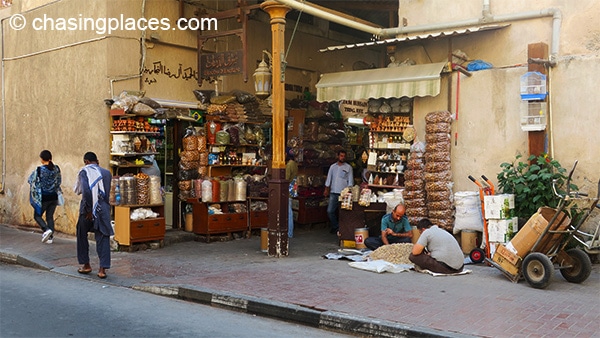 The Spice Souq is everything that I thought it would be – aromatic, colorful and rustic!
Unlike the Gold Souq, the Spice Souq is not made up of established enclosed shops. There is no visible landmark as to where it ends or begins either.  Although there is one main street, there are still spices sold by men along the narrow alleys leading up to the port area of Deira.
22. Check out Al Ahmadiya School.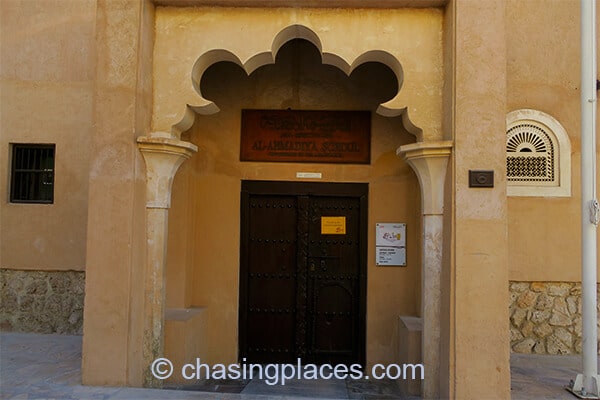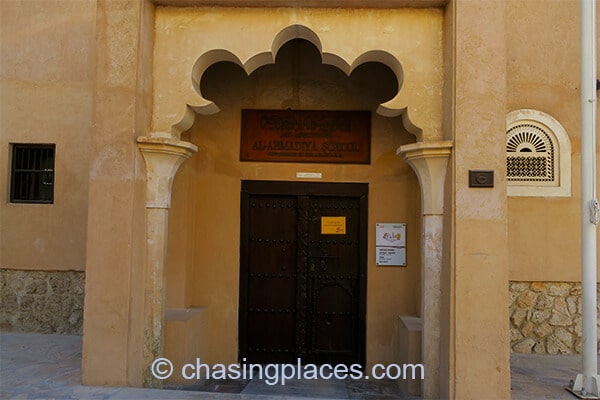 If you are a big history buff, then you will like a visit to the Al Ahmadiya School in Deira.
What makes this institution so special? Well, it is the first public primary school in Dubai.
Al Ahmadiya opened its doors in 1912 and offered classes in Arabic calligraphy, astronomy, and Holy Quran teachings among others.
Today, it functions more like a museum, although its displays are not elaborate. Aside from its historical significance, the building, where the school is housed,  has a very exquisite design worth taking the time to admire.
23. Walk into the Heritage House.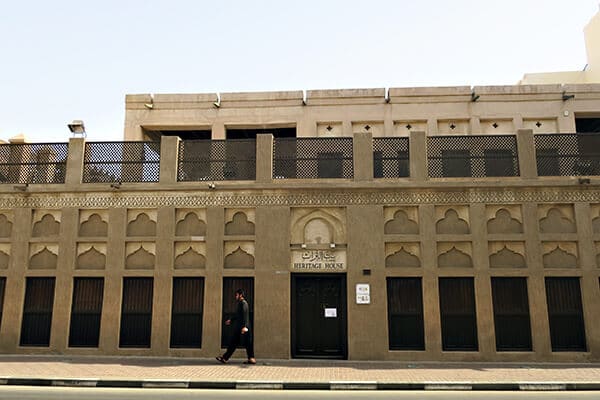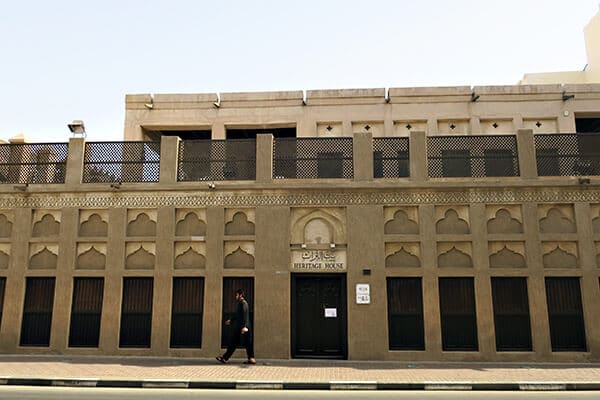 While you're in the vicinity, you might as well get a quick look at The Heritage House.
Built in 1890, the structure used to be the primary residence of a merchant named Sheikh Ahmed bin Dalmouk. Dalmouk also happens to be the founder of the nearby Al Ahmadiya School.
The Heritage House offers visitors a peek into the lives of the merchants during this period.
The house's layout and design are very traditional. Some of the rooms have audiovisual equipment in them to showcase the traditional life in Dubai during the early 19th century.
24. Stroll around the Creek to look at dhows.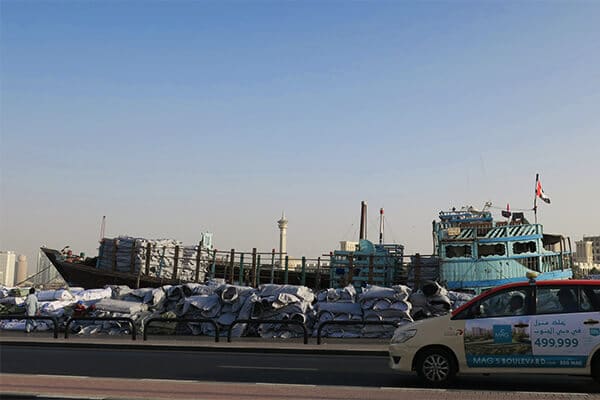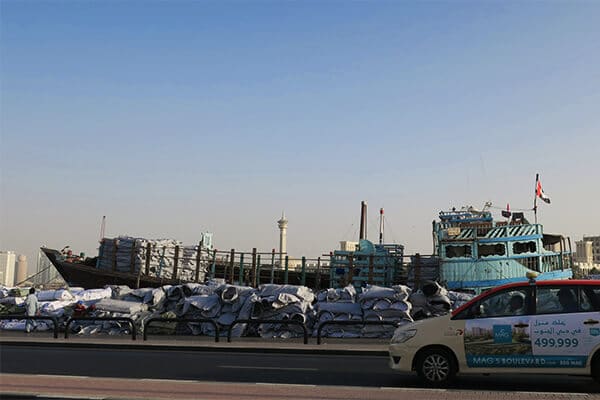 The Creekside area of Deira strongly reminds visitors of Dubai's history.
Many people don't know that the city was already a prosperous trading hub even before the discovery of oil. The city was a free-trade port that enticed countless traders and merchants to do business there.
Once you reach the Creek, look for the rustic yet colorful dhows. Dhows are the big wooden boats used to carry loads of various items and products across the Gulf Sea. The dhows have been the means for the transportation of goods since the 1830s.
These days, there are still dhows that operate and go to countries like Iran, Iraq, and Somalia. You can easily see sailors who are resting on the docked dhows. You might be able to find someone who can speak English and share with you their stories of sea trading.
25.  Cross the Dubai Creek on an abra.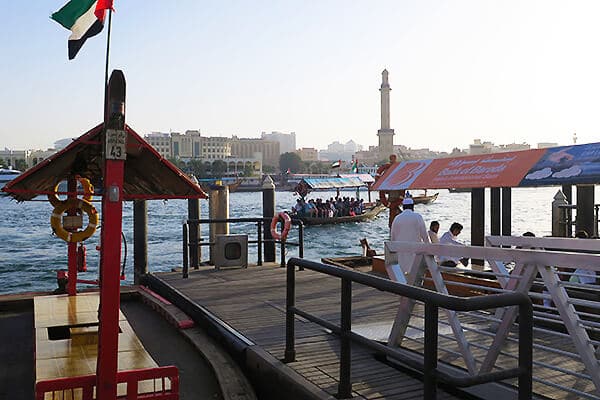 Abras are Dubai's traditional water taxis. They are typically used by locals to connect from Deira to Bur Dubai.  
To find abras, all you need to do is walk towards the Deira Old Souq Station facing the Creek. We highly recommend that you cross the Dubai Creek on an abra.  
The ride promises to be atmospheric!
With just 1 Dirham, you will get beautiful views of the oldest neighborhoods in Dubai on each side of the Creek.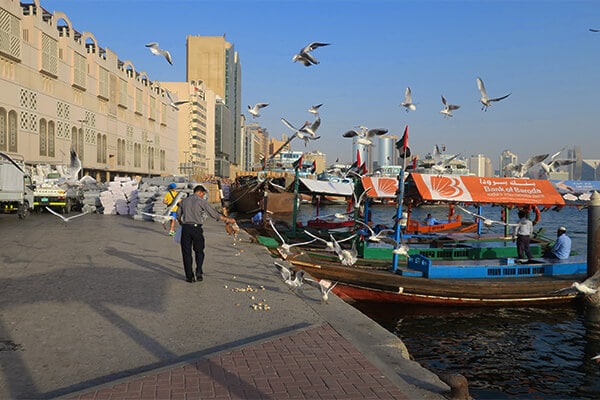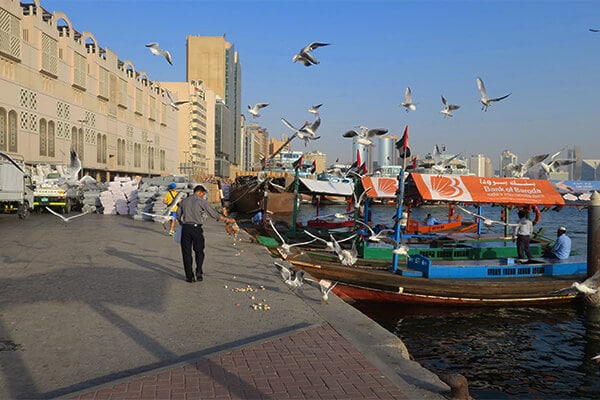 Neighborhood: Bur Dubai
One of the historic neighborhoods of Dubai.  Bur Dubai can easily charm tourists who are looking for something more than the city's modern skyline.
It's most popular section is the area that hugs Dubai Creek. Here, tourists can enjoy waterfront views, souqs, museums and quaint narrow streets.
These days, the neighborhood is home to a large Indian population. But if you look more closely, Bur Dubai is home to a big mix of immigrants and workers from all over the Middle East and Asia.
Bur Dubai is fascinating especially to fans of culture and history!
26.  Walk around the Shindagha Historic District.
Lonely Planet describes the Shindagha Historic District as Dubai's Beverly Hills during the first half of the 20th century.
Here you will find huge houses made with coral and gypsum and connected by courtyards. They were the homes of the city's most elite families.
Nowadays, Shindagha is considered a heritage district, where tourists are encouraged to walk around its waterfront and admire its beautifully restored buildings.
Shindagha is where you can find the house of Sheikh Saeed Al Maktoum, the grandfather of present Dubai ruler Sheikh Mohammed bin Rashid.
27. Explore the Al Fahidi Historic District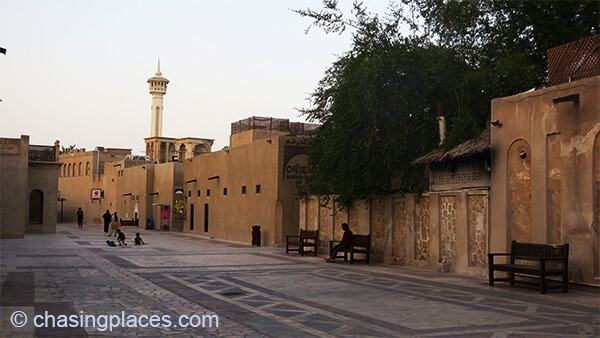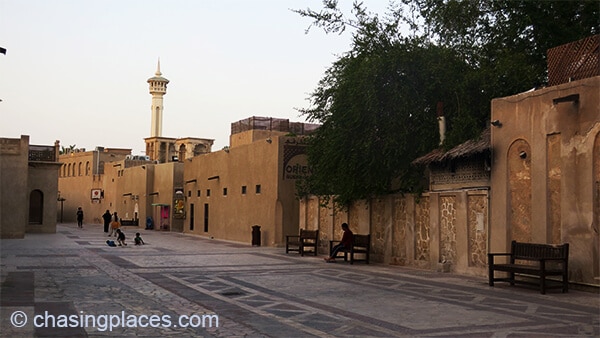 This district looks more like a well-run outdoor museum. Although the buildings surrounding this complex exude traditional Arabian architecture, they appear new and well-preserved.
It's hard to imagine that Al Fahidi was once a real functioning quarter built in the early 1900s.  Most of the buildings occupying the district are now in shops, cafes, art galleries, museums, cultural offices, mosques, and exhibits.
Al Fahidi is extremely photogenic, and it offers so much that you can easily spend an entire afternoon exploring one building to another.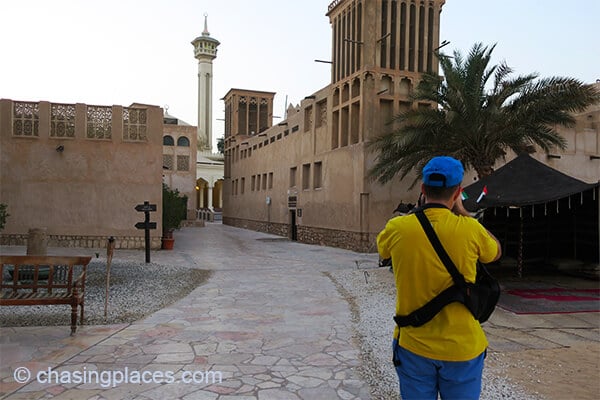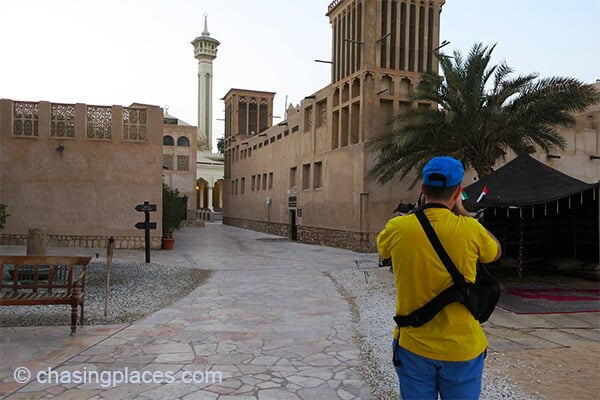 28. Join one of the Sheik Mohammed Centre for Cultural Understanding Tours.
If you want to make your time in Al -Fahidi District more memorable and worthwhile, we suggest that you drop by the Sheik Mohammed Centre for Cultural Understanding office in Al-Fahidi.  
With the motto: "Open Doors, Open Minds," the center aims to educate visitors about the culture and traditions of the United Arab Emirates.
Join one of the center's regular guided heritage tours, which take you around Al Fahidi Historic District. Bigger groups can contact the center and arrange for a longer and more comprehensive tour.
29. Bargain at the Bur Dubai Souq.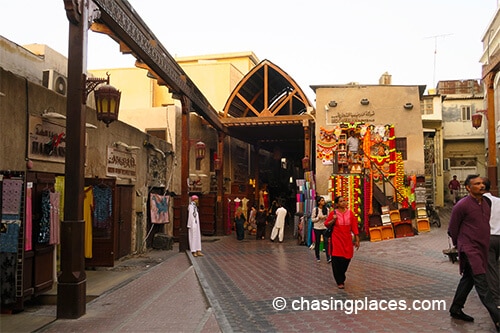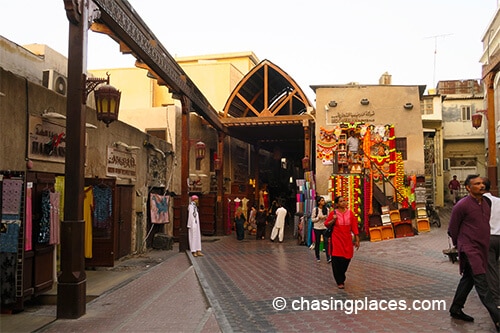 Dubai may have many souqs, but the Bur Dubai Souq remains to be one of the 'must-sees'.
This souq is massive, colorful and very atmospheric. It has this Arabian vibe but is also very multicultural because of the presence of different workers and products from all over the world.
Walking around the Bur Dubai Souq was satisfying for us. It's hard to miss as it is facing Dubai Creek, just a minute walk from the Bur Dubai Abra & Water Station.
30. Learn more about Dubai's interesting past at the Dubai Museum (Bur Dubai).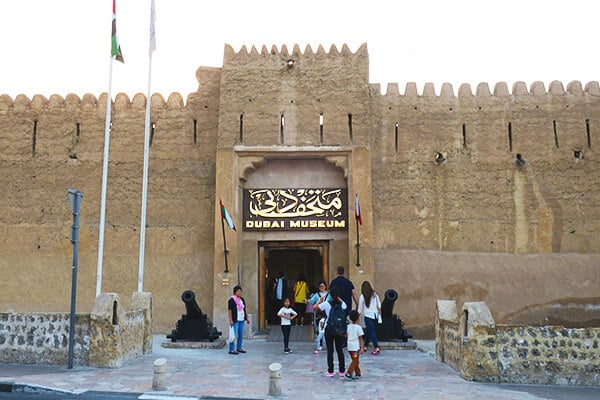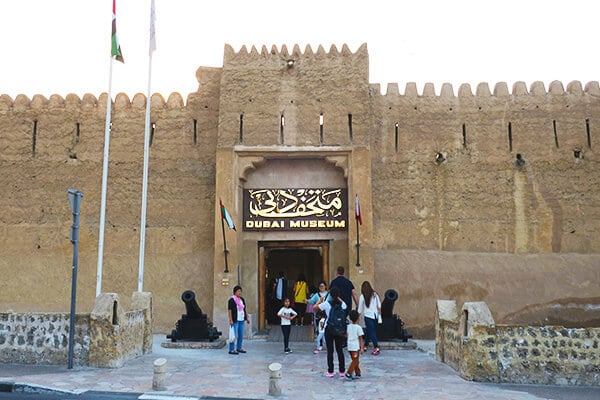 The Dubai Museum will take you back to the time of the Bedouins, merchants, and traders.
It will tell you a compelling story of how a city so small and surrounded by sand, has risen to become the mega-metropolis and financial powerhouse we know today.
Dubai Museum offers multimedia presentations; displays of instruments and weapons;  film footage and dioramas of the traditional life in the Gulf.
One of its more popular sections displays unearthed items from ancient settlements and archaeological sites in the area.
31. Wander around Hindi Lane.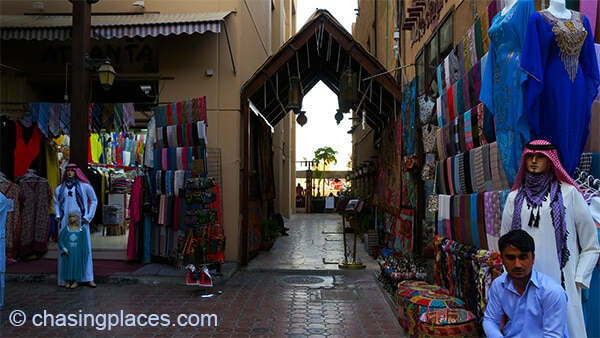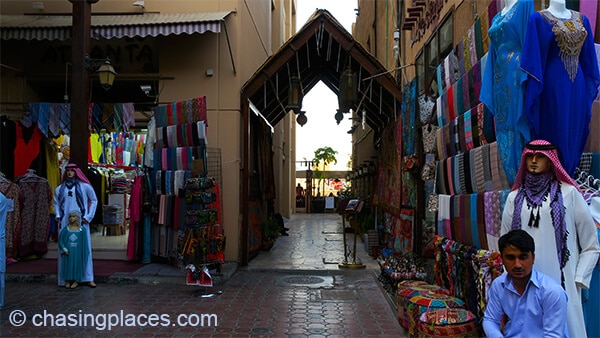 This atmospheric alleyway is a special place for the big Hindu community residing in Dubai.
Hindi Lane leads up to the Shiva and Krishna Mandir Temple, which is the only place of worship of its kind in the city.  The temple is just behind the Grand Mosque.  
As you walk along Hindi Lane, you will encounter vendors selling religious items, flower garments, and offerings, which worshippers usually take with them to the temple.
32. Snap a photo of the Grand Mosque.
Grand Mosque is Dubai's biggest mosque, and also boasts the city's tallest minaret.
Unless you are a Muslim, you are not allowed to enter the Grand Mosque.  But its sheer size, importance, and architecture are enough reasons to admire from the outside!
33. Escape to the Arabian Desert.
If you're one of those looking for the typical Arabian desert experience, you won't get it if you stay within the confines of the city.
If it's sand dunes, camel riding and traditional Arabian dancing you seek, then the best way to experience them is to book one of those special desert adventure tours.  Luckily for you, there are plenty of tour companies that offer such type of excursions.
34. Go for a  one-day trip to Abu Dhabi.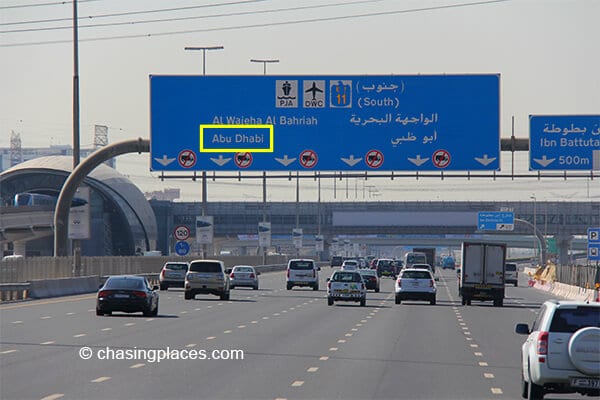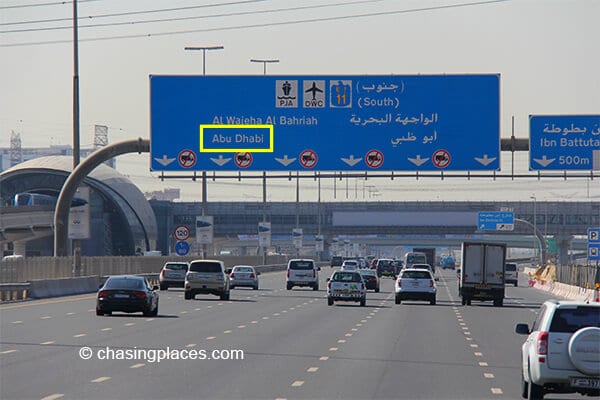 If you have some time in your hands, we highly recommend that you take a day or overnight trip to Abu Dhabi.
Abu Dhabi is the administrative capital of UAE and is only a two-hour bus ride from Dubai.  Although Abu Dhabi is also a very developed city, the atmosphere and pace in Abu Dhabi are different from Dubai.  
In many ways, Abu Dhabi is more representative of what an Emirate city feels like. The capital is less populated and more laidback.
We found it interesting to compare the two, making our perspective of the United Arab Emirates as a country much broader.


35. Eat, Eat and Eat!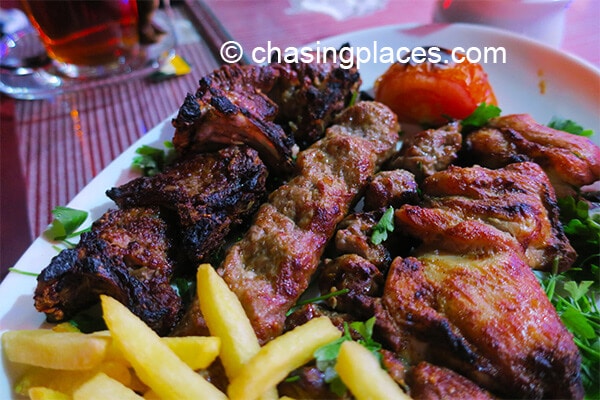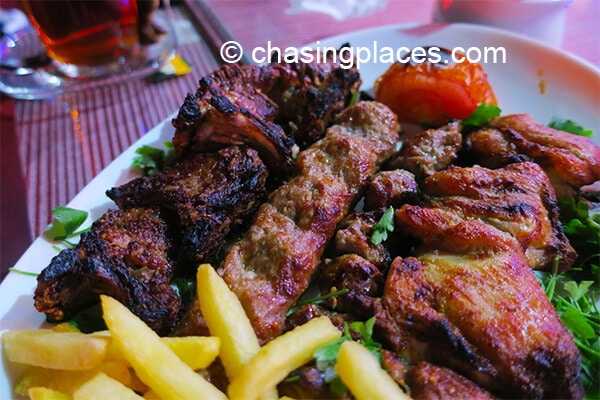 One thing that surprised me about Dubai is that it's a foodie's paradise –  one of the best cities to eat in!
Perhaps, I am a little biased because I love Middle Eastern cuisines, but I think it's safe to say that the quality and quantity of meals served in Dubai will leave anyone quite satisfied.
The bread in Dubai is some of the best I have tasted, and a typical meal there always come with freshly baked ones.
In general, eating out in Dubai is more expensive than most of Asia, but the cost is slightly cheaper than North America and Europe.
If you don't have the budget to dine at fancy restaurants every night, find a local chain.  These eateries offer fresh bread, plenty of meat and salad assortments at very reasonable prices.
Travel Checklist: Do you have everything you need?
Travel Tip: For those who don't have a lot of time to explore, one excellent way to experience Dubai is to go on a bus tour.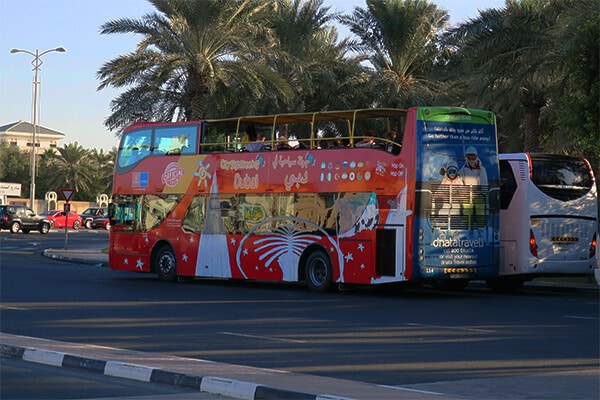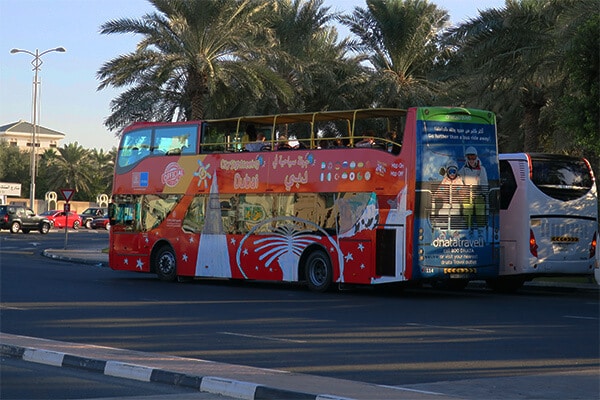 There are many tour companies operating in Dubai, but one of the most notable ones is the Big Bus Tour Dubai, a hop-on, hop-off bus that stops at all the major sites the city has to offer.
With proper planning and organization, you can do most of the things on the list within a couple of days' visit to Dubai. We know to true because we did just that!
Hopefully, the list can help you draft your own itinerary and make your visit to Dubai more meaningful and worthwhile.  
Top Rated Hotels in Dubai Based on Verified Guest Reviews