Every once in a while as a tourist you will stumble upon something completely unexpected. This of course can be a good thing or a bad thing depending on the situation. During my recent visit to Johor Bahru in southern Malaysia, I made an unforeseen visit to Zoo Johor (Johor Zoo) and it only reminded me of how spontaneity can enhance a trip.
I was in the vicinity of Johor Zoo because I wanted to take photographs of one of Johor's architectural wonders – Sultan Abu Bakar Mosque.  I never had any idea that Johor Zoo even existed when I was drafting up an itinerary for my trip to Johor from Kuala Lumpur.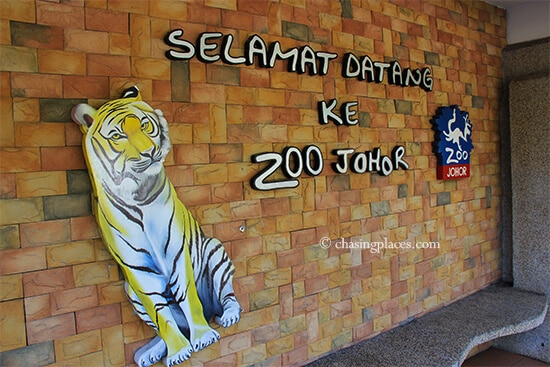 As I walked up the hill to the Mosque early one morning I couldn't but help notice some signs of animals to my immediate right.  Conveniently placed adjacent to Sultan Abu Bakar Mosque, Zoo Johor appeared very quiet, as if it wanted to be explored. But before I could, I had to wait about 45 minutes for it to open.  This provided ample time for me to photograph the Mosque and then walk the short 100 meters over to the Zoo.
Since I had no idea that Johor Bahru had a Zoo, I also had no idea how much it costed to enter.  When I purchased an entrance ticket for a meagre RM 2 (approximately $0.75 USD), I was immediately excited to see if this was one of those unheard of tourist bargains.  That's exactly what it turned out to be.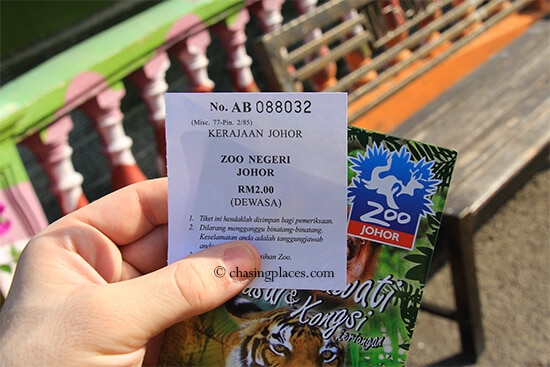 The Johor Zoo staff quickly handed me over a brochure and I was on my way to explore this urban safari. I was immediately impressed with the different types of animals in the brochure and displayed on the signs throughout the Zoo. Since some of the names were in Bahasa I had no idea what would be in some of the cages and small patches of green lungs throughout Zoo Johor.
Since I arrived at the Zoo in the middle of the week, I had complete freedom to take photos and walk around at my own pace. It didn't take me long to notice that some of the cages and cement structures around the Zoo were quite dilapidated and in need of a face lift.  Hopefully, in the near future improvements can be made. On a positive note, however, I truly enjoyed watching some animals that I had never seen before – such as the Malaysian sun bear and the ever impressive hippopotamus.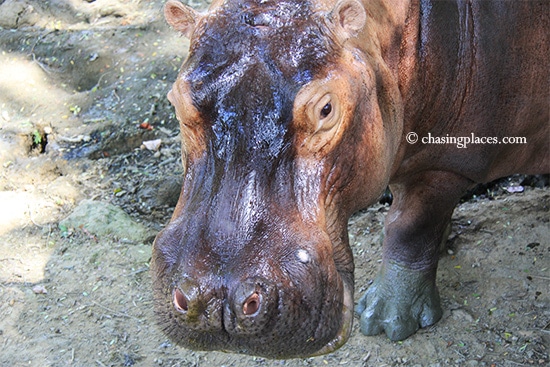 The Johor Zoo also has some other noteworthy headliners on site including camels, deer, tigers and a wide range of bird species. Photographing some of these animals can get quite challenging due to the fences and cages partially occluding your view, but it's still worthwhile to bring your camera along especially if you have children.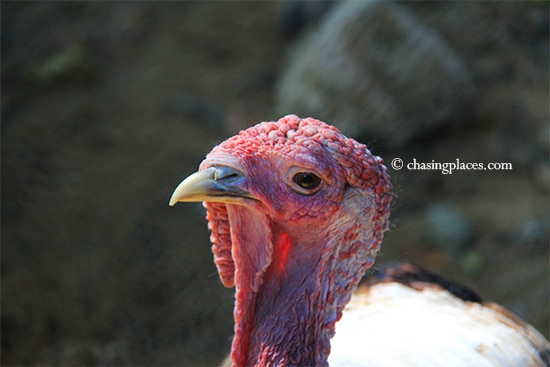 When you are at Johor Zoo there are also small vendors who are selling drinks and snacks if you want to take a break from the action. These are also very affordable.  Tourist sites that are supposed to cater to young families with children are becoming more expensive by the day, so it's refreshing to visit such a reasonably-priced attraction.
Similar to my experience in Johor, I would recommend booking your room in downtown Johor Bahru and passing by Sultan Abu Bakar Mosque and Johor Zoo during the same morning. Once you are at one of these locations it is impossible to miss the other.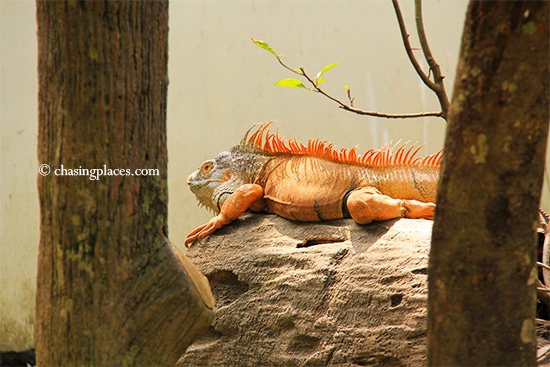 Travel Checklist: Do you have everything you need?
I have included a photo summary of some of the animals that you can observe at Zoo Johor. If you go with moderate expectations, you shouldn't be disappointed. Just remember if you can see a hippopotamus for under $1 USD it's an unbelievable bargain! I would recommend allocating 2-3 hours to see all the animals and maybe longer if you are travelling with inquisitive kids. If you have any questions pertaining to my experience in Johor, more particularly the Zoo, feel free to comment below. Safe travels!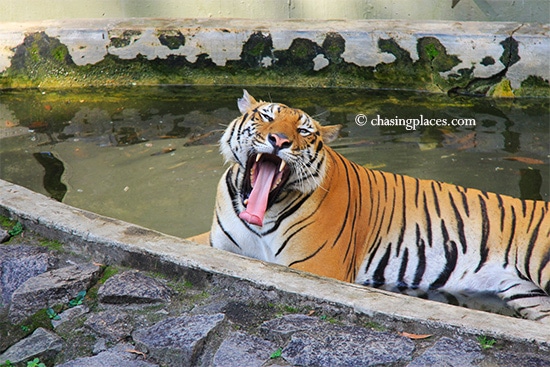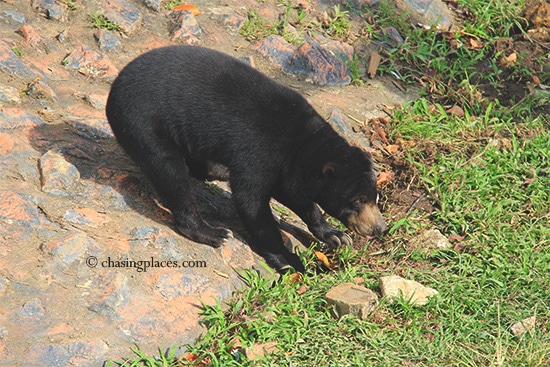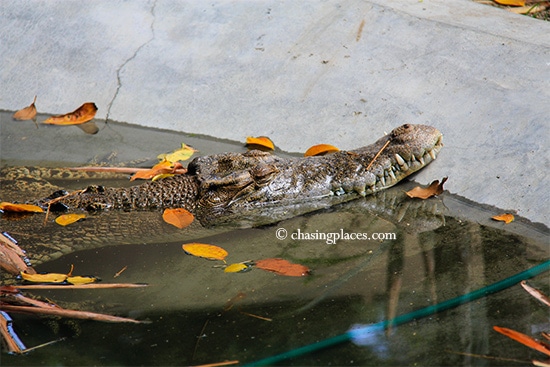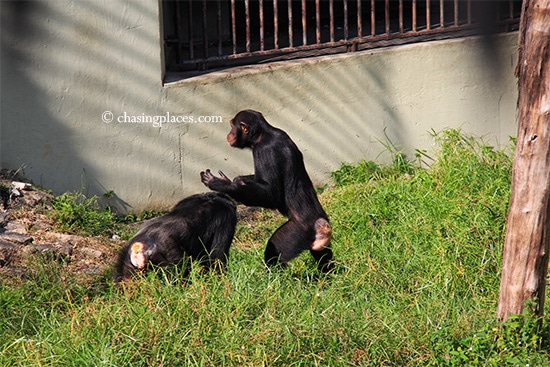 Where did I stay in Johor Bahru?
I had two priorities when I booked my room in Johor Bahru: 1) it must be affordable and 2) it must be ideally located. Eventually, I decided to stay at Meldrum Hotel. I don't have a direct affiliation with this property, therefore my opinion of it is unbiased.  Overall, it did satisfy my priorities. It wasn't overly fancy by any means, but it's located on one of the more interesting streets that I saw in all of JB. My room was very basic, but clean.  The staff were great. Some people might find the area a bit 'rough around the edges' late at night, but if you're used to this sort of thing in Southeast Asia, then you shouldn't mind. Plenty of hawker stalls all over the place. At the time of writing it had a score of 6.8/10 based on 179 verified guest reviews.
How to find the cheapest rooms in Johor Bahru?
Probably your best best at finding the largest selection of rooms at the best price is with www.agoda.com. Through my searches online, I couldn't find a provided with more choices. Sometimes I also try out www.hotelscombined.com to compare room prices.  This might be a good idea if you are heading to Johor anytime soon. Booking.com is also a favourite with our readers.  I have created links to their property lists for Johor Bahru to save you some time:
Rooms in Johor Bahru – www.agoda.com