Langkawi Island has been consistently becoming more popular with international tourists over the years. In my opinion, the Island's growth has a lot to do with its duty-free status, beautiful public beaches and the ever increasing number of tourist activities available. One of the first questions that tourists visiting Langkawi must answer is where is the best location to book your accommodation? Well, based on our experience visiting Langkawi this is actually a fairly challenging question to answer. People seeking a relaxing, world-class vacation tend to choose Four Seasons Resort Langkawi, The Datai Langkawi, or The Danna Langkawi Hotel.  All of which get excellent reviews from the most pampered tourists.  But what about families, backpackers and everyone in-between?
Pantai Cenang is only about a 10-15 minute drive from the International Airport, therefore it's super easy to reach once you land on the Island. In this article, I hope to share some of my opinions with you regarding Pantai Cenang so that you can make a better decision as to whether this is the right spot for you.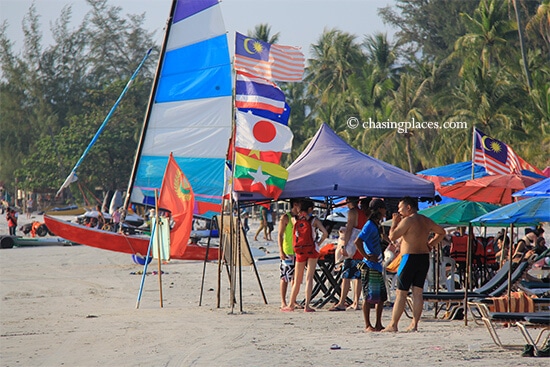 Pantai Cenang is often compared to other famous beaches (Daytona in Florida, Kuta in Bali, and Patong in Phuket) around the world, but in my opinion this is not really a fair or accurate depiction.  Pantai Cenang is definitely the most convenient beach on Langkawi Island, but it is by no means as busy some of the other iconic beaches you might have visited.  This is a good thing in my opinion.
Pantai Cenang is only about a 10-15 minute drive from the International Airport, therefore it's super easy to reach once you land on the Island. As you drive down the main drag along Pantai Cenang you will see a solid range of restaurants, convenience stores and tourist shops. Even if you visit Pantai Cenang during low season you will still have more than enough duty-free shops and food choices to make you happy. Don't expect a broad range of five-star restaurants, otherwise you will be severely disappointed.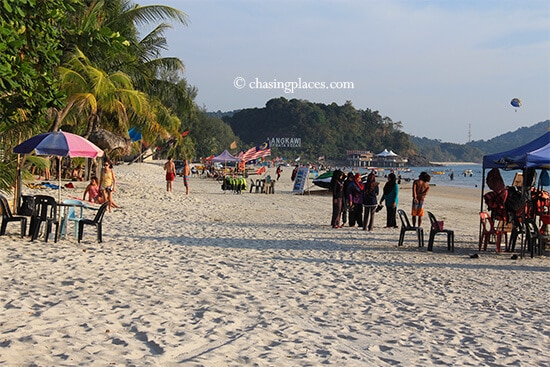 Once you walk onto Pantai Cenang you will see a pretty nice strip of powdery sand. Unlike other busy beaches, Pantai Cenang is not surrounded by tall condominiums and skyscrapers.  It retains a pleasant, laid-back beach vibe in comparison to most Thai "party" beaches.  Most of the beach is lined with small hotels and guesthouses which typically are not overly strict about granting beach access to pedestrians walking down the beach road. Therefore, if you choose to book a room off of the beach you will still be able to easily walk to Pantai Cenang.
In my opinion the number one highlight of staying on Pantai Cenang is the world-class sunset you will see.  Therefore, regardless of where you are during the day on Langkawi Island, try to make it back to Pantai Cenang for sunset if at all possible. The sunset tends to form striking orange and purple highlights throughout the sky before the sun disappears before your eyes. During our most recent visit to Pantai Cenang we had a great time just relaxing and watching some of the locals playing football on the beach as the sun set directly in front of us. We have made numerous searches for hotels on Pantai Cenang for our visits to Langkawi and overall I would say that it is quite challenging to find a hotel that receives great reviews with sea views.  Therefore, I recommend that you should try to book a room online early to avoid getting one of the "mouldy" rooms that so many negative tourist reviews speak of.  Casa Del Mar and Meritus Palangi Beach Resort & Spa are definitely the top two choices on Pantai Cenang. Unfortunately, many other choices on Pantai Cenang get poor reviews for cleanliness and service.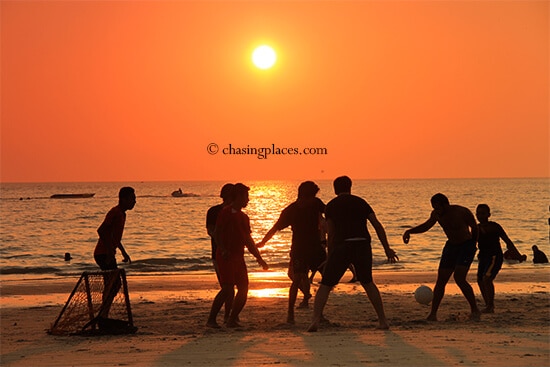 Travel Checklist: Do you have everything you need?
Pantai Cenang can look completely different depending on the tide and time of day. During low tide, the beach can extend quite far out and the water looks very shallow. At high tide the beach is moderate in terms of width. Pantai Cenang naturally has very fine white sand which is clearly evident when you first step on the beach.  It is powdery and world class. Due to the fluctuations in the level of the tide it can appear damp, grey and quite packed at you walk towards the water.  This makes it ideal for playing Frisbee and football, but it's not the best for making sand castles. In the late afternoon (especially on weekends) Pantai Cenang adopts a community-like feel with a pleasant mix of foreign tourists and locals playing various games along the beach.  If you enjoy this atmosphere then you will really enjoy Pantai Cenang. However, if you want to stare out at the ocean in a more peaceful environment, then Four Seasons, The Datai or The Danna  would be better choices to stay as they are located on private beaches.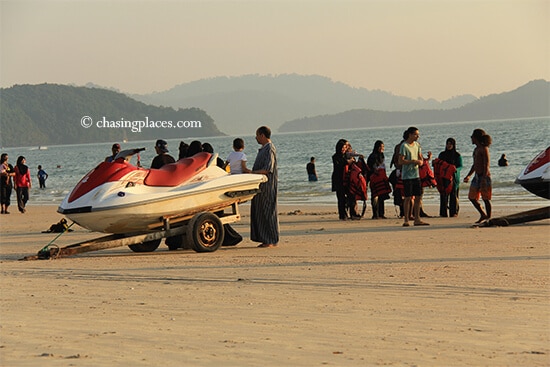 If you have been to the Maldives, the Philippines or other South Pacific Isles then you will probably find Cenang's water colour a bit disappointing. It's not dirty, but the water just simply does not have the same transparency as more isolated beach destinations that are harder to get to.
It is only natural that the most popular beach on Langkawi Island can get quite busy at times. Once you throw in parasailing, jet skiing and other water-based activities like banana boating, Pantai Cenang can feel hectic if you just want to relax for a few days.  If you want to grab a few drinks and have some fun in the sun it's definitely the place to be.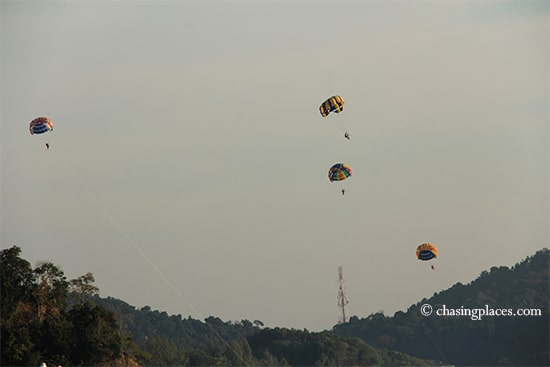 Once the sun has set don't expect huge beach parties and neon lights.  There are some laid back bars along Pantai Cenang, but it's not Koh Phi Phi after all. Many tourists that stay in the vicinity of Pantai Cenang usually grab a few drinks at one of the beachside restaurants and then head to Sunba – a disco which is roughly a 15 minute walk from Cenang.
Where did we stay while visiting Pantai Cenang?
We have visited Langkawi many times.  Therefore, we have stayed all over the place.  For this particular visit we stayed at Casa Idaman Hotel. We don't have a direct affiliation with this, or any, property on Langkawi.  Therefore, in my honest opinion I can say that we enjoyed our stay there. The hotel is small, but ideally located about 200 meters from Pantai Cenang.  It's located on a quiet road that looks over some fields which is a nice break from Cenang's busy main road. The rooms are new and it was clean while we were there. I would recommend this property for guests who want a clean, mid-range option that is quiet enough to get a solid night's sleep.  If you want something more luxurious, try shopping around.  At the time of writing it had a score of 7.7/10 based on 18 verified guest reviews.
How to find the cheapest rooms near Pantai Cenang?
Based on our personal experience visiting Pantai Cenang on multiple occasions, it's usually best to book WELL in advance. Since many of Langkawi's hotels receive below average reviews, the good choices that are available tend to sell out. A large providers such as www.agoda.com  is a good place to start your search. If finding the most affordable room is your priority, try out a price comparison site such as www.hotelscombined.com.  I have created links to their respective property lists for Langkawi to save you some time:
Rooms in Langkawi – www.agoda.com
Compare Room Prices in Langkawi – www.hotelscombined.com
Regardless of when you visit Langkawi and Pantai Cenang I hope that you have an excellent experience!  Remember to capture at least one of Pantai Cenang's famous sunsets.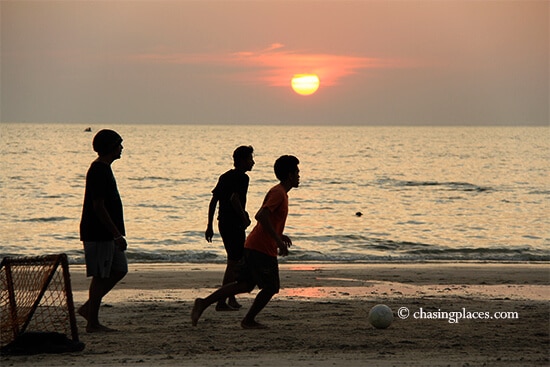 If you have any additional questions about accommodation choices along the beach or about our general experience there, feel free to comment below. Safe travels!