Have you ever wondered why almost every first-time backpacker to South East Asia includes Thailand in their itinerary?  In most cases it is the first stop. Powdery sand, the jade green Andaman Sea, enormous limestone karts, mouthwatering Thai cuisine and first-class hotels are without questions some of the reasons why Thailand is a tourist mecca. But, when you think about it – the beaches in the Philippines are arguably nicer, the culture in Vietnam may be just as authentic and the food in Malaysia is hard to surpass.  So what is it that sets Thailand apart from its regional neighbors as the tourist magnet in South East Asia?
The Provocative Road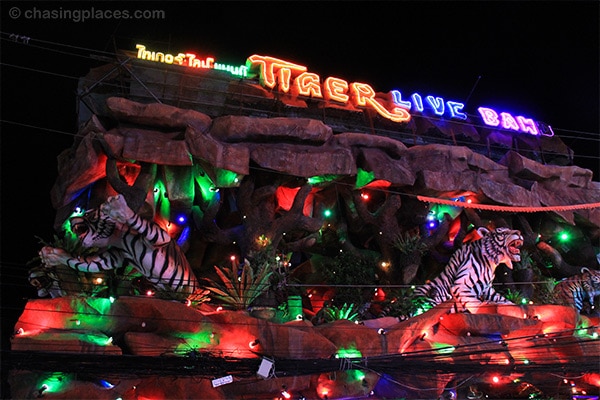 Nightlife, nightlife and more nightlife. If you really want to maximize your time each and every day you're on a trip then it is hard to get bored in Thailand. Backpackers without a significant other truly adore Thailand because it is super easy to meet other tourists after a day of frolicking on the back of an elephant or 30 meters below sea level. There are so many spots in Thailand that have excellent nightlife. One of my favorites has to be Bangla Rd. which is basically an arm's length away from famous Patong Beach on Phuket Island.
I have been to Bangla Rd. on multiple occasions, but for some odd reason I always end up there on either a Friday or Saturday night. This left me a bit curious as to how the party scene would be during the week? So, during my last visit, I decided to ask a local taxi driver what the scene is like on say any given Wednesday night. His reply was quick and decisive, "Monday, Tuesday, Wednesday, weekend.  Same. Same. Always busy!" I assure you when he says busy – he means busy.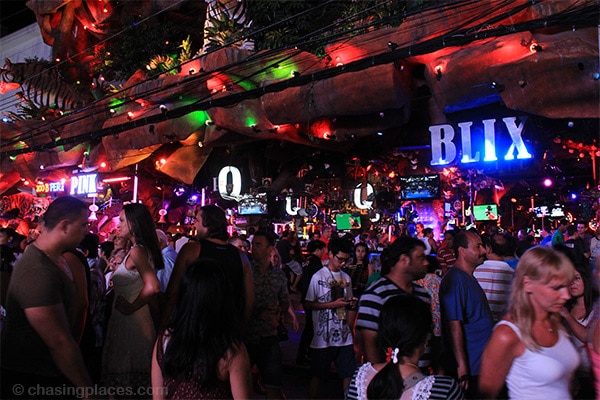 Bangla Rd. is unique for various reasons. During all of my travels I would have to think long and hard to identify a place with such a vibrant carnival-like atmosphere. Bronze and sculpted beach bodies, transvestites dressed up in cabaret costumes, young families and Scandinavian retirees harmoniously blend into some king of unexplainable social dynamic. As you walk down the street and move past McDonald's and other family friendly establishments, you will suddenly notice go-go dancers putting on a show for passing by observers though the open aired bars lining the street. Music pounds onto the street and tourists feel energized by the neon lights and a myriad of visual distractions. First timers may be initially overwhelmed by the vibrant, pulsating characteristics of Bangla Rd, but after a short while expressions of shock quickly transform into bright smiles.
Travel Checklist: Do you have everything you need?
People Watching at its Finest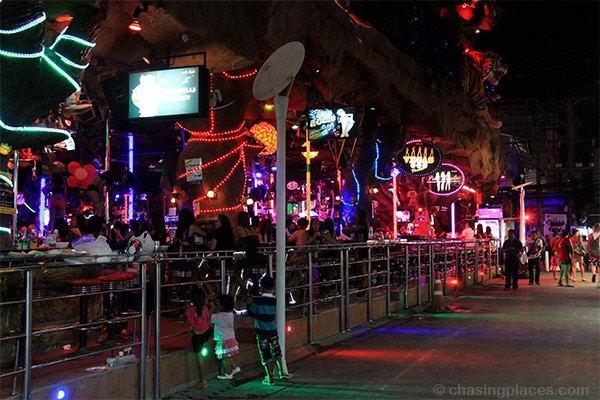 Bangla Rd. offers something for all open-minded tourists. Live music, dancing, karaoke, shopping and excellent opportunities for travel photography are just a few of the things visitors can do. Personally, my favorite activity is simply walking up and down the street taking photos and videos of the street action – people watching in other words. On so many occasions I can recall myself saying "only in Thailand!" But I guess it's that very same free spiritedness that tourists love about Bangla Rd. and Thailand that keeps them coming back time and time again. My suggestion is hit up the great beaches (Kata and Karon) along Phuket's western coastline during the day and then check out Bangla Rd. after 10 pm.
Want to find the best hotel in Patong?
Suggestions.
Try to get a hotel as close as possible to the strip to ensure that you cut down on tuk tuk and taxi fares. Leave your self-consciousness and the open liquor policies at home and head to Bangla Rd. for night out with your travel mates. Just make sure your batteries are well charged!
I have used one of the following three sites for every trip I have made to Thailand thus far:
www.agoda.com – largest room provider in Thailand with hundreds of rooms on Phuket Island.
www.booking.com – the best site for free-cancellation rooms and customer service with plenty of rooms in Patong.
www.hotelscombined.com – the world's best price comparison site for rooms.  Sure to save you cash while in Thailand.
To save you time, here are the:
Top Rated Properties on Phuket
Based on Verified Guest Reviews
Important: Mobile Users must swipe from left to right to see entire table.
Criteria:
Properties rated based on 'overall' review scores from each respective website's verified guests.
Minimum of 50 verified guest reviews required to be considered eligible for comparison.
All star ratings and verified guest review scores are tallied at the time of writing, and therefore, are subject to change.