Article Updated in January 2020
This is your step-by-step guide on how to get to Patong and Karon Beach
from Phuket International Airport. 
---
So you have just booked a flight to Phuket International Airport and you are ready to have a great time…
But before you do; it's important to know the airport transportation options available for you to get to your  Phuket hotel safe and sound.
After all, who wouldn't want to start their vacation smoothly?
Phuket is a large island in Thailand known for its gorgeous beaches. There are many beaches to stay in Phuket but Patong Beach is undoubtedly the most developed beach for tourist amenities, nightlife, and restaurants.  
Patong is home to the famous Bangla Rd. that tourists rave about for its wild nightlife and multicultural crowds any night of the week.  Therefore, it is always a convenient beach option is you are heading from the airport.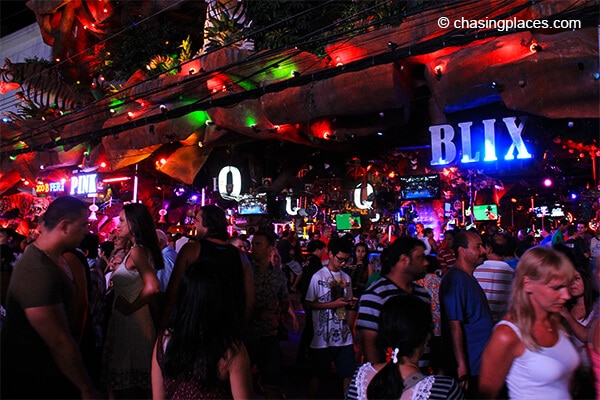 Another solid beach option is Karon Beach. It's the further south beyond Patong and it takes about an extra 10 minutes to get there from the airport.
With fewer amenities, but much nicer sand and water, Karon is an excellent choice for most tourists visiting Phuket.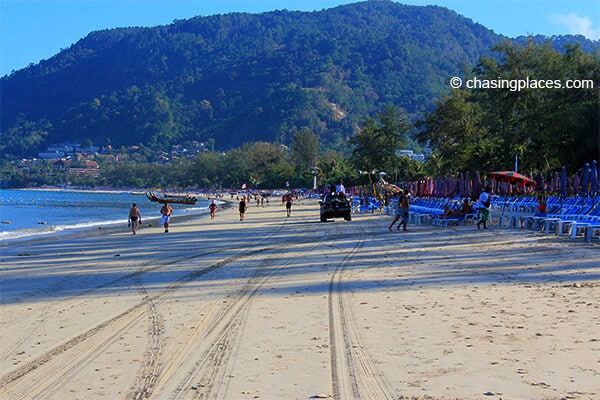 Here is a step-by-step guide on how to get from Phuket Airport to Patong and Karon and other destinations on Phuket:
Via Bus
This is the most cost-effective, yet fairly safe and efficient option. This bus service departs from Phuket Airport every hour. To get on the bus:
      1. Go to the Bus Ticket Counter near the Airport;s Departure terminal's exit doors.
      2. Choose your Destination.
The Airport Bus has two major routes:
The first one goes to Phuket Bus Terminal 1 in Phuket Town
The second goes to Patong Beach as well as Kata and Karon Beaches.
3. Pay for your ticket.
To Phuket Town Bus Terminal: the large bus is 90 Baht, while the mini-bus costs 100 Baht.
To Patong: 150 Baht
To Kata/Karon: 200 Baht
4. Make your way to the Phuket Airport Bus. Take the exit door, and turn left. Look out for the cream-colored buses with the blue strip.
5. You may also buy the ticket directly from the driver.
Important Reminder:  Airport buses start operating from 7:30 AM. If your flight arrives early than this time, you may have to take another transport option and or wait.
Important Reminder:  Airport buses start operating from 7:30 AM. If your flight arrives early than this time, you may have to take another transport option and or wait.
Via Minivan
Make your way to the ground floor of the Arrival Terminal at Phuket Airport. There you will see the counters for the minivan service tickers.  
Purchase your ticket.  Ticket Price: (may change from the time of writing)
    To Phuket Town: 100 Baht
    To Patong Beach: 150 Baht
    To Kata/Karon Beach: 180 Baht
The advantage of taking the minivan is that the driver will take you straight to your hotel. But because they can cram up to 10-15 passengers into one vehicle, dropping off every passenger can make the journey longer than taking a taxi.
There have also been reports of minivan drivers stopping by tour agencies along the way. The agencies then try to convince passengers to book a tour with them.
Although the agencies are legit and harmless, this practice can be annoying and time-consuming especially after a long flight. Minivan drivers often do this to make more money out of booking commissions.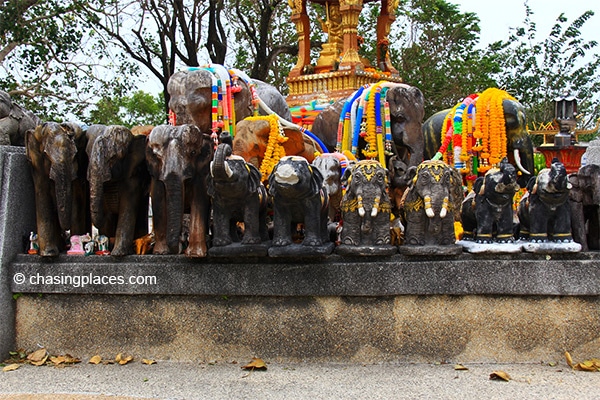 Via Metered Taxi
Go out of the Arrival terminal at Phuket Airport and make your way to the right of the main exit doors. The taxis are colored yellow and red.
Tell the driver where you want to go and he/she should be ready to use the meter.
Take note that in addition to the meter cost of the taxi ride, you will also need to pay 100 Baht for an Airport Fee.
As a general rule when estimating taxi fares, consider the distances of your destination relative to the airport.
Phuket Town is the nearest point of interest. Patong Beach is second and Kata/Karon is the furthest.
The main advantage of taking a taxi is that the fare is NOT per head/person. This makes it a good, more comfortable option to travel from Phuket Airport if you are travelling in a group of 3 or 4.
Another convenient option is to prebook your transport from the airport to your hotel. The popular  travel website KLOOK offers transfer services in Phuket.
You can arrange a car transfer from Phuket International Airport to Patong or Karon Beach even before you arrive.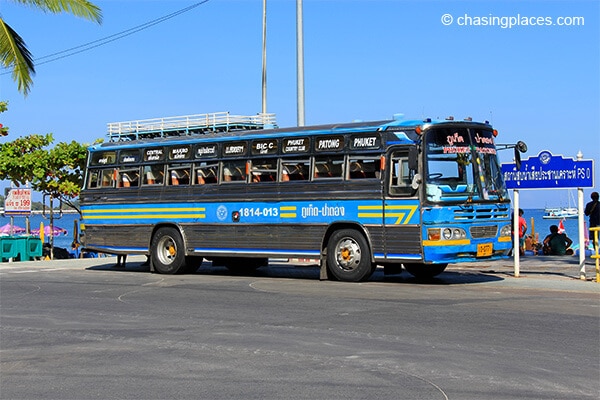 Travel Checklist for Phuket: Do you have everything you need?
Via Limousine Taxi
Do you desire comfort and driving in style; and are willing to pay more for it? Then, taking the Airport Limousine Taxi is your best option. Here's how to get one:
Go to the Limousine Taxi Desk on the first floor of the Arrival Terminal at Phuket Airport.
Buy your ticket and make your way to the main exit doors of the Terminal.
Look for the silver-grey cars, which should be just across the doors.
Renting a Car
If you don't mind driving on Phuket Island, then renting a car is probably your best bet. Phuket's landscape is scenic, and driving your own car gives you the freedom to explore it.
 You will also avoid bargaining with taxi or tuk tuk drivers, some of whom are good at ripping off tourists.  
Of course, there's the option of renting a motorcycle later on, but driving cars is much safer. To rent a car, here are the steps:
1.Go into the Arrivals Hall of Phuket Airport and look for the car rental counters.
 2. Choose one from among the reputable international car hiring companies like Avis, Alamo, National, and Hertz.
3. As an alternative, you can also make your way outside Phuket Airport, and look for local car companies. Some of them are just as good as the international ones but have cheaper rates.  There are also ones that provide cars with driver services.
Take note that you need to have your passport and international driver's license to be allowed to rent cars from these companies.  Make sure you rent from a company that offers a full comprehensive insurance.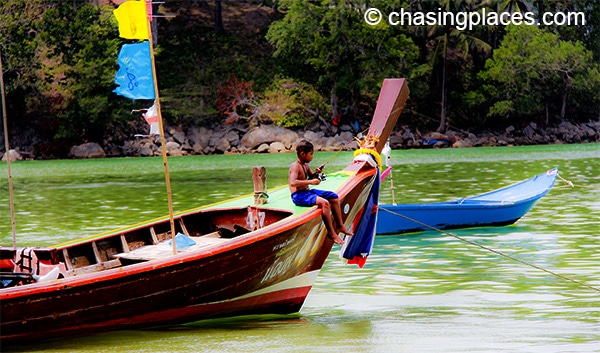 So this is your step-by-step guide on how to get from Phuket Airport to Patong, Karon, and even Phuket Town.  
Where Did We Stay in Phuket?
During our most recent trip to Phuket , we stayed at a nice mid-range place called Simplitel Hotel. It's about a 5-minute walk from Karon Beach.  It was clean, well managed and the breakfast was good for the price of the room.
At the time of writing, it has a score of 8.5/10 based on 443 verified guest reviews. We will definitely consider this property the next time we visit Phuket.
How to find the right room on Phuket Island?
We suggest using one of these sites: www.agoda.com, www.booking.com and www.hotelscombined.com.  I have created links to their respective property lists to save you some time:
Top Rated Properties on Phuket Based on Verified Guest Reviews
Criteria:
Properties rated based on 'overall' review scores from each respective website's verified guests.
Minimum of 50 verified guest reviews required to be considered eligible for comparison.
All star ratings and verified guest review scores are tallied at the time of writing, and therefore, are subject to change.
To find the best priced hotels in Phuket, use the SeaRch Box below: