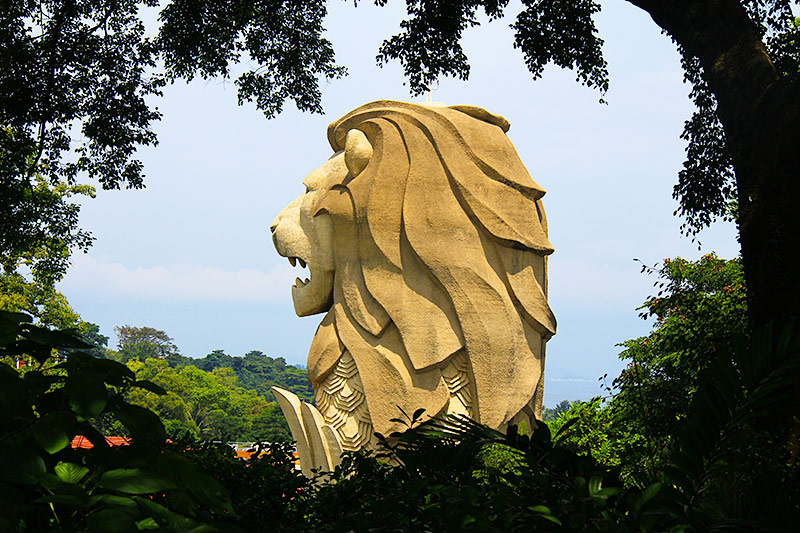 Changi Airport is one of the busiest airports in Asia. It is also a very well-run and very modern facility. This airport is about 22 kilometers from the city center, where Orchard Road is located.
But the good news is (despite the distance), going to Orchard Road from Changi Airport is made easy and convenient by Singapore's highly reliable public transport system.
If you're a first time visitor to wonderful Singapore, here is a step-by-step guide on how to get from Changi Airport to Orchard Road Singapore:
Using the Singapore MRT to Get to Orchard Road
The MRT is the cheapest and fastest way to get to Orchard Road from Changi Airport. Taking the MRT should be your first choice unless you're carrying too much luggage or your final destination is too far from the train station at Orchard Road.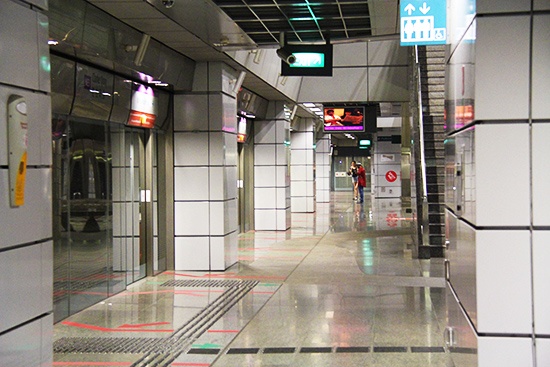 Step 1:
 After Immigrations and Customs,  proceed to the basement of Terminal 2.  
If you arrive at Terminal 1 or 3, just follow the signs that say ' Train to the City".
If you're arriving at Terminal 4, you need to take a shuttle bus to the Changi MRT station. The bus is free but you have to show your boarding pass to the bus operator. 
Step 2:
 Purchase your train ticket.
You can choose to get a single ride ticket from the ticket machine or purchase an EZ-Link card from the machine or ticket booth. 
The EZ- Link Card is a top-up card that you can use to get on trains and buses all around Singapore. 
Single tickets can be reused 6 times within 30 days. 
Step 3
: Get on the train from Changi Airport Station To Tanah Merah Station. 
Make sure you're on the right train that is headed to Tanah Merah Station.  
Step 4:
Get off
Tanah Merah Station
, and connect to the East-West (Green) Line.  
You need to get on the train that is headed towards Tuas Link (Terminal Station on the East-West Green Line.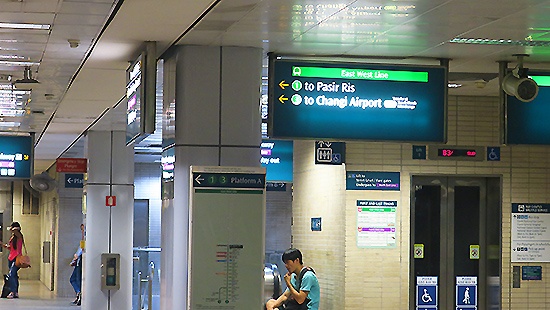 Step 5:
Get off at
City Hall Station
on the East-West Green Line. 
This is an Interchange Station, that connects East-West Green Line and North-South Red Line. 
Step 6:
From the City Hall Station, get on another train on the North-South Line. 
Get on the train that is headed towards Jurong East (The Terminal Station for North-South Red Line).
Step 7:
Enjoy the short ride. 
From City Hall Station, you only need to pass two stations (Dhoby Ghaut and Somerset) before reaching Orchard Road Station. 
Step 8: Get off Orchard Road Station. Once you exit the station, you will be at the center of the famous Orchard Road. 
There are many hotels to choose from in the Orchard Road area. Check out some options
Singapore MRT Operation HOURS
Mon to Sat – 5:31 am – 11:18 pm
Sun & Public Holidays – 5:59 am – 12 :06 am
Important Reminders:
The train frequency is every 7- 9 minutes during peak times and 12 to 12 minutes during off-peak times. 
The train fare is calculated based on the total distance you travel.  This already includes train transfers. 
The Drawback with Taking the MRT
As you can see if you're headed to Orchard Road from Changi Airport via MRT, you will need to do a couple of transfers.  This may not be the ideal transport if you have large suitcases that will make it difficult for you to carry or pull while doing the transits. 
If you can handle one big bag and a small bag, then MRT is still a good option to take. 
Another important thing to remember about the MRT is it does NOT have a 24 hour operation time. So if you're arriving after midnight, then you definitely need to choose a different mode of transport.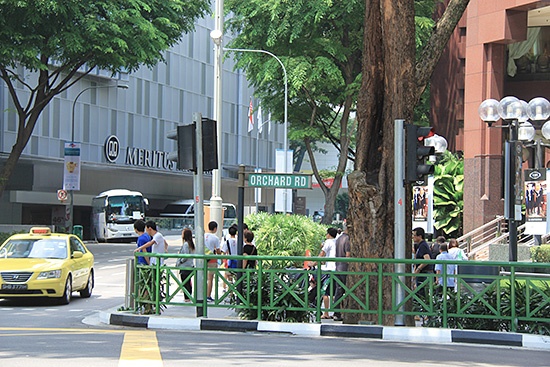 Using the Changi Airport Shuttle to Get to Orchard Road 
The Changi Airport Shuttle is another inexpensive way to get to Orchard Road from Changi Airport.  
The shuttles accommodate a certain number of passengers.  Once full, the shuttle drops passengers off to most hotels in central Singapore. 
Now isn't that convenient? Here are the steps on how to use the Changi Airport Shuttle. 
Step 1: After Customs and Immigration checks, make your way to the Arrival Hall of your Terminal.
Locations:
Terminal 1: Basement
Terminal 2, 3, and 4: Level 1
Step 2:
Look for the Ground Transport Concierge (GTC).
This is a 24-hour transport service that helps passengers in their transportation needs.   
Step 3:
Buy your shuttle ticket and inform them of your destination. You can ask the assistance of the customer service officers at the GTC counter. 
 You may also purchase the MRT ticket from the self-service kiosk located at the GTC area. The ticket machine will ask you the name of your hotel, so make sure you know it. 
Step 4
: Proceed to the Shuttle Bus pick – up point. A GTC customer rep can help you locate it. 
Reminders:
Changi Airport Shuttle cost: SGD 9 ($6.56) per adult; SGD 6 ($4.38) per child below 12 years old. Travel time using the shuttle is about 18 – 25 minutes depending on traffic conditions. 
This mode of transport is the best option for travelers with light luggage. 
While it is possible to buy the ticket at the shuttle kiosk of Changi Airport, you can also book the shuttle ticket online. 
GTC also offers a 4-seater car or a 7-seater van. 
Taking a Taxi to Get to Orchard Road
Taking the taxi is the most expensive way to get Orchard Road from Changi Airport, but it's also the most convenient.
Changi Airport taxis are always available from dusk till dawn. You don't have to line up or wait for other passengers. 
Here are the steps in taking a taxi to Orchard Road from Changi Airport:
Step 1:
After Immigration and Customs Check, make your way to the Arrival Hall of your Terminal.
Step 2:
Outside the Arrival Hall, you will see the lineup of Airport Taxis. 
Step 3.
Enjoy the ride. 
Singapore taxi drivers are usually professional and polite. All taxis are metered and you can ask for a receipt after your trip. 
Important Reminders:
Taking the taxi from Changi Airport to Orchard Road can be faster than the MRT and the shuttle because it's more straightforward – stops and transfers are not necessary. 
Take note that Changi Airport taxis have applicable peak hour and taxi nighttime surcharges. 
The 50%  nighttime surcharge takes place from 11:00pm – 7:00am
There is a 25% surcharge on Monday to Friday between 06:00am – 09:30am and between 06:00pm and 11:59pm everyday.
The ride from Changi Airport to Orchard Road usually lasts about 25 minutes as long as it's not rush hour. So, you are looking at a total fare of about 25 to 35 SGD depending on traffic conditions. 
If you don't want to take a taxi or you need a bigger car because you are traveling as a big group, then you can opt to book private transport.  
KLOOK offers private transfer arrangements from Changi Airport to Orchard Road or to any location in Central Singapore. Their rates are comparable to taxi rates. 
The benefits of booking with KLOOK are: it allows you to skip the long taxi lines, you have a wide range of car size options, and you can also request for a child seat if needed. 
You can also rent an internet-ready wifi pocket device or a data sim while in Singapore through KLOOK. After ordering online, you can pick up the device or sim at your chosen Changi Airport terminal. Read more about this.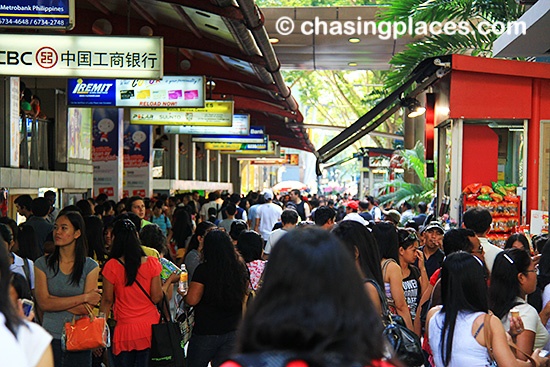 Booking a Room at Orchard Road Singapore
There are quite a few hotels to choose from in Orchard Road, Singapore. It's a convenient area to stay because of its proximity to restaurants, shopping malls, and office buildings. 
The disadvantage of staying in Orchard Road is that the hotels in this area tend to be on the expensive side as this is a central business district after all. You can still enjoy Orchard Road without being forced to stay in this area. 
You can find cheaper Singapore accommodation options are available in neighborhoods like Chinatown, Boat Quay, and Clarke Quay.  You just need to make sure that you book a hotel that is within walking distance to the MRT station if you want to save money.