It is often referred to as "Rain Town" as it receives a lot of rain throughout the year, due to the fact that it rests on a coastal plain along the foothills of the Bintang Range. It is never comes as a surprise when it rains in Taiping. But quite miraculously, I did not experience even single a drop during my visit to this scenic Malaysian town. Not that I mind rain. It helps 'break' the humidity in peninsular Malaysia, but it was just truly wonderful to be outside in Taiping without an umbrella.
I had to admit that my exploration of Taiping was incidental. My visit here was primarily motivated by joining an annual half-marathon run, organized by the local government. And thus, I didn't know what to really expect of Taiping. But it turned out to provide me with some of the most pleasant surprises that I've experienced while traveling in Malaysia, and thus making it one of my favorite towns in Southeast Asia. You can reach Taiping by booking a flight to either Penang or Kuala Lumpur and then using public transport.
Here are some of Taiping's many surprises:
The Laidback Feel
Taiping belongs to Perak province in the northern region of Peninsular Malaysia. It is only about an hour drive from Penang, and a 3 to 4 hour drive from the capital, Kuala Lumpur. But the town gives off a very different vibe than the two destinations mentioned. In Taiping, life is unhurried, cars don't honk and people take the time to chat and read the daily newspaper. It's no wonder the town has been tagged as the 'retirement capital of Malaysia'.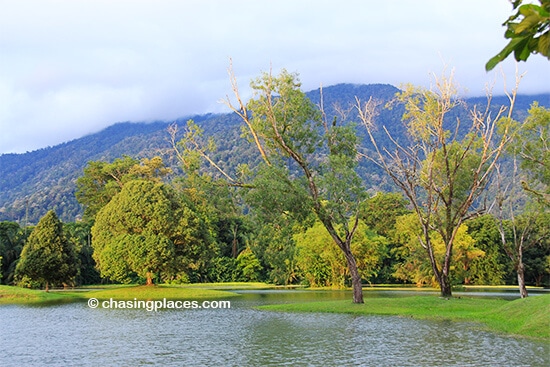 The Great Outdoors and the Genuine Love for it
Taiping is surprisingly a wonderful 'outdoorsy' town – the best in the country that I have seen so far. Surrounded by hills and lush plains and bordered by tropical forests and rivers; Taiping's serene landscape will induce a huge smile on any nature lover's face. A fantastic compliment to the town's natural collection of gifts is the locals' genuine love for them. Within an hour of walking around town, I was positively affected by the people and their energy. I could feel their enthusiasm and willingness to stay outside and enjoy nature.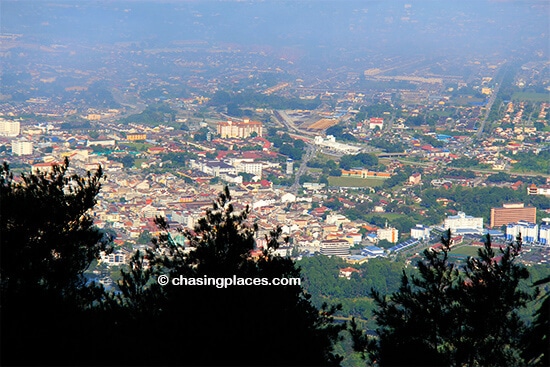 Amongst the surrounding hills, Bukit Larut or Maxwell Hill easily stands out. But it is not only a quintessential tourist attraction, as I saw a number of locals making the arduous trek up. I wouldn't blame them because on top of Maxwell Hill, sweeping panoramas of lovely Taiping await the ones who persevere. And on a clear day, the shimmering blue sea can even be seen in the distance.
The town's annual running event – the 'Rain Town Half Marathon', is a testament to Taiping's passion for staying healthy and fit. The route in this event leads runners through the Lake Gardens, another crowning glory of Taiping. This magnificently landscaped park was a pleasant surprise indeed! It is very well-maintained and managed, which made me admire the locals even more for their dedication to preserving what Mother Nature offers.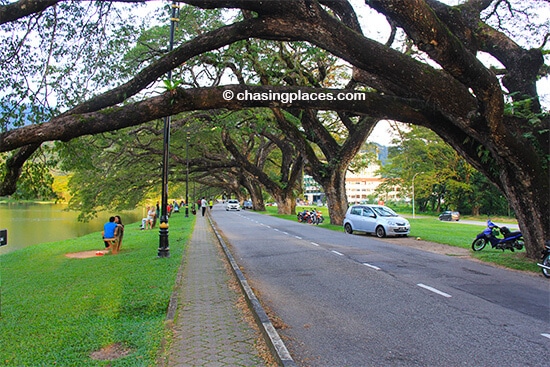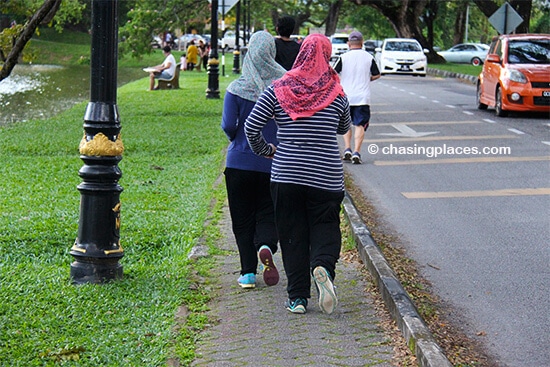 Travel Checklist: Do you have everything you need?
The Good Food and Warm Smiles
Many towns in Malaysia will lay the claim for having the best cuisine. In fact, Taiping's neighbor Penang enjoys the international accolade for being the culinary capital of the country. My Malaysian friend jokingly countered this claim by stating that the master chefs in Taiping go to Penang to cook. Whether this is true or not, I truly enjoyed my dining experience in Taiping. I had the chance to dine at some of its ubiquitous hawker places, and it was delicious! To top the experience, the prices here are way cheaper than in Kuala Lumpur. Many stalls, offer popular dishes like char kway teow (stir-fried flat noodles) and laksa (sour and spicy soup noodles) for 3.50 Ringgit, or a little less than 1 US dollar.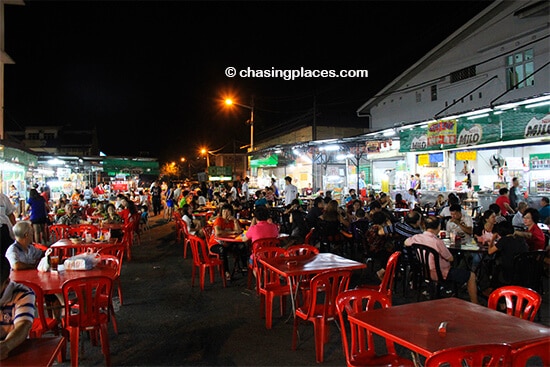 Like many Malaysians, I found the people from Taiping a little shy at first. But when I asked them questions or asked for their help, they never hesitated to respond positively. They are truly nice people, with an air of simplicity and camaraderie, reminiscent of small countryside towns.
The Many "Firsts"
And just when I thought that Taiping couldn't surprise me anymore, it pulled another trick. A number of tourists to the country (including myself) did not know that it is a town of many 'firsts' in Malaysia. This is the home of Malaysia's (then Malaya) first hospital, first prison, first museum, first police force, first railway etc. I cannot name all of them but if you really want to know the more than 30 'firsts', head out to the First Galleria Taiping, where the admission is free! I tried to physically go to some of the 'first' historical sites mentioned in the galleria. Fortunately the downtown and historical core is relatively small. And by staying at a hostel in the heart of the town, I was able walk to most of these buildings.
In so many ways, Taiping was a place of progress and innovation. So how then did it not bloom into a huge metropolis like Kuala Lumpur or Penang? Maybe it is due to its close proximity to the already heavily developed cities. Or perhaps Taiping is content being what it is today. Nevertheless, it is evidently well-loved by its inhabitants. Even those who left it for work and ambition, relish their homecoming to Rain Town.
Taiping can be reached from Kuala Lumpur and Penang via railway and bus services. Sadly, the town does not enjoy the tourist attention it rightfully deserves. But by all means, visit Taiping for its outdoor attractions and activities, simple and active lifestyle, rich history, good food and warm people, and you will not regret it.
Accommodation Information
Where did I stay in Taiping?
My priority in terms of accommodation was finding something affordable in middle of the city center. After plenty of online research I eventually decided to stay at Sojourn Beds and Cafe. It's important to note that I am not directly affiliated with this property or any specific property in Taiping. Therefore, in an unbiased way I can say that I thought this was a superb budget choice. At the time of my stay it was being managed by an expat couple. The rooms were very clean, the staff were super friendly and it was ideally located right downtown beside all the delicious hawker stalls.  At the time of writing it had a superb score of 9.4/10 based on 164 verified guest reviews on www.booking.com. If you want to compare the price of this property on other sites as well, you can do so using this link: Compare price of Sojourn Beds and Cafe with www.hotelscombined.com.
Alternatively, here are a few positively reviewed properties in Taiping that you might want to consider based on my experience and research:
Louis Hotel – a clean, affordable property downtown which had a score of 8.0/10 based on 77 verified guest reviews at the time of writing.
The Regency Hotel Seri Warisan – a solid mid-range option near the downtown.  It was rated 7.8/10 based on 74 verified guest reviews at the time of writing.
How to get the cheapest rooms in Taiping?
Taiping has some pretty solid accommodation options to choose from with most of which being in the budget to mid-price range.  Your best best at finding the cheapest rooms would be with www.agoda.com, www.booking.com, www.hotelscombined.com. I have provided links below to their respective property lists for Taiping to save you some time and money:
Rooms in Taiping – www.agoda.com
Rooms in Taiping – www.booking.com
Compare Room Prices in Taiping with www.hotelscombined.com
Flight Information – Getting to Taiping
What airport should you fly into if you are heading to Taiping?
Technically, you have two main choices if you are planning on booking a flight to Taiping : Kuala Lumpur or Penang.  Penang is closer to Taiping, but Kuala Lumpur has many more international flights than Penang.
How long does it take to get from Penang Airport to Taiping?
Depending on traffic at the time of your trip, it should take anywhere from 1.5 to 2 hours to drive from Penang to Taiping.
How can you find the cheapest flight to Penang or Kuala Lumpur if you want to go to Taiping?
Whenever we are flying to and from Malaysia we used two price comparison sites called Momondo and BookingBuddy. BookingBuddy allowed us to compare up to 8 flight-price comparison sites at one time, whereas Momondo searches all their sites at one time. We could quickly get a feel for the overall price and which airlines are offering the cheapest tickets for our selected travel dates.  Here is a link to their price comparison pages if you want to save some time and cash for your next trip:
COMPARE FLIGHT PRICES TO KUALA LUMPUR AND PENANG – Momondo
COMPARE FLIGHT PRICES TO KUALA LUMPUR AND PENANG – BookingBuddy
If you are in Kuala Lumpur, is it worth flying to Penang if you want to get to Taiping?
If you are already in Kuala Lumpur, I wouldn't recommend flying to Penang if you only want to see Taiping.  When you consider the flight time to Penang and waiting at the airports, it isn't practical.  Instead, get a bus from KL to Taiping.  If you want to check out Penang as part of the trip, then consider this option though.