If you're wondering how to get from Kuala Lumpur to Kuantan, then take a minute or two to read about my recent experience getting from KL to this underrated city. With excellent local cuisine, nearby beaches and some quality treks in the area surrounding Kuantan, it's a worthy destination for a weekend getaway from Kuala Lumpur. You may also find yourself in Kuantan if you're heading to or from the pristine eastern isles such as Pulau Kapas, Pulau Redang or Pulau Perhentian. Another worthwhile place to visit near Kuantan is Cherating (Surf Beach).
Here is a step-by-step guide on how to get from Kuala Lumpur to Kuantan:
1. Take a taxi, Uber, GrabCar, public bus, or public transit (Monorail) to Pekeliling Bus Station. If you plan to utilize Kuala Lumpur's public transport station then take the Monorail to Titiwangsa Station. Pekeliling Bus Station is conveniently located right across from Titiwangsa Station, so if you're concerned about KL's traffic jams, taking the Monorail might provide a practical alternative.
I used Pekeliling Bus Station and found it quite easy to find a suitable bus departure.  The station itself is easy to navigate because it's quite small. You can even book tickets online to depart from this station if you're concerned that it might be busy (a long weekend for instance).
Alternatively, there are also some buses that depart Puduraya Station en route to Kuantan. Ultimately, I would suggest using the station that is closer to you or the one with less traffic congestion at the time you want to leave for Kuantan. Pekeliling Station might provide easier access to leave KL due to its location in comparison to Puduraya.
2. Once at you're at either Pekeliling Station or Puduraya Station then purchase your ticket and wait to board the bus.  At the time of my journey the total price of the ticket was 24.30 RM. There are many buses that bring passengers from Kuala Lumpur to Kuantan which means that prices will vary anywhere from 22 RM to 25 RM per passenger.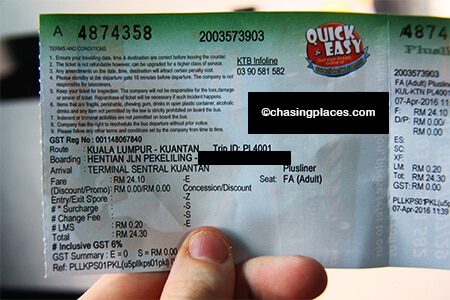 3. The trip from Kuala Lumpur to Kuantan by bus can range anywhere from 3 hours to 4.5 hours depending on the traffic and the company you are travelling with.  For instance, my journey took about 4 hours to reach Terminal Sentral Kuantan. The traffic was fine, but we did stop for a 25 minute food/bathroom break on the way.
4. Once you arrive at Terminal Sentral Kuantan your trip to Kuantan is not over yet. Despite its name Terminal "Sentral" Kuantan, the station is not in the city centre. To reach Kuantan's city centre you will have to make the decision to either take a taxi or hop on the local bus.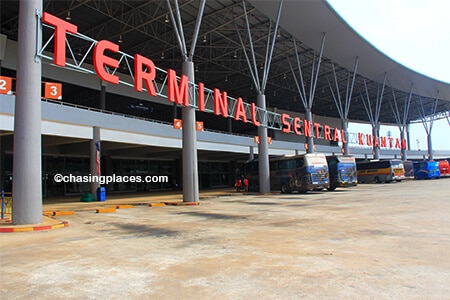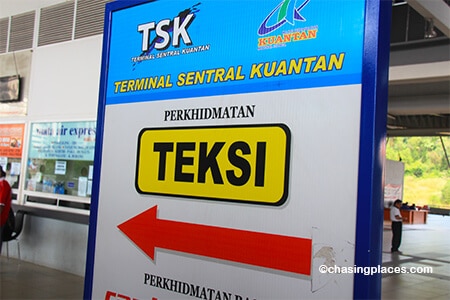 Travel Checklist: Do you have everything you need?
5. I arranged to take the local Rapid Kuantan Bus to reach the city centre from Terminal Sentral Kuantan. Once you arrive at Terminal Sentral Kuantan just simply proceed downstairs.  Local Rapid Kuantan Buses leave from either platform 1 or 2 to Kuantan's city centre. I paid 2 RM directly to the bus driver upon boarding the local bus.  I would expect that taxis would cost at least 15 RM for this same distance, so if a local bus is waiting to go, I wouldn't recommend a taxi unless you're travelling in a group. If you're not on a budget, then taking a taxi is an easy decision.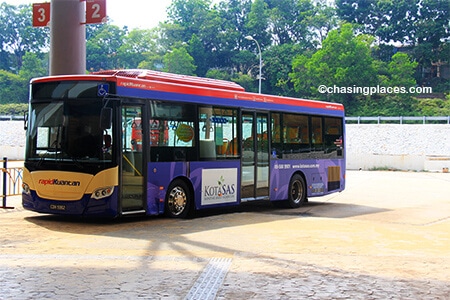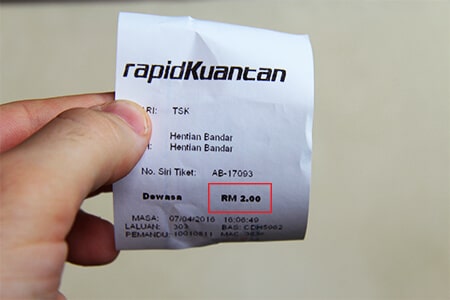 6. Stay on the local Rapid Kuantan Bus until you reach the final station.  It's located right beside a football (soccer) field. The short trip from Terminal Sentral Kuantan to the bus station in the centre of the city took about 15 minutes, but this could be longer if traffic was congested (easily 30 minutes).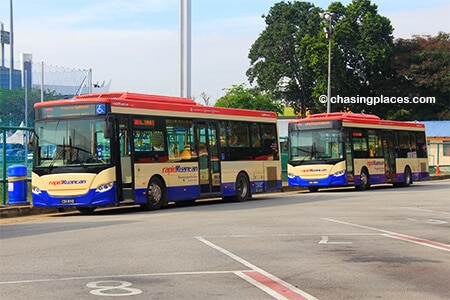 7. Once I reached the bus station in Kuantan I then proceeded to my nice budget hotel located near Kuantan's waterfront.
8. The total cost of my trip from Kuala Lumpur to Kuantan by bus was 26.30 RM and the total journey to the city centre took 4.5 hours (inclusive of a 30 minute food/bathroom break) with moderate traffic.
This is an unbiased overview on how to get from Kuala Lumpur to Kuantan based on my own personal experience. If you have any additional questions regarding this journey then please comment below.  We always encourage our readers to ask when in doubt!
Where did I stay in Kuantan?
Since I was travelling on a budget when I visited Kuantan, I decided to stay at the Classic Hotel Kuantan. I have no affiliation with the property, therefore in an unbiased manner I can say that it's a nice budget choice in Kuantan.  I especially liked its located right near the new waterfront boardwalk in the city.  The room was very clean and the buffet breakfast was a nice surprise. They were doing some construction on the property when I was there, so that was the only negative thing I could say about the place. At the time of my stay it had a reputable 7.5/10 review score based on the feedback of 350 verified guests.
How to find the cheapest rooms in Kuantan?
It's only natural that many of our readers prefer different sites when it comes to booking their reservations in Southeast Asia. Three of their favourites include: www.agoda.com, www.booking.com and www.hotelscombined.com. Agoda and Booking.com are quite similar, but www.hotelscombined.com is different because it is a price comparison site. I have created links below to their respective property lists in Kuantan to save you some time:
Rooms in Kuantan – www.agoda.com        Rooms in Kuantan – www.booking.com
Compare Room Prices in Kuantan – www.hotelscombined.com
Alternatively, you can also quickly compare room prices in Kuantan using the seachbox below: