Boracay Island is the most famous beach destination in the Philippines. It has gained its worldwide reputation mainly due to its pristine white sandy beaches and unbelievably clear waters. The Philippines is an archipelago blessed with spectacular beaches, but a number of them are quite remote and hard to reach. This is perhaps the reason why Boracay has quickly risen to fame in the international traveling committee because of it accessibility from the nation's capital, Manila.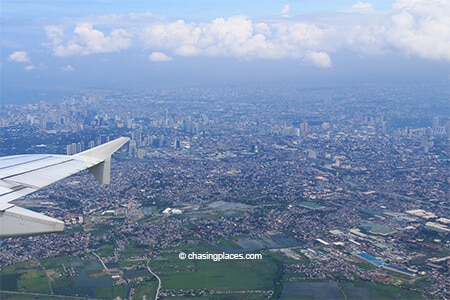 If it is going to be your first time traveling in the Philippines, or if you are vacationing with family, this is one of the easiest islands to get to and explore. Because of its flourishing economy, the island also has developed infrastructure. It is easy to find accommodation here that fits your budget. Fancy resorts are mostly located beachfront, while there is still an ample plethora of boutique hotels, hostels and homestays to choose from along Boracay's inner streets and paths.
Here are the steps on how to get from Manila to Boracay (Island)
1. Book a domestic flight to Kalibo or Caticlan. Many overseas flights land at Ninoy International Airport Terminal 1 in Manila. After landing in Manila, you can schedule to stay in the city for a night or immediately go for a domestic flight that will eventually bring you to Boracay Island.
Flying to Caticlan
2. Book a flight with Cebu Pacific Airlines or Philippines Airlines to Caticlan. Caticlan is a coastal town that has a small airport. The jetty here is the main jumping point to Boracay Island. But since the airport in this coastal town is small and has only one short runway, only prop planes fly here at the moment. In addition, the airport can only accommodate a few flights throughout the day. It is also important to take note that the baggage allowance for this type of flights is significantly less because of the size of the plane.
3. Upon landing in Caticlan, you only need to take a tricycle (local three-wheel transport) to the pier. This trip will take roughly 5 minutes (or even less!).
4. Purchase a 25-peso boat ticket to reach Boracay Island. You will also need to pay environmental fee of 75 pesos and a terminal fee of 100 pesos
Alternatively, you can fly from Manila to Kalibo (opposed to Caticlan)
Flying to Kalibo
1. Book a flight to Kalibo International Airport. Kalibo is the capital city of the province of Antique. Kalibo has become the most preferred gateway to Boracay because it is only an hour and a half drive to Caticlan (Caticlan is the town where the ferry pier is located to access Boracay). Some international flights operated by companies like Air Asia fly directly to Kalibo from certain cities in Asia. The airport also facilitates numerous domestic flights throughout the day. Larger planes with jet engines (opposed to just prop planes) can land in Kalibo.
2. Decide which transfer package you want to reach Boracay. Upon landing, you will immediately see desks both inside and outside the airport building that offer trips to Boracay.  It is important to how the transfer process works so you can decide on the most appropriate package.
From Kalibo International Airport, you need to drive 1.5 hours to reach the Caticlan jetty.
From the jetty, you need to ride a boat for about 20 minutes to reach the Boracay jetty.
From the Boracay jetty, you need to take tricycle to your hotel.
Companies both inside and outside the airport offer various packages. You can choose to purchase:
Bus/minivan alone to Caticlan jetty
Bus/minivan + boat
Bus/minivan + boat + hotel transfer
Bus/minivan + boat + hotel transfer + all government fees
Important Tip: The bigger the package, the more expensive it is. This is the unfortunate truth. If you book the "Bus/minivan + boat + hotel transfer + all government fees" package, you end up paying more. It is a tourist trap because it gives you a false idea that you are paying for a "bulk price", when you're really not. It's quite unnecessary to pay more as it goes straight to the pocket of these companies.
When we paid for the bus/minivan + boat transfer, we thought we were saving money by doing so, but we quickly found out that we ended up paying 25 pesos more per person. And although this is a small amount, we still would have appreciated more transparency!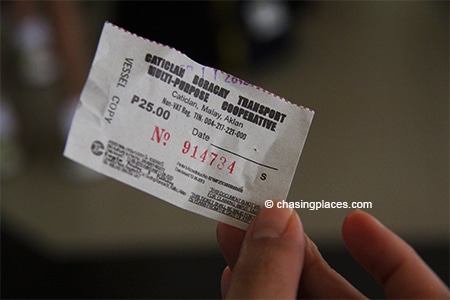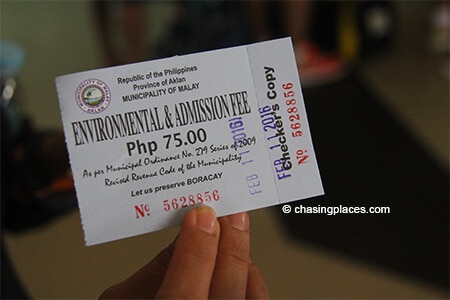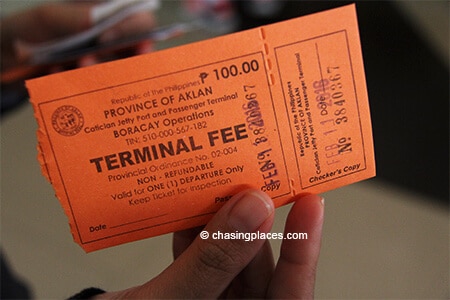 For example:  The minivan ride alone costs 200 pesos, and the boat ride is 25 pesos. But the Bus/minivan + boat transfer package is 250 pesos.
Purchase a minivan ticket for 200 pesos, and then just buy the boat ticket at the ticket booth at the Caticlan pier. We guarantee you that it's an easy process even during peak season.
You also have the option to take a bus instead of a minivan, but the ticket is strangely more expensive than taking a minivan, and the waiting time is longer because the bus needs to fill up before it goes. Minivans depart for Caticlan more frequently because they fill up easily.  The road from Kalibo to Caticlan is quite decent and cemented, so the drive should be safe.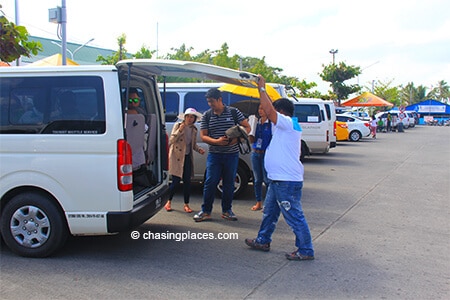 Travel Checklist: Do you have everything you need?
3. Get on the boat to Boracay. The boat is in the form of a huge Filipino "bangka" that can accommodate about 20-30 people. Unfortunately, there is not much room inside the boat. If you are carrying huge bags, you will have to ask the boat man to place it on top of the roof. Fortunately, the ride is short and sweet (15 minutes), so you won't have to worry about your luggage getting wet.
If you have oversized luggage, you can also opt to pay for the speed boat transfer. It is more expensive than the regular "Bangka" but still reasonable.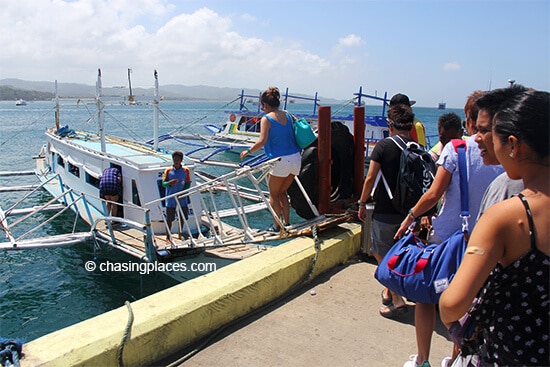 4. Once you reach Boracay's jetty, you will need to arrange a ride to your hotel/lodging. The roads on Boracay Island are narrow, so the public transport vehicle used is the tricycle. There are two types of tricycles. The first one is electric and is referred to as "ordinary". It acts like a bus that takes in about 10 passengers at a time and drops off at different locations on the island. Because you are "sharing" a ride with other passengers, it is cheaper. Each passenger pays about 20 pesos ($0.50 USD) per trip.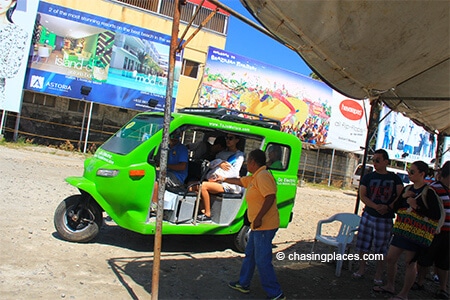 The second type of tricycle is the motor-powered one, referred to as "special". The motor-powered tricycles look older and are of course, worse for the environment. However, they are considered special because they act like taxis, bringing passengers or a group to their desired destination without stopping anywhere along the way. They are significantly (incredibly) more expensive than their 'electric' counterparts.  A single ride can cost somewhere between 150 to 200 pesos.
The tricycle drivers inside the jetty compound are part of an organization, and they usually cue to get passengers.  There's one designated person (called the dispatcher) who calls each one of them when their turn is up. Unfortunately, the dispatcher will probably call for a "special" tricycle when he/she sees that you are a foreigner, without explaining or asking if you want to pay more. This is what happened to us when we wanted to take a tricycle. So if you want an ordinary tricycle, be more vocal and tell the dispatcher what you want.
Take note that most accommodation options on Boracay are located in three succeeding areas along White Beach. These are called Boat Station 1, Boat Station 2 and Boat Station 3. To help your driver locate your hotel faster, you can tell them which Boat Station its is located.
Where did we decide to stay on Boracay? 
Our main priority for our most recent trip to Boracay was finding a room that was close enough to White Beach and the services in the area, but far enough away from Boracay's pulsating music at night. Eventually, we decided to stay at Hannah Hotel.  We can say this was a pretty nice spot to stay. It's a small, mid-range family operated place about 200 meters from White Beach. If you're a big eater, you might find their breakfast a little underwhelming. At the time of writing, Hannah Hotel had a very respectable score of 8.3/10 based on 461 verified guest reviews.
Here is our full review of Hannah Hotel. 
How to get the best room deals on Boracay?
Boracay is loaded with accommodation options, but be sure to shop around first.  Prices can vary.  A good place to start is with www.agoda.com, www.booking.com or www.hotelscombined.com (hotel price comparison site).  All three are very reputable. To save time and money you can use the comparison grid below for Boracay:
Top Rated Properties on Boracay Based on Verified Guest Reviews
Important: Mobile Users must swipe from left to right to see entire table.
Criteria:
Properties rated based on 'overall' review scores from each respective website's verified guests.
Minimum of 50 verified guest reviews required to be considered eligible for comparison.
All star ratings and verified guest review scores are tallied at the time of writing, and therefore, are subject to change.
Boracay  Map With Accommodation Options
COMPARE ALL ROOM PRICES ON BORACAY – www.hotelscombined.com
This is an honest and straightforward guide on how to get from Manila to Boracay. The information presented here is written based on our recent personal experience and to the best of our knowledge. If you have comments, suggestions, or if you want to share your experiences with our readers, don't hesitate to write something below.
Stay tuned as we will be releasing more articles on beautiful Boracay soon. Thanks for dropping by!