Article updated in December 2019
This is a step-by-step guide on how to get from White Beach to Puka Beach Boracay.
Attention soon-to-be visitors of Boracay Philippines: White Beach is not the only sandy stretch to check out while in Boracay!
Puka Shell (also known as Yapak Beach) is arguably, the second most popular beach on the island. It is usually quieter and serene on Puka Shell, so it's a great spot to escape from the crowd while on Boracay.
Puka Shell Beach is located on the northern side of the island, and can be reached through a couple of ways.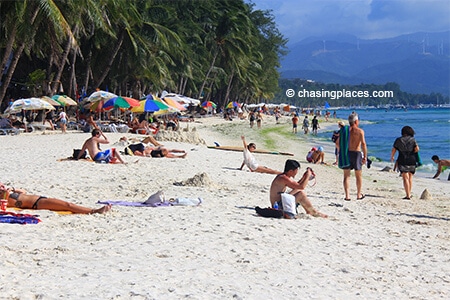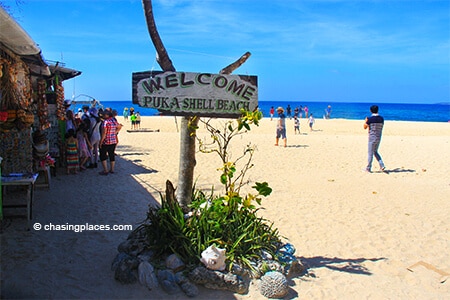 Here are some of the ways on how to get from White Beach to Puka Beach, Boracay:
1. Go on a Boat Tour to see Puka Beach 
A number of boat tours from White Beach offer Puka Shell Beach as one of the stops in the tour itinerary.
The disadvantage of going for this kind of boat tour  is the limited time you'll spend on Puka Beach. Puka will be just one of many stops during the typical 4-hour boat ride.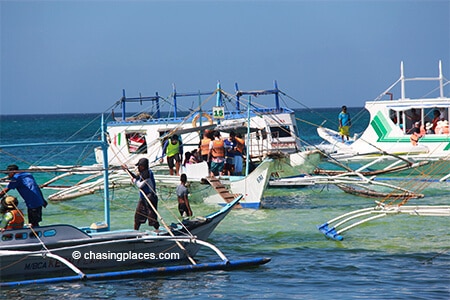 2. Take a Tricycle to Puka Beach. 
Puka Shell Beach is definitely worth spending the day at, especially if you are looking to just relax, swim and enjoy the beach scenery.
Aside from a boat tour, you can easily get here by taking a tricycle (local tuk-tuk) from White Beach to Puka. Gas-powered tricycles are the quickest and most convenient transport option.
When you hail a tricycle, make sure to ask the driver how much is the fare.  Tricycles don't have meters, drivers usually just come up with their own price. You can negotiate the fare but Puka Beach is considered to be a far destination, drivers will most likely charge you more than 150 pesos ( 3 USD).
 Take note that your negotiating power will be diminished during high season when the passenger demand is high and unsuspecting tourists agree to ridiculous rates.
If you want to save some money, you can take one of the electric tricycles, which operate like buses that pick up and drop off passengers at certain stops.
The fare to Puka Beach on one of the electric tricycles will be around 50 pesos or less depending on where you are picked-up.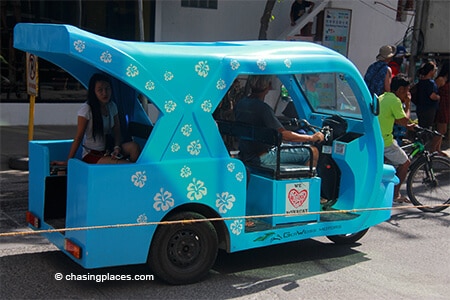 Travel Checklist: Do you have everything you need?
Returning from Puka Beach to White Beach, Boracay
You can easily hire a tricycle to return to White Beach. Walk to the main road near the beach entrance and wait for an electric tricycle. But take note that you will need to be patient as they don't follow scheduled routes like buses.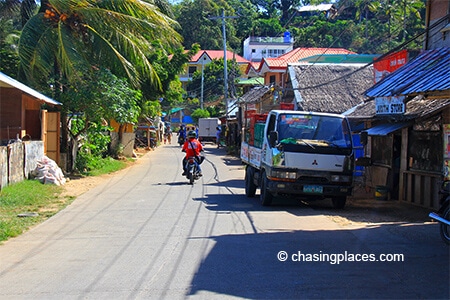 3. Ride a Motorcycle to Puka Beach. 
We don't mean renting a motorcycle and driving it yourself. There are some locals who will offer you a ride on the back of their motorcycles for a price.
Again, make sure to negotiate the fare before getting on. Motorcycle rates should be cheaper than a tricycle or there's no point taking one in the first place.
Wearing helmets for passengers is not a must so there's a bit of a risk involved.  However local drivers tend to drive safely.
4. Walk to Puka Beach
If you love hiking long distances, it's definitely an option to walk to Puka Beach from White Beach.
There are headlands along the coast heading up to Puka from White Beach, so you can't really walk along the coastline. You will need to walk on the main road, where the sidewalk can get busy.
But the good thing about walking is that you will bypass all the traffic that is usually concentrated on the road that runs parallel to White Beach. This two-lane road is narrow and can get busy due to the large tourist crowds (especially during peak weekends).
The walk to Puka also exposes you to the less-touristy areas of Boracay. You will encounter villages (called barangay) along the way, and witness some local culture and way of life. Early morning is the best time to hike to Puka Beach as the heat is still tolerable.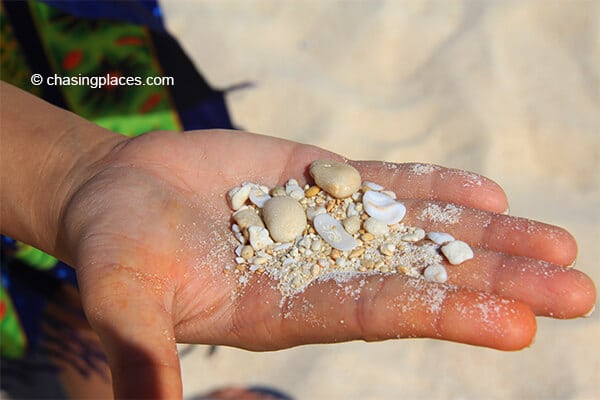 Where did we stay on Boracay?
Our top priority when it came to booking our room was to be quite close to White Beach, but not too close.  In other words, we wanted to have easy access to the beach and the tourist services around it, but at the same time, we wanted to be far enough away from Boracay's pulsating music at night.
Eventually, we decided to stay at Hannah Hotel. We have no affiliation with their property, so in an unbiased manner, we can say that it's a pretty nice place to stay.
Hannah Hotel is a mid-range, family-run, clean property that's about 200 meters from White Beach.  Big eaters might find their breakfasts a bit small, so that was the only thing we thought they could improve on.  At the time of writing, it had a score of 8.3/10 based on verified gust reviews.
How to find the best room deals on Boracay?
As you might have expected, Boracay has no shortage of rooms to choose from during low season, but during Easter, Christmas and Chinese New Year and other peak times the top places will fill up well in advance. The prices also tend to skyrocket due to demand.
 When you're booking online in advance, I suggest using a large room provider that has enough verified guest reviews on the property you intend to select. Three examples include: www.agoda.com, www.booking.com and www.hotelscombined.com.
Of the three, www.hotelscombined.com is the most unique because it's classified as a price comparison site.  Therefore, you can easily and quickly compare room prices from the world's top sites.
Many of our readers use www.agoda.com and www.booking.com consistently due to their excellent selection, prices and cancellation policies.  I have provided links below to their respective properties on Boracay island to save you some time:
Top Rated Properties on Boracay Based on Verified Guest Reviews
Important: Mobile Users must swipe from left to right to see the entire table.
Criteria:
Properties rated based on 'overall' review scores from each respective website's verified guests.
Minimum of 50 verified guest reviews required to be considered eligible for comparison.
All star ratings and verified guest review scores are tallied at the time of writing, and therefore, are subject to change.
Boracay Accommodation Map
Top Rated Properties on Boracay Island
Alternatively, you can use the search box below if you want to compare room prices on Boracay immediately: