White Beach is the best known beach on Boracay Island and has the most accommodation options. But there is another world-class beach that you SHOULD NOT miss seeing while in Boracay.
This magnificent beache is called Puka Shell Beach(Yapak Beach).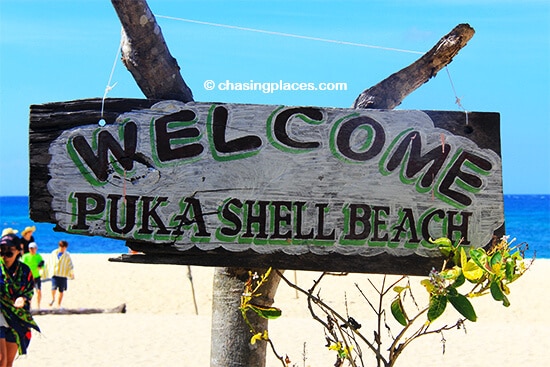 Here are the 9 things you need to know about Puka Shell Beach, Boracay:
1. Other than sand, Puka Beach is filled with crushed shells.
Located on the northern part of Boracay Island, this stretch was originally called Yapak Beach, named after the barangay (the Filipino term for village) where it is located.
But eventually, the name "Puka Shell" has become more widely used to refer to the beach because of the abundance of crushed "Puka" shells mixed in within the white sand.
This is why walking on Puka Beach is a distinct experience, but don't worry, the sand is still smooth on the soles of your feet.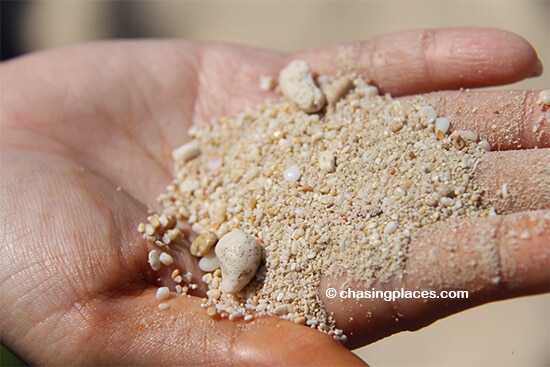 2. It might even surpass White Beach as a beautiful 'Swimmers Paradise'!
Puka Beach offers a different kind of beauty. Its water is clear and unpolluted.
But Puka Beach  quickly gets deep (in comparison to White Beach) once you walk out a few meters from shore.  This makes it a perfect beach for some serious swimming. At certain times, the water can get rough and the current strong; conditions that are more risky for inexperienced swimmers.
Puka Shell or Yapak Beach stretches for roughly 800 meters, enough space to find a nice cosy spot for you to hang out.  Perhaps the only thing that we could criticize about Puka is that it lacks an abundant amount of natural shade. You have to go far back to seek protection under the palm trees. You can rent out beach chairs from local vendors but it is not that cheap, by Southeast Asian standards.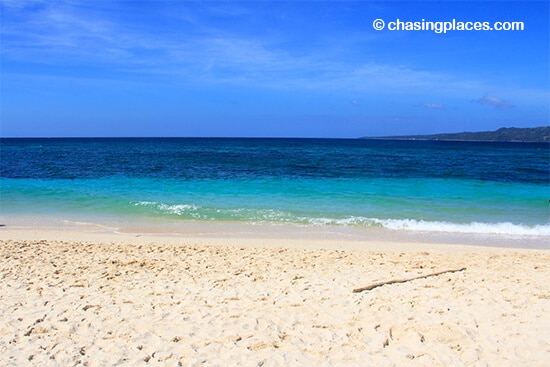 Travel Checklist: Do you have everything you need?
3. It is usually quieter than White Beach.
Puka Shell Beach is long, but has less development. It does not have a plethora of clubs, resort and hotels like White Beach. Thus, the atmosphere here is more serene, and more authentic.
4. Entrance to Puka Beach is completely free.
Puka Shell Beach is a public beach, so you don't have to pay an entrance fee to access it.
We really hope it will remain this way for the years to come, especially because it has been growing in popularity. Take note that are no shower facilities or lifeguard services on this beach.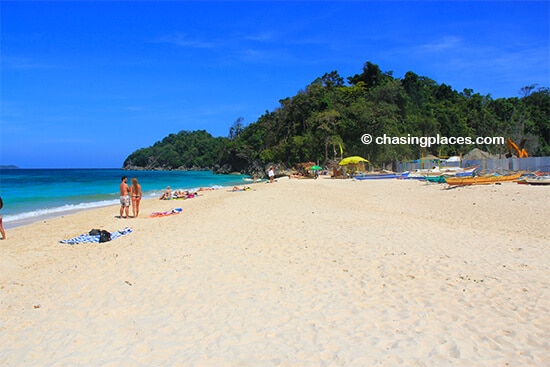 5. You can certainly enjoy a picnic on Puka.
There are some stalls and restaurants on the beach that sell drinks, snacks, souvenirs, and coconuts. But if you plan to hang out here for the whole day, it's smart to bring your own drinks and food.
You can also bring mat or sarong to lay on. It's okay to drink and eat on the beach, just as long as you clean up before leaving.
6. It is a place of relaxation. 
Aside from swimming, there's really nothing much to do on Puka beach but to just relax on the sand (soft shells) while getting your much-desired tan.
This is the perfect place to read your favorite book and forget about the real world for an hour or two.
7. It is just a few minutes away from some hotels.
There are no hotels on  Puka Shell Beach itself. I believe they are trying to preserve this area.
However, there are three to four-star hotels located in Baranggay Yapak, which is a short ride to Puka Shell Beach.
One of the closest hotels to this beach is Alta Vista de Boracay Hotel.  The ultra-luxurious Shangri-La's Boracay Resort and Spa is also close to Puka Beach. Some tourists prefer to stay in Baranggay Yapak because of its more peaceful, relaxing and secluded vibe.
If you do plan to stay near White Beach then you can conveniently get to Puka Beach by reading our convenient article entitled, "How to get from White Beach to Puka Beach, Boracay?"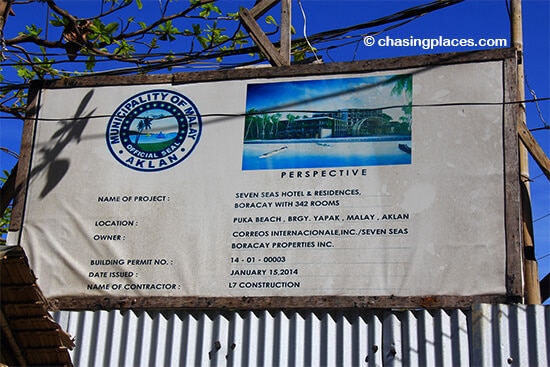 8. It is one of the key destinations for boat tours from White Beach.
Most basic boat tours offered on White Beach offer Puka Shell Beach as one of their stops. This is the perfect option if your time on Boracay Island is limited as the day tour allows you to visit top attractions within 4 hours.
This boat tour is NOT the best option if you want to  spend a longer time and relax on Puka Beach.
A boat tour stop at Puka Beach will give you just enough time to walk the stretch, take photos, and swim a bit.
9. Sunset here is magnificent.
Stay on Puka Shell Beach right before the evening sets in, and you will be treated to an undisrupted view of the sunset.   It is definitely worth the wait!
Check out the Boracay Map
Accommodation Information – Boracay
Where did we stay in Boracay?
There is obviously a massive selection of properties to choose from on Boracay due to its popularity. Our strategy before we made it to the island was to find a room that was close enough to White Beach so that we could access the nice restaurants and services in the area, while still being far enough away from the pulsating disco sounds at night.
Eventually, we decided to stay at Hannah Hotel.  We have no affiliation with the hotel, so our unbiased review of the place is quite positive. It's a clean, family-owned, mid-range property that's only about 200 meters from White Beach.
We would recommend it, but if you're a big eater you might find their breakfasts a bit small. At the time of writing it had a very respectable score of 8.3/10 based on 461 verified guest reviews.
How to find the best room deals on Boracay?
Technically, since there are so many different accommodation choices to select from on Boracay it ultimately comes down to what type of place you want to stay at.
They've got everything from super luxurious to budget-savvy hostels. Therefore, we suggest booking a room on a beach that suits your preferences using a large room provider that offers an adequate selection and enough verified guest reviews.
Three examples include: www.booking.com, www.agoda.com and www.hotelscombined.com. All three websites are very reputable and offer good prices and wide selections, whereas www.hotelscombined.com is a price comparison site that simultaneously compares prices from the world's top providers.  To save you time, here are the:
Top Rated Properties on Boracay Based on Verified Guest Reviews
Important: Mobile Users may need to swipe from left to right to see the entire table.
Criteria:
Properties rated based on 'overall' review scores from each respective website's verified guests.
Minimum of 50 verified guest reviews required to be considered eligible for comparison.
All star ratings and verified guest review scores are tallied at the time of writing, and therefore, are subject to change.
Flying To/From Boracay
What airport should you fly into to reach Boracay?
This depends on a few things.  Technically, there are two airports that visitors to Boracay can choose to fly into: Kalibo (airport code KLO) and Caticlan (airport code MPH). Kalibo, is an 'international airport' and it has a longer runway than Caticlan.
Subsequently, larger planes and more tourists fly into Kalibo.  Kalibo, however, is roughly 1.5 to 2 hours away from Boracay Island.
There are some airlines that fly directly to Boracay.  They offer convenience as the airport being only a few minutes away from Boracay's ferry terminal.
We have created a very detailed and popular article on how to fly from Manila to Boracay if you want additional information regarding flights to/from Boracay. Overall, Caticlan is more expensive to fly into, but it's more convenient.
What's the best way to get the cheapest flights to Boracay?
We have flown to Boracay on various occasions.  There are a bunch of airlines that fly into both Kalibo and Caticlan and their prices tend to be quite comparable to one another with the exception if a sale is on.
It's probably best that you use a price comparison site that will find you the cheapest flight price while saving you the time searching various websites.  We used two excellent sites for our trips to Boracay: Momondo and BookingBuddy for our trips to Boracay.
Of these two we had the best results with Momondo. To save you some time have, I included links to their price comparison pages:
COMPARE FLIGHT PRICES TO BORACAY: Momondo
COMPARE FLIGHT PRICES TO BORACAY:  BookingBuddy
Post updated in December 2019.