Post updated in December 2019
Although it's not very well known, Pulau Kapas is indeed one of Malaysia's nicest islands.
Pulau Kapas (Kapas Island), or Kapas for short, is dotted with beautiful white sandy strips of sand and it is surrounded by beautiful clear water.
How clear you might ask?
Well, we can confidently say that Pulau Kapas can rival any of the beaches we have seen in Thailand over the years (and maybe even surpass them). Most tourists tend to visit Perhentian, Langkawi or Redang during their visit to Malaysia.
Fortunately, this leaves a very laidback and rather ideal vibe on Kapas for most of the year. The most common way of getting to Kapas is to book a flight into Kuala Terengganu  (try Momondo and/or BookingBuddy) and then to take either a taxi or bus to the jetty in Marang.
Getting to Pulau Kapas doesn't have to be a major headache!
To ease the pain, here is a step-by-step guide on how to get from Kuala Terengganu to Pulau Kapas  Malaysia:
1. Book a flight to Kuala Terengganu.
Once you arrive at Terengganu Airport take a taxi to the local bus station (called Hentian Bus Majlis Bandaraya Kuala Terengganu) located in the centre of Kuala Terengganu.
This trip will cost between 20-25 RM and take about 20 minutes.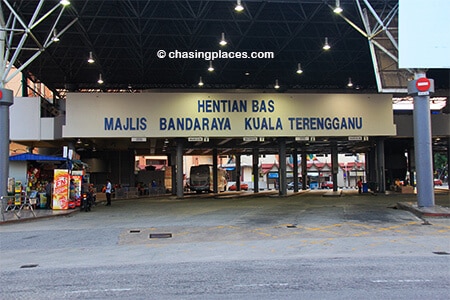 2. Find the bus that goes to Marang.
Once you are at the bus station it probably won't be completely clear as to when the bus to Marang will depart from the station.
I simply asked a few of the locals around the station and I quickly got an answer. Expect a bus every 30 minutes to 1 hour during the day, but don't be too confident in the evening or early morning.
I booked a room first in Kuala Terengganu before catching the bus early the next morning.
Chasing Places have read travelers complaining about not finding the bus to Marang even though they have asked locals.  The main thing to ask is the bus that goes to Marang and not the Marang jetty, because local buses do not officially stop at Marang Jetty.
While on the bus, ask the bus driver to drop you off near the "Marang Jetty to Pulau Kapas". During my trip, the driver pulled over on the main road, but I couldn't initially see the Jetty area.
So it is important to know that the bus won't drop you off right at the jetty, you would have to walk to reach it.
If this is something you don't want to do, then I suggest you try to use the Grab app or find a taxi to take you straight to the Marang Jetty.
3. Purchase a ticket on the bus from Kuala Terengganu to Marang. 
When I took this trip it was only 2.50 RM (bus fare may have changed).  Expect the trip to take about 20 minutes.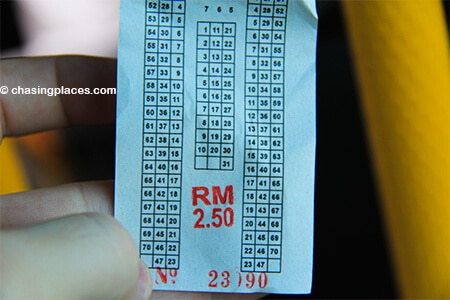 4. Once off the bus,walk towards the sea. 
You will know you're on track if you come across a mosque to your right. At the bottom of the slight hill, you will turn right and you will begin to see signs for the jetty to Kapas.
Since I went to Kapas on a weekend, I walked by Marang Market during my trip.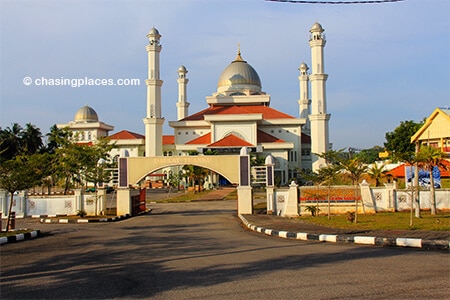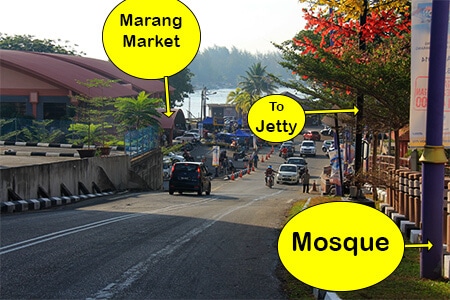 Travel Checklist: Do you have everything you need?
5. Purchase your ferry ticket to Kapas. 
After about an 8-minute walk, I was already at the jetty for Kapas. Once you're at the jetty browse around and try to find the best price for a return ticket.
During my trip, the tickets were 40 RM (round trip), but you might be lucky enough to find a provider for 30 RM depending on the time of year.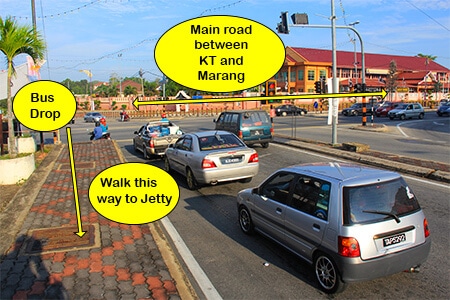 6. After you confirm what time you want to return to the mainland, board one of the boats servicing Kapas.
Kapas is quite close to the mainland.  Therefore, expect the boat ride to only take roughly 15-20 minutes.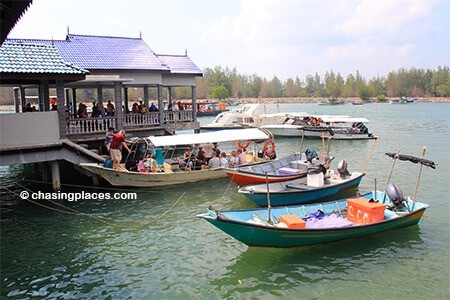 7. Once you arrive at Kapas double confirm with your boat driver the intended time of your return trip back to the Jetty in Marang.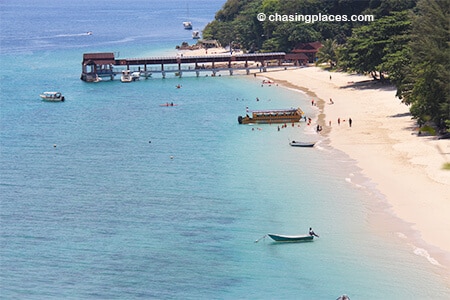 8. Ask one of the locals to point you in the right direction to your room on Kapas.
An Alternative Way to Get from Kuala Terengganu to Kapas
Taxi to Kapas
As mentioned earlier in this post, if  you don't want to take up too much time waiting for the bus, then consider getting a taxi in Kuala Terengganu or directly from the airport to Kapas.
During my experience in Kuala Terengganu itself, taxi drivers wanted a minimum of 25 RM to go to the Marang Jetty (one way).  Therefore, the round trip cost comparison from Kuala Terengganu to Kapas and back at the time of travel was 5 RM by bus vs. 50 RM by taxi.
If you are heading to Kapas with a large group definitely take a taxi!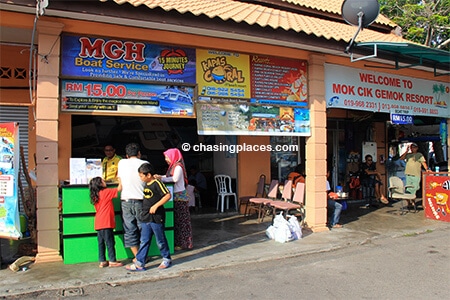 Accommodation Information – Kuala Terengganu and Kapas
Where did we stay during this trip?
While in Kuala Terengganu our main priority was being close to the bus station and Chinatown while maintaining our budget. Eventually, we decided to stay at DJ Citi Point Hotel.
We don't have an affiliation with this property, therefore our opinion is an unbiased one. Overall, it turned out to be a super convenient, solid budget place to stay. It's only about 3 minutes from the bus station and 10 minutes from Chinatown (and 5 minutes from the ferry to Pulau Redang).
It's nothing extravagant, but definitely conveniently located.  At the time of writing it had a score of 7.3/10 based on 641 verified guest reviews. I personally, would give it around a 7.8/10.
In the morning, it was very easy to hop on the local bus to Marang where I boarded the ferry to Kapas.
Where is the best place to stay on Kapas Island?
When I visited Kapas, I almost had to go back to the mainland for the evening because there were literally only 1 or 2 rooms left on the entire island.
I suggest using Southeast Asia's best hotel comparison site and booking well in advance for your rooms in this area of Malaysia. Many online providers don't even have rooms listed for Kapas so a comparison site with a wider range of rooms will save you time and money.
You can also give www.agoda.com a try if you use it for your bookings.
Flight Information – Flying to Kuala Terengganu
What airport should you fly into to reach Pulau Kapas?
Kuala Terengganu Airport is locally and officially known as Sultan Mahmud Airport. 
What long does it take to get from Kuala Terengganu Airport to the city center?
I personal have completed the taxi ride from Kuala Terengganu Airport to the city centre at least 8 times. On average it takes about 25 minutes – give or take a few minutes depending on the traffic and time of your arrival.
What's the best way to find the cheapest flights to Kuala Terengganu to reach Pulau Kapas?
I would suggest using a price comparison site such as Momondo or BookingBuddy. There are many daily flights from Kuala Lumpur to Kuala Terengganu with Air Asia alone, not to mention all the other providers in Malaysia.
Save the time and cash and start your search using a comparison site to narrow your way down to the cheapest airline providers for your date and time of travel.
I personally used both Momondo and BookingBuddy because they have different approaches to finding the cheapest flight to Kuala Terengganu.
Momondo will search various sites and immediately show you their cheapest price, whereas BookingBuddy will let you search up to 8 websites for prices at the same time.
Here is a link to their flight-price comparison page to see if anything works for you:
COMPARE FLIGHT PRICES TO KUALA TERENGGANU (Kapas) – Momondo
COMPARE FLIGHT PRICES TO KUALA TERENGGANU (Kapas) – BookingBuddy
What are the leading airlines which offer flights to Kuala Terengganu?

 
Air Asia, Malaysian Airlines, and Firefly – a subsidiary of Malaysian Airlines. Of these, I would have to say that Air Asia is the most popular.
But if you have a lot of luggage then Malaysian Airlines could be a good alternative option.