If you're trying to explore peninsular Malaysia's spectacular east coast isles without spending a fortune, you might have to get used to connecting in small cities throughout your journey to catch local buses. I recently had to get from Cukai to Dungun (both coastal cites) in order to catch a speedboat to Tenggol Island (also known locally as Pulau Tenggol). Dungun is the gateway to Tenggol Island – one of Malaysia's most underrated islands. You might also find yourself heading in the opposite direction from Dungun to Cukai.
To make things easier for our readers here is a step-by-step guide on how to get from Cukai to Dungun along peninsular Malaysia's east coast.
1. If you are staying at a hotel or guesthouse in Cukai then there is a pretty good chance that you will be able to walk to Cukai's bus terminal which is located along the "waterfront" boardwalk area. If you're too far to walk ask your accommodation provider to arrange a taxi for you.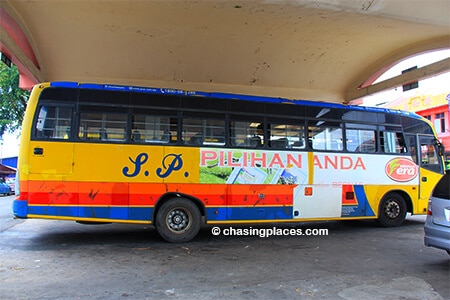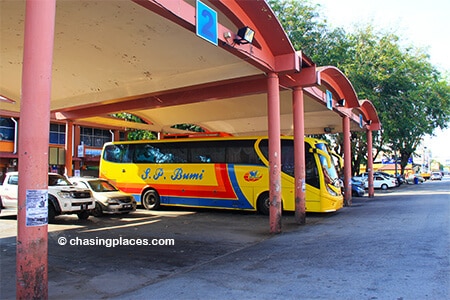 2. Once you're at the Cukai's small bus station it won't be overly clear when buses depart from Cukai to Dungun. The signage is outdated and poorly displayed.  Therefore, you're best to ask one of the attendants working at one of the bus counters when the next local bus to Cukai departs.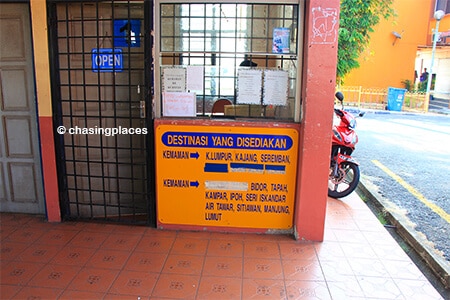 3. Once you determine the departure time for your bus from Cukai to Dungun, then feel free to wander around the waterfront area or grab a drink at one of the nearby cafes. In my case, I arrived at Cukai's bus terminal at 9:30 am and found out that the next bus to Dungun wasn't planned to depart until 11:30 am. Therefore, don't expect a bus to show up every thirty minutes or anything like that.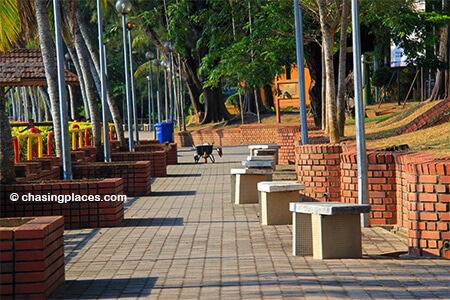 Travel Checklist: Do you have everything you need?
4. Once your bus to Dungun finally arrives at Cukai's station then most likely you will have to pay for your ticket on the bus and not at the ticket kiosks located in the station. I travelled on the S.P. Bumi Bus (bright yellow coloured) and this is considered to be the 'local' bus company in this part of Malaysia. If you're going to get on an express bus, then a ticket will have to be pre-purchased at one of the counters prior to boarding.
The cost of the bus trip from Cukai to Dungun was a very affordable 8 RM.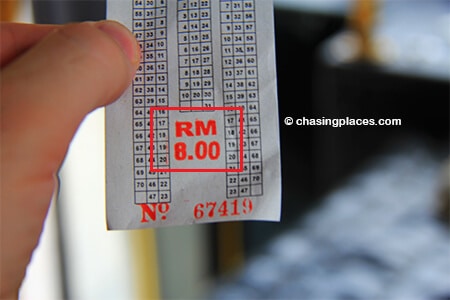 5. The bus trip from Cukai to Dungun took about 1 hour and 45 minutes with moderate traffic. If it's busy I think this could easily exceed 2 hours. If this seems a bit too long for your itinerary and you're travelling with other people a taxi might be a better option. While I was waiting for the bus to arrive in Cukai a taxi driver approached me and offered to drive me to Dungun for a reasonable 60 RM.  Also, not too bad considering the length of the journey!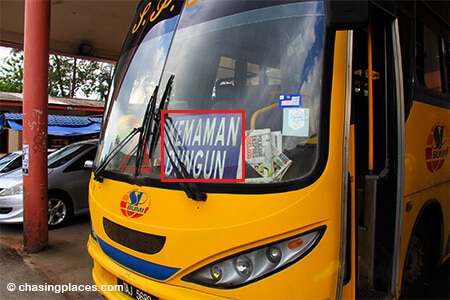 6. Once you arrive at Dungun you can ask the driver to drop off along the side of the road if your hotel/guesthouse is located before Dungun's Bus Station. In my case, I got dropped off about 3 km before the station which saved me a taxi ride in the sweltering heat back to my hotel.
7. Once you're in Dungun you can either hop on another bus to your next destination, head to the Tenggol Island Speedboat Jetty or go to your hotel/guesthouse. I'll leave that up to you!
So there it is, my journey from Cukai to Dungun along peninsular Malaysia's east coast. If for some reason you have some additional questions about my experience feel free to comment below.  We always encourage our readers to ask for additional information.
Where did I stay in Dungun? 
My biggest priority when I booked my room in Dungun was to be close to the jetty for speedboats servicing Pulau Tenggol. I accomplished this by staying at Pen U Cottage. Since we don't have any affiliation with the property, my unbiased experience there was pretty good.  I was travelling on a tight budget, therefore, it wasn't t anything extravagant.  But it was clean and close to many restaurants and grocery stores.  In the morning a local taxi brought me to the pier for 15 RM.  At the time of writing, Pen U Cottage had a respectable verified guest review score of 7.8/10 on 24 reviews.
How to find the cheapest rooms in Dungun?
It's only natural that our readers prefer to use different sites when they book their rooms in Southeast Asia. Typically, three of the most popular ones tend to be: www.agoda.com, www.booking.com and www.hotelscombined.com. Unlike Agoda and Booking.com, www.hotelscombined.com is a price comparison site.  We use it all the time to find the cheapest rooms in the destinations we are visiting. You can use the search box below to compare prices: