1. It lives up to its name.
White Beach features powdery white sand that stretches on for 5 kilometres. This stunning beach is also wide and therefore capable of accommodating thousands of people day in and day out.  Complementing its powdery white sand, is its crystal clear waters, often comparable to the beaches of Tahiti's Bora Bora. Unfortunately, during certain times of the year (around January to March), dark seaweed can drift in to the shore of White Beach. It is not aesthetically appealing. Some attribute it to climate change. But luckily, it doesn't stick around all year round.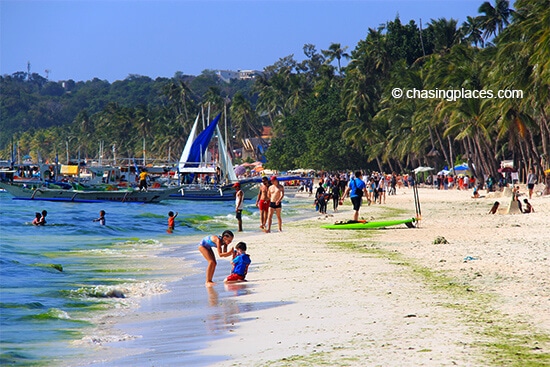 2. It is divided into three major sections.
Because of its uncanny length, the beach is divided into three parts, perhaps for easier navigation. The sections are officially called Boat Station 1, Boat Station 2 and Boat Station 3.  There is no physical barrier that marks one Station from another. However, locals as well as drivers of tricycles (the only public transport on the island), use hotels as markers to determine the end and starting point of each Station.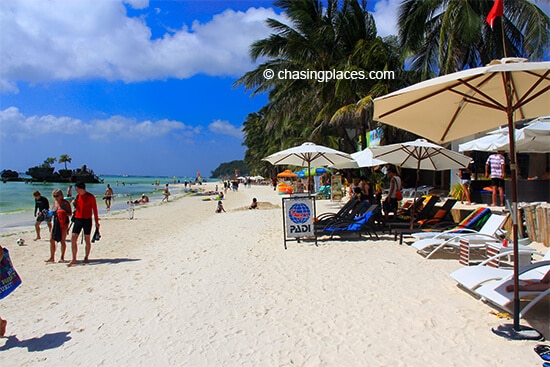 3. It is the most popular beach on Boracay, and hence has the most accommodation choices.
This immense popularity of White Beach has caused it to be the busiest beach in terms of bars, restaurants and accommodation (or is it the other way around). Either way, you can be sure that most of the lodging options on the island are found near or along White Beach, including the top resorts. The Boat Station 2 area is arguably the busiest, due to the presence of the shopping complex called "D'Mall".  The quieter spots are on the farthest sides of Boat Station 1 and 3.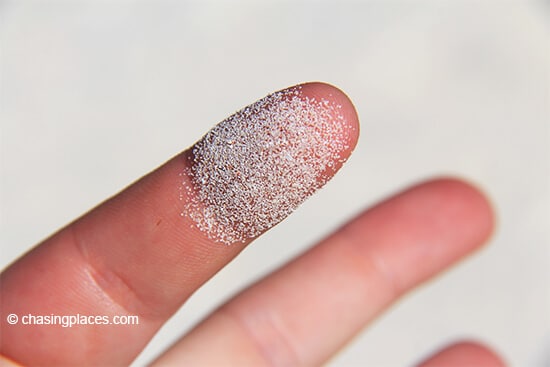 Word of Advice:
If you want to have convenient access to eateries, groceries and entertainment options, the best spot to stay in is Boat Station 1 or Boat Station 2 or somewhere in between. Accommodation options in this area tend to be medium size or boutique hotels. These hotels are not very expensive but they are clean and offer good service. Some of the hotels are not on the beach front, but are located just on the other side of the main road.  The advantage of staying at one of these properties, is that they located in quieter spots that guarantee a good night's sleep.
4. It is not the only sandy stretch on Boracay.
White Beach is undoubtedly very famous, so much so that a lot of tourists tend to just explore this beach during their stay on this Philippine island. There's no denying White Beach's sheer beauty and size, but there are other stretches worth checking out.  And this is the reason why Boracay is quite a standout as a destination because no two beaches are alike. The other beaches on the island have certain characteristics that differentiates them from White Beach. Thus, the stretches on Boracay somehow complement each other, rather than competing for attention.
Word of Advice: If you have more than two days on Boracay, grab the opportunity to explore the other beaches. Bulabog Beach, which is a kite-surfing haven, is only a few kilometres from White Beach Station 2.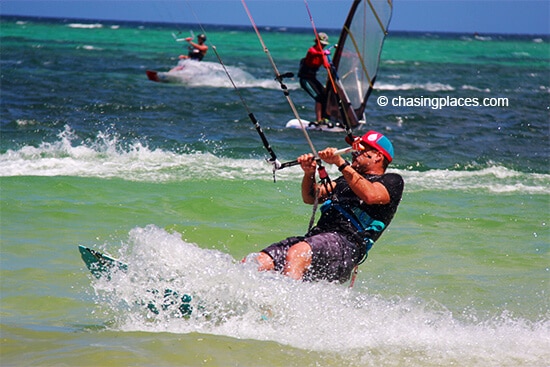 Travel Checklist: Do you have everything you need?
5. It is the "party and entertainment" beach.
During the day, especially the early morning, White Beach is quite laidback. Because of its incredible length, a lot of people choose to walk or jog along its coastline. When the evening strikes, about 7 pm, beachfront bars usually set up some entertainment for their patrons.  As you may have guess it, there will be fire shows. But unlike Thai beaches, Boracay has more variety in terms of entertainment. Some establishments showcase flamboyant acts such as dancing "lady boys", who will even go as far as climbing coconut trees! Others choose to be mellower and will just feature acoustic bands. Of course, joints that feature reggae or club music are also present.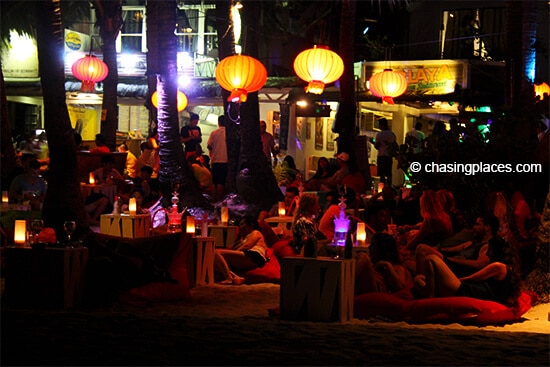 Word of Advice:
Try to manage your time and watch varied acts. The dancing "lady boys", which perform on the beach front, are really entertaining. You only need to buy a drink to watch them perform.  These kind of shows are usually staged around Boat Station 1 and Boat Station 2. These areas are also the haven for party bars and clubs. But if you like live music with a more relaxed, even romantic atmosphere, make your way to Boat Station 3. There are also live bands in bars along the main road, adjacent to White Beach.   Boracay is a great place to enjoy live music. Filipinos are known for their singing and musical prowess.  Most establishments do not require a cover charge, and alcohol deals are usually quite affordable.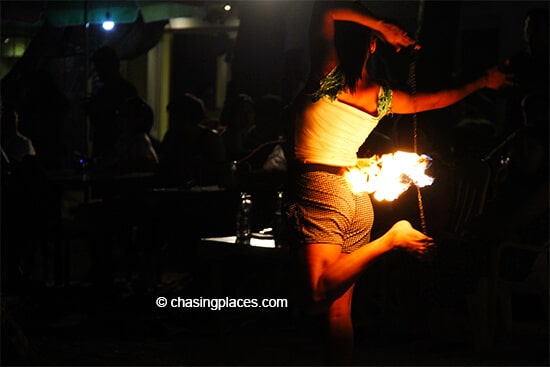 6. It is a great spot to watch the sunset.
My most favourite moment on White Beach is always during sunset.  White Beach sits on the western side of Boracay, so the sun setting on the sea is a special treat!  During high season, many tour companies bring guests on sunset cruises. At this time, the beach is filled with sailboats.  Some people think that the presence of the sailboats on the water enhances the sunset scenery, and adds character to their photos. Others, see them as a nuisance, disrupting the view of a natural attraction.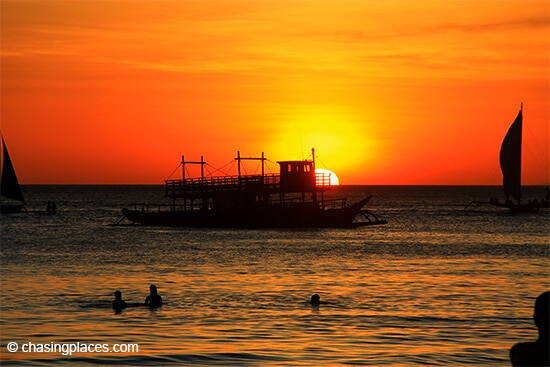 Word of Advice:
If you want an uninterrupted view of the sunset, visit White Beach during low season. You can also head over to Puka Beach, where there are fewer sailboats around.
7. It is the jumping point for most boat tours.
Within just a few minutes of walking on White Beach, you will instantly notice touts offering boat tours to nearby islands and snorkelling destinations.  Yes, there are touts on White Beach, we are still in Southeast Asia remember? Touts on Boracay, to be fair, are more tolerable. They are not as pushy as other places, but they may still potentially bug you, especially if you're not used to them. As mentioned, most touts offer tour services. They are the ones who can speak English and are used to negotiation. Your accommodation/hotel will most likely offer island hopping tours and other leisure activities as well; so it's ultimately your choice to whom you want to give your business to. Tour boats are conveniently parked near the shores of all Boat Stations; so you don't need to commute to get to a jetty.
On a side note: I am personally against passenger boats populating a beach area as their engine smoke and oil only pollutes the water.
The prices for boat tours for different operators do not vary that much. The major difference in price lies on the length of the tour, the destinations, or whether you want to hire the boat privately (not having to go with other passengers outside your own crew). Haggling for boat tour prices is much more fruitful during low season as operators won't budge their prices when the demand is high.
Where did we stay on Boracay Island?
Since our budget for the last trip we made to Boracay was mid-range we ended up booking at Hannah Hotel. Since we have no business connections with the property whatsoever, I can say in an unbiased way that our stay there was enjoyable. It's family run and the staff were super friendly. It's located about 200 meters from White Beach and far enough from Boracay's pulsating music at night. Their breakfast was a bit small, so don't expect a buffet meal when you wake up though. At the time of our stay they were rated a solid 8.3/10 based on 461 verified guest reviews.
How to find the best hotel deals on Boracay?
Boracay is loaded with accommodation options to suit pretty much any budget. We have been to Boracay on multiple occasions and shopping around can save you some serious cash. Expect prices to shoot up significantly around Easter, Chinese New Year and Christmas. I personally, would book way in advance if you're heading to Boracay. Although our readers prefer different booking sites, three of their favourites tend to be: www.agoda.com, www.booking.com and www.hotelscombined.com. I have created links to their respective property lists on Boracay to save you some time:
Top Rated Properties on Boracay Based on Verified Guest Reviews
Important: Mobile Users must swipe from left to right to see entire table.
Criteria:
Properties rated based on 'overall' review scores from each respective website's verified guests.
Minimum of 50 verified guest reviews required to be considered eligible for comparison.
All star ratings and verified guest review scores are tallied at the time of writing, and therefore, are subject to change.
Boracay Accommodation Map
Top Rated Properties