When you hear people talk about Boracay Beach, they are most likely referring to the glorious White Beach on the western side of Boracay Island. But White Beach is not the only sandy stretch on Boracay, and it's definitely not the only one which deserves to be visited. Enter, Bulabog Beach – an often preferred alternative to massively popularly White Beach.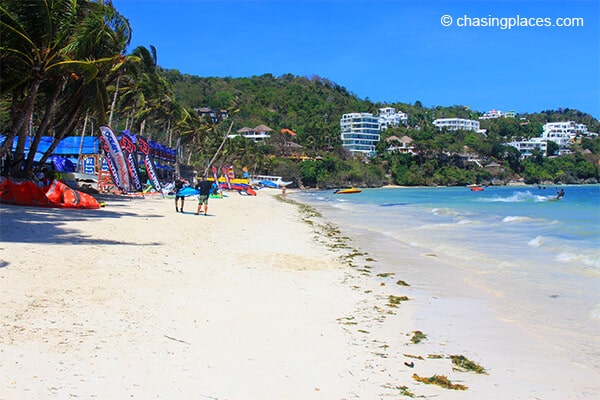 How to Get to Bulabog Beach
Bulabog Beach sits on the eastern side of the island, while White Beach is on the western side.  The narrow strip of land that separates the two beaches is mostly occupied by a cemented road, the main thoroughfare on Boracay.   Depending on which White Beach-Station you are staying near you will only have to walk about 10-20 minutes to reach Bulabog.
Road Access
Make sure you are on the opposite side of White Beach. Then, turn onto the road along the corner of 24/7 Convenience Store at the Crown Regency Hotel. The second road access to Bulabog is across from Crafts of Boracay. If you're coming from D'Mall (the main commercial center on White Beach), you only need to cross the road. Once you get to the other side, turn onto the first road you see to your left. This road is beside the lagoon, right across from the Bank of the Philippine Islands (BPI). Just keep walking for about 5 minutes, and you will eventually come across the beach.
Not a Swimming Beach
Bulabog has never been known for its swimming conditions. It has some seaweed and the wind here (and consequently, the current) is consistently strong.  However, Bulabog's wind is also the reason why this beach has become the kitesurfing mecca of Boracay.  So even if you want to challenge the strength of the current by swimming in Bulabog, you will also have to avoid crashing into the boards floating on the water – and believe me, there are enough of them to make this feat very difficult, much less, convenient.
Windsurfing/Kitesurfing Capital
People from around the world seek out Bulabog because of one thing – its consistent wind, which is absolutely perfect for kitesurfing and windsurfing. I often confuse the two sports, so just to give you an idea, here is the visual distinction between the two: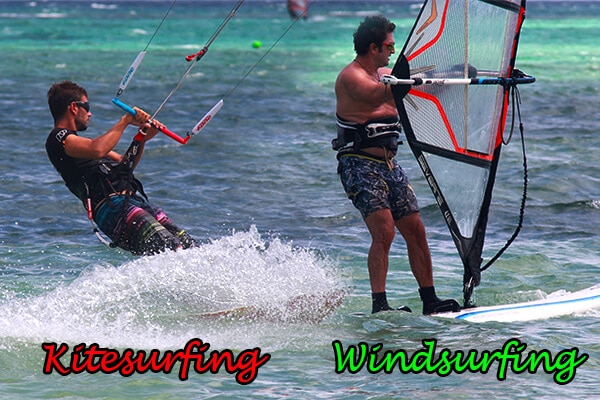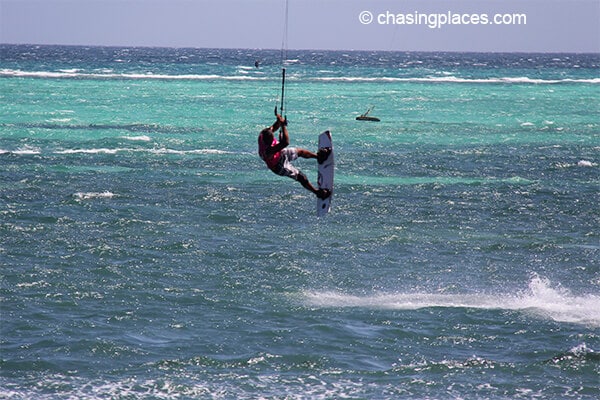 Yes, professionals and enthusiasts come to Bulabog to enjoy these two exhilarating sports. But don't let the acrobatics in the air deter you from learning yourself. There are windsurfing and kitesurfing schools in Bulabog that aim to teach newbies how to ride with the wind! One of them is the Habagat Kitevillage at Aissatou Resort.  The Discovery Course for beginners usually ranges from 1,500 to 3000 pesos, and covers a couple hours of lessons.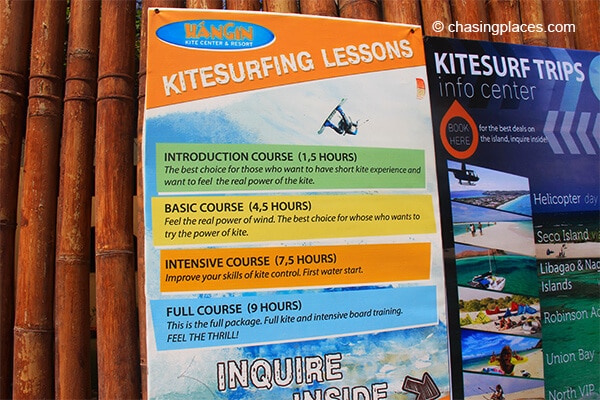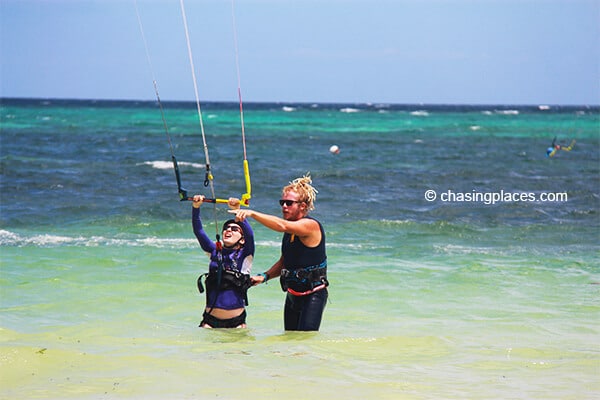 Travel Checklist: Do you have everything you need?
If I'm not a surfer, what can I do on Bulabog?
If surfing the sea with the aid of the wind is not exactly something you want to do, should you still consider visiting Bulabog Beach? Well, it is a fairly long and wide beach, and it is gifted with a calmer atmosphere than White Beach because there are fewer establishments and pesky vendors around.  The party crowd is mostly on and around White Beach.
As a result, Bulabog is perfect for sun tanning/sunbathing.  You can easily find a spot where you can lay down and read your favourite book.  And if you look out over the water, your eyes will be treated to bursts of colours, courtesy of the huge kites in the air.
Due to the sheer number of kite surfers, Bulabog is quite scenic, in its own way.  This scenery makes for amazing photos, especially if you can zoom in on the kite surfers in action.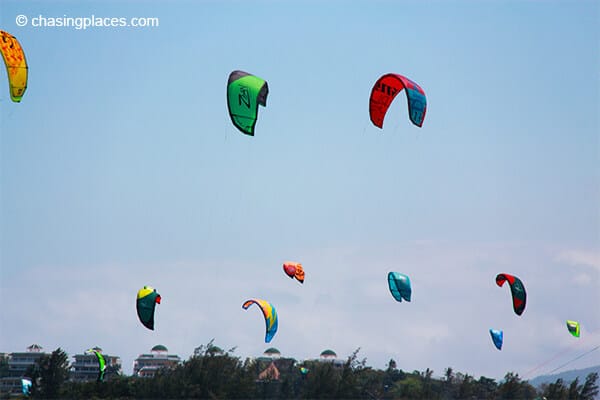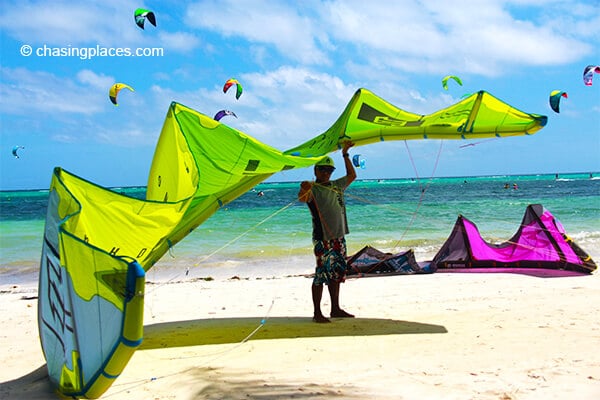 When we visited Bulabog, we found ourselves effortlessly spending almost an hour just looking at the kite surfers and judging which ones were the best. Our eyes were glued to them, patiently waiting for somebody to jump and do a 360 in the air. Bulabog did not disappoint.
Where did we stay while on Boracay?
We opted to stay about 15 minutes away from Bulabog at Hannah Hotel. Since we have no affiliation with this property or any of the properties on Boracay, we can provide an unbiased opinion of the place. Overall, it was pleasant.  It's was clean and since it is managed by a family they were very friendly and made an effort to make sure that we were having a good time.  The breakfast was a bit small, however. At the time of writing it had a solid score of 8.3/10 based on the 451 guest reviews. If you're planning on kite surfing or wind surfing, then I would suggest staying closer to Bulabog based on the information below.
Find the best accommodation deals on Bulabog Beach
Though it doesn't have as many hotels as White Beach, Bulabog has its own decent set of accommodation options. One obvious advantage of staying here is you are guaranteed to experience a more serene atmosphere. But because of its proximity to White Beach, you only need to walk a few minutes to enjoy the Boracay nightlife if you seek more night time excitement.
Here, you can find budget hostels, like MNL Beach Hotel and The Lazy Dog Bed and Breakfast. And if you want more pampering, you can also opt to stay in highly rated resorts like the 7Stones Boracay Suites.
Typically, we use one of these sites to book our rooms while visiting Boracay: www.agoda.com, www.booking.com, and/or www.hotelscombined.com. Hotelscombined is unique because it's a price comparison site, therefore you can quickly find the cheapest rooms and sales according to your budget. I have included links to their respective properties below to save you some time:
Top Rated Properties on Boracay Based on Verified Guest Reviews
Important: Mobile Users must swipe from left to right to see entire table.
Criteria:
Properties rated based on 'overall' review scores from each respective website's verified guests.
Minimum of 50 verified guest reviews required to be considered eligible for comparison.
All star ratings and verified guest review scores are tallied at the time of writing, and therefore, are subject to change.
Boracay Accommodation Map
Top Rated Properties
Alternatively, you can quickly compare room prices on Boracay using the search box below: