Boracay might look small on a map, but in reality it's larger than most people think. So if you ever you find yourself on this Philippine island paradise, don't hesitate to take the time to explore. This of course raises the question: How should you get around Boracay Island?
The island's main two-lane thoroughfare (flat road) stretches parallel to White Beach from the main pier all the way to Puka Beach.  Because White Beach is long, it is divided into three sections called "Boat Stations".  Over the years, the island's tourism industry has grown, and so too has the number of businesses.  This is the primary reason why the main road is always busy, and the main mode of transport is limited to tricycles.
What are Tricycles?
Tricycles are the Philippine's version of a tuk tuk. This is a three-wheeled transport vehicle that can be seen all over the country and is usually relied upon to cover shorter routes in towns.  There are no buses, trains or taxis on Boracay – just tricycles! There are also some locals who offer to drive passengers on their motorcycles.
The tricycles on Boracay Island have three wheels, they are still designed to carry as many as 8 passengers.  Unlike Thai tuk tuks, they are not as fast or zippy, but they do the job of bringing you from point A to point B at a steady pace.
Moving Tricycles
There are two types of tricycles on Boracay Island. The first classification is called "Moving Tricycles". These are the tricycles that constantly pick up and drop off passengers and follow a specific route. In other words, they act like buses.  Moving tricycles are often bigger and in Boracay's case, they to be electric-powered. They run along the main thoroughfare also called "flat road". They are also the cheapest form of tricycle on Boracay.  Here are the rates of a Moving Tricycle on Boracay:
Flat Road Station 1 to Station 3:  10 pesos
Flat Road to Jetty Port: 25 pesos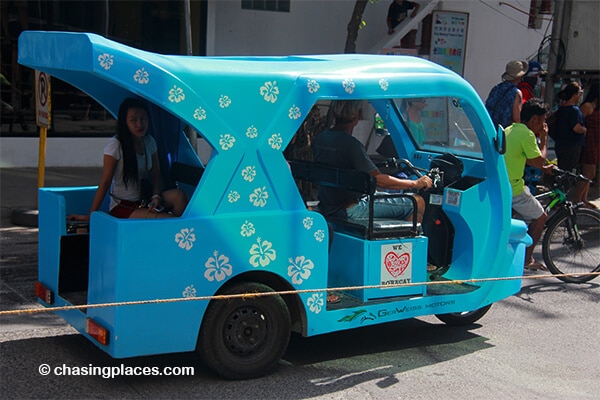 How to get on a 'moving tricycle' on Boracay Island?
To get on a moving trike, all you need to do is stand along the side of the road, and wait for one to pass by. Wave or hold out your hand as a signal to the driver that you would like to get on. If the tricycle has room, it will stop for you. If it's full, it won't stop.
Once on the tricycle, just give your fare to the driver. The Filipino word for fare is "Bayad". Just say "bayad po" ('po' is a word used to demonstrate respect in the local language).
Parked Tricycles
The second type of tricycle on the island are referred to as "Parked Tricycles" or "Special". As the name suggests, parked trikes are stationery. They act like "taxis", and are found in busy spots like the D'Mall.  When you hire a parked tricycle, it is assumed that you don't want to share it with other passengers other than yourself and your group/party. This is the reason why parked tricycles are much more expensive. Oddly, parked tricycles are gasoline-powered and look older than their 'moving' counterparts.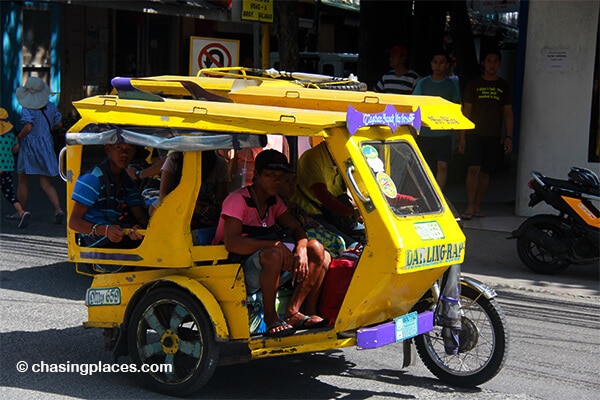 But I guess they are considered special because you can ask the driver to bring you to a specific spots on the island that are not covered by moving tricycles. Most tourists on Boracay tend to just hire parked tricycles as they are everywhere and you don't have to wait for them to come by. If you pay more for a 'parked tricycle' than an electric 'moving tricycle', the premium you pay is due to their increased convenience.
Travel Checklist: Do you have everything you need?
Here are the rates for Parked Tricycles:
Anywhere around the Flat Road (Station 1-3):  60 pesos
Jetty Port from Station 1-3 (and vice versa) : 125 pesos
Station 1-3 to Diniwid Beach (and vice versa): 100 pesos
Station 1-3 to Puka Beach (and vice versa) : 150 pesos
(1 USD is approximately 46 pesos)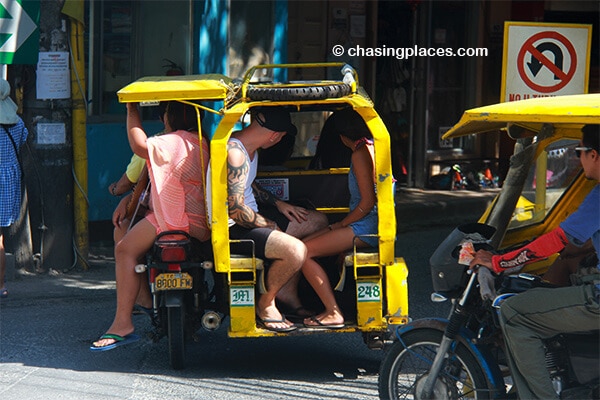 Additional Tip:
Prices may change after the time of writing, so once you get to your hotel, ask the staff about the prevailing rates. Always use prevailing rates. If a driver asks you for more, then look for another one, there's plenty of them (maybe too many) on Boracay waiting for customers.
If you are going to a place not mentioned on the price grid above, make sure to negotiate and confirm the fare rate with the driver before getting onto the tricycle. This is to avoid confusion or the possibility of them overcharging you.
Some hotels have their own vans that carry guests to and from the jetty port. There are also a few companies that offer vehicle rentals. But because Boracay has narrow roads, it is not going to be easy driving around the island on a four-wheeled vehicle. Our suggestion, stick with the tricycle. They are affordable, good for the environment and safe enough (as they don't drive outrageously fast).  It is a good way to get a taste of Filipino culture and their usage of public transport, and if you choose a moving trike, you will have the opportunity to meet locals and fellow paradise-seekers.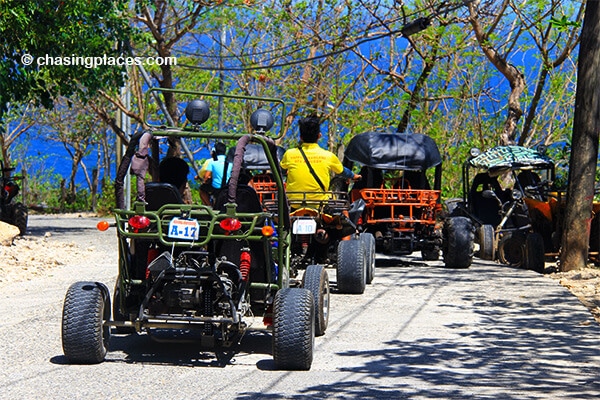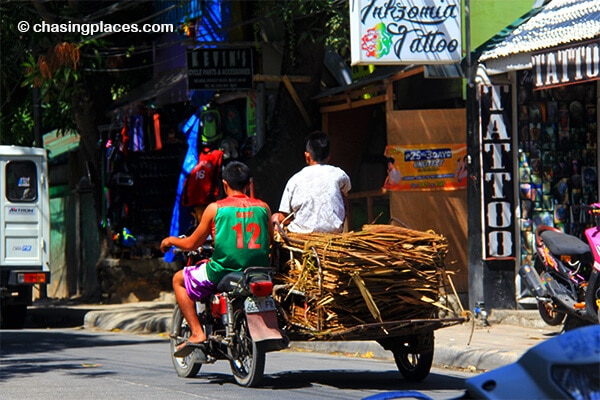 Renting a Moto on Boracay Island
You might also find some guesthouses renting motos to explore Boracay. It's not the best island to drive around due to road congestion on the main road, but it could be a worthwhile investment if you plan to explore all the beaches. Tricycle rides can add up over the course of a trip, so inquire about both options and select the one that works best for you. If you do decide to rent a moto, then shop around first to secure the best prevailing rate.  And always remember – check the brakes and helmets before paying!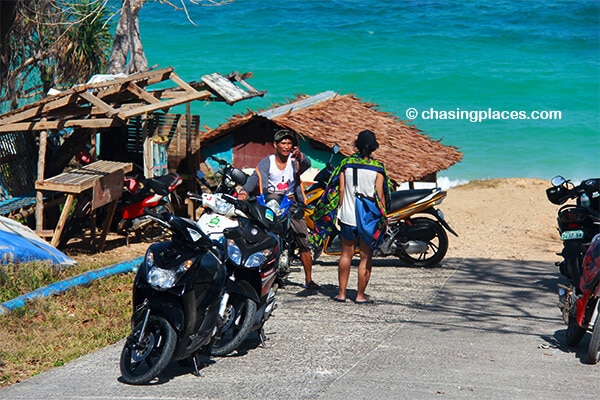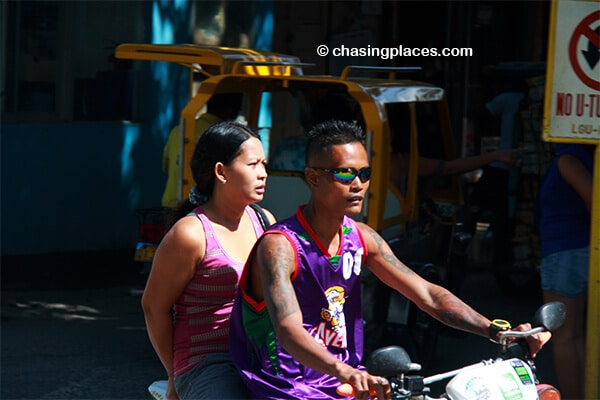 To find the best hotel deals, here are the:
Top Rated Properties on Boracay Based on Verified Guest Reviews
Important: Mobile Users must swipe from left to right to see entire table.
Criteria:
Properties rated based on 'overall' review scores from each respective website's verified guests.
Minimum of 50 verified guest reviews required to be considered eligible for comparison.
All star ratings and verified guest review scores are tallied at the time of writing, and therefore, are subject to change.
Boracay Accommodation Map
Top Rated Properties
Do you have a specific question about Boracay or do you want us to write about a specific travel topic? Write a comment down below or email us.