Langkawi Island on the southern coast of Western Malaysia is a favorite holiday destination for city dwellers living on the mainland.
But this despite its popularity among locals, Langkawi has retained its laidback atmosphere and natural beauty.
The main attraction on the island has got to be its stunning beaches. One of the most outstanding characteristics of Langkawi's sandy stretches is that they are genuinely tranquil. During most times of the year, you won't see a huge crowd fighting for sunbathing space or blocking your view of a beautiful sunset.
There are also not too many high rises around the beach areas.  Sure, you can find small cafes,  rustic restaurants and resort buildings around the more popular stretches, but they are not very built up nor elaborately decorated to compete for beach-goers' attention.
The beaches in Langkawi are truly a backpacker's ideal relaxation spot, where everything remains authentic and simple. If you ever find yourself in Langkawi, here are top public beaches ("pantai" in the Malaysian Bahasa language ) you seriously need to visit.
4. Pantai Cenang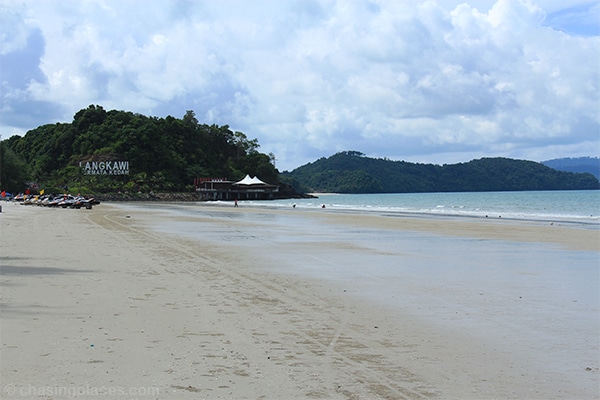 Being the most popular beach on Langkawi Island, Pantai Cenang has the most accommodation choices, restaurants and cafes to draw in the tourist crowd. Here, you can actually see people playing on the sand or engaging into water sports like jet skiing.  Another thing to watch out for in Pantai Cenang is its absolutely gorgeous spellbinding sunset.
If you're looking for a raving alcohol-fueled nightlife like those prevailing on the beaches of Bali and Thailand; Cenang won't be able to deliver that.
Langkawi and Malaysia as a whole have predominantly Muslim populations that shun alcohol drinking. Although there are restaurants that are equipped with small bars serving alcohol; a bar named Babylon used to be the only purely alcohol-oriented beachfront joint in the area.
However, it was closed recently. On the bright side, you can always purchase alcoholic products from a local store and enjoy them while sitting on the sand. Here are the property lists around Pantai Cenang:
Rooms near Pantai Cenang – www.agoda.com
Compare Room Prices near Pantai Cenang
3. Pantai Tengah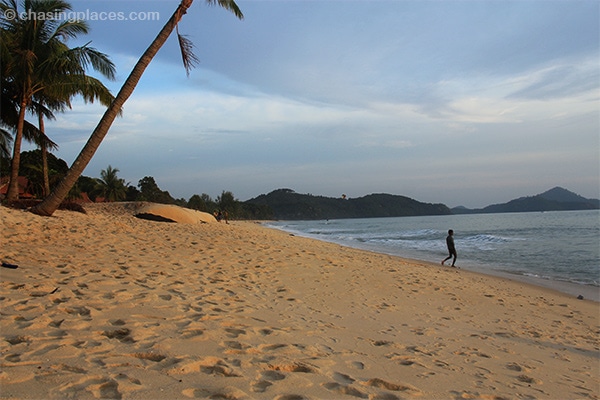 This is the quieter more modest sandy sister of Cenang – just a kilometer away. It holds the distinction of being the longest beach on the island. Some resorts and chalets populate the beachfront, but you usually need to cross the road from the beach to access the dining selections in the area.
There are a number of mixed bars and bistro establishments in Tengah's vicinity. In fact, it is home to two of the most stylish lounges on the island, the Sunba Restro Bar and Sun Karma Chill Out Lounge.
Pantai Tengah has that rare thick white sand mixed with shades of yellow that easily sinks once you step on it.  It also shares that romantic sunset view with Cenang. Here are the property lists around Pantai Tengah:
Rooms near Pantai Tengah – www.agoda.com
Compare Room Prices near Pantai Tengah
2. Pantai Kok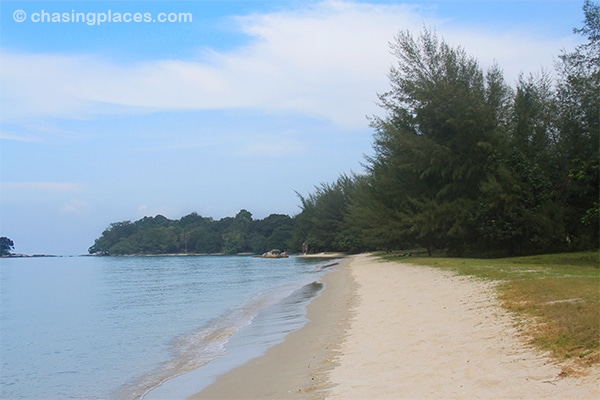 On the western part of Langkawi sits Pantai Kok Beach and town.  Situated about 12 kilometers from Pantai Cenang, Pantai Kok beach is home to some of the most luxurious resorts such as Tanjung Sanctuary and the Sheraton.
Like the other beaches on the island, Pantai Kok beach has nice clean sand and clear waters.  It is also beautifully surrounded by limestone hills and thick forests. It's in this area where you can find the glamorous yachting marina and the Telaga Harbour Park – the charming boardwalk equipped with bars, shops, and restaurants.
Langkawi's prime tourist sites like the Telaga Tujuh waterfalls (Seven Wells Waterfalls), the Oriental Village and its backdrop, Mat Cincang Mountain, are also situated in the Pantai Kok region. New resorts as well as a scenic top class golf course will soon be part of the ensemble of Pantai Kok's elite attractions. Here are the property lists near Pantai Kok:
Travel Checklist: Do you have everything you need?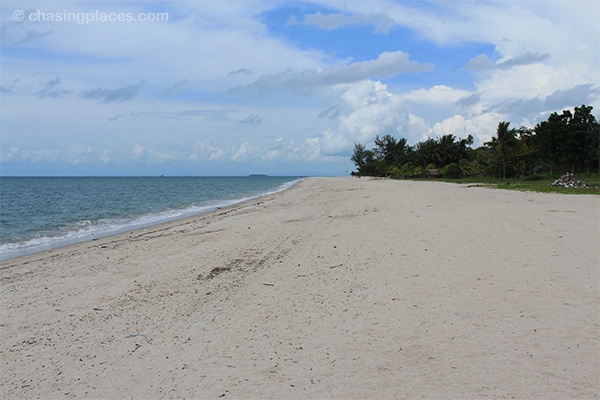 Arguably the nicest beach on Langkawi Island, Tanjung Rhu is often regarded as a hidden treasure by many backpackers.  Since it is located way up on the north eastern tip of the island, it is far enough away from the duty-free shoppers in Kuah and the resort guests staying in the vicinity of Pantai Cenang.
When you approach Tanjung Rhu on the quiet coastal road you will notice beautiful limestone outcroppings directly in front of the beach. Probably the most practical way to enjoy this long stretch of sand is to pack a lunch, bring some cold refreshments and head north with a moto or with a rented car.
If you are not on a strict budget consider staying at the spectacular 5-star Tanjung Rhu Resortwhich is conveniently located on the northern portion of the beach. Here are the properties around Tanjung Rhu:
Rooms near Tanjung Rhu – www.agoda.com
Where did we stay on Langkawi Island?
We have been to Langkawi multiple times.  Each and every time we try to book our room near Pantai Cenang.  It's close to the airport, convenient and the sunsets are mesmerizing. The last time we visited we stayed at Casa Idaman Hotel.
We don't have a direct affiliation with this property or any of the properties on Langkawi, therefore our opinion is an unbiased one. It turned out to be a quiet, clean and affordable mid-range option. The place is new and it's located about 400 meters from Pantai Cenang (the beach).  At the time of writing it had a score of 7.5/10 based on 15 verified guest reviews. If you're budget can allow for it, based on our experience, these well-liked options might be better suited for your needs:
Casa Del Mar Hotel (rated 9.2/10 based on 178 verified guest reviews at the time of writing)
Meritus Pelangi Beach Resort and Spa (rated 8.2/10 based on 3287 verified guest reviews at the time of writing)
Temple Tree Resort (rated 8.3/10 based on 499 verified guest reviews at the time of writing)
How to find the cheapest room on Langkawi Island?
Langkawi has some super nice luxury resorts like The Danna Langkawi Hotel, The Datai Langkawi and Four Seasons Resort Langkawi. But to find quality budget choices will require much more work.
Pantai Cenang's best properties tend to sell out early, and the one's that remain vacant can sometimes be musty and run-down. Book your room well in advance to avoid the 'accommodation blues'. We have been to Langkawi around 10 times and we have consistently relied on the following sites to find our rooms:
Agoda : This is the largest room provider in Malaysia and for Langkawi Island. With around 350 rooms listed at the time of writing you will have no shortage of choice.  Here is a link to their properties for Langkawi Island:
          Rooms on Langkawi with www.agoda.com
Hotelscombined.com: This is our favourite price comparison site for rooms. Within seconds you can search for rooms on Lankgawi and save some cash. It also saves you time from jumping around from website to website.  Here is a link to their price comparison feature:
Read More About Langkawi