This is a comprehensive travel guide for Langkawi Malaysia. It contains  important trip information, valuable tips on must-see attractions and accommodation.
This guide is ideal for first-time visitors who need to quickly know the basics of visiting Langkawi Malaysia.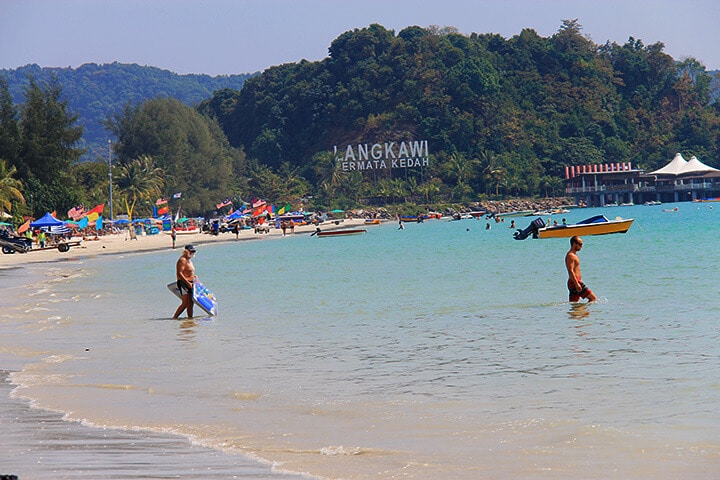 UNDERSTANDING LANGKAWI MALAYSIA
Langkawi Island (Pulau Langkawi in Malay) is one of the most popular beach destinations in Malaysia. Although often called an island, Langkawi is actually an archipelago, made of 99 islands.
BASIC INFORMATION ABOUT LANGKAWI ISLAND, MALAYSIA

It's official name is Langkawi Permata Kedah (Langkawi, the Jewel of Kedah).
Langkawi is located on the west coast of West Malaysia. It is only less than an-hour flight away from Kuala Lumpur. This makes it very accessible to anyone who wants to escape the city for a couple of days. 
Langkawi has a predominantly Muslim population but locals are laidback and moderate in their beliefs. There are many places that serve alcohol and people can wear their bikini on the beach. 
In fact Langkawi has been a duty-free island since 1986. Alcohol here is the cheapest in Malaysia.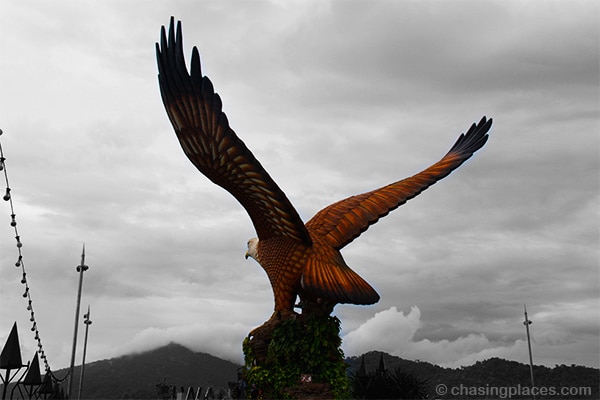 ---
LANGKAWI'S APPEAL TO TRAVELLERS
Langkawi is a tropical paradise surrounded by beautiful beaches but in many ways it's relatively underdeveloped. Compared to destinations like Phuket and Bali, Langkawi does not have as many ultra modern resorts and dizzying rows of bars and restaurants. 
Langkawi has a laid back, low-key atmosphere but it's still has enough amenities and facilities to make a tourist's stay comfortable. 
From beach hopping, snorkeling to diving and cable-car riding, there are many things to do in Langkawi. It is actually a more of a complete island destination, which suits a wide variety of travelers, including families. 
Currency: Malaysian Ringgit
Modes of Payment:  People mostly pay with cash. Although hotels and mid-range restaurants accept credit cards.  ATMs and Money Changers can be found along the main road, near the main beaches of Cenang and Pantai Tengah.
---
WHERE TO STAY IN LANGKAWI MALAYSIA ( USEFUL FOR FIRST -TIME VISITORS)
The main island of Langkawi is huge by island standards – it's about 500 square kilometers.
In order to determine which hotel best suits your needs and preferences, you will need to understand the geography of the island. 
As with most islands, most hotels and other accommodation options in Langkawi are located close to its main beaches. 
Staying near Cenang Beach/Pantai Cenang
A number of accommodations can be found along or across the island's main road adjacent to Cenang Beach. This road is called Jalan Pantai Cenang. "Jalan" means road in Malay.  Most tourists refer to this neighborhood as Cenang. 
This neighborhood is the busiest on the island and Cenang is the most popular beach.  Because of this, some of the best accommodation options can be found in Cenang. 
Staying in Cenang is strategic and convenient because you will only be walking distance to restaurants, shops and ATMs. At the southern end of Cenang there are popular establishments like Zon duty-free shopping center and Underwater World. 
Resorts in Cenang offer great views of the beach. 
For Budget Travelers: 
There are many medium to budget accommodation choices in Cenang. Most of them are tucked in smaller streets connected to the main road. You just need to walk across the main road to access Cenang Beach. 
Cenang Beach is 2 kilometers long and although it is popular, it is does not get as wild as Thai beaches. 
Top-Rated Hotels on Cenang Beach
Casa Del Mar Hotel  (rated 9.2/10 based on 178 verified guest reviews at the time of writing)
Meritus Pelangi Beach Resort and Spa (rated 8.2/10 based on 3287 verified guest reviews at the time of writing)
Temple Tree Resort (rated 8.3/10 based on 499 verified guest reviews at the time of writing)
Check out other  hotels in Pantai Cenang
Staying near Pantai Tengah 
If you want to stay at a quieter location, then choose a hotel in the Pantai Tengah area.  This is the beach right beside Cenang. The main road from Cenang extends to Tengah.  Resorts in the Pantai Tengah neighborhood are more upscale, and you can still find a number of restaurants and shops. 
The good thing about staying in Tengah is that you are not far away from the tourist facilities and amenities and the beach here tends to be quieter. 
Tengah still has the nice turquoise water like Cenang and its sand is off-white. 
Some of the popular resorts in Pantai Tengah are:
The Frangipani Langkawi Resort & Spa
Find other hotels in Pantai Tengah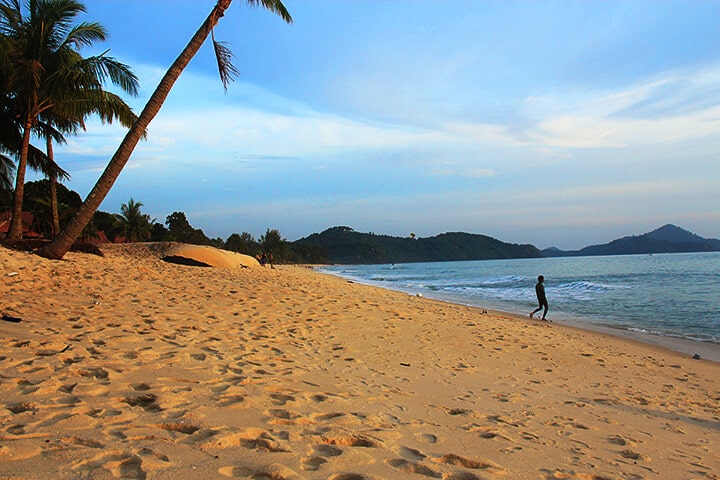 Staying near Kuah Town
Kuah is in the southeast corner of the island, is the main town but most tourists do not stay in Kuah because it is far from the beaches. 
Staying near Pantai Kok
The third most popular neighborhood in Langkawi is the Pantai Kok area.  Here, you will find Telaga Harbor Park, which is a shopping complex and yachting marina. This is really the only modern complex in this rather underdeveloped area. 
Pantai Kok is on the western section of Langkawi, 12 kilometers from Pantai Cenang. The beach is surrounded by mountains and it offers nice views of limestone karsts. 
You will find a few resorts located in this area including the Sheraton. If you are dreaming of a  more isolated peaceful holiday, then choose a resort in this area. 
Find other hotels in Pantai Kok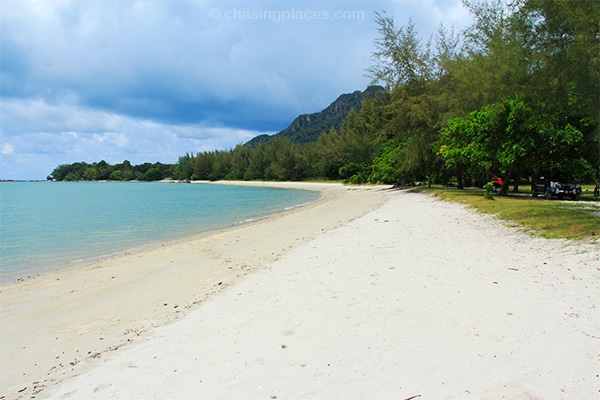 Staying near Teluk Datai Beach
Langkawi has a couple of really beautiful exclusive resorts located far from the main busier neighborhoods. 
One truly outstanding resort is  Golf Club Datai Bay in the Teluk Datai neighborhood.  This resort is arguably the most luxurious on the island. 
It is well known for its golf course – The Els Club – Teluk Datai , which is considered one of the top golf courses in Malaysia. 
Staying near Tanjung Rhu 
In our opinion, the most beautiful beach in Langkawi is Tanjung Rhu. Amazing powdery white sand, pristine blue waters and limestone karsts in the distance, Tanjung Rhu is a must-see.  
This cove is actually part of a marine reserve area so it does not have beach front properties. You need to enter a gate to access the beach. 
There is still a beach close to Tanjung Rhu and the area is so peaceful and relaxing. The two most luxurious resorts are found in this area, and they are:
If you want a luxurious holiday while pampering yourself to the serene gorgeous atmosphere then choose to stay at these resorts. 
If these 5-star resorts are not what you are looking for, then you may find other cheaper hotels near Tanjung Rhu.
Click to read more about the top 4 beaches on Langkawi Island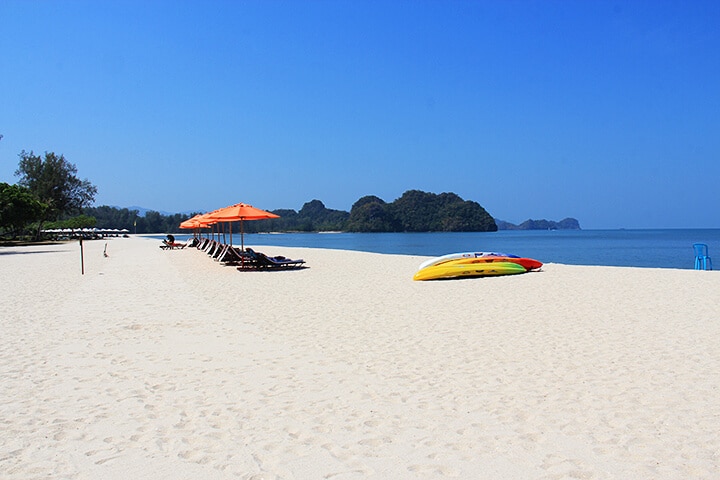 Staying at Eco Resorts in Langkawi 
If you want to be close to nature and wildlife, consider staying at Ambong Ambong Langkawi Rainforest Retreat.  For a real island getaway, try Vivanta by Taj  found on  Rebak Island Resort. Rebak Island is a short boat ride away from the main island. 
---
HOW TO GET TO LANGKAWI MALAYSIA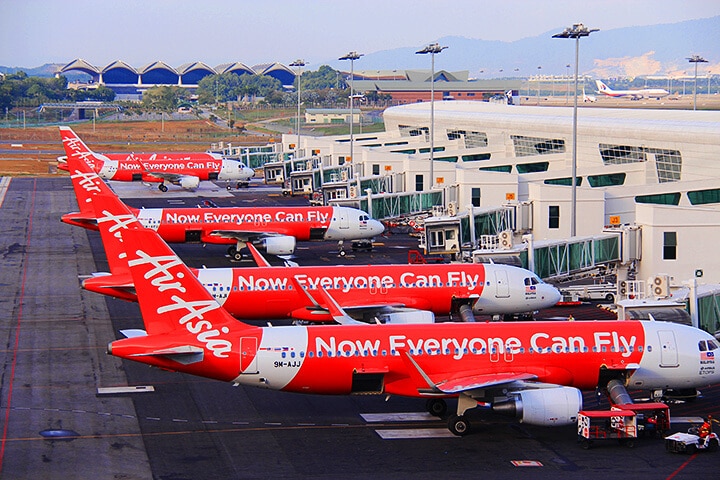 By Air
Getting to Langkawi is fairly easy and straightforward. There are daily flights to Langkawi from Kuala Lumpur, Penang, and Singapore.  Malaysia Airlines, AirAsia and Firefly fly these routes. 
If you are coming from a farther international location, you will need to fly to Kuala Lumpur or Singapore first, and then connect to Kuala Lumpur. 
If you are planning to visit Kuala Lumpur, Langkawi makes a good two-day side trip. Flight tickets to Langkawi from Kuala lumpur and SIngapore are often cheap or on promotion. 
Check out and Compare flight prices to Langkawi. 
By Ferry
From the mainland Kuah Perlis or Kuala Kedah, you can also take a ferry to Langkawi for approximately an hour and 30 minutes. You will arrive at Kuah Port.  There are also regular and fast ferry services that travel to and from Georgetown Penang. 
For more transport information, read: How to Get to Langkawi Island from Kuala Lumpur – The Most Convenient Way
---
HOW TO GET AROUND LANGKAWI MALAYSIA
Langkawi Island is an ideal island to drive in. Traffic is usually light and the roads are well constructed.  
Budget travelers tend to rent a motorcycle from the airport or from rental shops in Cenang and Tengah. You can also rent a car at an affordable daily rate. 
Make sure that you have a driver's license. Most shops accept international licenses.  
There are no other reliable forms of public transportation on Langkawi except for taxis.  If you don't want to drive a motorcycle or car, then you will need to take a taxi. 
Important Reminder: Langkawi taxis do not use the meter and drivers will just tell you a fixed price. 
Another option is for you to arrange through your hotel/agency a car and driver for sightseeing .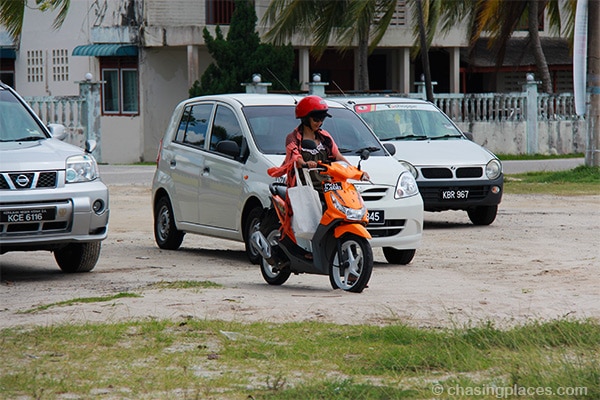 ---
THINGS TO DO IN LANGKAWI
1. Beach Hopping
Beaches are the primary attractions in Langkawi.  People come to the island just to enjoy water activities like swimming, parasailing, jet skiing, and banana boat rides etc. 
There are four main beaches on Langkawi Island:
Pantai Cenang

Pantai Tengah

Pantai Kok

Tanjung Rhu
There are other lesser known beaches and coves.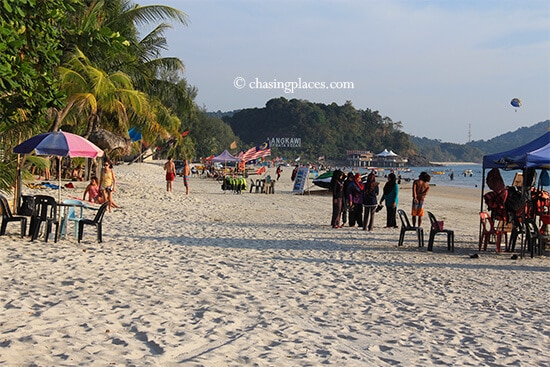 2. Driving Around the Island on a Motorcycle or Car.
This is one of our favorite activities while on Langkawi. We have hopped on a motorcycle and casually driven around the island, stopping by at beaches and other attractions. We find this very exciting, not to mention cost-effective.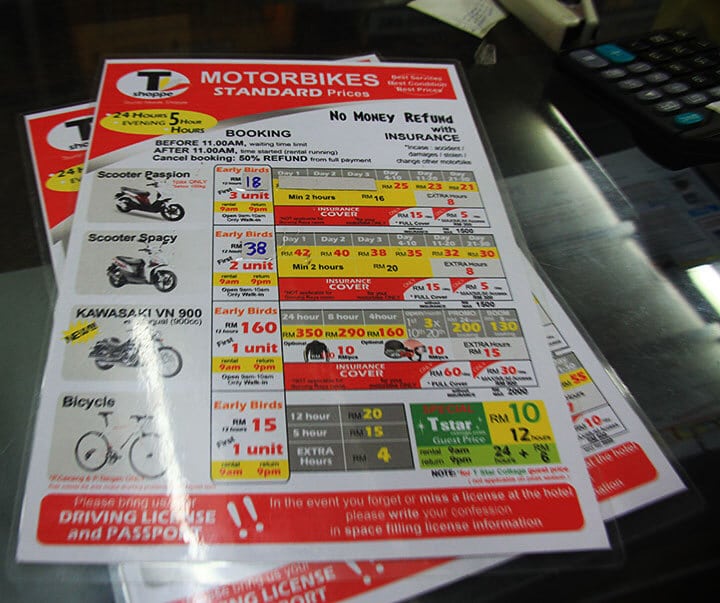 3. Go for a Cable Car Ride and Walk on the Skybridge. The Langkawi Skybridge is one of the most amazing bridges in Asia. 
Cable Car Fees: RM 35 for adults 
                            RM 25 for children
Operation Hours : 
Monday & Tuesday 10:00 pm – 7:00 pm
Wednesday 12:00  – 7:00 pm
Thursday 10:00 am – 7 pm
 Friday & Saturday 9:30 am – 7 :00 pm
Address: Jalan Telaga Tujuh Teluk Burau, Langkawi 
4. Go for an Island Hopping and Snorkeling Trip
Hotels and private tour companies in Langkawi can easily arrange island hopping and snorkeling tours. One popular spot for snorkeling is the Pulau Payar Marine Park and its famous Coral Garden.
5. Go for a Diving Trip.  
Pantai Cenang has some diving shops you can visit. You can also organize the trip with your hotel. 
Places to See in Langkawi for Free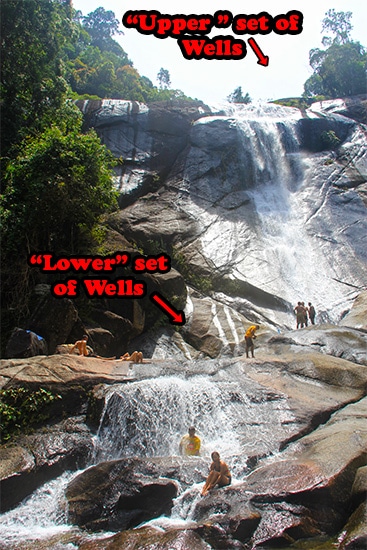 Aside from beaches and coves, there are top attractions that you don't have to pay to enjoy. 
Seven Wells Waterfalls (Telajah Tuju in Malay)

Temerun Waterfalls  

Oriental Village

Dataran Lang or Eagle Square

Gunung Raya (Mount Raya)
Top Langkawi Attractions with Entrance Fees
Underwater World Langkawi

Langkawi Wildlife Park & Bird Paradise

Langkawi Arts in Paradise 3D Museum

Langkawi Crocodile Farm
---
PLACES TO EAT IN LANGKAWI 
A number of restaurants and eateries can be found along the main road from Pantai Cenang all the way to Pantai Tengah. 
If you don't have a particular restaurant in mind, all you have to do is walk along the main strip and check out the restaurants along the way. It is a fun way to explore the area!
Some of the most popular restaurants on Langkawi include:
The Cliff- Pantai Cenang
Yellow Cafe – Pantai Cenang
Nestle Rooftop Cafe – Pantai Cenang
Colonial India – Pantai Tengah
Dish prices range from around 10 RM to 30 RM.
Seafood is a hit among tourists in Langkawi. Some of the popular joints are:
Orkid Ria Restaurant – Jalan Pantai Cenang. 
Happy-Happy Cenang Seafood Restaurant  – Jalan Pantai Cenang. 
These restaurants are considered upscale and good for sharing.
Maya Seafood – Jalan Pantai Tengah (offer cheaper dishes)
Langkawi is an ideal place for budget travelers because you can easily find cheap food. Like other Malaysian cities, Langkawi has its outdoor local eateries that serve delicious local food. Some of them are:
Okay Boss – Pantai Cenang
Bella Restaurant – Pantai Cenang
You can enjoy a dish for less than 10 RM. 
---
FREQUENTLY ASKED QUESTIONS ABOUT LANGKAWI MALAYSIA
1. When is the best time to visit Langkawi?
The high season for tourism is from January to March. The weather at this time is very ideal as it's dry and warm.  
Between April to August, the weather is still generally warm and dry with short showers and occasional rainy days. At this time, there are less tourists coming in Langkawi.  
Important Reminder:  This is the period for the holy month of Ramadan for the Muslims. As Langkawi still has a predominantly Muslim population. Do take note that during this month, some shops and restaurants may be closed during the days. 
The months of September and October are known as the wet season. Expect that heavy rainfall at this time.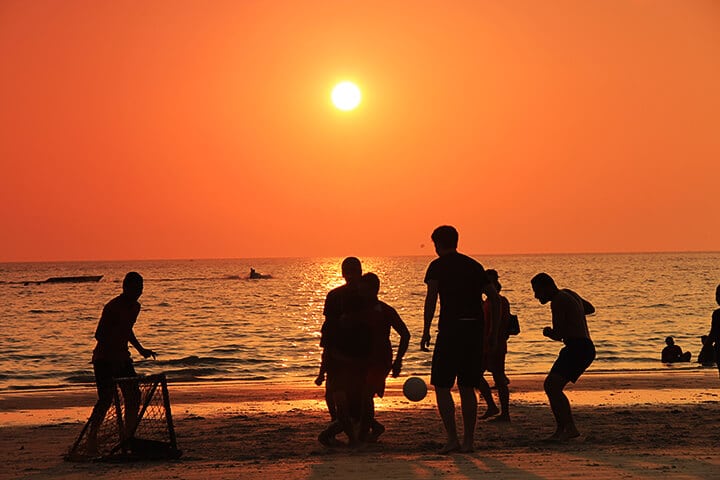 2. Is Langkawi Safe?
Langkawi is generally safe. We have heard incidents of thefts. To be safe, just make sure you lock your important belongings in a safe or in a secure place. 
There are not many aggressive touts on Langkawi, so it is not common that you will get scammed. For island hopping, you can always go with a tour agency instead of  arranging it on your own with touts. 
Is there are hospital in Langkawi?
Yes, there are hospitals and clinics in Langkawi. Since most activities in Langkawi are physical, we highly advise that you buy travel insurance to ensure you're covered while having fun. Better be safe than sorry. 
3. Is Drinking Alcohol Allowed in Langkawi?
Langkawi is a duty-free island with very cheap alcohol. No one will bother you if you drink on the beach or in public. However, the island is still majorly populated by Muslims.
As such, there are family-owned accommodation that do not allow drinking on the premises. Follow the rules so you won't run into problems. If you want to drink, then choose to stay in more liberal hotels – there are many of them.
What are the Things Not Allowed in Langkawi?
Nudity and sexual activities are illegal on the beach of Langkawi. If you get caught, you will be in jail.

Selling, buying and taking prohibited drugs in Langkawi is illegal and heavily penalized in Malaysia. 
You will get into serious trouble if you get caught and may have to spend the rest of your life in jail. Just don't risk it! 
Click here to know the 9 Things You Need to Know About Langkawi Before Visiting
This post serves as a guide for your trip to Langkawi , Malaysia. Prices of hotels and transportation can change beyond our control.  
Verify information with your hotel and tour guide before agreeing to paying .  The information we posted here is  based on our personal experience. We have visited Langkawi quite a number of times as we have lived in Malaysia for many years.
If you find this guide useful,  share it on Facebook to help fellow travelers visiting Langkawi. 
Keep on chasing places…