Dubai has a reputation of being an ultra-modern, sleek city with some of the most luxurious hotels in the world. It also has one of the world's best airlines – Emirates. This tempts the rich and the famous. When people think of this city, they expect huge malls and skyscrapers in the midst of a desert plain. But there is another face to Dubai that a lot of travelers don't know about. This face is an older one and honestly, maybe more interesting to many travelers who visit Dubai.
During my visit to Dubai, I had the opportunity to see its historical neighborhoods. I didn't know that such neighborhoods existed, and I considered myself lucky enough to read about them in a guide.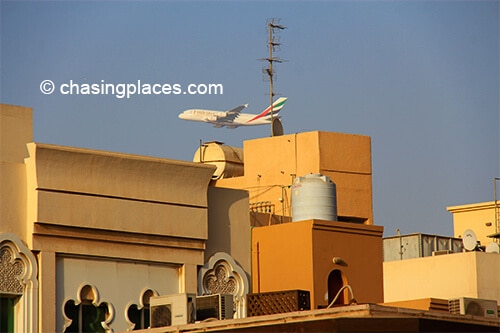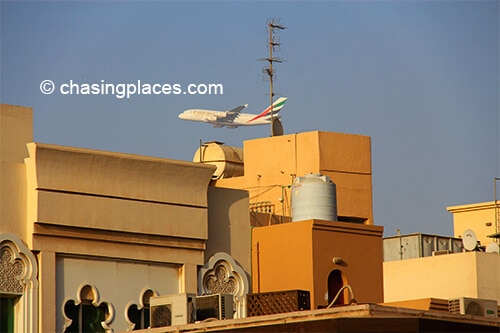 Deira
Deira is one of the oldest neighborhoods in Dubai and one of the best places to find budget hotels. It is known for its souqs (souks) (the word for market in Arabic). The Gold Souq (souk) in particular is quite a fascinating place. This marketplace is marked by a big sign on top of its wooden gate. As you enter the gate, a single lane awaits, and along this busy street, various gold shops are lined up. The golden jewelry on display in every shop is so impressive that it doesn't really matter if you're not up for buying. Just looking at the displays is an experience in itself. I have never seen such grand jewelry all in one place.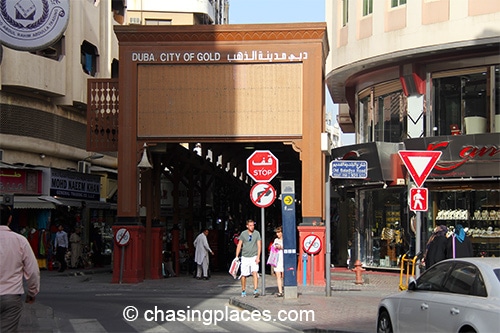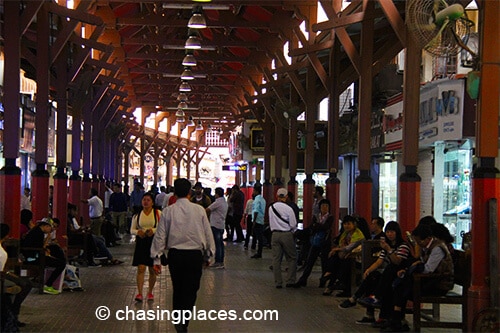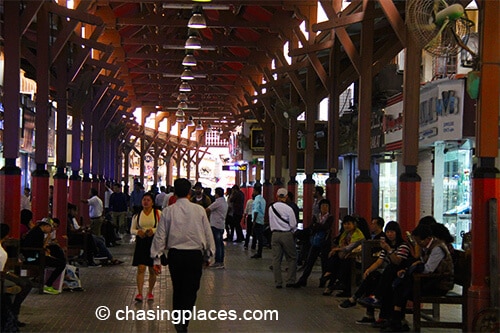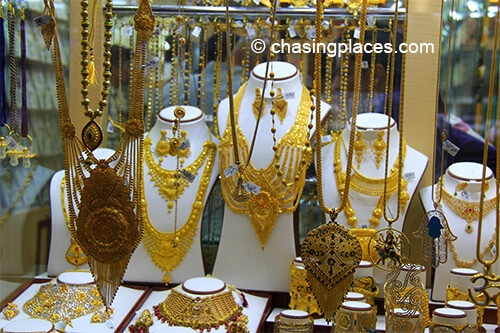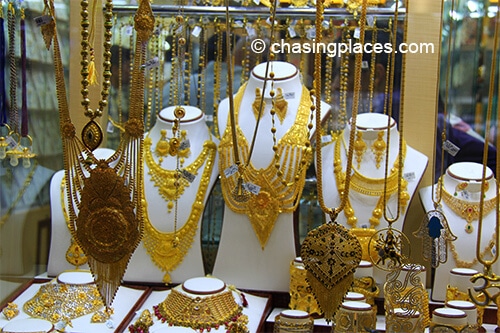 Deira is also home to the Heritage House, which used to be the residence of a wealthy merchant. This merchant also happens to be the founder of the adjacent Al Ahmadiya School, the very first public primary school in Dubai. Other nearby souqs (souks) to visit include the Grand Souq (Souk), the Spice Souq (Souk) and the Perfume Souq (Souk).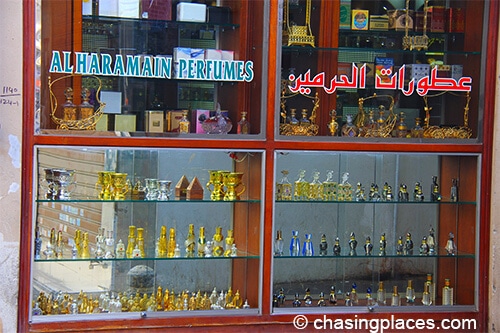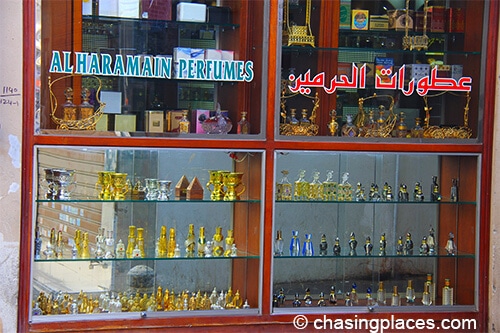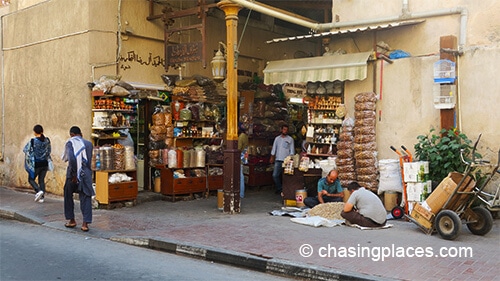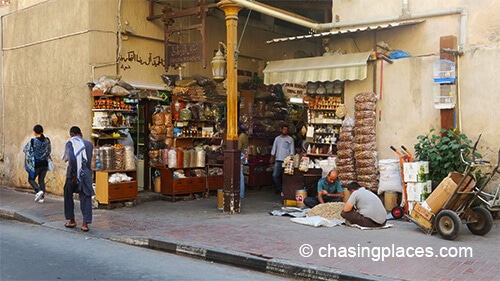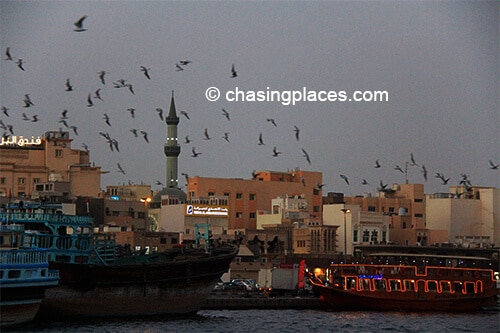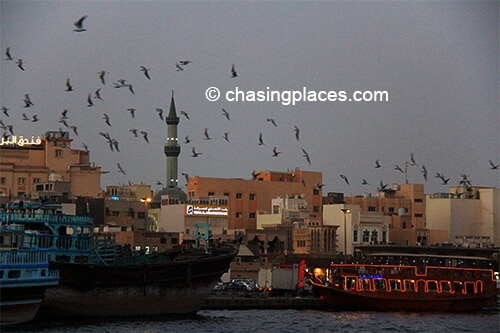 Bur Dubai
Bur Dubai is another historical neighborhood that you should not miss visiting while in Dubai.  This neighborhood is located in the western section of Dubai Creek. Most of the main attractions in Bur Dubai are concentrated along the west bank of the creek.  Some of these attractions include the Al Fahidi Historical District and the Shindagha Historic District.
Bur Dubai has its own souq (souk);  it quite extensive and very atmospheric. This area is a real reminder of what life was like before the oil boom in Dubai. If you are a fan of museums, then there is no better one to visit than nearby Dubai Museum.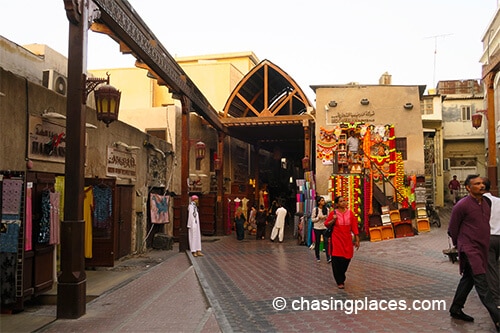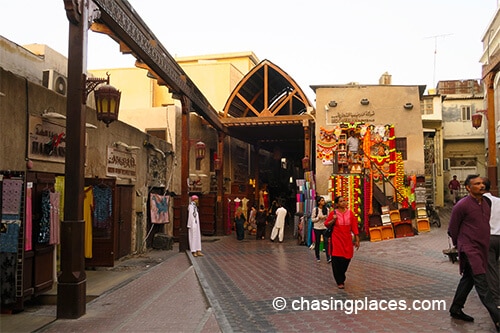 The best way to enjoy Bur Dubai is to walk. Al Fahidi, Shindagha and the Bur Dubai Souq are all close to each other, so it's easy to just walk from one to another.  Trust me, these districts are incredibly charming and photogenic.  It really gives you a different perspective of Dubai. Shindagha, in particular, used to be where the homes of the rich and the elite in Dubai were in. Today, the district has been rebranded as a heritage district with handsome and stately looking homes. Walking there is like going around an outdoor museum. The colors of the buildings are especially more attractive during sunset.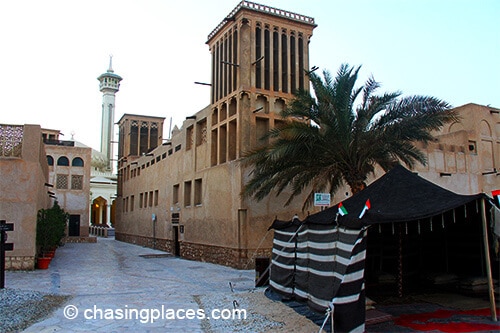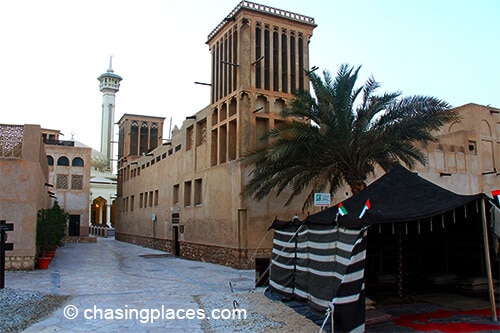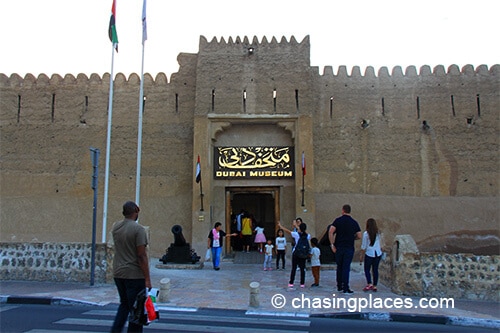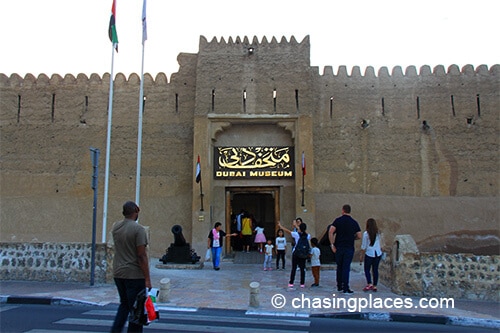 Travel Checklist: Do you have everything you need?
Getting to Bur Dubai and Deira
Bur Dubai and Deira are located on opposing sides of Dubai Creek. The fastest way to get from one neighborhood to another is to take the Dubai Metro if you're near one of the stations. But this way is not really the most scenic. The most scenic way is to walk towards the port area along the edge of the creek, and get on one of the traditional boats called an "abra".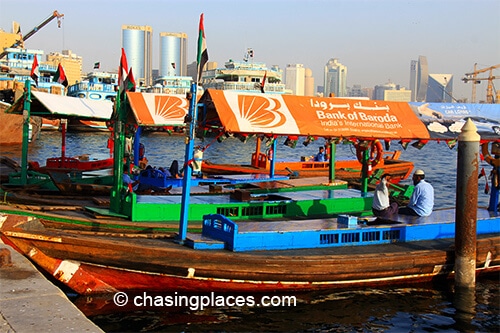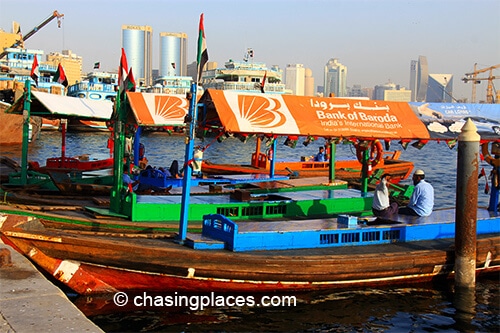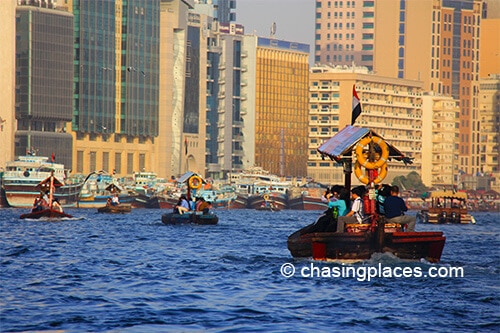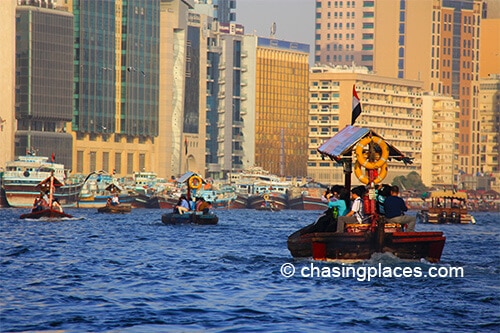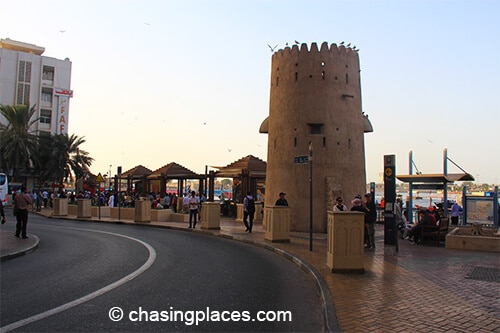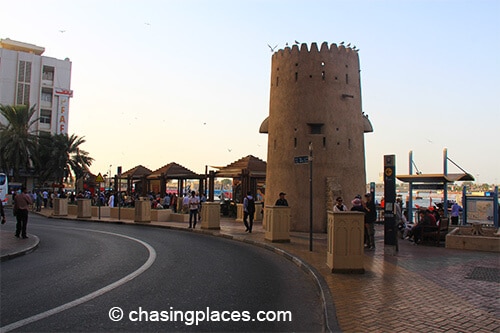 The boat trip only takes a little more than 5 minutes and it's very cheap, but I felt like this was the best travel deal ever as the ride highlights Dubai's historical landscape which is often overlooked. I guarantee that although the Deira skyline is not made of high rises, it is certainly beautiful and atmospheric.  The buildings exhibit old Arabian architecture, so much so that for a minute, I thought I wasn't in Dubai.
Fact: Nowadays, most of the people occupying the two neighborhoods (Bur Dubai and Deira) are not native residents. Instead, both Deira and Bur Dubai are occupied by migrants from all over, but more notably from South Asia.
A Travel Suggestion:
It is very much possible to visit Bur Dubai and Deira in one day, but I would suggest staying in this area longer! In our case, we took Dubai Metro to Deira, checked into our hotel. and explored the different souqs (souks). Then we made our way to the Deira's port and rode an abra across Dubai Creek in the late afternoon to Bur Dubai.  The Creek during this time (just before sunset) looked stunning. Then we walked throughout Bur Dubai's historical districts and souqs, staying until after sunset. If you have time, you can have dinner at some of the great restaurants in the area. And there are quite a number of them; most of which are much, much cheaper than those situated in Dubai's downtown area.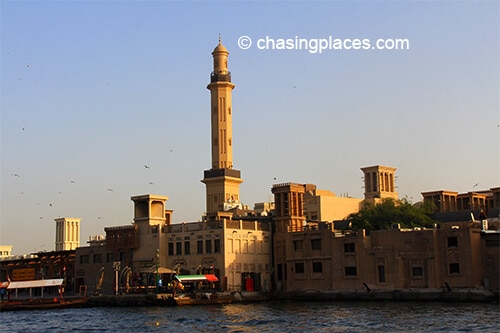 So next time you are in Dubai, try to see the more cultural and historical parts of the city. By doing so, will really give you a more rounded Dubai travel experience and a different perspective about one of the fascinating destinations in the UAE.
Where did we stay in Dubai? 
And why…??
Although different tourists have different approaches to booking their rooms in a given city, we decided to book rooms in different areas of Dubai. We took a look at the size of the city and felt that it just wasn't worth our time to be spending so long everyday commuting while we were there. Dubai is a big city that seems to extend for miles. So we solved the problem by staying at two different properties: The Ibis One Central Hotel and then the Ibis Al-Rigga Hotel.
For our downtown Dubai sightseeing days we stayed at the Ibis One Central for three main reasons. They are listed below:
Ibis One Central Dubai
Competitive Price:  We were looking for something clean, affordable and new. This property met that criteria and possibly even exceeded it.
Location. Location. Location: This hotel is only 3 stops away from the Burj Khalifa-Dubai Mall MRT Station. Therefore, we only had to ride the MRT for about 10 minutes before getting off. The other positive about its location is that it is only a 3 minute walk to the nearest MRT Station!!!
Verified Guest Review Scores: We rely heavily on what other guests feel about a given property. This property has a review score of 8.1/10 based on over 250 verified guests.  The reviews strongly suggested that it was a respectable, clean, well managed property for international guests. We typically don't book (or look) at hotels unless they have a review score of 7.5/10 or greater.
Would I stay there again?? YES! If you are looking for an upper-luxurious stay in Dubai you might be disappointed. Considering its affordable price we were really satisfied with its location, the staff and the cleanliness of the property. Read more…our unbiased review of Ibis One Central.
Since we also wanted to see the 'old side' of Dubai we took the MRT to the historical area of the city and booked another Ibis property – Ibis Al-Rigga Hotel. Since it's in a completely different area we stayed here for different reasons:
Ibis Al- Rigga Hotel
Within only a few kilometres of Dubai International Airport: Since this property is only a few minutes away from the airport, we knew that it would be an ideal place to stay for our last few nights in the city. Super easy access to the airport.
Very Close to the Historic Areas of Dubai – Bur Dubai and Deira: Multicultural, vibrant and affordable are a few words that come to mind when I think of Bur Dubai and Deira. Definitely must-see areas while in the city. With this property being within walking distance to sights, and also a metro station it was very convenient to stay there.
The Ibis One Central has an overall review score of 8.1/10 whereas the Ibis Al-Rigga has an overall review score of 7.8/10. These scores are pretty consistent with our experience staying at them. The Ibis One Central offered a better overall experience but the area it is located in has a more formal business feel whereas the area around Ibis Al-Rigga is more cultural and lively.
***Please note that these hotels have not paid us anything to write about them. They didn't even know we were staying there! We never accept money direct from properties for hotel stays anywhere.
How can you find the cheapest room prices in Dubai?
We used two different accommodation sites for our UAE hotel bookings : www.booking.com and www.agoda.com. Both Their prices are very competitive and for the most part quite similar. Agoda was slightly cheaper because of their membership program that pays back money after each stay. The cancellation policies and customer service are probably better on Booking.com so that's something you might want to consider as well.
Below is a handy accommodation spreadsheet that I put together to help you navigate through all of Dubai's hotels.  Most travellers don't realize that Dubai literally has more than 3 thousand properties to select from. This will significantly speed up your accommodation search. It's arranged from 5-star properties all the way down to 1-star properties. If we had an unlimited budget (which we don't), we would stay in the Burj Al Arab Jumeirah. It's simply outstanding.