Here are our answers to some of the usual questions that most tourists have about visiting Dubai. The information given below can help you have a more enjoyable and fulfilling time in Dubai.
Is it possible to drink alcohol in Dubai?
You can order alcohol from bars and clubs that have proper licenses. These establishments are usually physically attached to international hotels. Expat residents need to get a government-issued license to purchase alcohol from a licensed liquor shop.
As you may have already guessed, drinking and driving are strictly illegal in Dubai. Among the penalties for this act include spending time in jail (around 1 month) and getting a heavy fine. Don't drink just anywhere as it's illegal to drink in public, and you will get jail time if you break this law. Keep in mind that your blood alcohol content should be zero while driving in Dubai.
Is there a dress code in public areas?
Generally, residents of Dubai dress the same way as in other cities around the world. I saw some women wearing shorts, skirts and sleeveless tops, but most of them dressed modestly. This is a bit of a debatable topic. I know that there are some places that encourage women not to wear revealing clothing.  In my case, I just wore basic clothing like jeans and shirts.  I had to wear a sweater or a jacket when we went out because it was winter, and the temperature was cool. Keep in mind that, in general, Emirati locals dress much more conservatively than many of the expats living in Dubai. Just to be on the safe side of things, my advice is to dress modestly, which means avoid wearing plunging necklines, spaghetti straps, shorts, and short skirts.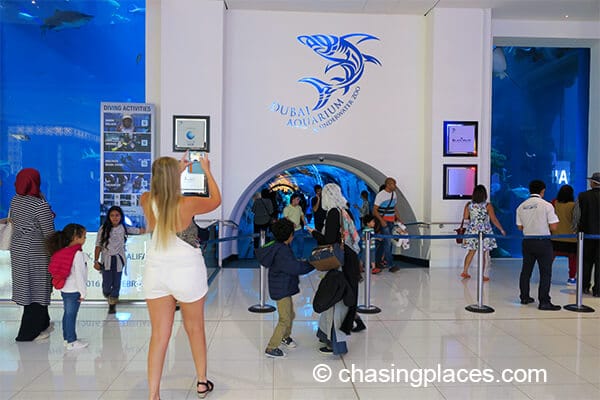 Is it possible to wear a bikini on the beach in Dubai?
Tourists are allowed to wear appropriate swimwear when bathing on the beach. However, you are expected to wear normal clothing once you leave the beach area as a courtesy to the local Muslim population.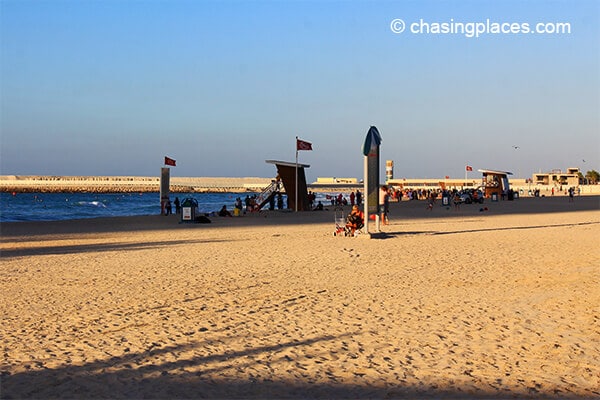 Are there train cars reserved for women in Dubai?
Like some countries, Dubai Metro trains have a dedicated section (a couple of cars) reserved only for female commuters. This policy is strictly enforced.  If you're a man and you find yourself in the female car, you have to move quickly so you won't upset residents. Avoid the fines by staying in the appropriate area on each train.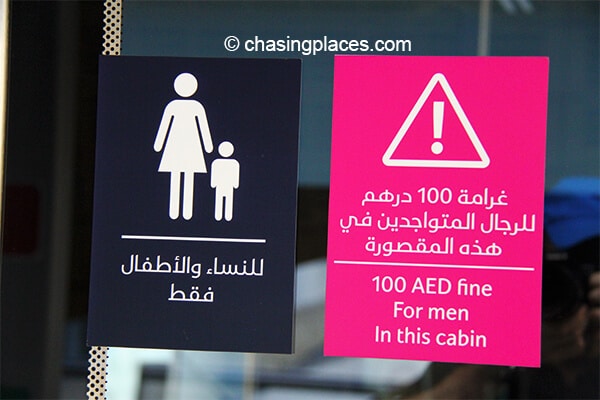 Travel Checklist: Do you have everything you need?
What is it like during Ramadan (Islamic Sacred Month) in Dubai?
Dubai is run by an Islamic government, and thus the city observes the month of Ramadan or the month of fasting for Muslims. During this month, all restaurants are closed during the day. They only reopen during sunset when Muslims break their fast. During this month, eating, smoking, and drinking in the open are prohibited.  If you can't see yourself not eating in the open, don't schedule your visit to Dubai during the month of fasting.
Can You Eat Pork in Dubai?
Non-Muslims can purchase pork from larger supermarket chains. There is a special section where it can be purchased. Hotel restaurants also have pork on their menus, and dishes with pork are labeled clearly.
What is Like During Summer in Dubai?
The average temperature between June to September is not the most ideal for tourists who would like to explore the city. During these months the average temperature is around 45 degree Celsius. It's not just hot, it is also very humid at this time. The average humidity is 95.
For many people, Dubai is an amazing city to visit because of its energy and passion for innovation. It is important to remember that despite its openness to the world, it still has its own prevailing culture, closely linked to its official religion – Islam. Although tourists are not subjected to the Islamic civil laws that Emirati people strictly follow, it is important to remember that you have the responsibility as a visitor to respect norms and policies of the places you visit. Honestly, based on my experience, they are not over-the-top and definitely not difficult to follow. If you respect the local culture, then you will have a wonderful and stress-free trip to Dubai.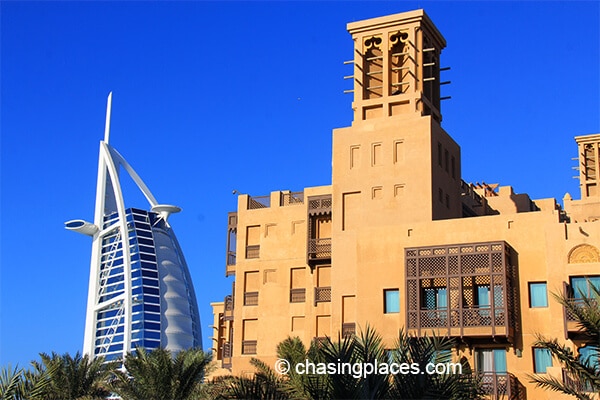 This list is our way of guiding travelers on some of the policies enforced in Dubai. This piece is not intended to be legal advice.  If you want to learn more about specific rules and policies, please visit the UAE government site.
Where did we stay in Dubai? 
And why…??
What most people don't realize when they visit a city such as Dubai is how big it is. It literally extends for miles along the Gulf. Before we landed in Dubai, we researched how big it is and made the decision to book rooms in different areas of the city to make our trip more efficient. I would recommend this if you actually want to get the true Dubai experience of looking at the glitz and glamour, but also the old historic areas as well. We stayed at two properties in different areas.
For our downtown Dubai sightseeing days we stayed at the Ibis One Central for three main reasons. They are listed below:
Ibis One Central Dubai
Affordable Price: It's one of the most economical hotels in Dubai.  We wanted something, clean, affordable and relatively new. This property met that criteria.
Convenient Location Close to Metro: It's only about a 3 minute walk to the closest Dubai Metro Station, and only 3 stops away from the Burj Khalifa-Dubai Mall stop on the same metro line. Therefore, it was really convenient for daily, and nightly sightseeing in the downtown area.
Positive Guest Reviews: This property has a review score of 8.1/10 based on over 250 verified guests. Despite being affordable, the reviews strongly suggested that it was a well managed, respectable property for international guests.
And now time for the big question – would I stay there again?? YES! It definitely isn't a luxury property or anything like that. But it is very good value for the price. The room was clean. The staff were pleasant and attentive and it is quite modern (not dated). It's a nice, convenient boutique budget hotel. Read more…our unbiased review of Ibis One Central.
After staying near downtown we shifted to the old historic area of Dubai and booked another Ibis property – Ibis Al-Rigga Hotel. Since it's in a different area we stayed here for different reasons:
Ibis Al- Rigga Hotel
Easy Access to the Historic Areas – Bur Dubai and Deira: It's hard not to like the contrast that Bur Dubai and Deira add to Dubai. The old areas of the city are multicultural, vibrant and much cheaper! With this property being within walking distance to sights, and also a metro station it was convenient to stay there.
Proximity to Airport: We purposely planned to work our way back towards the airport when we planned our trip to Dubai. This property is only a few km away from the airport which made our exit from the UAE super convenient and traffic free.
This property was not quite as new as the Ibis One Central. But it was still a good bargain for the price. The Ibis One Central has an overall review score of 8.1/10 whereas the Ibis Al-Rigga has an overall review score of 7.8/10. I agree with these scores.  Staying at the Ibis One Central was a better overall experience, but the area around Al-Rigga has more culture and grit.
***Please note that these hotels have not paid us anything to write about them. They didn't even know we were staying there! We never accept money direct from properties for hotel stays anywhere.
How can you find the cheapest room prices in Dubai?
We were happy with the two accommodation websites that we used for our UAE travels : www.booking.com and www.agoda.com. Both have massive selections with good prices. Some good deals especially on 3 and 4-star properties. Their prices are very competitive and quite similar. Agoda was slightly cheaper because of their 'rewards-based' membership program. If you are looking for solid cancellation policies and thorough customer service, then booking.com might suit your style a bit more.
Below is a handy accommodation spreadsheet that I put together to help you navigate through all of Dubai's hotels.  Most travellers don't realize that Dubai literally has more than 3 thousand properties to select from. This will significantly speed up your accommodation search:
Top Rated Hotels

in Dubai Based on Verified Guest Reviews
Properties rated based on 'overall' review scores from each respective website's verified guests.
Minimum of 50 verified guest reviews required to be considered eligible for comparison.
All star ratings and verified guest review scores are tallied at the time of writing, and therefore, are subject to change.
Map of Dubai with Accommodation Suggestions
Read More Articles on Dubai