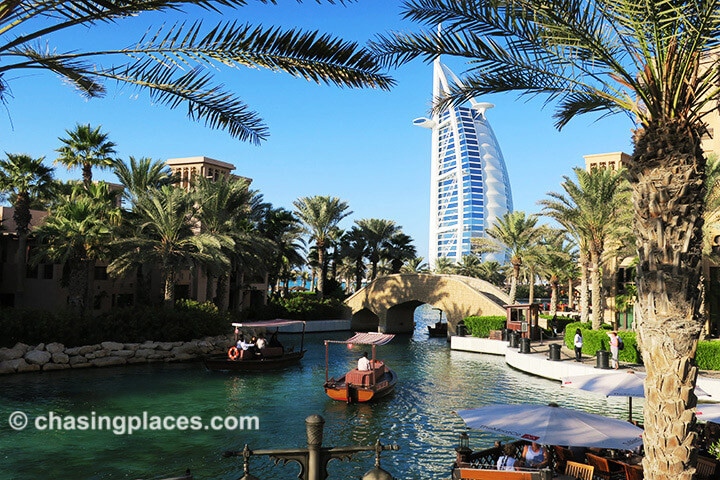 Have you ever heard of the Burj Al Arab in Dubai? Well, if you haven't, let me introduce you to the world's so-called 7-star hotel.
Designed to look like a white sail, the Burj Al Arab in Dubai is one of the city's top attractions. It was constructed with the intention to make it one of the most luxurious and impressive hotels on planet earth.
In fact, the Burj Al Arab is the third tallest hotel on record, standing at an impressive 341 meters. Even from a distance, it never fails to impress.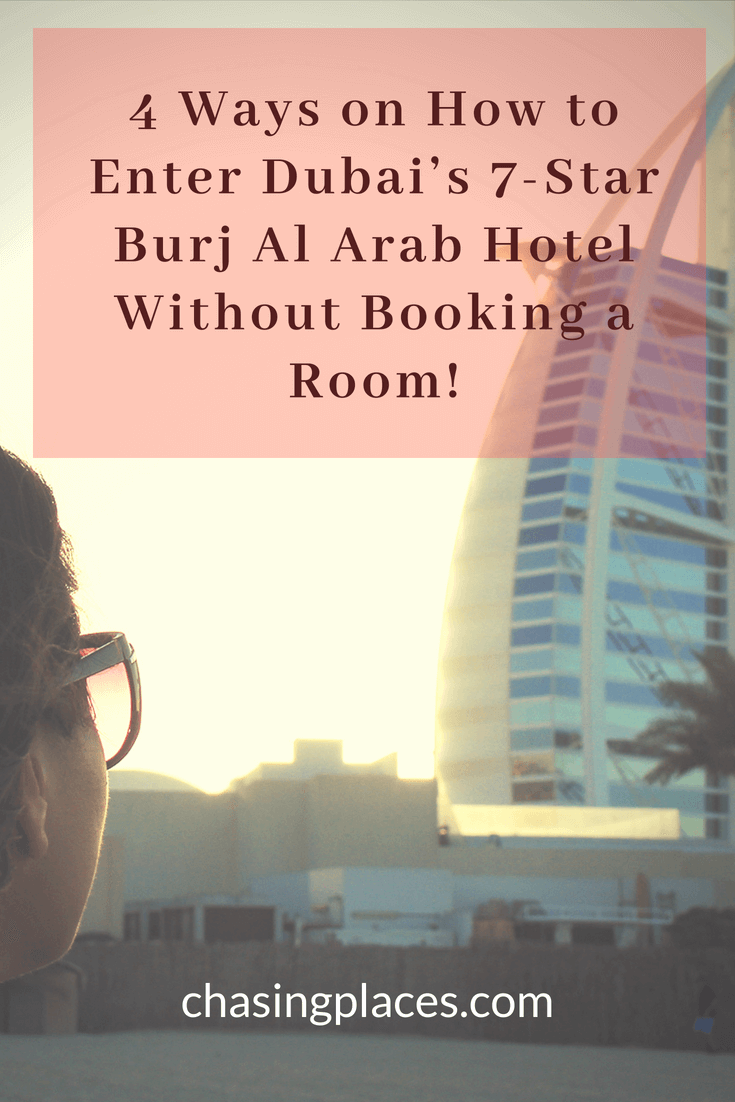 So what's inside the Burj Al Arab?
The Burj Al Arab's rooms are all considered suites. It's most expensive room is the Royal Suite, which is priced at a whopping $19,000 per night! 
Of course, the other rooms are cheaper, but not at a price that a mere mortal like me can afford.
But if you are one of those who want to splurge and have the budget for it. Then why not? I would do it too if I were in your shoes!
The Burj Al Arab is also home to an aquarium restaurant that aims to simulate a submarine voyage! Cool right? Surrounding the restaurant is a gigantic aquarium protected by 18-centimeter thick glass.
My Failed Attempt to Enter the Burj Al Arab, Dubai
The Burj Al Arab's business is built around providing the utmost luxury, world-class service, exclusivity, and privacy. I knew about the luxury and the world-class service, but I learned about the other two a bit too late.
It was during my visit to Dubai that I discovered that I couldn't just show up at the Burj Al Arab, casually walk onto its premises, and gawk at its magnificence!
Yeah, I actually thought I could do that.
The Burj Al Arab takes privacy, exclusivity, and security very seriously. You see, the hotel stands on an artificial island, and is connected to the mainland by a private bridge.
Before crossing the bridge, you need to go through heavy security.
Here's a dose of an unexpected pill that I swallowed hard: the Burj Al Arab is so exclusive that it is only accessible to guests. But there are different types of guests and I will talk about more about this later on.
Don't cry for me Argentina and world! I was able to enjoy Burj Al Arab in a different way.  Here is my article on getting the best views of the Burj Al Arab.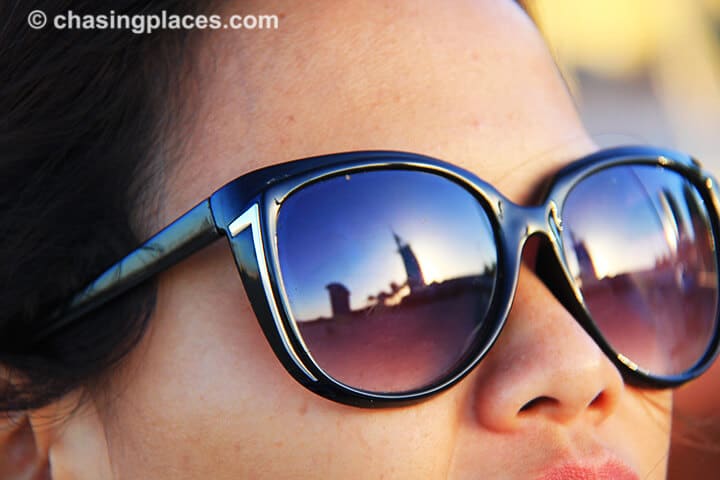 It is through my attempt of entering the Burj Al Arab on foot that I learned that I didn't have to spend 1,800 USD a night to walk through its marvelous lobby.
There are other ways to enter the 7-star Burj Al Arab without booking a room. And apparently, seasoned tourists to Dubai know all about it. But in case you don't happen to know yet, let me share these juicy travel Dubai tips:
Here are 4 ways to enter Burj Al Arab Hotel Dubai without booking a room:
4. Booking a high tea/afternoon tea at the Burj Al Arab
This is by far the most popular way to enter the elusive 7-star hotel without spending thousands. You can choose to have refreshing afternoon tea within the Burj Al Arab hotel. There are two venues for Afternoon/High Tea:
High Tea or Afternoon Tea at Sahn Eddar
This is one of the more affordable ways to get into the Burj Al Arab. And it's quite popular.  This experience includes indulging in a traditional afternoon tea at a classy dining setting. Sahn Eddar is located on the ground floor in the hotel's main atrium.
Expect great service and a 7-course meal selection that includes scones, sandwiches, and desserts, some of which are Arabic, Turkish and Moroccan in origin.
You can easily purchase High tea access through tour websites like KLOOK.
Opening hours for Afternoon tea: daily 1:00pm, 3:00pm, 5:00pm.  Once you book, you will need to choose your preferred dining time.
Price:   590 AED per person (with champagne)  545 per person (unlimited non-alcoholic drinks)
Please take note that depending on where you book, prices can vary.
Opening hours for High tea: Daily from 7:00 pm to 8:00 pm
Price: 430 AED  per person
Please take note that depending on where you book, prices can vary.
A few reminders:
Free dining for children 0-3 years.
No smoking is allowed inside Sahn Eddar
If you're late for more than 15 minutes, your booking is subject to cancellation.
Afternoon Tea at the Skyview Bar
This is a step up from the high tea at the hotel lobby. As expected the price tag for this experience is more. But some tourists don't mind spending more because of the views, live music and decor. Soaring 200 meters above sea level, Skyview Bar lives up to its name.  
The bar offers panoramic views of the famous Palm Jumeirah and the Persian Gulf. Afternoon tea consists of a choice of various coffee and tea selections, pastries, cakes, and sandwiches.
Hours of Operation: Saturday to Thursday –  first seating 1:00 pm; second seating 4:00 pm.
Price is about  650 AED per person
You need to pay an additional 100 per table for window seating
Reminder: You have to be at least 21 years of age to access SkyBar.
3. Booking brunch/dinner at the Burj Al Arab
This is the more expensive route to seeing Al Arab up close and personal.  Fortunately, the Burj Al Arab does not only have one restaurant. Instead, it has several and you can choose one that suits your taste and budget.  
Some additional good news is that if you don't want to go for the a la carte menu, you can actually buy gift certificates that come with a set menu and price.
Here are the different restaurants and meal packages at Burj Al Arab:
Friday Brunch Al Muntaha Price: 695.00 AED per person

Dinner at Bab Al Yam – European cuisine with Middle Eastern Flavors  buffet style  

Price: AED 415 Time: 7:00 pm to 11:30 pm

Dinner at Scape Restaurant and Lounge – Californian fusion cuisine, three- course dinner. 

Price: AED 370 Time: 6:00 pm to 11:00 pm

Dinner at Al Iwan – Arabic cuisine buffet style 

Time: 6:00 pm till midnight

Dinner at Al Muntaha – 200- meters above sea level/ Modern European dishes with live music performances

Price: 995.00 AED per person

Dinner at Junsui – Asian cuisine with live cooking demos of Far-east Asian cuisine. Has 12 live cooking stations. 

Price: 580.00 AED per person
Click here to purchase a gift certificate for any of the restaurants mentioned.
For more information:
Email: [email protected]
Telephone: +971 4 301 7600
2. Booking a spa treatment
If you don't want to appease your appetite, then you might as well pamper your body!
Booking a spa treatment at Al Arab's world-class Talise Spa is one of the ways to enter the exclusive world of the Burj Al Arab.
The Talise Spa facility sets itself apart from other hotels spas for one particular reason. The spa is located 150 meters high offering panoramic views of Dubai and the Persian Gulf through 'supposedly' fog-proof glass. Pure class!
Click here to purchase a gift certificate of 500 AED worth of spa treatment at Talise Spa, Burj Al Arab.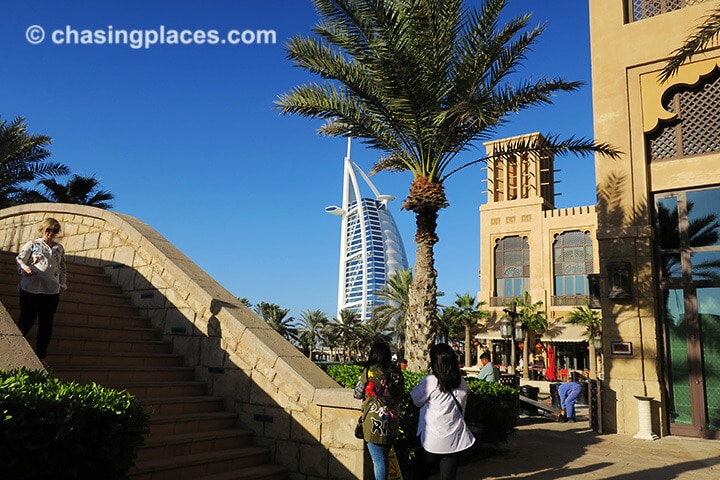 1. Joining a guided tour
This is something that I wouldn't personally do as I feel like a hotel is not a place to have a tour around, but hey, this is the Burj Al Arab so it may be a different experience!
---
Travel Checklist: Before you go to Dubai
So you may not end up in the Burj Al Arab, but are you still headed to Dubai: Here are some activities you may want to consider:
Klook offers simple ways to discover attractions and enjoy activities in Dubai for the best prices.
---
Getting in Burj Al Arab
As mentioned, the Al Arab security won't just let anyone casually cross the bridge. You will need an access code or proof of reservation before they let you through.  If you book your high tea, spa treatment or dinner with the hotel, the hotel will correspond with you through email and will give you instructions on how to pass security.
Even with the reservation on hand, sources say that guests are only permitted to get into hotel 30 minutes ahead of their scheduled their meal or spa reservation time.
In other words, don't waste time coming in early as you will be awkwardly standing in front of the security, or even worse, they may ask you to leave and come back later.
Travel Reminder:
If you're going to visit one of the most luxurious hotels in the world, it doesn't make sense to dress like a hobo or a hungry backpacker. This is The Burj Al Arab people!
Dress appropriately. This means no shorts, sandals, sleeveless shirts, anything you would wear on a beach. The dress code is smart casual.
So there you have it, you have plenty of options when it comes to enjoying the Burj Al Arab even if you don't have the budget to book a room there.
But for some reason, if you still decide not to enter the Burj Al Arab, you can also admire this magnificent building from afar.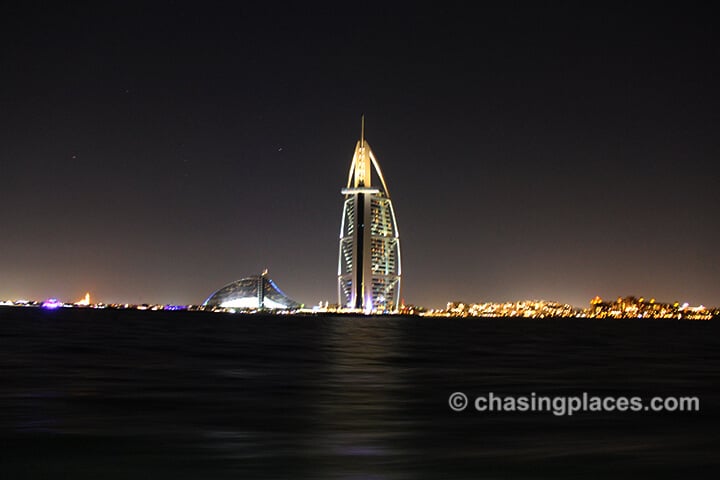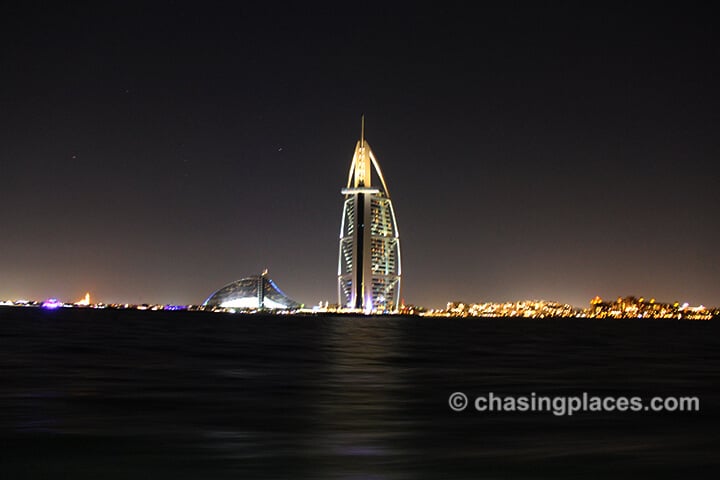 You can always stay at other hotels in Dubai. The city offers many options according to your budget. Dubai is NOT only for rich tourists. You don't believe us? Take a look: