Ao Nang and Koh Phi Phi are two of the most popular tourists destinations in Thailand.  This post will discuss the important steps on how to get  to Ao Nang from Koh Phi Phi using the public ferry.
In order to avoid the needless headaches and unanticipated transport delays we want to help you secure seamless transport connectivity between the always impressive tourist areas found in Krabi Province, Thailand.
Two of these locations are undoubtedly Koh Phi Phi and Ao Nang. Dotted with stunning limestone karst formations, the ferry ride from Koh Phi Phi to Ao Nang is sure to impress even the most seasoned travelers.
The steps below outline how to get from Koh Phi Phi to Ao Nang using the ferry service.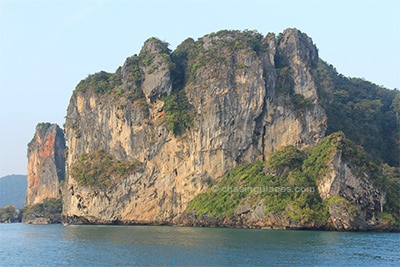 Step 1. Purchase a ferry ticket from one of the various travel agencies on Koh Phi Phi Don to Ao Nang.
The price will vary depending on where you buy it from, but it should range from 350-400 baht ($10.60-$12.10 US). As of the time of writing, there was a daily ferry departing from Koh Phi Phi to Ao Nang at 3:30 pm.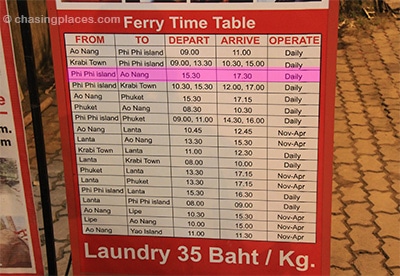 Step 2. Proceed to Koh Phi Phi pier 30 minutes prior to the scheduled departure time.
Take note that if the ferry is already docked and waiting, the staff will allow you to board the ferry and select your seats.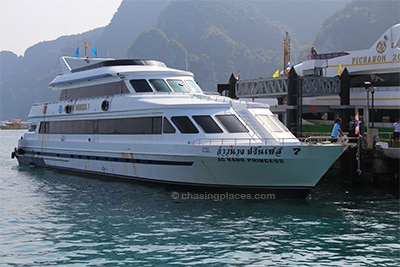 Step 3. Take note that the ferry will stop at Railey Beach before Ao Nang
Nearing the end of the 2-hour ferry ride, they will make a stop at Railay Beach (before Ao Nang) in order to drop off some of the passengers on board.
The long tail boats travel out from the beach to pick up  passengers who wish to go to Railay Beach. You need to remain on the ferry at this point in time if you wish to go to Ao Nang.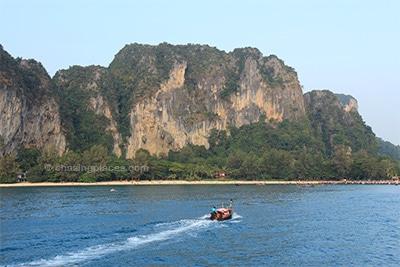 Travel Checklist: Do you have everything you need?
Step 4. Be aware that the ferry will travel past Ao Nang beach to a pier located about 10-15 minutes away from the town proper.
Once you arrive at the pier, get off the ferry and immediately proceed to one of the shuttle buses waiting in the parking area.
The ferry staff and ground transport staff will ask you what hotel or guest house you are staying at.  This is because they will do their best to drop you off right at your selected accommodation.
IMPORTANT: The price of this shuttle is included in the price of the original ferry ticket purchased on Koh Phi Phi.
If you prefer to get a taxi, there will be some waiting there as well.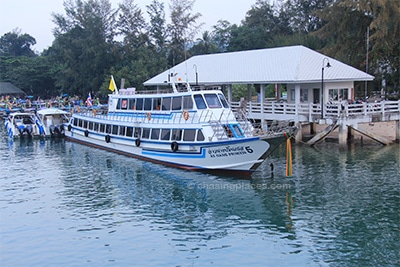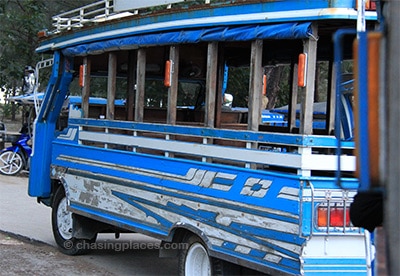 Step 5. Ride the  local shuttle and wait till you arrive at your hotel. 
Depending on where your guest house or hotel is located, the shuttle should take around 15 minutes to reach Ao Nang.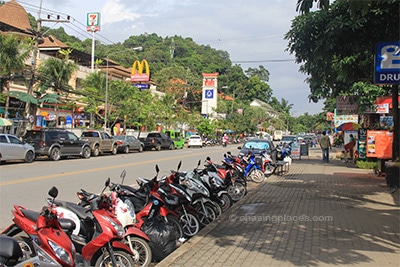 Important Travel Information:
The total trip time from Koh Phi Phi to Ao Nang should take approximately 2 hours and 20 minutes.
How did we find the best room deals on Koh Phi Phi and in Ao Nang?
Both Koh Phi Phi and Ao Nang have a large selection of rooms to suit all budgets. The main concern on Koh Phi Phi is finding a room away from the pulsating music at night.  The strategically located places often sell out early.
Ao Nang, is not nearly as loud, but many of the rooms are located quite far from the beach area.  Therefore, before booking your room at either destination use a map tool to see exactly where the place is located.  We have been to both Phi Phi and Ao Nang on multiple occasions.  Each time we have used one of the following room providers:
This is the most popular accommodation site in Thailand.  Therefore, expect to find the largest range of rooms on Koh Phi Phi and in Ao Nang. There is no site that we have used more in this region of Thailand than www.agoda.com. Here are links to the properties on Phi Phi and in Ao Nang respectively:
Rooms on Koh Phi Phi                       Rooms in Ao Nang (Krabi)
If you're like many of our readers who are visiting Thailand from the West then the superb cancellation policies and customer service that you will get from www.booking.com might be worth looking into. Here are links to the properties on Phi Phi and in Ao Nang respectively:
Rooms on Koh Phi Phi                         Rooms in Ao Nang (Krabi)
Top-Rated Properties on Koh Phi Phi  Based on Verified Guest Reviews
Important: Mobile Users must swipe from left to right to see the entire table. 
Properties rated based on 'overall' review scores from each respective website's verified guests.
Minimum of 50 verified guest reviews required to be considered eligible for comparison.
All ratings and verified guest review scores are tallied at the time of writing, and therefore, are subject to change.
Accommodation Map of Koh Phi Phi: Top Rated Properties
Article Updated on July 7, 2018