Ao Nang is one of the famous seaside towns in the Krabi province of Thailand. It is a certified tourist center, housing a wide range of shops, restaurants, bars, hotels, guesthouses and other accommodation facilities.
Although Ao Nang offer various tourist activities and a long beach complete with a promenade, Ao Nang is really widely known as a jumping point to the Isthmus of Railay (Rai Leh).
But since the island is only a 15 minute boat ride away, Ao Nang makes a more convenient and affordable spot to book a hotel. Railay's small size means that accommodation facilities are almost always full and costly.
In addition, most tour operators offering diving and sea kayaking are located in Ao Nang. Thus, when it comes to lodging and tours, you are guaranteed to have more variety to choose from if you stay in Ao Nang.  However, nobody goes to Ao Nang without visiting beautiful, limestone fringed Railay Beach (Hat Rai Leh), and the journey is so convenient that Railay can be visited every single day that you are in town.
Here are the steps on how to get to Railay Beach from Ao Nang Town:
Step 1. Make your way to the main beach road in Ao Nang.
Ao Nang is not a very large town, you can easily find your way around on foot.
Step 2. From here, make your way to the eastern end of the promenade beach, where the longtail boats are moored.
Step 3. Find a small booth located in front of the moored longtail boats.
This booth is the only one authorized to issue the ticket.  You may not notice the booth right away, but you just need to look more attentively.
Although it seems like tourists are just hopping on the boat right away, do not do this until you pay for the boat ticket.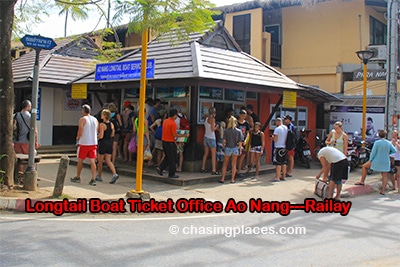 A one-way ticket costs 100 Baht during normal service hours.
Step 4. The person at the ticket booth will tell you which boat you should board. You just need follow what he/she says as they follow a certain boat queuing system.
Step 5. Get on the right boat
Remember that there are times that the tide is really high, so there's a possibility that you will get most of your lower body wet before getting on the boat. So make sure that you are wearing something that you don't mind getting soaked (pants would be the most inconvenient in this case).
Travel Checklist: Do you have everything you need?
Step 6. Depending on your destination, you can ask to be dropped off at specific spots on the isthmus –  Hat Rai Leh West (Railay West) or Ton Sai (a known backpacker haven).  For more information about the specific sections of Railay, click here.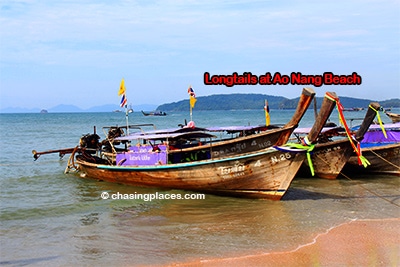 Reminder:
Getting back to Ao Nang basically follows the same process. You only need to walk back to the beach area on Railay where you were originally dropped off. Buy your ticket from the stand, present it to the boatman, and you are on your way back to fantastic Ao Nang.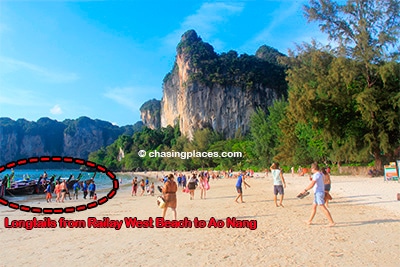 Additional Facts:
Longtail boat services run daily except for unfavorable weather and sea conditions. During extremely high seas, there would still be a boat service from Ao Nam Mao to Hat Rai Leh East. You can get on a sawngthaew (local public transport) to reach Ao Nam Mao from Ao Nang (or vice versa).
During our first trip to Railay we failed to find a room within our budget and had to take the longtail back to Ao Nang for the evening.  Lesson learned: book your room well in advance if you want to stay near Railay Beach.
Where did we stay in Ao Nang?
Since Railay rooms were fully booked during this trip we opted to get a budget room that was very close to the beach in Ao nang.  This made it easy to reach Railay and Koh Phi Phi.  We decided to stay at Aonang Easy Room Hotel. Since our priorities were convenience, location and price we weren't overly concerned about amenities. I would suggest looking for something more upscale than Aonang Easy Room Hotel if you have the budget.
How to find the cheapest rooms in Ao Nang or near Railay Beach? 
There are definitely more accommodation options in Ao Nang opposed to in the direct vicinity of Railay Beach. Therefore, you want to stay near Railay book well in advance.  We have been there four times.  The first time we brought our backpacks from Ao Nang with the intention of staying near Railay only to find over-inflated prices and a lack of availability. Lesson learnt.
We have used three different room providers during our travels in this region of Thailand: Agoda, www.booking.com, and www.hotelscombined.com. Typically, Agoda is regarded as the top provider in Thailand with the largest selection, so we use it extensively. Booking.com has similar prices, but their excellent customer service and cancellation policies make it the number one choice for our European and North American readers planning their trips well in advance. Budget travelers rave about www.hotelscombined.com because of their price comparison searches. Ultimately, of these three sites it will probably come down to your own personal preference. I have created links to their properties to save you some time:
ALL ROOMS RAILAY – www.agoda.com
ALL ROOMS RAILAY – www.booking.com
COMPARE ALL ROOMS RAILAY – www.hotelscombined.com
ALL ROOMS AO NANG – www.agoda.com
ALL ROOMS AO NANG – www.booking.com
COMPARE ALL ROOMS AO NANG – www.hotelscombined.com
Have a safe and enjoyable trip!