Thailand is truly a photogenic country.  From the intense street action found in Bangkok to the crystal clear waters of Koh Tao, there is something for everyone to explore.  Although it is challenging to say outright, Krabi Province could be very well my favourite region of the country.  This stems from the fact that I love limestone karsts.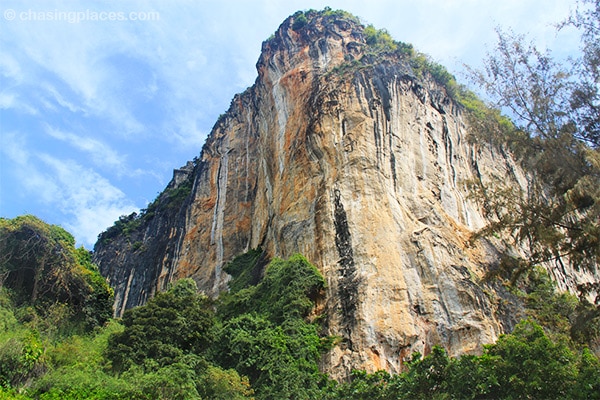 The west coast of southern Thailand has not only been blessed with the jade green waters of the Andaman Sea, but also spectacular limestone outcroppings that shoot out of the water surface. Through time these unique karst formations have been naturally painted with black, silver, white and gold hues which reflect beautifully to create kaleidoscopic silhouettes for tourists to fall in love with. The walls of the karsts can vary significantly.  Some are smooth and peaceful looking whereas others are jagged and intense, showing off the sheer effects that movements of the earth's crust can have on the world. Vietnam's Halong Bay may have the most karsts and the Philippines' Bacuit Archipelago may have the nicest powdery beaches surrounding the karts, but the karts in Krabi Province display exquisite color combinations.
One of the most accessible and visually stunning karst exhibits surrounds Railay Beach.  A couple of years back I was in Bangkok and I remember seeing these beautiful postcards of Railay Beach.  From that day onward, I knew that I had to see Railay first hand. It was on my bucket list to say the least. Fortunately, I had the opportunity to book a flight and accommodation and check Railay off on my travel list.
Travel Checklist: Do you have everything you need?
After jumping onto a longtail boat on nearby Ao Nang Beach, it didn't take me long to realize that Railay would soon live up to my high expectations. To my immediate left I saw Ao Nang Beach transform from soft honey hued sand into an enormous limestone wall painted with even brighter golden hues.  To my direct right, I could see small limestone outcroppings move up and down as the waves hit our boat.  The driver made a left turn and then Railay Beach opened up.  Protected by massive limestone walls at its sides and fringed by palms at its rear, the beach looked spectacular from a couple hundred meters away.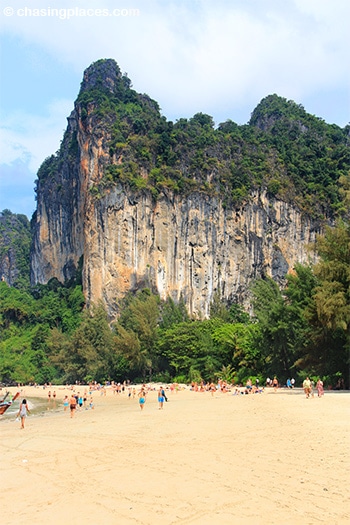 For the first hour on the beach, I simply walked back and forth taking shots of the beach area. A wide angle lens turned out to be a great asset to capture the height of the walls. Once I hit the cool water, I stared up from the emerald waves and saw the immensely intimidating limestone walls.  This alluring view made the entire trip worthwhile in itself.  In the middle of the beach, longtail boats moved gently as the waves calmly cooled the soft golden sand. After 30 minutes or so, I slowly made my way back to the beach.  But before I could make it back to my beach towel, a longtail boat driver approached me and asked, "Want ride back to Ao Nang?."
My response was short and decisive: "Why would I want to leave?"
Here's some information about how to reach Railay Beach from Krabi International Airport.
Want to find the cheapest room near Railay?

Tips
Try this price comparison site and you'll be guaranteed to find the cheapest room.  However, if you prefer to book with the same site all the time, then www.agoda.com and www.booking.com are also excellent sites for rooms in this region of Thailand. Please find the links below to their respective property lists:
Rooms near Railay – www.agoda.com    
Rooms near Railay – www.booking.com
Railay's accommodation choices can fill up quite easily, especially during high season.  Therefore, book well in advance and always make sure your choice has been verified by many other guest reviews before confirming.