The Krabi province is not only one of the most beautiful regions in Thailand; it's also a certified outdoor playground, known for its huge majestic limestone karsts that rise above the shimmering emerald sea.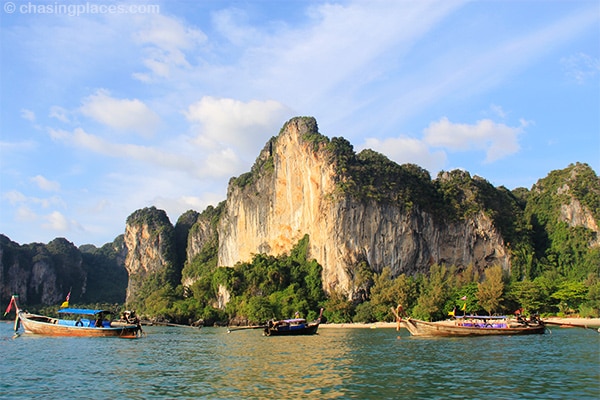 There are many ways of reaching Krabi province depending on where you're coming from. The most straightforward way is to book a flight to Krabi International Airport (KBV). Landing here gives travelers the chance to conveniently access the prominent resort towns like Ao Nang and Koh Lanta.
KBV lies on Route 4 and is about 15 kilometers from the Krabi town center. It regularly facilitates flights from Bangkok, Kuala Lumpur, Singapore and Darwin, Australia. Here's a handy price comparison site if you're still searching for the cheapest flights to Thailand, and Krabi.
A number of tourists, who touch down at Krabi International Airport, choose Hat Rah Lei or Railay as their first beach destination because of its powdery sandy shore, healthy selection of nice resorts and towering limestone cliffs.
This small peninsula is a well-known rock climbing mecca, and can only be accessed by boat.  Hat Rai Leh West and Hat Phra Nang are the most popular sandy stretches on the peninsula.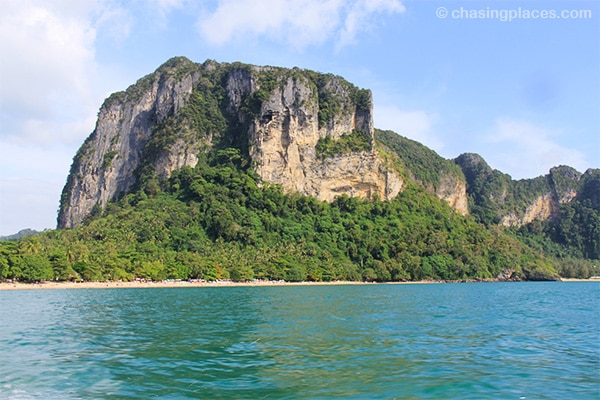 So how do you reach Railay Beach from the Krabi International Airport?
The two closest gateways to Hat Rah Lei from the Krabi International Airport are Krabi town and Ao Nang town.
Krabi town is only about 15 kilometers from the airport, while Ao Nang lies farther, about 40 kilometers away. There are always taxis waiting at the airport to take you directly to Ao Nang town or Krabi town's Khong Kha Pier.
 But the more practical option is to take the local bus to these places. Fortunately, these buses are not hard to spot once you leave the arrival area of the airport. The buses are lined up and have various routes. The dispatchers will hold up signs or shout the destination.
At Krabi town's Khong Kha pier and at Ao Nang's main beach, there are several longtail boats waiting to take passengers to Railay. Ao Nang is closer to Railay, thus the boat ride is much shorter. If you take a longtail boat from the Khong Kha pier, the boats will drop you off at Hat Rai Leh East, a shallow muddy beach, which is luckily only a 5-minute walk from Hat Rai Leh West.
Chasing Places recommends taking the Ao Nang route to access Railay for a couple of compelling reasons.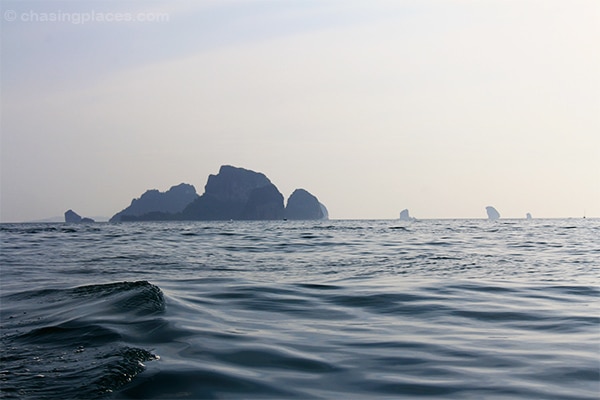 1 Even though the bus ride is longer, once you reach the town, it is easier to go to and from Railay.
2. The peak season for tourism in the Krabi region is from December to March. During this time, most resorts and guesthouses get filled up rather quickly. If there are some options left, then they will surely be offered by mid-range resorts that will ask top dollar.
3. Ao Nang has cheaper and a wider range of lodging options, because it is viewed merely as a jump-off point. In addition, the town has more shops, bars, internet cafes and restaurant choices.
4. Most island-tour hopping agencies and watersport outfitters are based in Ao Nang.
5. If you're staying in Ao Nang, and want to visit Railay; you can always hop on and ride a longtail for 20 minutes and you're already in Railay's loving arms. Now, that's what we call convenience.
Take note (as of this time of writing) that the boat ride to and from Ao Nang and Railay costs 100 baht each way.
To learn more about Krabi's Railay Beach, just click this link to access one of our related articles. If you arrive at Railay and the places to stay are filled up (as was the case with us) then take a quick longtail boat over to Ao Nang and stay there for the night.
Travel Checklist: Do you have everything you need?
Accommodation Information – Railway/Ao Nang
Where did we stay during our trip to Railay?
When we arrived at Railay Beach the budget options were completely booked. Therefore, we decided to hang out at Railay before heading back to Ao Nang for the evening.  We wanted to book something close enough to Ao Nang's beach without paying a fortune.  Eventually, we decided to stay at K.L. House Ao Nang. We don't have a direct affiliation with this property or any property around Ao Nang/Railay.  Therefore, our opinion is an unbiased one. Overall, this turned out to be a pretty good budget choice.  Our room was quite large, but basic. The room was clean and the staff were helpful in terms of arranging transport to Krabi Airport. At the time of writing, it had a score of 7.5/10 based on 412 verified guest reviews.  Many of our readers prefer more upscale options.  Based on our research, you might find some of these positively reviewed options more suitable for your needs:
Rayavadee Hotel (Rated 9.2/10) (near Railay)
Centara Grand Beach Resort and Villas (Rated 8.2/10) (in Ao Nang)
Want to find the cheapest room near Railay? 
Use this highly effective  price comparison site and you will be guaranteed to find the cheapest room available. However, if you are used to booking with www.agoda.com and/or www.booking.com they are also solid options for rooms in this area of Thailand. Here are links to their respective properties:
Rooms near Railay – www.agoda.com  
Rooms near Railay – www.booking.com
Compare Room Prices near Railay – www.hotelscombined.com
Many of the rooms you will find will have free-cancellation options, therefore there is no added risk of booking well in advance to avoid disappointment. When we tried to stay on Railay last time we had to go back to Ao Nang because all the resorts were sold out.
Flight Information – Flying to/from Krabi
What airport should you fly into to reach Railay Beach?
By far the most convenient airport to fly into to reach Railway Beach and the Ao Nang area is Krabi International Airport. We have visited this area of Thailand 5-6 times and every time we have found the transit from Krabi International Airport to Ao Nang to be convenient.
Do most international flights fly directly into Krabi International Airport?
Definitely not.  Most flights international flights to Thailand fly into Bangkok. From there you can easily book a flight to Krabi with various airlines. Typically, the flight time is around 1 hour.  Flights from Kuala Lumpur to Krabi are also popular with tourists travelling through Southeast Asia.
What is the best way to find the cheapest flights to Krabi International Airport?
I would suggest saving your time and money by using a price comparison site. For our trips to Krabi we used BookingBuddy to compare prices prior to booking. We could check flight prices from 8 different websites at the same time which was convenient. To save you some time, I have included links to their search page below:
COMPARE FLIGHT PRICES TO KRABI – BookingBuddy
Should you stay near Krabi International Airport if you have an early flight?
I don't think so, as long as you have arranged transport from your guest house, hotel or resort.  In our particular case we had a very early flight and it was convenient to book a taxi from Ao Nang to Railway. The taxi arrived on time with no issues making it to the airport in time.