Tourists love markets in South East Asia – and for good reason. Where else can you find edible cockroaches, dresses and pirated goods all at one venue for rock bottom prices? Whether you're a big eater, a shopaholic or you simply enjoy people watching, these three markets are sure to enhance your travel experience.
3. Ben Thanh Market, Ho Chi Minh, Vietnam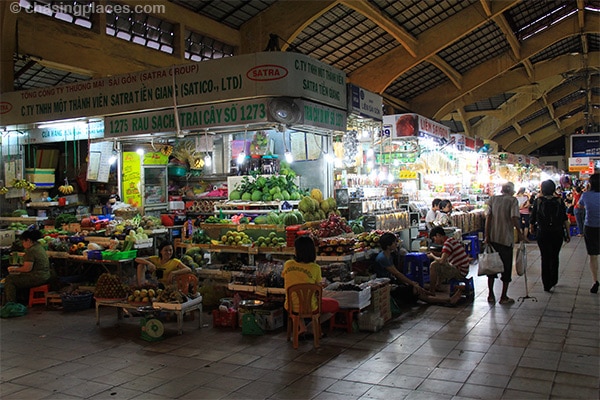 Minutes away from the backpacker haven of Pham Ngu Lao in Ho Chi Minh (Saigon), Ben Thanh Market has heaps of goods up for grabs. Since most of the market has a covered roof, rainy season shouldn't put a damper on your shopping experience in Vietnam. Be prepared to bargain hard as prices tend to drop significantly with a bit of effort (unless they have set price signs displayed). Ben Thanh is particularly good for jewelry and shirts among other things. If you didn't allocate very much money for shopping in your travel budget, then bring along your camera. The massive roundabout directly in front of the market has plenty of moto action to capture first hand. It is often a good idea to visit Ben Thanh Market, the Reunification Palace and the War Remnants Museum in the same day as they are all accessible by foot from the backpacker district of the city. Click here for a summary of hotels and guest houses in the vicinity of Ben Thanh Market in Ho Chi Minh.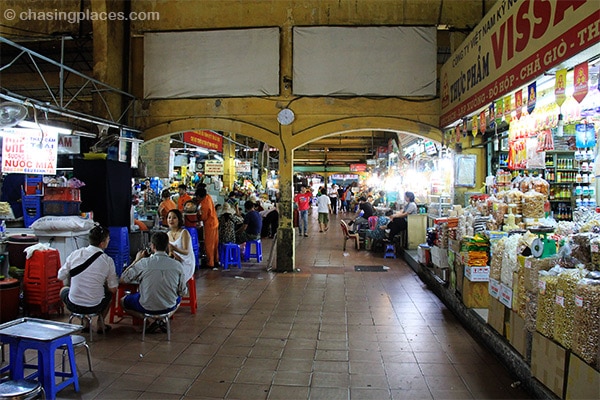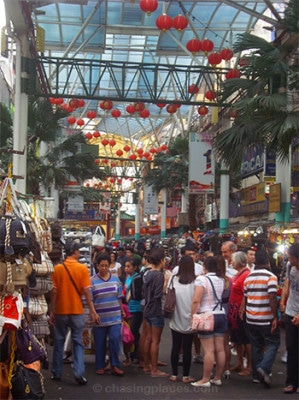 2. Petaling Street Market, Kuala Lumpur, Malaysia
Right in the heart of China Town in Kuala Lumpur, the Petaling Street Market is a big tourist draw. This stems from multiple reasons, but one of them is the fact that this market area feels quite cultural in comparison to the massive condos and business buildings being built in downtown KL. After grabbing some excellent Chinese delicacies at a market-side restaurant break out some Malaysian Ringgits for some souvenir shopping. Petaling Street is particularly known for pirated goods, especially hand bags, DVD's, watches and suit ties. The Chinese lanterns make for great night photography – so don't forget your camera. Just a couple of minutes away enthusiastic shoppers can also check out Kuala Lumpur's Central Market.  Central Market has an impressive selection of textiles and more upmarket tourist souvenirs. Click here for a summary of hotels and guest houses within walking distance of Petaling Street and Central Market in Kuala Lumpur.
Travel Checklist: Do you have everything you need?
 3.  Vientiane Night Market, Vientiane, Laos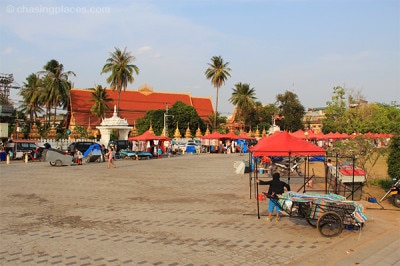 Arguably one of the most underrated markets in one of the most underrated cities in South East Asia, Vientiane's Night Market is definitely worth checking out.  As the sun starts to set, the stalls start popping up along the Laotian side of the Mekong River. It's often a good idea to take a walk along the river promenade before the market starts up to get views of Thailand across the river. At the market itself, there is a nice selection of local snacks including pho and delicious spring rolls. The market sprawls along the river, with many stalls selling work from local artists, jewelry and the usual mix of pirated goods. The locals are up for negotiating prices, especially if you're willing to buy more than one product from them at one time.  On average, Vientiane's Night Market is much cheaper in comparison to either Ben Thanh Market or Petaling Street Market. If you are heading to Vientiane, then feel free to check out some of the hotel options using this convenient search/ map tool found here.
What sites should you use to find the cheapest rooms in Southeast Asia?
Give these ones a try: www.agoda.com, www.booking.com, www.hotelscombined.com