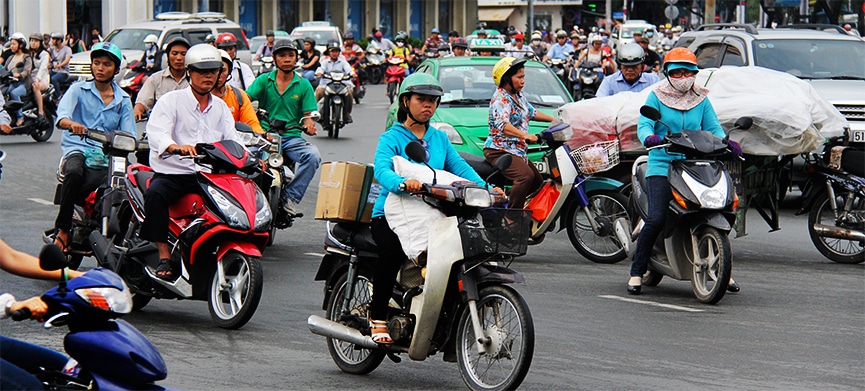 Electrifying, enterprising and deliciously chaotic, Ho Chi Minh City is all of these and so much more. There is a kind of energy and charm to the city that makes it almost unforgettable to anyone who sets foot on it. The city may have been renamed after the most respected political figure in the country, but locals and expats can't help but call their dear city by its former name, "Saigon." These days, Ho Chi Minh emerges as the strong commercial hub of the Vietnam with elite hotels and restaurant establishments. The city is growing exponentially but the local culture remains strong.  Because of all its unique qualities, Ho Chi Minh is one of the most visited places in all of Vietnam.  If you are ready to lose yourself in the overwhelming sights and sounds of Saigon, here are some of the top things to do in South Vietnam's queen city.
5. Watch the Motorbikes in Action
The motorbike (moto) is the iconic vehicle for Ho Chi Minh. At any given time, there are literally thousands of them dominating the city streets.  They seem to come from every direction defying the conventional laws of traffic. Take the time to watch these motorbikes weave into intersections and roundabouts throughout Ho Chi Minh, and you will be mesmerized. It's a common thing for motorbikes to carry large loads like bottle cases, wood, boxes and vegetables. Although it may be funny, unusual and a little dangerous, in a way this "load carrying practice" displays the amazing Vietnamese ingenuity.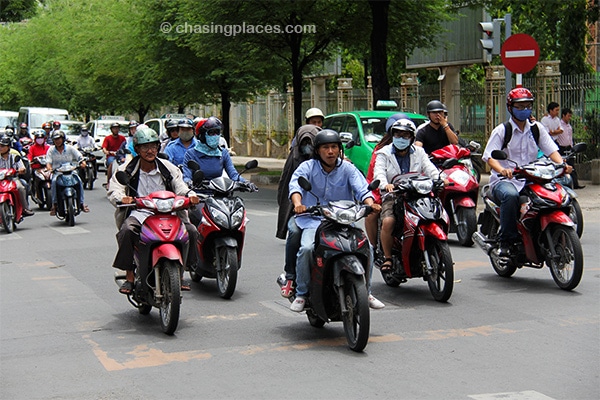 Expect to see families of four to five riding on one motorbike. In situations like this, oftentimes the adult driver and passengers wear helmets, while the little kids and babies squished in between the adults will have none.  While watching motorbike traffic in action, you may tell yourself that an accident is bound to happen soon. But just when you brace yourself for the worst, accidents will most likely not occur. It's as if driving motorbikes with great skill and precision is engrained in every local's DNA. And in the eyes of us mere mortals, the roads are pure chaos, while for them, they're harmonious.
4. Shop at Ben Thanh Market
 Ben Thanh Market is the biggest market in the city. The main market area is enclosed in a covered concrete building, but you can find many stalls right outside the building and the nearby streets. From fresh produce, clothes, accessories, perfumes, jewelry, crafts and even money changers; it seems like you can find everything in Ben Thanh.  You can even have a gown and suit made by expert Vietnamese tailors that operate their own small shops inside the market.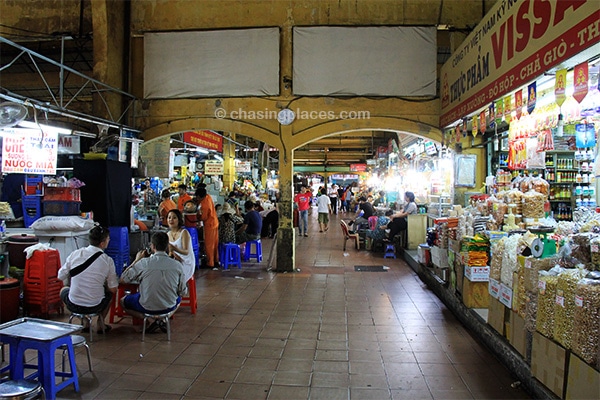 You can easily spend the day going through all the individual stalls in the market.  It's size and offerings can rival any one-stop superstore or megamall (minus the air-conditioning of course).  Be prepared to haggle as this is a normal thing to do here. There are quite a number of tourists that visit the market. As a result, many vendors have the tendency to inflate the costs of their goods. So don't fall for the first price that comes out of their mouth. If you are looking for real bargains, the stalls outside the market offer cheaper price tags than those inside.
Travel Checklist: Do you have everything you need?
 3. Tour the Reunification Palace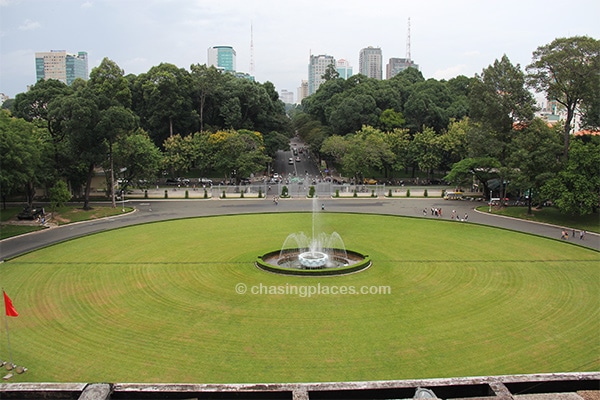 The Reunification Palace is known as the Presidential Palace of South Vietnam. Built in 1966, this building is also remembered as the spot where the first communist tanks invaded in the morning of April 30, 1975. There's nothing really fancy about the palace's exterior except for the nice green space in front of it, embellished with a lovely fountain in the middle. The Palace interior is much more impressive, with its lavished wood grand staircases and spacious dining and conference rooms. The reunification rug is a must see not only because of its aesthetic appeal, but also for its historical value. The different sections, like the communications rooms and offices are quite intriguing. It is also interesting to see the presidential garage, which is still occupied by vintage cars.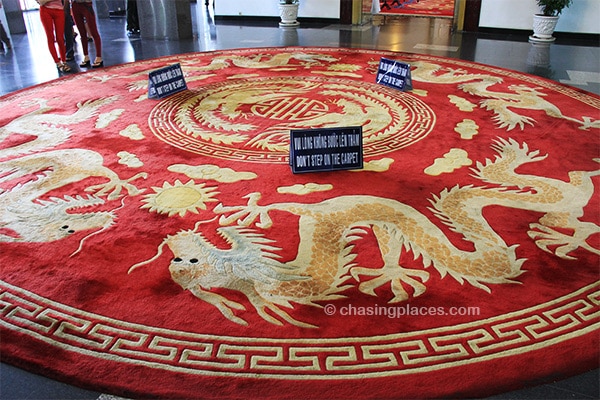 After paying the entrance fee, you can roam the palace on your own. But the history behind these rooms make them even more fascinating. That's why the exploration of the palace is much more worthwhile if you're part of a guided tour or if you have a palace guidebook. The Palace is open from 7:30 am to 11:00 am and from 1:00 pm to 4:00 pm.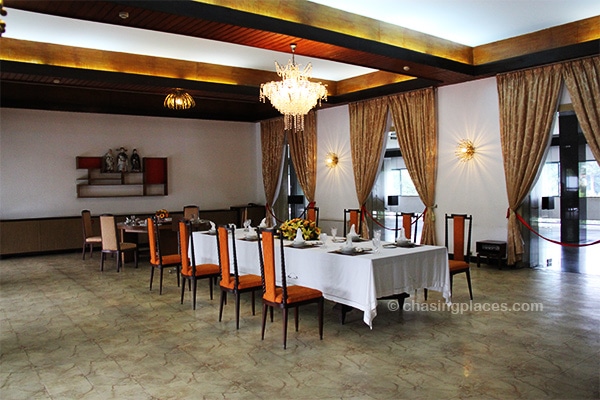 2.  Visit the War Remnants Museum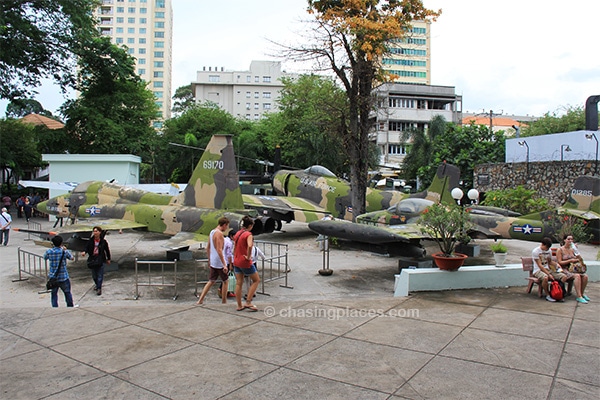 The War Remnants Museum may be relatively smaller and lack the grandiosity of other war museums in the world, but it is still quite fascinating.  The museum serves as a living reminder of the brutality and devastation experienced during the Vietnam War. The space outside the museum is populated by different models of fighter jets, tanks, and war artillery. These displays are quite impressive and deserve to be photographed. The museum's interior is divided into several sections. These sections feature artillery pieces, tiger cage models, stories and photographs of war victims.  The museum is open from 7:30 am to 12:00 noon. It's closed for lunch break and opens again from 1:30 pm to 5:00 pm.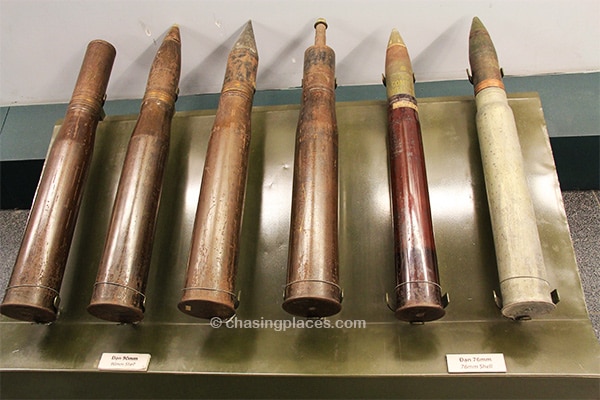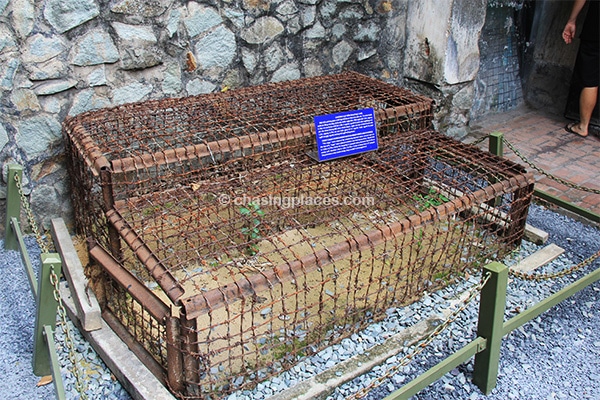 1.  Hang Out at Pham Ngu Lao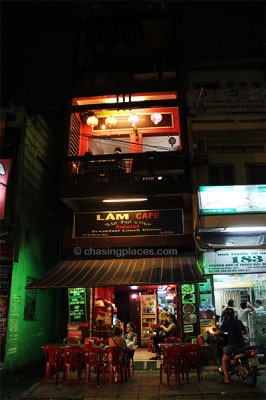 The Pham Ngu Lao area is the reigning backpacker hub of Ho Chi Minh. Budget travelers from around the world choose to stay in the many residences-turned guesthouses in the area. Because of the large number of the tourists in Pham Ngu Lao, a wide range of shops, bars, small restaurants and cafes are established here.  Ho Chi Minh is known as the culinary capital of Vietnam. And in Pham Ngu Lao, you can enjoy absolutely delicious Vietnamese, Chinese and Southeast Asian cuisines at cheap prices.
This backpacker central is already vibrant during the day, but it becomes more energized at night, when more people are out on the streets in order to socialize, shop, eat, drink and party. Some of the popular bars in the neighborhood include Le Pub, Eden, Go2 and Allez Boo Bar.
Want to find the best room in Ho Chi Minh?
1.Ho Chi Minh has an excellent range of budget accommodation, not too mentioned some pretty solid upscale options as well. We've been to Ho Chi Minh on multiple occasions and we typically use www.agoda.com for our room bookings. At the time of writing, Agoda.com had almost 1400 different properties to choose from in Ho Chi Minh! To save you some time, please find the link below to Ho Chi Minh's accommodation page:
Rooms in Ho Chi Minh with www.agoda.com
2. Another option worth considering is www.hotelscombined.com. If you're travelling to Southeast Asia www.hotelscombined.com can save you serious cash because you can quickly compare room prices from the word's leading sites prior to booking. Ho Chi Minh city is no exception. Here is a link to the rooms in Ho Chi Minh with this site:
Rooms in Ho Chi Minh with www.hotelscombined.com
We hope that these suggestions can point you in the right direction. If you have any additional questions about Ho Chi Minh please feel free to comment below.  Enjoy this wonderful country!