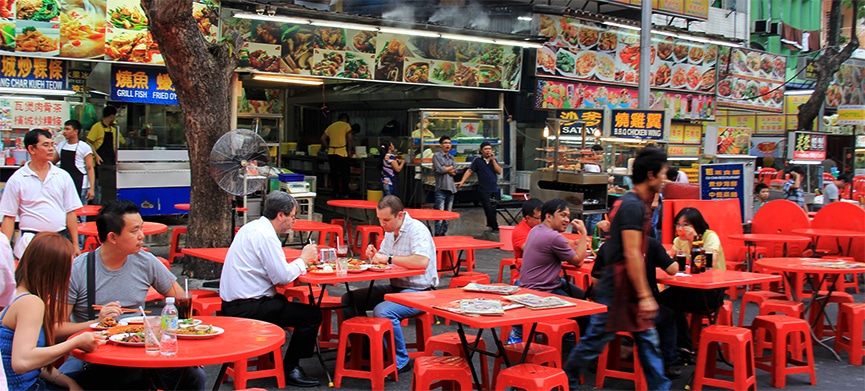 In case you have not heard this yet, the Malaysian capital of Kuala Lumpur (KL) is not only loaded with top notch hotels and cultural attractions, but it is also a superb culinary destination.  Because the city is exposed to diverse Asian cultural influences like Chinese, Indian and Malay; it should not come as a surprise that such influences are strongly reflected in the food served here. With every bite and whiff of a Malaysian dish, your tongue is in for a roller coaster ride rich with history and culture.  For Chasing Places, this is one of the best Asia cities to indulge your appetite.
You don't have to look far and wide to validate this statement once in KL. It will soon be quite clear to you that Malaysians absolutely love to eat out. They eat while watching sports (usually football), eat when socializing and eat after a night out at the bars.  Even as late as 12 midnight, you will find a number of locals hanging around restaurants, hawker stalls and Indian-influenced eateries called mamak.
So, if you find yourself in Kuala Lumpur, don't miss out on the chance to immerse into its strong culinary culture.  But an important question is where do you go?  Many would agree that Jalan Alor is the spot to be.  The Bahasa word "Jalan" is translated as street in English. Jalan Alor accordingly goes by another official name now.  But for locals, seasoned tourists and travel guides will forever call this food street by its old name.
What Makes it Great?
Jalan Alor is a one way street at the heart of the Bukit Bintang District in the Kuala Lumpur City Center. Although the eateries in this less-than-a-kilometer food street are open during the day, Jalan Alor becomes truly alive when the sun sets.  Each side of the street is lined up with numerous open-concept makeshift restaurants. By open-concept and makeshift, we mean that each eating establishment is equipped with a small enclosed kitchen but their chairs and tables are set up along the road. There are no walls or physical barriers that divide each restaurant. You only know that you're dealing with a different kitchen because the colors of the tables and table cloths are different from each other. Locals consider this set-up a "hawker" place.
Now there may be a lot of eating complexes and hawker streets all over Kuala Lumpur, but Jalan Alor has risen to an iconic status because of its central location as well as its festive and dynamic atmosphere. Here, you will find a hodgepodge of tourists, expats and locals eating, drinking and socializing any day of the week.
Jalan Alor is also right next to another hangout spot called Changkat (Bukit Bintang), which draws the local and international crowd with its selection of pubs, bars, clubs and western restaurants. After having one too many drinks, it's almost a tradition for Changkat revelers to head down to Jalan Alor to cure their hunger pangs. Thus, the most famous food street in Kuala Lumpur only becomes more vibrant as the night progresses.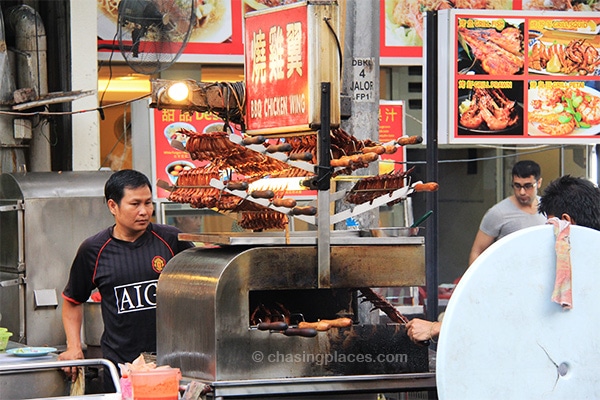 What's For Dinner?
Majority of the eateries in Jalan Alor are of Chinese influence. However, if you look closely at their menu, they also serve all-time Malaysian favorites. In addition, some of these restaurants specialize in seafood dishes. So if you came to Southeast Asia in the hopes of filling your stomach with a fresh catch from the sea, Jalan Alor has a lot in store for you.  Some of the popular sumptuous dishes include fried mussels (lala), and sautéed squid (sotong) in fiery chili sauce. You can choose from a variety of fish, but one menu name that might catch your eye is the chicken fish. Before you get confused about the name, this actually pertains to a fish that's supposed to taste like chicken.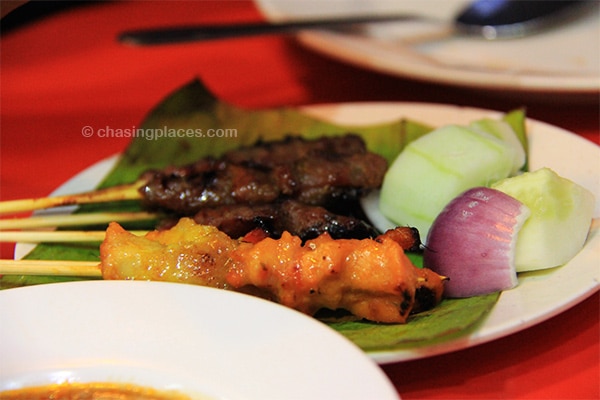 Barbecue chicken wings are offered in almost every eatery. The same can be said about satays and char kway teow. In fact, the menus for most restaurants are very similar, and so are their corresponding prices.  Satays refer to small diced-cut meat skewers, which can either be chicken or beef. They always come with this deliciously sweet and a bit spicy peanut sauce. Just in case you're wondering, the spiciness of the sauce can be handled by even those who have low tolerance to spice. Char kway teow consists of flat rice noodles stir fried with soy sauce, chili, bean sprouts, Chinese chives, pork or prawns. When you travel around Malaysia, you will soon realize that different places have their own style of cooking char kway teow.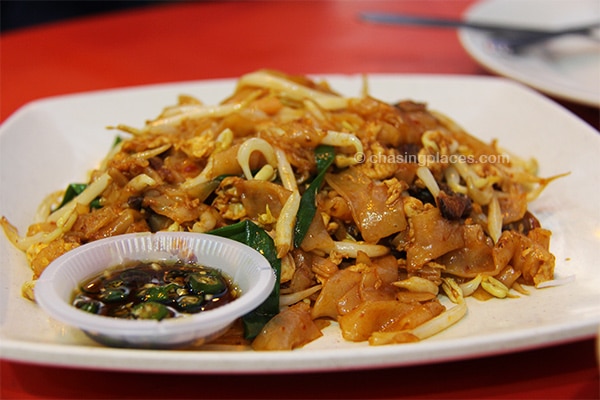 If you love vegetables, there's no shortage of this healthy stuff too. Steamed, sautéed or stir fried, your favorite veggies can be ordered in various forms.  In the mood for just some light snacks? You don't have to leave Jalan Alor, as it is also populated by food stalls, which sell a mixture of western fruits and fruits commonly found in the Asian region. If you can get past its strange smell, try durian! Dubbed as the king of fruits, durian is considered a delicacy in South Asia. This may be hard to believe when you see and smell this spiky stinky fruit. But give it a shot as it may surprise your taste buds. Other exotic fruits to try out are dragon fruit, mangosteen, duku (langsat) and jackfruit.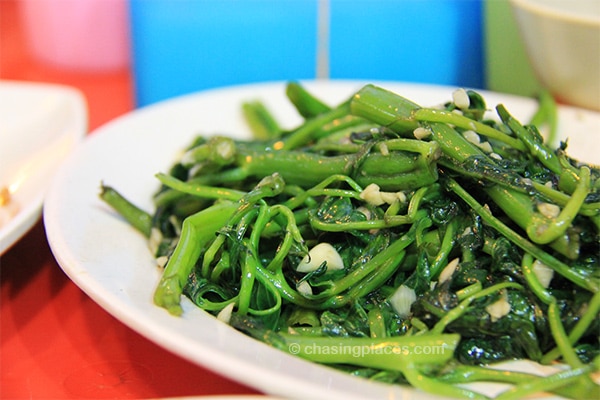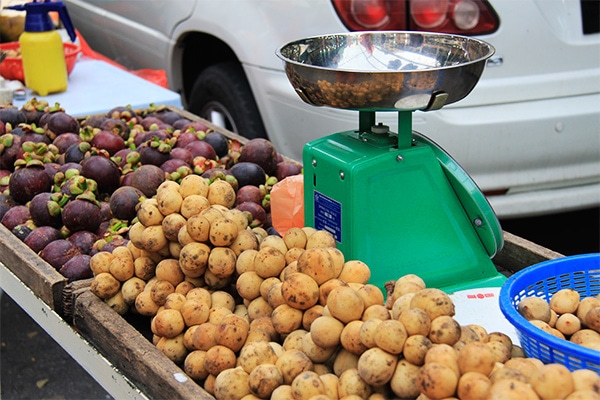 Travel Checklist: Do you have everything you need?