It's not really common to find limestone caves in a middle of an urban setting; and this is the reason why Batu Caves is an exceptional landmark. Situated 13 kilometers north of the Malaysian capital of Kuala Lumpur; the caves are Mother Nature's work of art. Once you step into the main cave, you will probably think that it's the closest thing to Batman's lair (minus the bat mobile of course).The Batu Caves are the type of caves you expect to see in a thick jungle setting. But instead of valleys and forests, The Batu Caves is surrounded by well paved roads and tall concrete buildings. The high limestone outcrop with three main hollow openings sticks out like a sore thumb, but in a good way.
The Batu Caves is more than nature's gift to the bustling urban jungle that is Kuala Lumpur.  It is in fact, a religious site for the Hindu population of the city. This temple site, is considered to be one of the holiest not only in Malaysia but in the entire Southeast Asian region.
I remember my first time visiting the place. After a year living in Malaysia, a friend from Singapore who was staying at a hotel in downtown KL asked me to go with her to these famous caves. I declined the offer as I was expecting it to be like any other ordinary cave I've seen. When another friend finally took me to the site, I somehow regretted my premature judgment about it.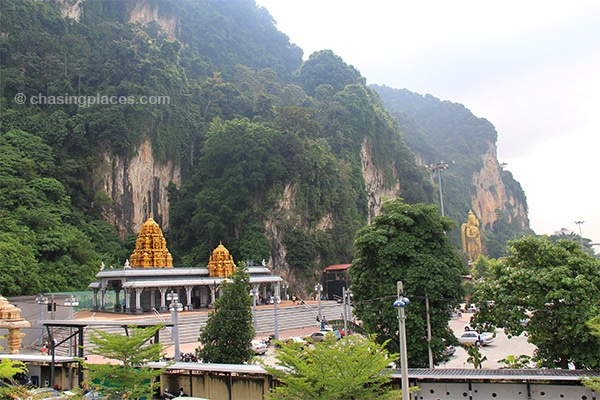 The Caves' Surroundings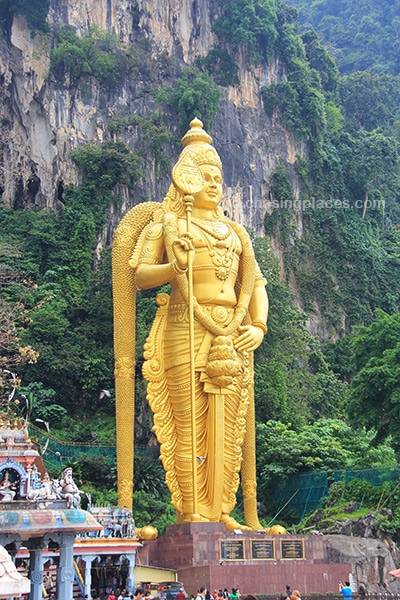 Aside from the Batu Caves themselves, the area is adorned by Hindu structures and monuments. At the gate entrance, and the area leading up to the caves, you will encounter vendor stalls selling religious ornaments and flower offerings, which actually adds to the religious atmosphere of the site.  The 50-foot tall green statue of the Hindu monkey god Hanuman is the first thing that will grab your attention once you step into the gate entrance.  If you walk further to the right, you will see an open prayer hall perched up above the ground. The hall is considered sacred ground, so you will need to remove your shoes before climbing its cemented steps.  Like other temples, the temple hall is lavished with Hindu figures and décor. If you walk a few meters along the street that faces the temple hall you will reach the stairs that lead to the caves. To the left of these stairs stands the gigantic golden statue of Muruga, also known as Lord Subramaniam.  It is truly a marvelous statue that is worthy of at least a space in your camera.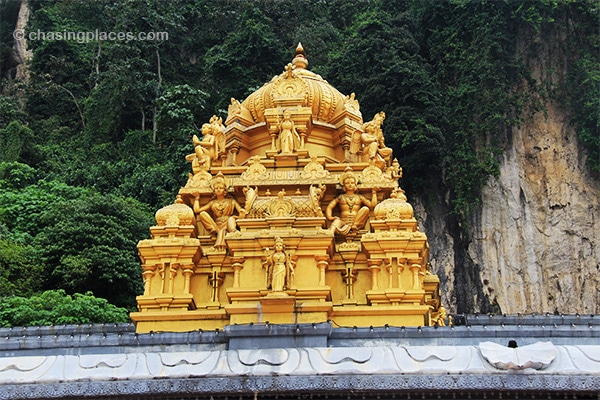 Stairs to Heaven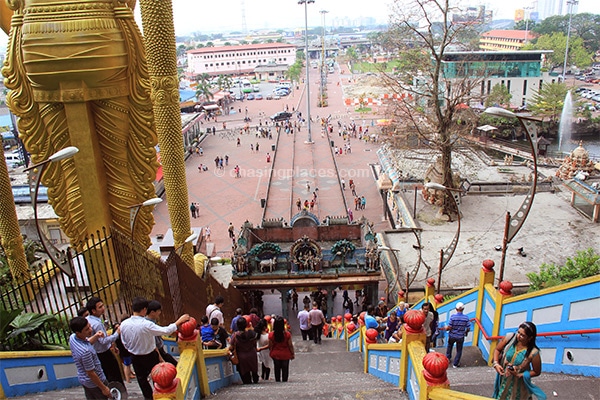 Climbing these stairs is the one experience that will make you remember your Batu Caves trip.  There are 272 steps that lead up to the caves. The steps are quite long in length and are divided into two main sections by railings. If you assume that one side is for climbing up while the other one is for climbing down; this is not the case as people climb up and down wherever they want. Climbing the steps, which are quite narrow in width, is tiring.  A word of advice:  take your time while coming up, so it won't turn up to be a painful experience. After all, there's no time limit when visiting the caves. Before you congratulate yourself for reaching the very top and realizing you're out of shape; look back once while climbing, and you will get a nice perspective of Kuala Lumpur's layout.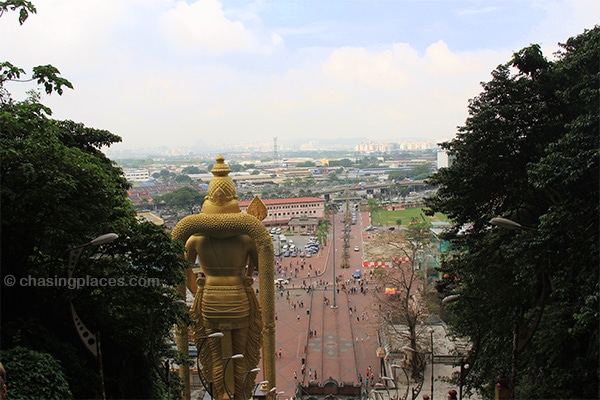 Travel Checklist: Do you have everything you need?
The Fascinating Limestone Caves
You will see two main cave entrances once you reach the top. The main cave, which is also called the Cathedral Cave, faces the steps and is adorned with Hindu statues and a small prayer temple. This well-lit cave is wide, has high ceiling and cemented flooring.  Aside from the statues and small temples on the side, it is just a huge open space in the middle. Apart from monkeys, for some reason it is common to see several pigeons and the odd chicken wandering around the cave area.   This space may not be so useful upon your visit. But during Thaipusam – a holy Hindu festival held in late January or early February; devotees gather here to perform traditional prayer rituals.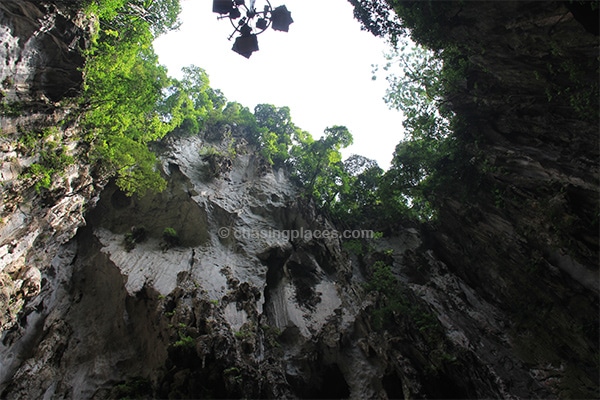 Although bats are barely visible during the day, you will smell their familiar stench while walking around the cave.  There are also small stalls set up within the caves, and they mostly offer prayer items and Hindu ornaments. My personal favorite is the bright picture frames of Hindu Gods that light up while a Hindu music plays in the background. For some reason, this music, which plays over and over again all day long, contributes to the authentic religious mood in the cave.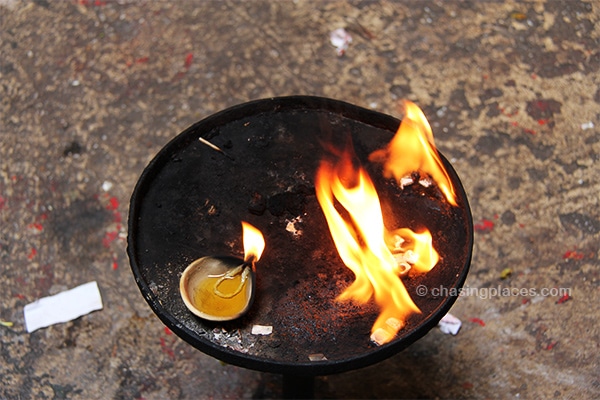 The second cave on the top of the limestone outcrop is called the Dark Cave, whose name pretty much sums up what the cave is all about. If you want to explore the passageways and chambers of the Dark Cave, you need to sign up for a guided tour. This tour would require you to get down and dirty, so if you're interested, remember to bring extra clothing.
At the base of the hill is another cave known as Cave Villa. This is probably the most commercialized among the caves. An entrance fee is required to enter the cave area, which features psychedelic painted sculptures of Hindu gods. Outside Cave Villa, you can also see a fish pond, a bird sanctuary, a small reptile zoo.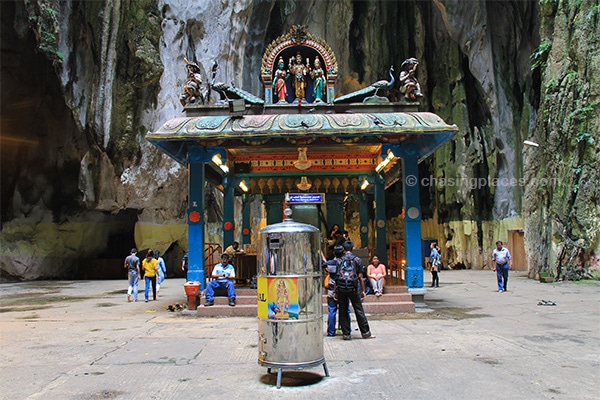 The Little Guardians of the Caves
There's another reason why Batu Caves makes for an interesting destination. All around the religious complex are long tailed-macaque monkeys.  These agile, friendly guardians of the caves are everywhere. It's obvious that these monkeys are already used to seeing humans, and eating our food. Compared to other parks or reserves, there seem to be no rule against giving these monkeys food. There are even vendor stalls that put up signs like "monkey food available here." Not that these monkeys will wait for you to give them food. At the first sight or smell of any type of food or drink, the not-so-gentle creatures will swipe the food right out of your hands before you can even say "Ay Caramba!"  Some of these monkeys are big enough to scare anyone. If you don't want to scream or be traumatized by a monkey swiping scenario, remember to refrain from bringing any snacks or drinks (this includes packed potato chips and bottled water) to where the monkeys tend to roam.
Competing for the attention of tourists are hundreds of pigeons that occupy the open space right in front of the golden Muruga statue. For some reason, these birds have learned to congregate here. Somebody must have started feeding them a long time ago. And it has been the case until now. Some tourists purposely choose to bring pigeon food in hopes of attracting a whole flock, which can serve as a background for their Facebook-bound pictures.
 Getting to the Caves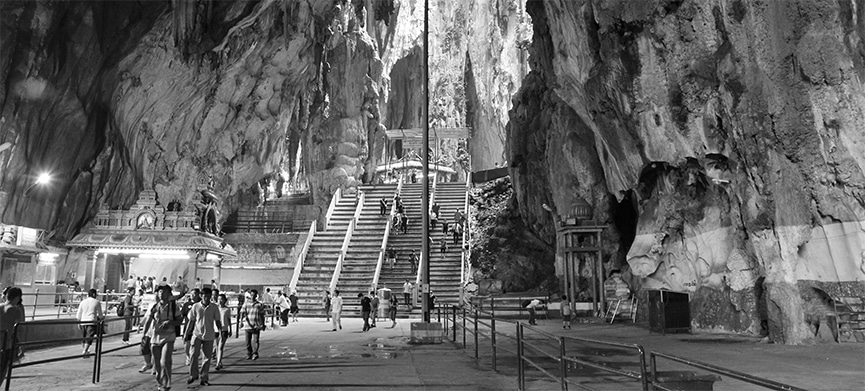 From anywhere in Kuala Lumpur, you can hire a cab to take you to the caves. It's a popular destination so if a cab driver tells you he doesn't know where it is, best to get out before you get scammed. Another popular way to reach the Batu Caves is to make your way to KL Sentral, a transport hub where all train services converge.  Walk over to the KTM Line terminal, and take the line that goes all the way Batu Caves. Trust us, if you pay attention, you won't miss it.
The Batu Caves has elevated itself to must-see status in terms of Kuala Lumpur tourism.  It may attract a number of tourists, but I like the fact that it's not just another tourist draw. It is an authentic religious site that I hope will continually be preserved for the younger generation.
A trip to the caves is straightforward and brief, and yet so worthwhile. You can see everything and take all the photos you want in less than an hour. It is best visited in the morning, when the humidity level is not at its highest.  Because the MRT station is right next to cave entrance, you can easily go back to KL Sentral to take the LRT and see Kuala Lumpur's other famous sites like the Petronas Towers and Petaling Street.
Want to find the cheapest rooms in Kuala Lumpur? Suggestions.
I wouldn't recommend staying near Batu Caves unless you have a very specific reason.  Although the Caves are superb to check out, there really isn't much within walking distance of this area.  It might be more strategic to book a room near KL Sentral or downtown KL and then take the KTM to Batu Caves. We have used three different sites over the years to pre-book our rooms in KL:
Agoda. With roughly 1200 accommodation properties available at www.agoda.com, this is probably the top site in Malaysia (and Southeast Asia) for room reservations. We use this site extensively while travelling in Malaysia. To save you some time, here is a quick link to their properties in KL:
Hotelscombined. This is our favorite price comparison site for room reservations. It quickly and effectively streamlines accommodation prices listed on the world's top sites. Pretty much guaranteed to save you some cash while in Malaysia. To save you some time, here is a quick link to their properties in KL:
Booking.com. Many of our European and North American readers prefer www.booking.com. Why? Well with some of the best cancellation policies and customer service in the industry it could be the best site for booking rooms well in advance to avoid the best places getting sold out.
To save you some time, here are:
Top Rated Properties in Kuala Lumpur
Based on Verified Guest Reviews
Important: Mobile Users must swipe from left to right to see entire table.
 Criteria:
Properties rated based on 'overall' review scores from each respective website's verified guests.
Minimum of 50 verified guest reviews required to be considered eligible for comparison.
All star ratings and verified guest review scores are tallied at the time of writing, and therefore, are subject to change.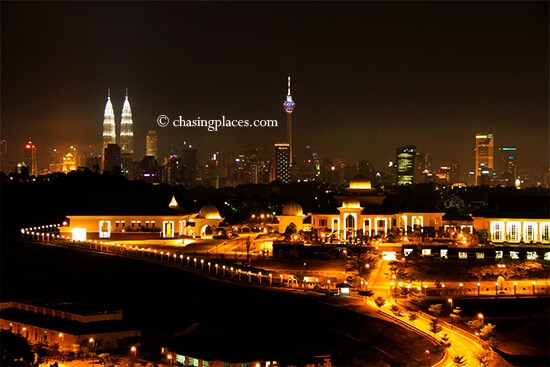 Feel free to check out our extensive range of other articles about travelling in Malaysia. We wish you a safe and enjoyable trip to Kuala Lumpur!