With over 7000 islands, there is no shortage of wonderful sandy beaches in the Philippines. But interestingly enough, only few of them get a lot of attention from the international community. While millions flock to the beaches of Southern Thailand and Bali, Indonesia every year; most Philippine beach spots have yet to gain the same level of international fame. But things are about to change as one beach town has slowly been creeping its way to the hearts of Southeast Asian beach fanatics. The name of the town is El Nido, which is translated as "The Nest" in English. The town is perhaps named after the nests of swiftlet birds that frequent the caves in the region.
Chasing Places guarantees that El Nido is absolutely stunning and breathtaking. It is definitely a worthwhile place to visit not only in Southeast Asia but also in the world. And we're not the only ones saying this! In CNN's World's 100 Best Beaches list, El Nido garnered the 14th spot. MSN Travel also hailed El Nido as one of the best beach resorts in the world. At this point, we might have convinced you enough, but believe us; it is developing quickly so plan your trip as soon as possible. But before you book your ticket and pack your bags, here are the other 6 main things you need to know about enchanting El Nido.
1. It's the Archipelago that Truly Matters
The name El Nido may be the destination name most often used in travel books, but strictly speaking, this only refers to the municipality and the town where accommodation and the supporting tourist infrastructure are established. No offense to the town's main beach because it's actually quite nice; but the main reason why anyone should come to El Nido is to experience the Bacuit Archipelago. This group of islands is spread around the bay of the same name, just off the coast of El Nido town. Bacuit has plenty of delightful surprises to visitors. It has caves, hidden lagoons, coves and of course, the topical palm fringe islands which are like tiny patches of paradise. If you adore white sand and clear blue waters, then in Bacuit, you will not only find one, or two but a whole range of beaches to choose from.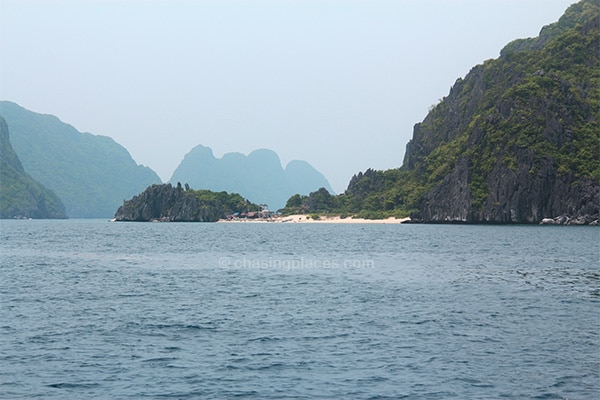 2.  Limestone Karsts are the Highlight
Limestone karsts can be seen in other top tourist places in Southeast Asia. There's the newest Wonder of the World – Halong Bay in northern Vietnam, and the familiar limestone structures in Thailand's Krabi Province. El Nido's Bacuit Archipelago is also magnificently adorned with limestone karst islands, making its seascape one of the most scenic in a country already loaded with beaches.  The El Nido karsts are more densely clustered than the ones in Krabi, but there are still more in Halong Bay. You will find the El Nido karsts a little bit different from the other ones mentioned. They make quite the spectacular  sight, looking like powerful greenish and greyish towers jutting out of very clear, shimmering turquoise waters. No matter how we try to describe it, words seem inadequate to describe these limestone beauties. You really have to see it for yourself!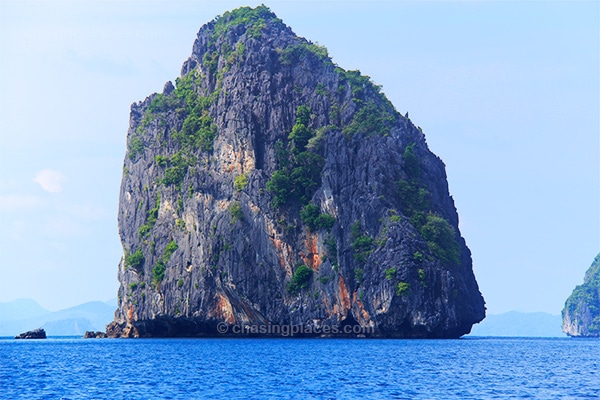 3. Island Hopping Tour is a Must
With numerous islands to explore, it's not surprising that the main activity around El Nido is island hopping.  There are just so many gorgeous islands to explore that local tour operators group the major islands into four different boat tours. So when you ask a tour office about island excursions, expect them to first offer you four different tour packages that are named after the letters  A to D. The price of the tour depends on the distance of the islands to the town. The farther they are, the higher the cost. However, you can also negotiate a special deal with the operator if you want to modify the stops in the tour.  Your boat excursion usually starts early in the morning (as it should be if you want to get your money's worth), and ends late in the afternoon. You will not ride a speed boat or a modern motor boat; instead you will have your first taste of a traditional Filipino boat called a Bangka, which looks like a bigger version of a wooden canoe with bamboo supports on each side.  These Bangkas can thread through the water fast as they are also powered by motor propellers.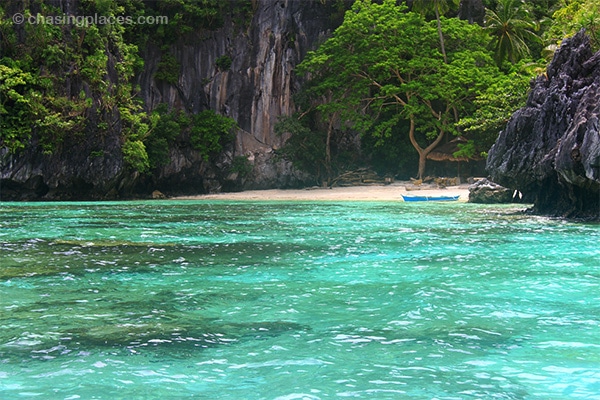 Travel Checklist: Do you have everything you need?
4. It is Home to a Marine Sanctuary
Most of the waters surrounding the islands in Bacuit Bay are declared a marine sanctuary area. So snorkeling in these waters is not to be missed.  However, colorful corals are not the strength of this sanctuary as some of the reefs died due to many factors. But you can still find some bright colorful coral here and there. The real treat are the hundreds of fish that you will see once you start snorkeling.  It is truly a marvelous experience to swim with fish of various shapes, colors and sizes. If you look long and hard, and maybe with a little bit of luck, you may be able to see some turtles, stingrays and tiny lobsters.
Your tour guide will most likely throw pieces of bread in the water while you're swimming. This, of course, will naturally attract a lot of fish to your direction. Seeing hundreds of fish and their hungry mouths swarming at you can be both fascinating and a little scary. Some of the best snorkeling spots in the archipelago include Simizu Island and Cadlao Island.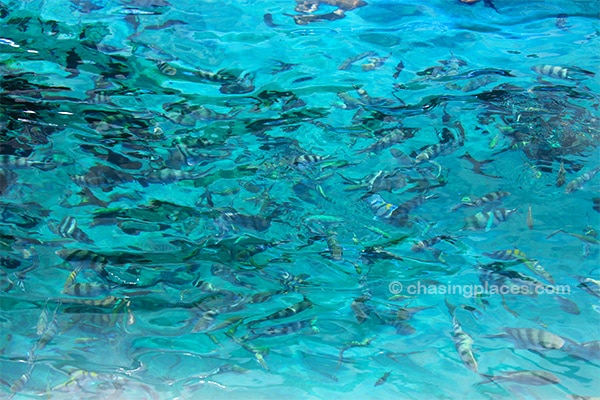 5. It's Remote
El Nido is not the kind of place where you take an airplane and a cab and expect that you are there already. The town is situated in the northernmost tip of the Palawan Island. Unfortunately, there are no international airports anywhere near the town. Tourists usually need to fly internationally into Manila, and then take a domestic flight to the Palawan capital called Puerto Princesa. From here, you will take another form of ground transport and drive 7-8 hours to reach the seaside town. And honestly, it's not a paved road all the way. When it rains in the area, you have to prepare yourself for one bumpy ride.
The journey to El Nido may not be for non-seasoned travelers; but (and this is a big BUT!) if you're willing to sacrifice the time and the travel convenience , El Nido will reward you with some of the most beautiful island scenery you will encounter in your lifetime, without paying a fortune. So, don't think of El Nido as a quick island getaway destination. Think of it as a place to spend a couple of days to truly uncover its beauty and magnificence.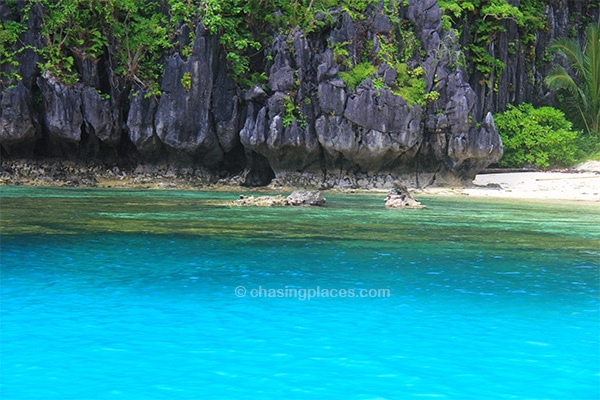 6. Traveling Here Needs Some Planning
Because of El Nido's remote location, don't make your way to Palawan without having a game plan about how to reach El Nido. If you don't want to spend the whole day on a vehicle, consider spending a relaxing night in Puerto Princesa before heading out. Public transport options to El Nido include buses and mini vans. There are a couple of private companies that run bus and minivan services. You will need to go to the town's bus station to catch them. It's important that you check the departure and arrival schedule for these buses and minivans. They don't leave by the hour because it's a long journey after all. We recommend that you call the companies and reserve a seat especially during the high season.
Although the town has a number of accommodation options including hotels, guesthouses and homestays; it's not a guarantee that there will be enough for everyone.  El Nido's popularity is growing.  Do yourself a favor and reserve your accommodation well ahead of time, or you may end up sleeping on the beach (which may not be a bad idea after all).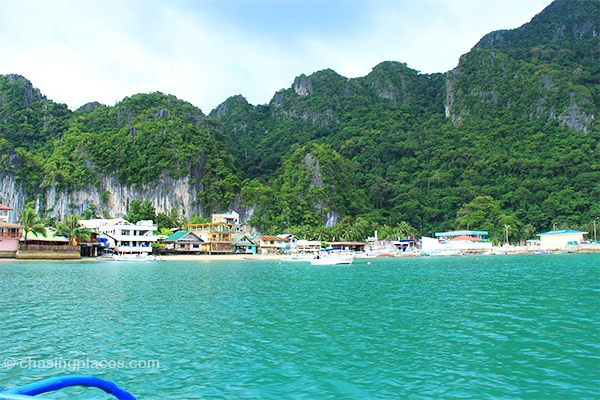 How do we find the cheapest room(s) in El Nido? Our Suggestions.
El Nido has a solid range of budget accommodation choices within the town itself.  Many of the nicer resorts are located outside the town along nearby beaches. We have been to El Nido a few times and we have had the best luck with the following three accommodation providers for this remote region of the Philippines:
Agoda

. This is arguably the largest and most popular accommodation site for the Philippines.  They offer many rooms in El Nido at pretty solid prices. To save you some time, here is a link to their properties in Palawan, Philippines: Rooms in El Nido/Palwawan with www.agoda.com
2. Booking.com. If you're planning well in advance then www.booking.com is ideal with their superb cancellation policies and exceptional customer service. To save you some time, here is a link to their properties in El Nido, Philippines: Rooms in El Nido with www.booking.com
3. Hotelscombined.com. This is our favorite price comparison site before we book our rooms. Within a few seconds you can compare prices in El Nido with the world's best accommodation providers. To save you some time, here is a link to their properties in El Nido, Philippines: Price Comparison of rooms in El Nido with www.hotelscombined.com