Halong Bay is one of the new 7 natural wonders in the world, and rightfully so. Imagine a large bay populated by hundreds of centuries-old limestone karsts as far as the eye can see, and you have a truly magnificent sight. It is only natural to include Halong Bay in any Vietnam travel itinerary, so we did just that. My husband and I together with two family members decided to make our way to the Vietnamese capital Hanoi. Our plan was to explore the city then do an overnight tour around Halong Bay.
This is my Halong Bay cruise story.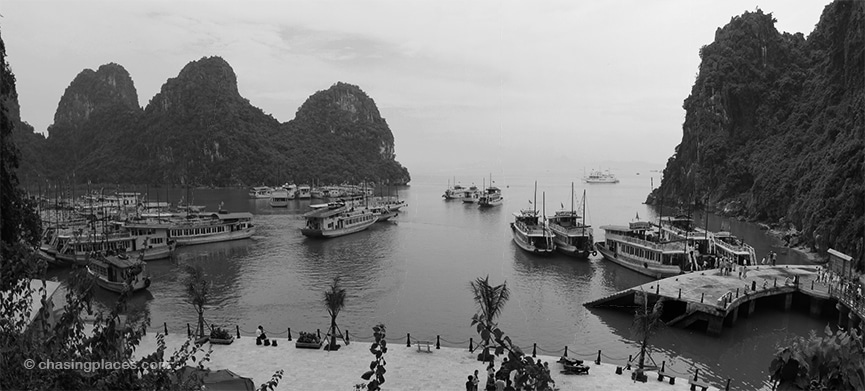 Arranging the Tour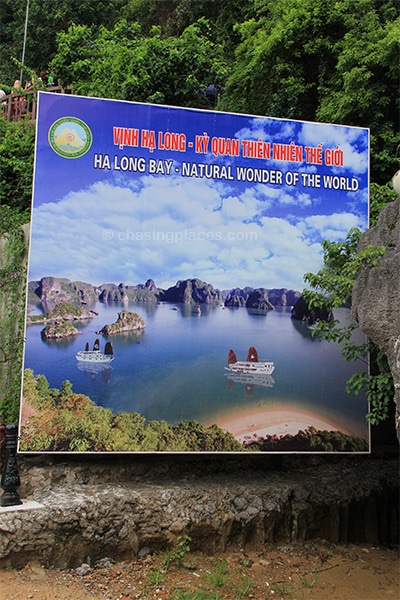 We found out that our plan was not hard to arrange when we reached the old quarters of Hanoi. This vicinity also happens to be the backpacking area in the city. So it was easy to find guesthouses, travel agencies and tour operators. Like most tourist-friendly destinations in Southeast Asia, the guesthouses in Hanoi also conveniently double as travel agencies.  We expressed to the guesthouse manager our desire to visit Halong Bay on a boat. He showed us a package tour, which included an overnight stay on a huge boat, all meals and tours around the Dau Go Cave and a floating village. This tour package is actually offered by many travel offices in the Old Quarter. Every package offered was the same except for the quoted prices. We found out there are two types of boats that bring tourists around Halong Bay. The first is the luxurious package but that was way over our budget, and the second one was a budget cruise. Being on a backpacking trip, we opted for the budget boat cruise which turned out to be roughly $40 US all inclusive. The first price offered for tours in the Old Quarter of Hanoi is often inflated. So we made used of our haggling skills to bring down the amount as low as we could. But what we didn't know and failed to research is that there have been warnings from travel guidebooks to stay away from some of the Halong Bay overnight boats. This unawareness resulted in an interesting and unexpected journey.
Getting On the Boat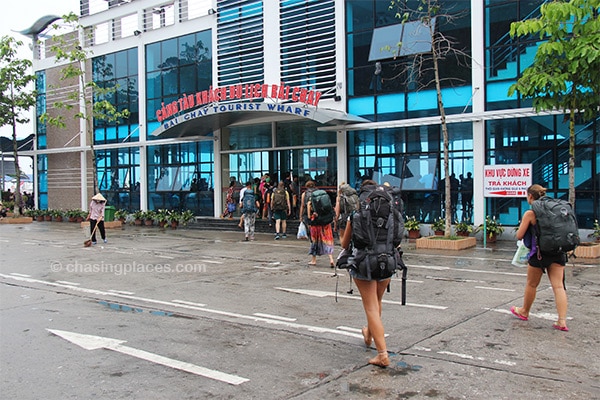 Halong City, which is the access point to Halong Bay is about 3 hours away from Hanoi. The tour package we took included a transfer from Hanoi to the jetty where the tour boats set sail. We were picked up very early in the morning by a big van. But our travel group was not the only passengers who got picked up. The van eventually picked up other people from other guesthouses. While in the van, a local introduced himself as our guide. He was friendly and spoke decent English. He said that he will be with us throughout the whole tour. When we reached the jetty's passenger terminal, we were greeted by an overwhelming scene. About a hundred tourists from all over were swarming around the passenger terminal. There were so many people that there weren't enough seats for everyone. Our friendly guide left our group and went somewhere without telling us. We figured that we had to wait for a couple of minutes to get on our designated boat. The minutes of waiting painfully turned into an hour. We were growing anxious without our guide in sight. And it seemed like everyone else was anxious and clueless about what was happening.
We finally saw our guide and other locals arguing with each other loudly. His happy demeanor diminished to the point that he did not even return to us to explain what was happening. We waited for another hour until the guides who were still discussing various issues started bringing papers that denoted the names of the passengers. Although we couldn't understand what they were saying, it was clear to us that they were trying to figure out which people should go on which boat. In theory, this may seem an easy task, but the problem was that not all tourists signed up for the same length of tour. Some were only doing a day trip, whereas others booked an overnighter or two nights. After more than 2 hours of waiting, a local man, who was not our original guide, finally called us to board a boat.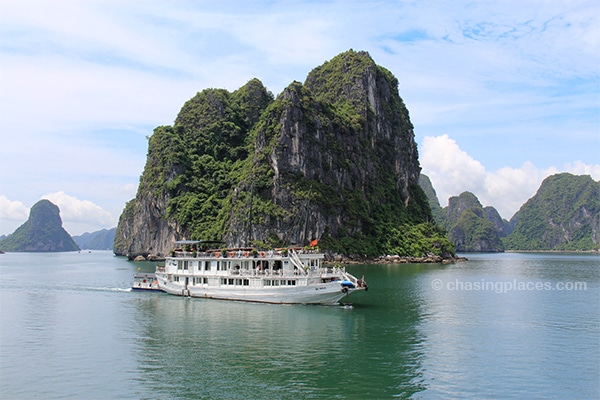 The boat we boarded was a powered by motor but its design was quite traditional. There were three main levels. The uppermost one was an open area, which had a couple of wooden benches and water tanks. The second deck was the nicest. It contained the dining area with several tables and chairs and a tiny bar equipped with a fridge and T.V. The final level was where the rooms were located. Loud music blasted from the boat as passengers were ushered onto the boat. By this time, it was past noon, and everyone was exhausted and hungry. The locals told us to go to the dining level.  They brought out the food, which consisted of rice, fish and a vegetable dish. It was your typical Southeast Asian meal but the taste was nothing special. Each table was served big plates of these dishes and people on each table were expected to share.  The quantity of the food was fine but the quality was not what we expected. Still, it was not something worth complaining about. Being in the dining room full of travelers was actually interesting. We got the chance to talk to some who had fascinating stories to tell.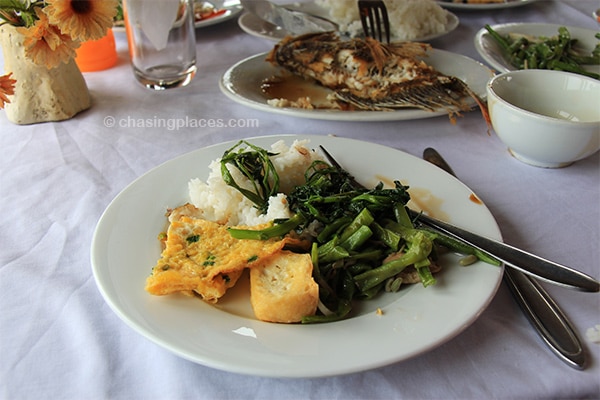 Most of the people who we spoke with were traveling around Southeast Asia for months, and they were telling us of their adventures. We particularly got to know two British girls that were backpacking around the region for six months. We also had a chat with a couple from Canada who asked for leave from work to visit Southeast Asia for two months.  After lunch, we had the chance to enjoy the views of Halong Bay, and take pictures. The sight of the limestone karsts was enough to forget the gruelling wait at the jetty.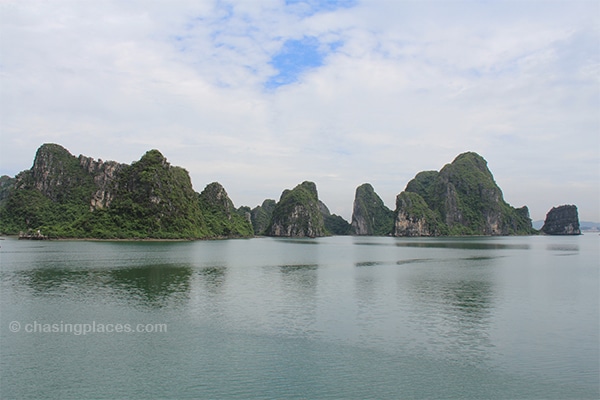 While talking to other passengers, we soon found out that we paid varying amounts for the same tour.  It was clear that some people got really ripped off, and we were glad it wasn't us.There was also this underlying problem that bothered us. There was obviously way too many people on the boat for the number of rooms available.  Since there were surprises in the tour that morning, we prepared ourselves for the worst, and speculated amongst ourselves what the tour operators would do?
The Floating Village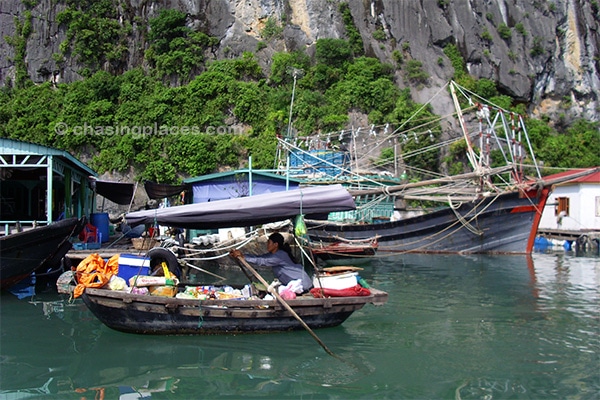 One of the activities promised in the tour was the chance to kayak, swim and explore a floating village. So the boat made its way to a floating village after lunch. The village area was quite small and was composed of boat houses that use huge buoyant objects to stay afloat. We were given the choice to kayak for free around the village area or go on a small boat cruise into the nearby cave system. The cave cruise of course was not free of charge.
We decided to do the kayaking, but we soon regretted this decision. It's not because the cave cruise was better, but because the water was murky and unpleasant. To give you an idea of Halong Bay – the view is spectacular but the bay water is murky, and in some parts (like the water village) smells bad.  When we left the floating village, the tour guide told us that the boat would stop in one area so we could swim. No one in our group dared to do it, but some of the other passengers happily jumped into the water.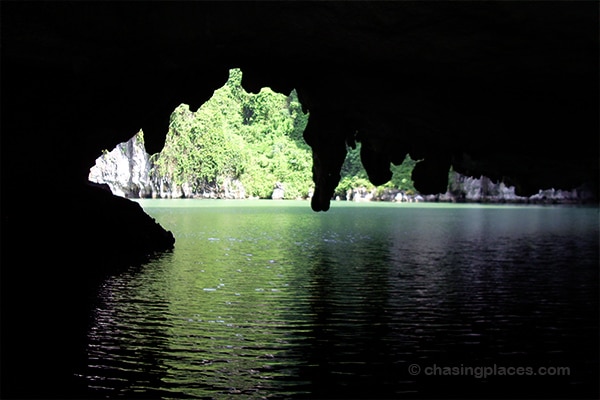 The Transfer at Sea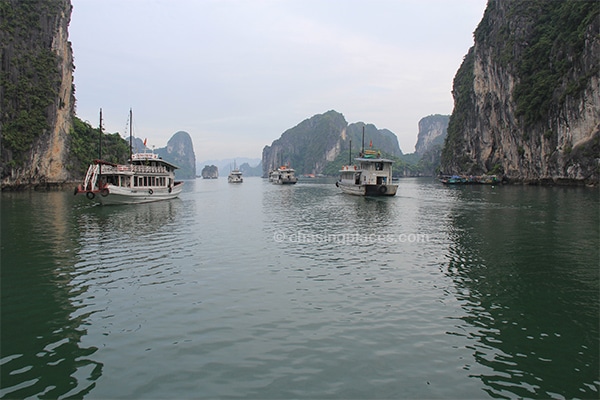 By sundown, people were getting antsy about the accommodation arrangement on board. Most of them wanted to get the key to their rooms and have a rest. A group of guests were now arguing with the guide, demanding to go to their rooms. After about 20 minutes of arguing, the guide finally gave the group their room keys, except for two ladies. As a result, the argument between these two women and the guide escalated. Everyone onboard could hear the shouting and bickering. The guide finally said that they have to transfer the rest of the guests, including us, to another boat. We thought we were going to dock somewhere to make that transfer, but nope! Another boat came and positioned itself alongside our boat. In a laughable, mildly unsafe fashion, the transfer of guests from one boat to another was conducted in the middle of the bay.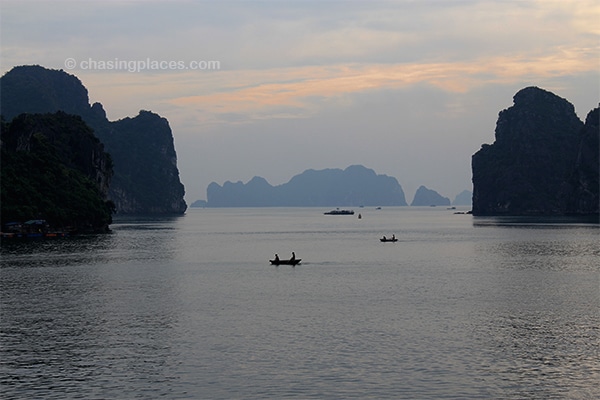 Travel Checklist: Do you have everything you need?
Our New Boat
Just before the sun almost set, we found ourselves in a new boat, whose design and size was almost identical to our old one. We were now dealing with a different English-speaking guide, who gave us the key to our room. We were a little excited to see our room, but we should have known not to expect a lot. We soon realized that our room choice was irrelevant, and all rooms were basically the same. Our room was small and smelled musty. It had a queen size bed, a small bathroom and an ancient air-conditioner that didn't work. We thought that it wasn't too bad as long as we could have a shower and retire to a comfortable bed. But the final surprise of the day finally revealed itself. There was no water on board for showers or toilet needs. There was not even water bottles for sale. The only person selling potable drinking water was an elderly Vietnamese lady vendor who rowed her small boat full of fruits and junk food. We saw her in the afternoon but thought her goods were way overpriced.  But when we needed her the most, she was long gone.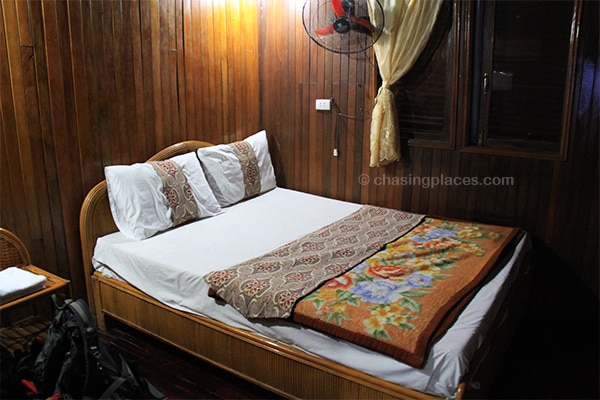 At this point, we only felt amused about our situation. After a long day of confusion, chaos and kayaking, we would have to spend the rest of the night stinky. We were asked to go back to the dining area for dinner. And the main subject at the dinner table was the lack of water. Strangely, we were still in good spirits, and we were even cracking jokes. We figured that if we're stuck on a boat by the bay with no clean water, there's nothing better to do than laugh about it.
Our old boat came and stopped beside us. As the sun set, it became a wicked party venue with cheap Christmas lights blinking wildly, younger passengers drinking heavily and loud dance music blasting away the silence of the night. Our head guide then decided to sail our boat away from the party boat. He did not look too impressed with the noise and partying.
The couple from Canada and the funny British girls joined us on the third deck for some drinks and chatting. Ironically, our boat sold various kinds of overpriced alcoholic beverages but did not bother to think that passengers may need drinking water.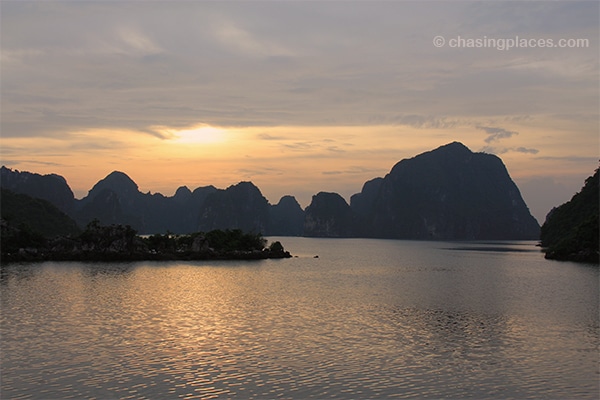 But despite everything that had gone wrong that day, the stars shined so beautifully at night that our frowns transformed into smiles. It was a unique feeling being on a rusty old boat with nothing around us but the sea and darkness. Not having a nice warm shower did not dampen my spirits. Instead, I felt like a real frontier traveler who was rough and tough. We were sharing our travel experiences, and were even talking about how lucky we were for being able to explore Vietnam. Having surprisingly great conversations with interesting people is one of my favorite experiences when traveling.
The Morning After
We woke up early the next morning, and breakfast was served at around 8 a.m. Some passengers who drank too much the other night looked groggy and confused. They didn't look too happy having been woken up by the staff.  Our morning by the bay was completely picturesque. It was a clear sunny day, and the hundreds of limestone karsts miles away looked absolutely stunning. Our boat brought us back to Halong City, where we were supposed to have lunch and spend a couple of hours shopping.  When we got off, there was again confusion about where we would go. We waited at the passenger terminal until another new face told us to get into a van that would take us to a restaurant for lunch. We went to this small commercial district.  The new guide was acting very impatient and almost irritated as he was showing us where to put our bags and where to sit. After lunch, he told us to just wait for the van to drive us back to our hotel in Hanoi. He told us to wait for an hour, which turned into more than two hours of waiting.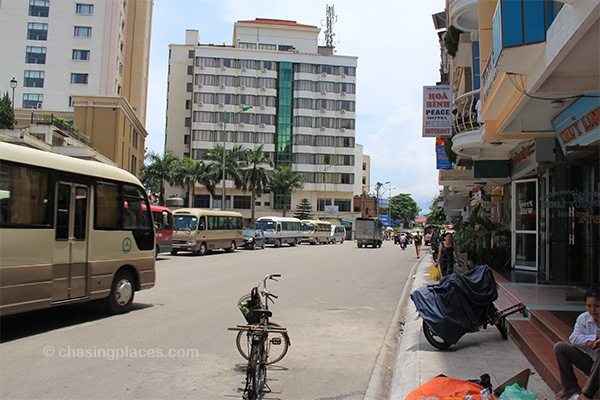 Thoughts on our Halong Bay Cruise
In the words of one of the patient young passengers onboard the cruise, "This is Southeast Asia, and we're on a budget cruise, so don't expect high quality service." Indeed, when you decide to book one of these budget Halong Bay Cruises, you should not expect much. The truth is we did not pay so much to expect five star amenities and service. But in retrospect, I can still say that this type of cruise is a tourist trap and to some degree a scam because of the dishonest way it is marketed to tourists. The travel agency presented the whole tour in a professional manner, and promised a lot of things, but the actual tour failed to deliver the promises. Great company and the bright star-filled sky made the boat cruise in Halong Bay a memorable experience for me. But a boat without potable water is unacceptable to many people – even the most hardcore backpackers. To make matters worse, none of the local staff or guides seemed to enjoy what they were doing. Some of them appeared rude and tired of tourists.  This attitude may not be entirely their fault. Most of the revenue from these cruises most likely doesn't go into their pockets, but to some businessmen living elsewhere. If I was paid peanuts for working long hours and for a job I didn't enjoy, I would probably be cranky too. But this is just how the tourism industry works in this part of the world. And at the end of the day, you can either view this status quo in a pessimistic or positive way.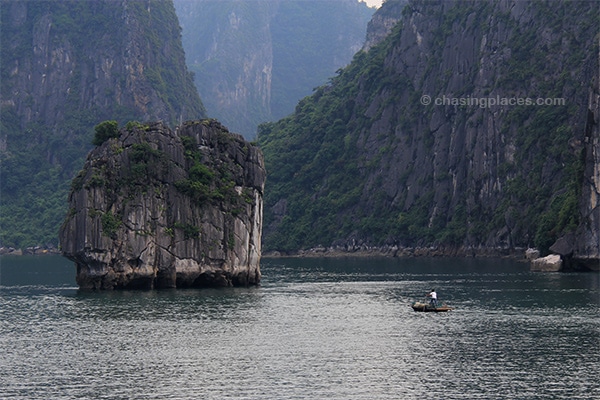 So before I end my story, let me leave you with some tips about Halong Bay….
If you have the finances, don't book the budget or regular Halong Bay cruises. Paying more and dealing with more reputable travel companies, guarantees a better and more comfortable overnight cruising experience.

If you are on a tight budget, consider going on a day cruise instead of an overnight one. You can still see the highlights of the trip, which are the jaw-dropping limestone karsts, and you can avoid all the nuances of sleeping on an old rusty boat. Remember that a day trip requires you to leave Hanoi very early in the morning and come back in the evening. It can be a long day but it depends on your preference and time at the time.

If an overnight budget Halong Bay cruise is still too hard to resist, bring plenty of water and snacks with you. Always be alert and be prepared for the worst. There's also the option of staying in a guesthouse on Cat Ba Island. Although such accommodation conditions are reportedly downright basic, at least you will be assured of clean water and a higher level of safety.
How to find the cheapest room in Hanoi?
Hanoi has loads of rooms to choose from for a city of its size. We typically stay within walking distance of the Lake in the Old Quarter of the city. With night markets and a solid range of restaurants it might be a wise decision staying in this part of the city.  We have been to Hanoi on multiple occasions and we typically have used these three sites for our bookings:
Agoda: We have used www.agoda.com not only in Hanoi, but all over Southeast Asia.  Typically, you will find the largest selection of rooms on their site.  At the time of writing, there was almost 900 different properties listed on their site to choose from.  Here is a link to their properties in Hanoi to save you some time:
Rooms in Hanoi on www.agoda.com
Booking.com: This is an ideal site if you're planning a trip to Hanoi well in advance.  Although it lists fewer rooms than Agoda, www.booking.com has excellent cancellation policies, meal options and payment options to help make up for it. If you can get a discounted room in Hanoi with free cancellation it seems like a pretty good deal.  Here is a link to their listed properties:
Rooms in Hanoi on www.booking.com
Hotelscombined.com: This is our favourite price comparison website for finding room deals in Southeast Asia including Vietnam. Since www.hotelscombined.com enables you to search for the cheapest prices on the world's best hotel sites simultaneously, it not only has saved us money, but also plenty of time.  Here is a link to the price comparison search for Hanoi: