Pretty much every backpacker that has made a trip to Southeast Asia has either heard of or visited Thailand's Koh Phi Phi Don and Koh Phi Phi Lei. Once you arrive at Phi Phi Don via ferry from Ao Nang (Krabi), Phuket, or Koh Lanta it won't take you long to figure out why. Blessed with massive limestone karts, emerald green waters and a vibrant nightlife scene, Phi Phi Don and the surrounding area has so much to offer for an island getaway. Here are five reasons why you may want to consider checking out Koh Phi Phi during your visit to Southeast Asia.
5. Convenient Beach Access with No Motorized Vehicles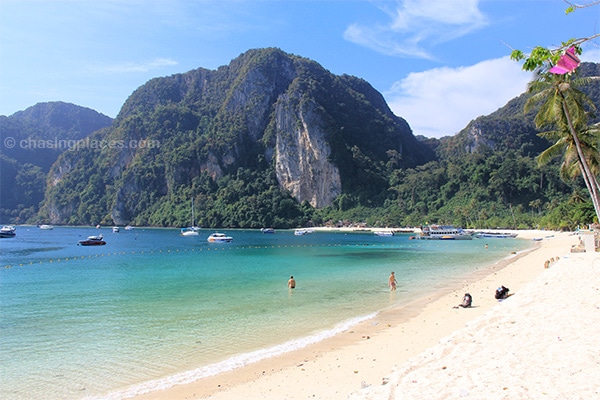 Once ferries dock at Phi Phi pier within minutes a luggage porter line develops. After paying the environment fee (20 Baht), most tourists are met by luggage porters holding a sign representing specific resorts and guesthouses on the island.  Since the majority of tourists visiting Koh Phi Phi Don stay on Lo Dalam Beach or Ton Sai Beach or somewhere in-between on the isthmus, walks to the Andaman Sea are only a couple hundred meters away.  Phi Phi Don is part of a marine park therefore motorized vehicles are prohibited on the island (with the exception of a few essential services like medical aid, etc). But this is no big deal for most tourists. Unless you want strict privacy during your stay you don't have to worry about walking over a kilometer every time you want take a refreshing dip.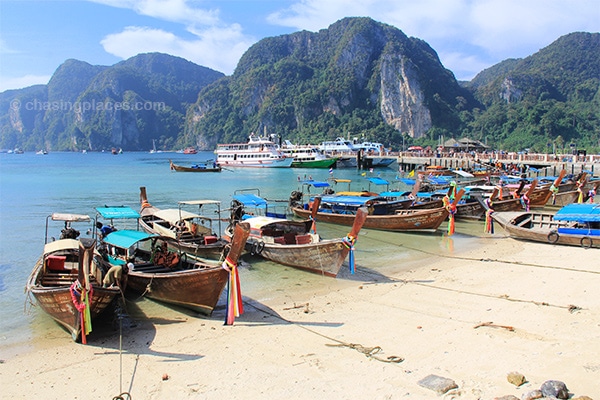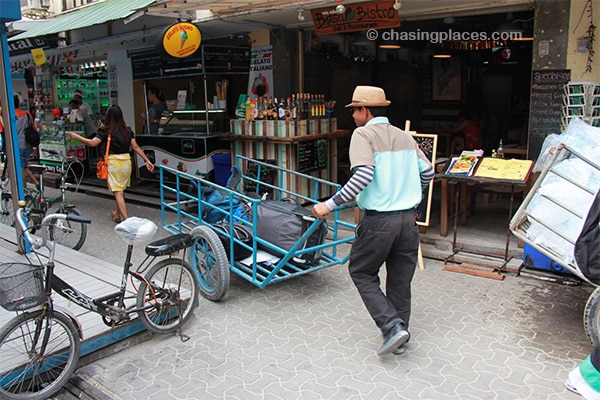 4. Scenic Parasailing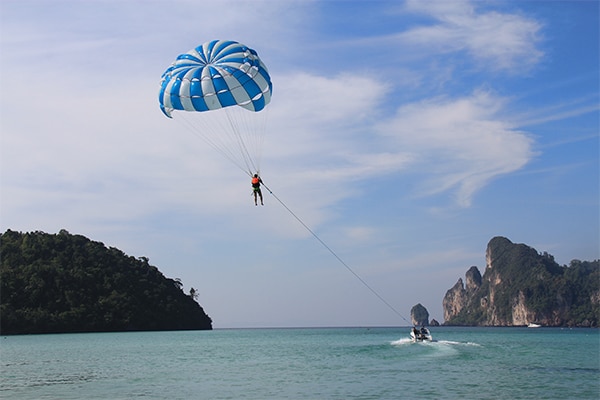 Parasailing is offered all over Southeast Asia.  But the experience on Koh Phi Phi is quite different due to its striking scenery. Tourists willing to shell out the Baht will get the chance to fly around the limestone-protected mouth of Lo Dalam Bay.  Although it may be pricey, it's definitely an activity to consider, especially if you have a high resolution action camera. Twisting and turning around the karsts looking down at the emerald green water of the Andaman sea sounds like quite the experience to remember.
3. Extensive Selection of Diving and Tour Excursions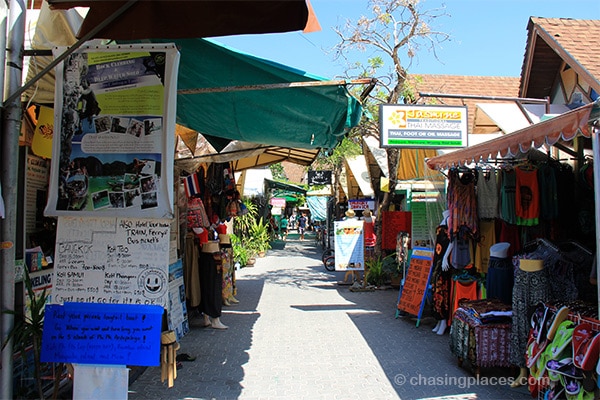 Many frontier travelers find Koh Phi Phi a bit busy for their liking. One of the benefits of increased tourism numbers, on the other hand, is competition and freedom of choice. If you want a personalized tour somewhere there is no shortage of operators who are willing to cater to your needs.  Why, you may ask?  Well, because if they don't the operator beside them is just waiting to pounce on the opportunity to make some additional cash. On Koh Phi Phi Don there are a staggering number of dive centers and tour operators to choose from.  If you want privacy and seclusion as part of your tour then enquire at 4 or 5 different places before making a decision
Travel Checklist: Do you have everything you need?
2. Rewarding Panoramic Views from Phi Phi Viewpoint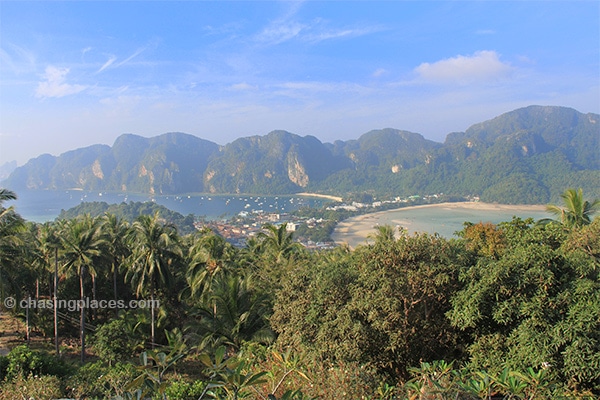 Landscape photographers will appreciate the beautiful view from Phi Phi Viewpoint.  Although it is generally called Phi Phi Viewpoint in singular form, there are actually three different vantage points to check out.  To avoid the crowds it is best to begin your ascent around sunrise to witness the warm rays strike the jagged limestone in the distance.  From the viewpoint you will be able to understand how the Tsunami in 2004 wreaked so much havoc across the isthmus. Just remember that alcoholic beverages are not permitted at the viewpoint due to the religious beliefs of the land owners.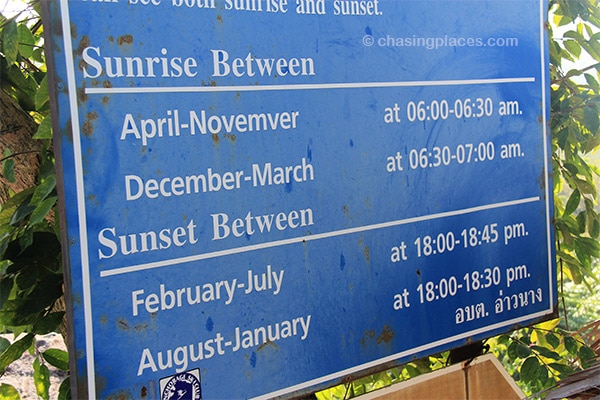 1. Superb Evening Fire Performances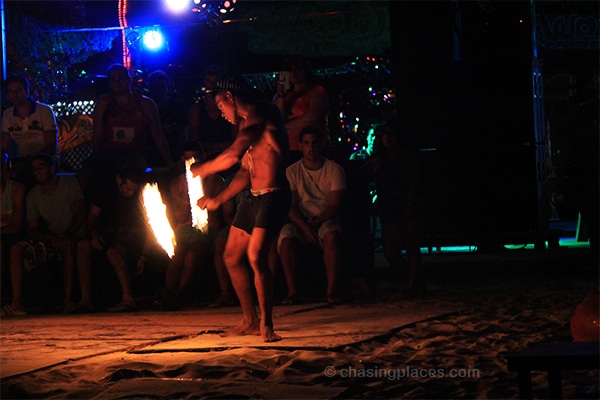 Every night once the sun disappears behind the jagged limestone walls protecting Ao Lo Dalam, it doesn't take long for the local Thai fire performers to break out the kerosene and associated props. The beachfront entertainment establishments appear to be in fierce competition with one another to attract customers through their dynamic fire shows.  In most cases, if tourists decide to partake in the festivities they will receive a free shot of whiskey or rum as positive reinforcement. Some of the nightly activities include: fire skipping, jumping through flame circles and bending for the limbo below a burning stick.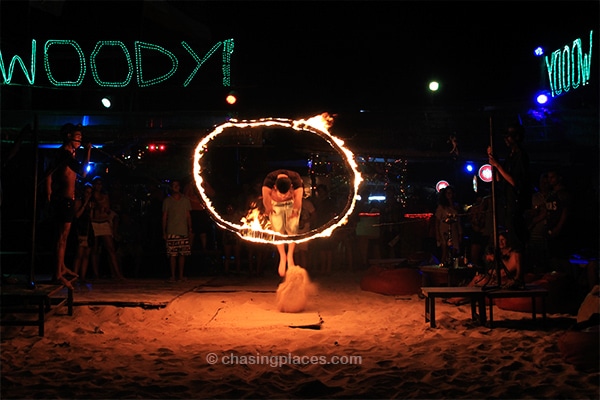 So there you go, 5 excellent reasons why you head out to Koh Phi Phi!
How did we find the best room deals on Koh Phi Phi?
Koh Phi Phi is not like many other islands around the world due to its intense nightlife scene. Therefore, not booking a room in advance increases the risk that you will be up all night due to the nearby pulsating music.  We have been there many times and the best places that receive positive reviews sell out early. If you're not concerned about the music, then book last minute, but if you want a solid sleep start with these large providers and use their respective map tools before booking.  The closer to the popular beaches you stay, the louder it is for the most part.
1 .     Agoda: It's tough to find a better booking site in Thailand than Agoda.  They simply have so many rooms to suit all budgets.  We have booked our rooms the last two times on Koh Phi Phi using www.agoda.com.  Here is a link to their extensive range of rooms:
2. Hotelscombined: Another option we have used throughout our travels in Thailand is www.hotelscombined.com. It's a big money saver because you can quickly compare room prices prior to booking.  You can use the Search Box below to instantly make a comparison:
3.   Booking.com: Last, but not least, www.booking.com is very popular with tourists going to Koh Phi Phi. Due to their cancellation policies many of our readers book well in advance to secure discounted rooms without any added risk.  Makes sense! Here is a link to their respective properties on Koh Phi Phi:
Again, I should emphasize the importance of using the map tool on these sites and checking guest reviews prior to booking your room on Koh Phi Phi. To save you time, here are the:
Top Rated Properties on Koh Phi Phi 
Based on Verified Guest Reviews
Important: Mobile Users must swipe from left to right to see entire table. 
Properties rated based on 'overall' review scores from each respective website's verified guests.
Minimum of 50 verified guest reviews required to be considered eligible for comparison.
All star ratings and verified guest review scores are tallied at the time of writing, and therefore, are subject to change.
Accommodation Map of Koh Phi Phi: Top Rated Properties