Palace is Closed
Being home to the most important landmarks in Thailand, Bangkok is the spiritual, cultural and political center of the country. The prime attractions in the city are undoubtedly the Palace and Wat Phrak Yeow. Both of these structures are located in one complex. Almost all tourists who find themselves in Bangkok make their way to this complex. But you do not only visit the Palace and Wat Phrak Yeow for the heck of it. These structures are truly magnificent pieces of architecture worth seeing. They represent the artistry and ingenuity, as well as the spiritual devotion of the Thai people.
Because the Palace and Wat Phrak Yeow complex is a tourist magnet, it is inevitable that scammers lurk around the complex to bait their next victims.
Forms of public transport like buses, tuk tuks and taxis usually drop off visitors at the small plaza a few meters from the main Palace complex doors. Thus, expect to walk a few minutes before reaching the gate. In some cases, a local will approach you before you even reach the gate.  This person will speak good English and is usually charming and pleasant. He or she will volunteer information about the complex and Bangkok in general, and will then proceed to tell you that the Palace is temporarily closed because the monks inside are praying or conducting a ceremony.  No matter how convincing this person may be, (and believe us they will sound so sincere); chances are what they're saying is completely false. The person's objective in lying is to get you to ride a tuk tuk he or she recommends and to take you to shops or on a river cruise. The person will tell you that the Palace's gate will be open in an hour or two so you might as well use the time to do other tours. Do not fall for this tourist trap. To confirm the times, go to the Palace gate and ask the security personnel in there. Once you get to the entrance of the Palace complex, you can immediately notice whether there are tourists walking around. You can also be a diligent traveler and conduct research about the visiting times before coming.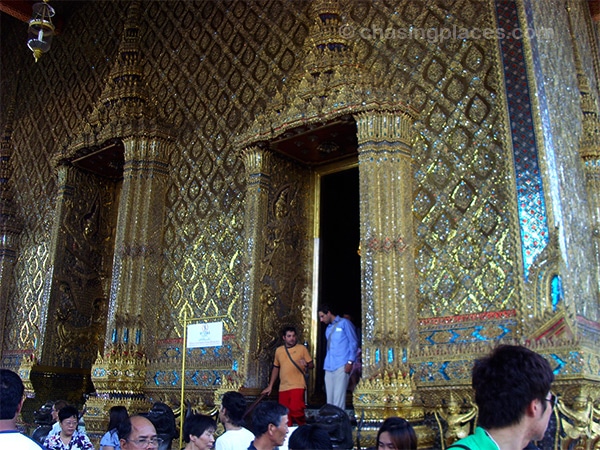 River Tour Anyone?
One of the reasons why a scammer may lie to you about the Palace complex being close is he or she wants to book you on a Bangkok River Cruise tour.  This is a highly popular tour and you will encounter a lot of touts in the area that will offer you their own itinerary. All these itineraries usually go to the same spots that are located in different parts of the Bangkok River. They only differ in terms of the shops they will bring you to. The shops have their own agreement with the touts. The tout typically collects a certain percentage from the sales the shop makes from the tourists they bring. There is really nothing wrong about this arrangement but chasingplaces.com thinks tourists have the right to know what they're getting themselves into.
The Bangkok River is nothing special. It is actually murky and in some parts dirty. The truth is you can get to the attractions by the river using public transport. You don't have to spend for a private boat to take you these places. But if you like the idea of being on a traditional boat and cruising the river, then take the tour. However, make sure that you are aware of the usual tour price range. A number of touts will try to rip you off, no matter how innocent they look. Based on the quality and length of the tour, we think that you should not pay more than 10 -15 dollars per person. But the prevailing rates may change. The best way to know if you're paying for a fair amount is to ask around. The jetty where most boats leave for tours is just behind the Palace complex. The secret is to haggle the price. Ask three or more boat drivers. Do not rely on what the tout is saying because in most cases, he or she is after a big fat commission.
Travel Checklist: Do you have everything you need?
Street Markets: To Shop or not to Shop
Bangkok is all about the electrifying nightlife and the market culture. It is surely a great place to shop for gifts and souvenirs. There are many markets to choose from, and the most popular ones among tourists are the ones that are open at night. The Chatuchak market is one the largest street markets in Asia. This attraction sells a wide range of products.  Because of Chatuchak's fame, it has become primarily a tourist market. When you come here, expect the prices of the items to be inflated at least three times the original price.
A number of vendors in Chatuchak are not interested in full-out haggling as they rely on tourists who simply agree to purchase overpriced items. And it seems that there are a lot of tourists who are not complaining. Some of them may be clueless about the market value of the products, and others may not care too much about paying more. But if you came to Bangkok to shop without paying First World rates, then it's better to head out to smaller street markets with more local patrons. This type of market typically offers more local-friendly prices, and stall vendors are more eager to haggle. There are also cases when the prices for the some gifts and souvenirs are sold cheaper in the mall than in street markets, as ironic as it may seem. There may still be precious treasures to be had in Chatuchak, given its huge size. But if you must shop in Chatuchak, arm yourself with the knowledge of the fair price range for the items you want to buy. This knowledge will help you negotiate a reasonable price with stubborn vendors.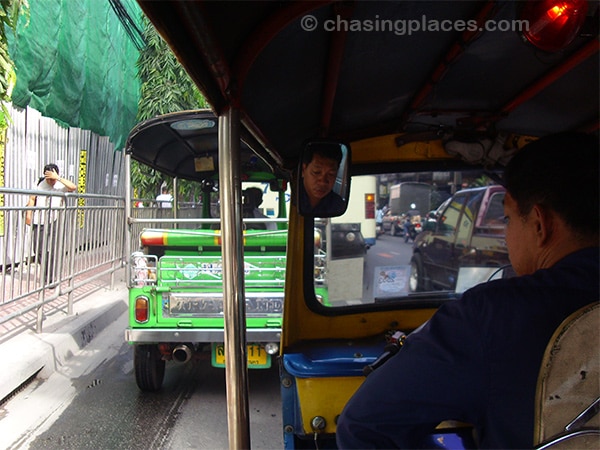 The Deceptive Ping Pong Shows
Ah the infamous Ping Pong Shows! One of the most vulgar and outrageous adult attractions found in the seedy parts of Bangkok. But gentlemen, before you get excited about seeing this show or be enticed by pictures of gorgeous Thai women shown around by touts; beware that this entire thing may be a scam. Touts will usually persuade you to watch the show for free or for a minimum entrance fee. Once they get you inside the bar and comfortably seated in a chair, then the entrapment begins. Whether you stay for a couple of minutes or for the entire show, the minute you walk out, the waiter will ask you to pay a ridiculously expensive amount for watching. If you refuse to pay, they will intimidate you by calling out their bouncers or by speaking aggressively in the local language. If you came with a big group, then you may argue your way out. But if you went in on your own, they can easily succeed in confusing and threatening you to give up your hard-earned cash.  And before you know it, your supposed night of fun becomes a scam.
How did we find the cheapest room in Bangkok? 
Bangkok has so much competition when it comes to accommodation that you can find awesome deals online if you book well in advance. Luxury hotels can be reserved at rock bottom prices, especially during low season. We have been to Bangkok over 5 times and we usually stay in the Khao San Rd. area.  We have used the following sites over the years to book the cheapest rooms to suit our budget
1. Agoda: This is undoubtedly the accommodation 'guru' of Thailand, and in Bangkok it is no exception! At the time of writing www.agoda.com offered a whopping 2000+ different properties in Bangkok alone. If you can't find your room here, I would be quite surprised.  To save our readers time, here is a link to their properties in the city:
Rooms in Bangkok using www.agoda.com
2. Booking.com: Not quite as many rooms as Agoda, but www.booking.com makes up for it with superb cancellation policies and great customer service.  If you're planning your trip to Bangkok well in advance then it might be a smart decision to reserve discounted, free-cancellation rooms. Here is a link to their properties in Bangkok:
Rooms in Bangkok using www.booking.com
3. Hotelscombined.com: By far our favourite price comparison site.  We have saved some big time cash over the years in Thailand comparing prices before booking. If you're on a strict budget, I would try the link below for a quick price comparison:
Compare room prices in Bangkok
Top Rated Properties in Bangkok
Based on Verified Guest Reviews
Important: Mobile Users must swipe from left to right to see entire table.
Criteria:
Properties rated based on 'overall' review scores from each respective website's verified guests.
Minimum of 50 verified guest reviews required to be considered eligible for comparison.
All star ratings and verified guest review scores are tallied at the time of writing, and therefore, are subject to change.