Planning Websites we used for this Trip to Kathmandu
World Nomads Travel Insurance. 24/7 coverage for 150+ adventure activities. Get a Quote
Momondo, Booking Buddy. We always use these 2 great price comparison sites to find the world's cheapest flights.
Agoda, Booking.com, HotelsCombined. We have relied on these 3 accommodation sites for over 10 years.
See the Complete List of all the Cost-Cutting Travel Resources we use here….
Kathmandu
Aside from being the capital city of Nepal, Kathmandu is also the country's largest city. It turned to be one of the coolest cities I've ever visited. Because the city is located in a valley with the same name, I think that pilots would find it challenging to land at Kathmandu airport.  During the descent, the aircraft has to be maneuvered to go high enough to pass the ridge of the valley, and then go swiftly straight down to the landing strip. Nevertheless, the landing of our Malaysia Airlines flight went smoothly. This flight also turned out to be one of the most scenic that I've ever seen. Flying into Kathmandu gives you the rare chance to get spectacular views of the Himalayan range including Mount Everest, but you need to be on right side of the plane. Luckily,this was true for us.
Kathmandu is the kind of city that is unlike anything I've ever seen before. The culture is strong and the atmosphere is rustic. There are no modern luxurious skyscrapers, and many of the roads are unpaved and narrow.  It was December and the air was cool but dry. From the airport, we took a taxi to our guesthouse and it was quite the experience. Dust was easily stirred up from the sand-based roads when vehicles passed by. It seemed like there were too many vehicles on the road. In some areas, there were no clear sidewalks so there's always that risk that we would eventually run over someone.  Fortunately, the Kathmandu taxis are small and compact to suit the busy roads. Our driver expertly maneuvered his way through the traffic, but there was a feeling of chaos on the streets, as they were full of cars and people.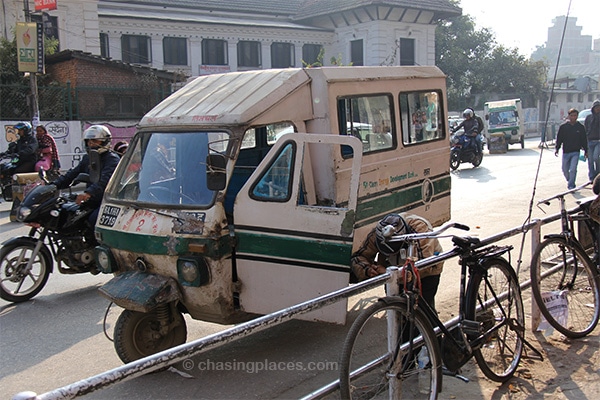 You may think it bothered me, but it made me feel quite the opposite. I love cities with character so observing the street scene made me even more excited about my trip.
The Cool Neighborhood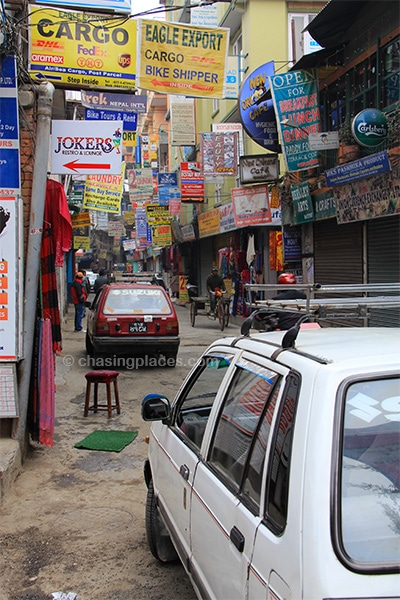 Kathmandu has earned the reputation of being "the" place for the independent and adventurous souls. Most of them find their way to the neighborhood of Thamel. This certified tourist hub boasts a wide range of accommodation choices including hotels and guesthouses that cater to budget travelers. But all of these establishments exhibit Nepalese design and décor. Thamel is like a maze of interconnected narrow streets and alleyways teeming with vendor stalls and low rise commercial buildings, which are typically shops, restaurants, cafes, bakeries, bookstores and guesthouses. Walking around this district is a cool experience. I saw some people who looked like experienced mountaineers and hardcore globe trotters. I felt like one too! We eventually found our guesthouse on one of the narrow streets. When we got here, were informed that the power was out. Despite being the capital city, most of Kathmandu does not enjoy 24 hours of electrical power. The guesthouse staff informed us then went on to inform us of the daily blackout schedule.
After leaving our stuff, we decided to do some more walking. The cafes and restaurants appeared to be very quaint and charming. Most of them had nice wooden furniture and decorations throughout. Quite a few of the restaurants we saw were open-air spaces, with no walls just roofs. The larger ones had a fireplace or a bonfire lit up in the middle to keep patrons warm during cold December nights. When we worked up an appetite strolling around, we sat in one of the many little quaint cafes to get some snacks. This was the time that I became acquainted with momo – an absolutely sumptuous Nepalese dumpling that I recommend to anyone visiting Nepal. Momos can be fried or steamed, and can contain meat and/or vegetables. Believe it or not, I found the vegetarian version much more delicious.
The Sights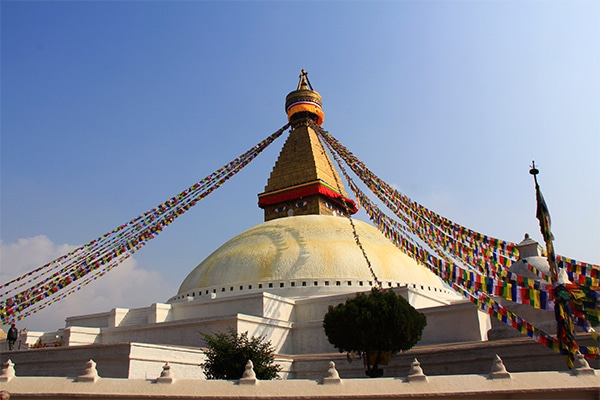 Kathmandu is where most outdoor enthusiasts come to have their mountain trekking trips arranged. There are so many outfitters to choose from, and they offer different types of trekking packages including the one that goes to Mount Everest base camp. Operators will take the time to sit down and talk about the possibility of completing a trekking tour and the estimated costs. But if you're someone like me – who doesn't have the budget, and is not ready to face the grueling hiking journey to the base of the highest peak in the world; Kathmandu still has other things to offer.  The city, in fact, has a number of amazing religious monuments and heritage sites. Since we did not have a lot of time, we hired a taxi driver to transport us to all of the important landmarks in the vicinity. There are also tour offices that offer day tours, but we opted to talk to a taxi driver outside of our guesthouse for two reasons: first of all it's cheaper, and secondly we had more flexibility in terms of the places we could visit.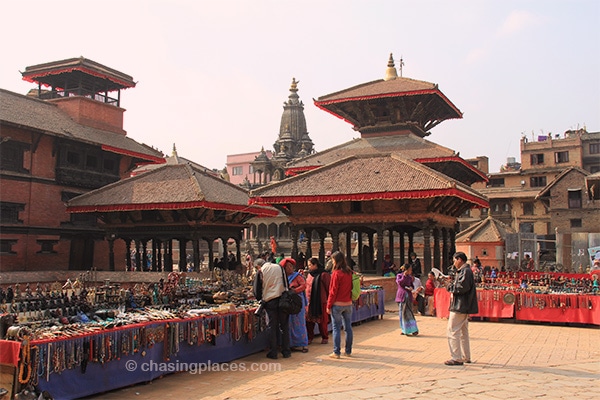 We spent two days visiting "must-see" sites. All of them turned out to be fascinating. After all, Kathmandu Valley is home to an astonishing seven UNESCO World Heritage Sites – a distinct and impressive feature any city should be proud of. The closest heritage site is Kathmandu's very own Durbar Square, which not only houses some of the country's most revered architectural and historical masterpieces, but it's also where the "living goddess" resides. We also didn't mind climbing several steps to see the perched Swayambhunath, one of the most highly revered Buddhist stupas in Nepal and the world for that matter. Later that same day, we were blown away by the massive Boudhanath stupa, and by how many locals pay their respect and show tremendous devotion to it. We even ventured out of Kathmandu to explore the medieval heritage cities of Bhaktapur and Patan. Even though locals appeared to briskly enter and exit the sites, foreign visitors were asked to pay an entrance fee.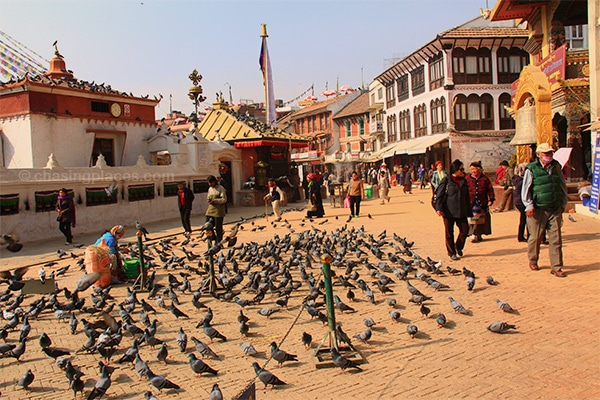 Travel Checklist: Do you have everything you need?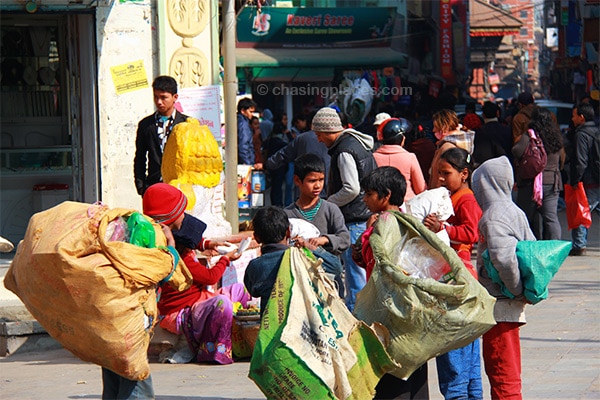 I found the Nepalese people really nice and friendly.  They did not hesitate to smile and say hello. But they were also not too outgoing.  Shy would be a good word to describe many of the locals I met during my stay in Kathmandu. People in the Thamel area and especially those working in the tourism businesses could communicate well in English. Although there were various types of vendors and tour operators around, they were not as pushy for sales as others I have encountered in Asia.  What I also noticed is that the locals like to congregate by the roadside in groups and just chat. In some cases, they could be seen sitting around a small makeshift fire pit, while sipping tea and talking. I'm not sure if this practice is partially attributed to the rotational blackouts?  People may feel bored staying in dark homes. Nevertheless, it seems like these gatherings have become a social norm.  I personally found it endearing to see locals absolutely enjoying socializing in such a simple fashion. In most cases, I could see them smiling, without being bothered by the chilling cold air.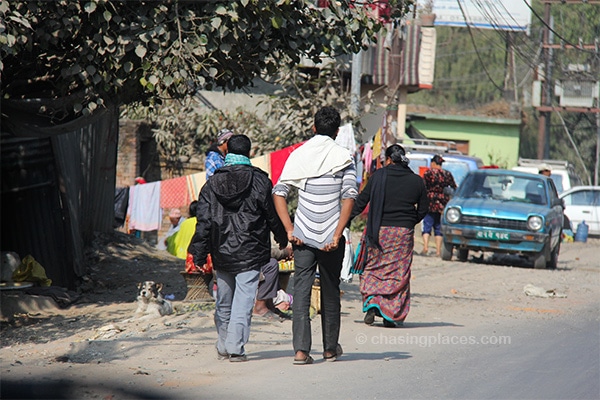 How did we find the cheapest room in Kathmandu?
Kathmandu, especially the Thamel area, is loaded with budget options and a few famous upscale choices. The rooms in Kathmandu are very cheap in comparison to most places around the world. We booked our room in Kathmandu using www.agoda.com and we stayed in Thamel (which is super convenient by the way). I have included some additional room providers, so use what works best for you:
Hotelscombined: This is our favorite site if we're on a strict budget. It quickly and effectively compares prices from the world's best accommodation sites. I have created a link to rooms in Kathmandu to save you some time:
Compare Room Prices in Kathmandu (and Nepal)
2. Booking.com: Very popular with our European and North American readers.  If you're booking rooms well in advance, then getting favourable cancellation policies and superb customer service are worth considering.  Here is a link to rooms in Kathmandu:
Rooms in Kathmandu with www.booking.com
3. Agoda. We used www.agoda.com during our trip to Nepal. They have the largest selection and solid prices. They had just short of 600 properties to choose from at the time of writing to put things in perspective.  A reliable place to start your room search.  Here is a link to their properties in Kathmandu: