Article Updated in February 2020
Amidst the rapid development and building of hotels and resorts, the white sandy beaches of Koh Phi Phi remain to be the top draw on the island.
Each one of the beaches on the main island of Koh Phi Phi Don has adopted its own vibe and character. Ao Lo Dalam is the preferred hang out of backpackers and young travelers. During the day, you will see tanned bodies chilling on the sand. At night, loud club music fills the air, and kerosene-fueled rods and chains light up the dark.
Ao Ton Sai is the more consistently laidback beach, where more candlelit restaurants and grandiose resorts are situated. But this beach is a bit of a paradox, because it is also the home of the island's main pier.  Ton Sai pier sits in the middle of Ton Sai Bay, and it is bustling and busy as all major ferries dock here.
Ao Lo Dalam and Ao Ton Sai are the two main beaches on Koh Phi Phi where most tourists tend to stay with literally hundreds of accommodation choices.
But if you are looking for a beach with fewer people, with a more serene atmosphere and the whitest sand on Koh Phi Phi, then we recommend you check out Long Beach.
Facing southwest, Long Beach overlooks Phi Phi Leh. The sand here is soft and white, and the water is clear and ideal for swimming.  Away from the multitudes of shops, guesthouses and long tail boats, being here, especially if you visit during low season, is an entirely different Phi Phi experience.
It's like you are taking a glimpse of how Koh Phi Phi used to be before it became a tourism powerhouse.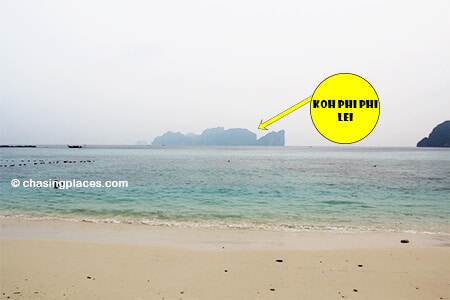 Walking to Long Beach
It is possible to walk to Long Beach from Tonsai Village, but you will need to dedicate at least an hour to hike on undulating roads and mini forests. The path is not straightforward and direct, and there are no signs along the way to direct you on where to go.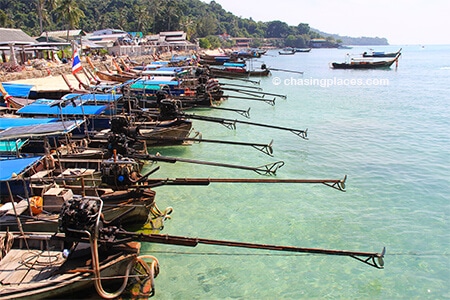 In short, walking to Long Beach is not easy at all. To save you time, effort and the needless headaches, hire a long tail boat to take you there.
Here are the simple steps how to reach Long Beach, Koh Phi Phi:
Step 1. Make your way to the Ton Sai pier area. Here, you will find a number of smaller long tail boats. The boatmen will let you know of their services by yelling 'taxi' or by having signs offering rides to Long Beach.
Step 2. Ask to be taken to Long Beach.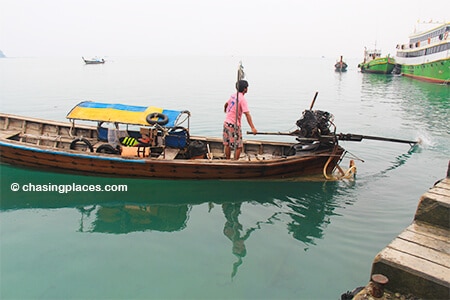 Travel Checklist: Do you have everything you need?
Step 3. Pay the right fare. Long Tail boat operators are well organized and have set rates for various destinations. Therefore it is hard to negotiate the amount. The rate to Long Beach is 100 baht per person.
For a tourist, this amount, which is roughly equivalent to $3 US dollars is not a lot. But for backpackers in Southeast Asia and locals, this is overpriced, especially because the ride only takes five to ten minutes.
The boatmen prefer to go to Long Beach when there is a group of people to transport, but they transported just two of us during the low season.
Step 4. Relax and enjoy the very short ride. You can spend the entire day on Long Beach. It has a couple of bars, restaurants and minimarts, but don't expect rows of beach chairs.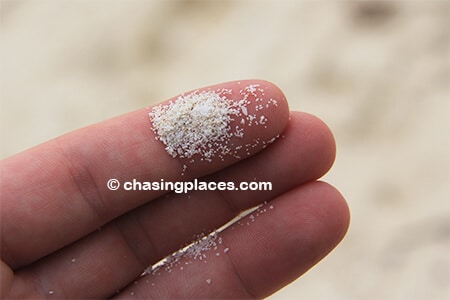 5. Go back before sundown; that's if you don't want to pay more for the boat ride.
The rate increases to 150 Baht per person in the evening (possibly because boat taxi drivers already know that tourists are willing to pay more to avoid getting stuck on Long Beach).
The boatmen usually drop people off at Tonsai pier, unless you have a special request to be dropped off somewhere else, in which case, you may have to pay more.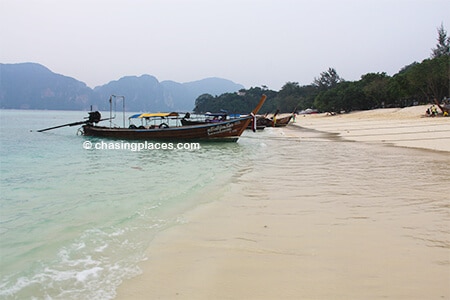 Accommodation on Long Beach, Koh Phi Phi
Due to the fact that Long Beach is only a short ferry ride away from Phi Phi's main ferry pier, it's a pretty convenient place to stay while on Koh Phi Phi. We recommend staying here if you want an excellent beach for swimming with a laid back scene after sunset.
Many tourists get exhausted by the pulsating music that carries on into the wee hours of the morning on Ao Dalam Beach.  Therefore, booking a room on Long Beach enables you to be close enough to the action without being kept up by it. During our recent visit to Long Beach on Koh Phi Phi there were 5 accommodation choices along the beach or in the near vicinity of it:
Phi Phi Long Beach Resort and Villa
Where did we stay on Koh Phi Phi?
During our most recent visit to Koh Phi Phi we actually didn't stay on Long Beach.  Instead, we opted to stay on the famous isthmus.  We wanted a room close to the beaches, but far enough from Phi Phi's night time music. Eventually, we opted to stay at P.P. Casita.
 Overall, this hotel turned out to be quite pleasant.  The room wasn't the largest by any means, but it was clean and the staff was friendly. The pool and the buffet breakfast were also bonuses. At the time of writing it had a score of 7.4/10 based on over 3000 verified guest reviews. This is an accurate score based on our experience there.
How to find the cheapest rooms on Koh Phi Phi?
When we booked our room on Phi Phi we consulted three different sites that we thought would provide us with the greatest opportunity of finding the cheapest room: www.hotelscombined.com, www.booking.com, and www.agoda.com.
Of the three www.hotelscombined.com is the most unique because it's a price comparison site that immediately compares room prices from the world's top sites.  Here is a list of properties on Koh Phi Phi Island to save you time:
Top Rated Properties on Koh Phi Phi Based on Verified Guest Reviews
Important: Mobile Users must swipe from left to right to see entire table. 
Properties rated based on 'overall' review scores from each respective website's verified guests.
Minimum of 50 verified guest reviews required to be considered eligible for comparison.
All star ratings and verified guest review scores are tallied at the time of writing, and therefore, are subject to change.
Accommodation Map of Koh Phi Phi: Top Rated Properties
We are dedicated to providing informative, unbiased articles about Koh Phi Phi and Thailand.  You can access a growing list of them here. We always encourage our readers to ask us any questions about our travels, so feel free to comment below.
Be sure to have a safe and enjoyable time on Koh Phi Phi!