Article Updated in February 2020
Once you have spent sufficient time in Kuala Lumpur, one of the most common destinations to see afterwards is Melaka (Malacca). The UNESCO listed city has many reasons to visit. Some notable attractions include Jonker Walk Night Market and Dutch Square.
Getting to Melaka from Kuala Lumpur can be a potentially confusing endeavour. So to help you have an easier journey, here is a guide that will get your Melaka using trains and buses. with the main transport being the bus.
Although there are are other ways to get to Melaka from Kuala Lumpur, the cheapest and most convenient is taking the bus. You may want to consider taking a taxi or renting a car if you are travelling in a small group. Otherwise,
Here is a step-by-step guide on how to get from Kuala Lumpur to Melaka (Malacca).
This trip lasts  approximately 2 hours and 30 minutes using extremely affordable public transport.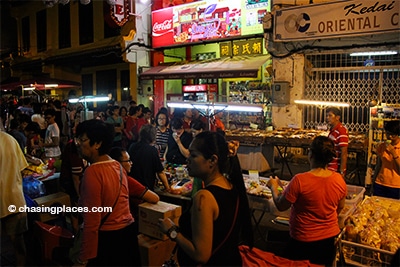 Follow these steps on how to get from Kuala Lumpur to Melaka by bus:
Step 1. Proceed to KL Sentral Station via taxi, Uber, Monorail, KTM Komuter or LRT. 
You can take any of these transport depending on where your hotel or guesthouse in Kuala Lumpur is located.
The mode of transport you select ultimately depends on your location and budget. Since Kuala Lumpur is known for heavy traffic downtown, try to take one of the public transport options opposed to a taxi if possible.
Step 2. From KL Sentral, take the KLIA Transit to BTS Station (Bandar Tasik Selatan). 
Once you arrive at KL Sentral, your next destination will be TBS Station. TBS (Terminal Bersepadu Selatan ) is a modern bus terminal that services almost all of the bus trips heading south of Kuala Lumpur.
Do not be confused. The name of the train station connected to TBS Terminal is BTS.
We recommend that you take KLIA Transit from KL Sentral to BTS  Station (Cost 6.50 RM). Take note that the KTM Komuter and LRT also go to TBS, so these are options but we find KLIA Transit more reliable, with newer trains.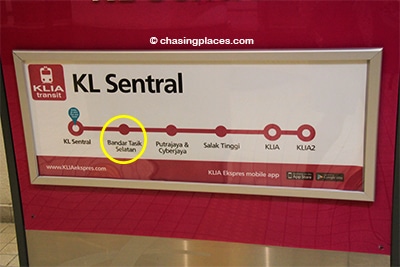 Additional Tip: Make sure that if you want to go to Bandar Tasik Selatan Station,  don't take KLIA Express. This will skip TBS all together as it travels directly to Kuala Lumpur International Airport without making any stops after KL Sentral.
Step 3. From BTS Station, walk through a bridge that connects to TBS Bus Terminal. 
Once you arrive at TBS Station, you will still have to make a short transit to the bus station. TBS is a large rectangular building that can't be missed. It will be on your right as you arrive at BTS Station via KLIA Transit from KL Sentral. Simply follow the signs and walk to the bus station. This will take approximately 5 minutes.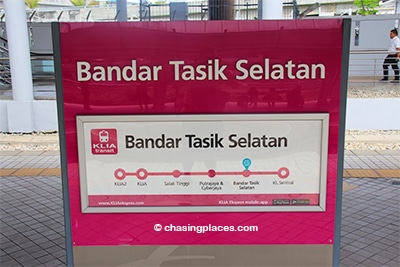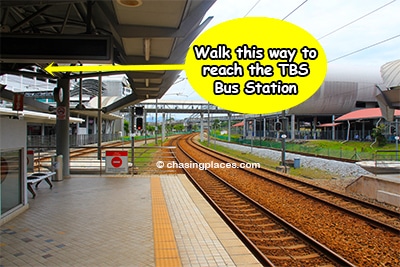 Travel Checklist: Do you have everything you need?
Step 4. Purchase your ticket. 
If you purchased your bus ticket online,  you will still most likely have to collect your bus boarding pass. At the terminal,  they have specific counters to convert your online ticket to an official boarding pass. T
If you haven't purchased a ticket online, look for the bus company you want to travel with and purchase one to Melaka. The cheapest bus to Melaka from Kuala Lumpur is 10 RM (approximately $3.00 USD), whereas the average ticket price ranges from 13-15 RM.
Step 5. Walk to your designated boarding gate as your bus will pick up passengers from there. 
Once you have your ticket, follow the signage to your boarding gate. TBS is set up sort of like an airport, therefore it's easy to navigate.
Step 6. Enjoy the ride!
The bus ride from Kuala Lumpur to Melaka should take anywhere from 2 hours to 2 hours and 40 minutes. If traffic is light, expect it to take around 2 hours.
Step 7. Arrive at Melaka Sentral, the main bus terminal in the town. 
Most buses going from Kuala Lumpur to Melaka terminate at Melaka Sentral. Make sure that this is where you want to get off.
Step 8. Start sightseeing!
Most tourists that visit Melaka want to go to Jonker Walk – which is right in the middle of Melaka's famous tourist area.
If you also want to get to Jonker Walk then either take a taxi or the public bus from Melaka Sentral. We recommend taking the public bus which conveniently drops tourists off at Dutch Square (100 meters from Jonker Walk).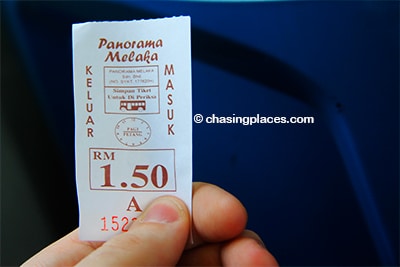 The public bus from Melaka Sentral to Jonker Walk (Dutch Square) picks up passengers from Gate #17 at Melaka Sentral. The public bus departs approximately every 30 minutes and it should take roughly 20 minutes to get to the tourist area. (Updated fare 2 RM, approximately $0.60 USD).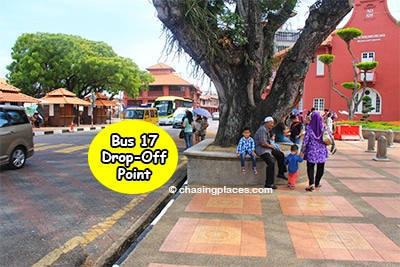 Where did we stay in Melaka?
When we were searching online for our room in Melaka we had one main priority: to be close to Jonker Walk. We didn't want to stay right on Jonker Walk because of the crowds, but still close enough to access the action. Eventually, we decided to stay at Kawan Kawan Guesthouse.
Kawan Kawan turned out to be a nice budget choice.  The staff was friendly and it was conveniently located on a much quieter street than Jonker. It took us 4-5 minutes to walk to Jonker and Dutch Square.
It could get a bit loud at night because the walls separating some of the rooms were a bit thin. At the time of writing it had a score of 7.8/10 based on 225 verified guest reviews. I consider this to be an accurate representation of this property.
How to find the best-priced room(s) in Melaka (Malacca)?
Once you get off the bus in the tourist area of Melaka then proceed to your hotel to drop off your luggage. Melaka has a broad range of boutique hotels around Jonker Walk and we strongly recommend staying in this area. Melaka can get super busy during weekends with many tourists visiting from KL and also from Singapore, so you are best to book well in advance.
To find the cheapest rooms in your preferred location, use the world's best price comparison site. This will quickly compare the prices from the best accommodation providers, guaranteeing you the best available price.
Many of our other readers stick with the same booking site for rewards and superior cancellation policies.  Most commonly, they choose www.agoda.com or www.booking.com for rooms in Malaysia. To save you some time in searching, here are some of the top hotels in Melacca:
Top Rated Properties in Melaka (Malacca) based on Verified Guest Reviews
Important: Mobile Users must swipe from left to right to see entire table.
Criteria:
Properties rated based on 'overall' review scores from each respective website's verified guests.
Minimum of 50 verified guest reviews required to be considered eligible for comparison.
All star ratings and verified guest review scores are tallied at the time of writing, and therefore, are subject to change.
You may also use the Search Box below to compare hotel prices:
We hope that this information will make your trip from Kuala Lumpur to Melaka much more convenient. If you found this post helpful, please share on your favorite social media platform to help other travelers on thier trip to Melaka.
Keep on chasing places!