Melaka, Melaka and more of Melaka. That must be the "motto" for both domestic and international tourists staying in Peninsular Malaysia. Melaka (also known as Malacca) is an excellent UNESCO World Heritage City to check out whether you have flown into Kuala Lumpur or Singapore. So what makes Melaka so popular after all? Well, it's got a healthy range of historical sites to explore, great shopping, delicious Nyonya cuisine and a vibrant night market on weekends to check out.  That "night market" is located along Jonker Walk – the most famous street in all of Melaka. To put Jonker Walk into perspective, it is a milder, but more cultural version of Bangkok's Khao San Road. Instead of tourists getting treated to exotic bugs and pulsating music, they tend to sample traditional Chinese hawker food and the local arts scene.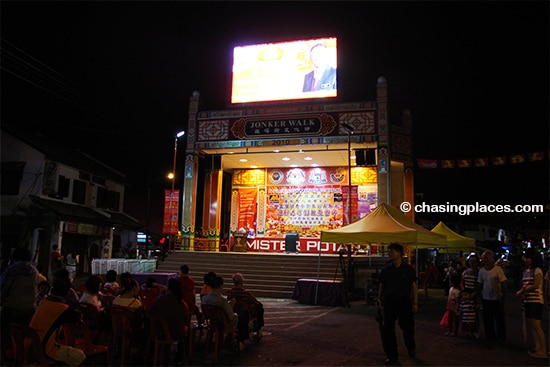 My travel companion and I have been to Melaka and the Jonker Walk Night Market on numerous occasions and I hope to provide you with a meaningful review of our experience visiting the main artery of Melaka.
Like most night markets in South East Asia, Jonker Walk starts off slow and continues to grow as the night progresses. Despite its name, Jonker Walk is not entirely closed off to road traffic during the daytime. On weekends, before the market officially opens, it is common to see Jonker jammed with tourists and the odd car trying to squeeze through all the distracted pedestrians. During my most recent visit to Melaka, I couldn't help but ponder why the road isn't completely vehicle free (at least on weekends)? Fortunately, I didn't have to wait too long before vendors started showing up, pulling all kinds of goodies out of rustic boxes and plastic bags. Once the market stalls started popping up, the cars started to disappear. Jonker Night Market had officially begun.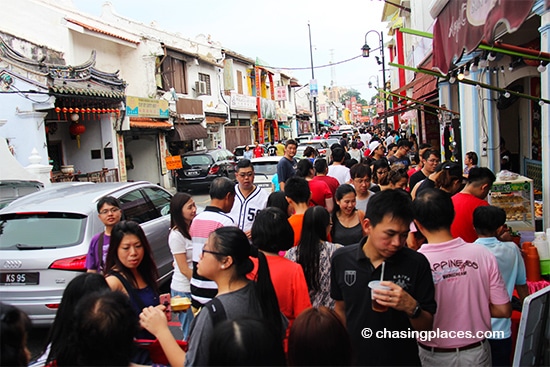 With rows of permanent shops on both sides of the road and two lines of market stalls there is no shortage of merchandise and food to keep you occupied for a couple of hours. One of the strengths of the Melaka night market is the balance it strikes between commercialized goods, artwork, traditional medicines and the prices they are offered for. Unlike many other markets in South East Asia, Jonker's initial prices might be inflated but not nearly as much as Petaling Street in Kuala Lumpur or the markets found in Bangkok. The vendors tend to take on more of a volume approach to sales opposed to completely ripping off tourists. Therefore, if you are travelling on a budget or travelling with children you can actual plan to buy a few things without feeling guilty for the rest of your visit.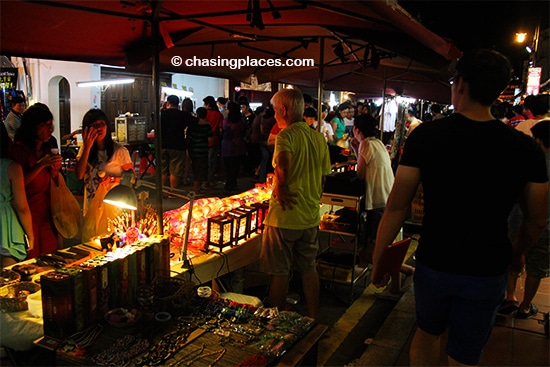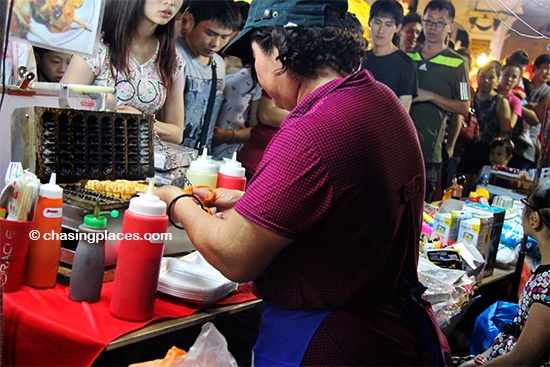 If you are lucky and you visit the Jonker Walk Night Market during one of the major Chinese celebrations (like Chinese New Year's for instance), they often have performances on a well maintained stage right in the heart of the action. If this is the case during your visit, either try to get a seat early or park yourself at one of the nearby hawker stalls and enjoy one of the famous Malaysian meals like chicken satay with ice lemon tea (lemon ice). This is what Melaka is all about – cheap hawker food, Chinese street lanterns, an upbeat street vibe surrounded by historical architecture.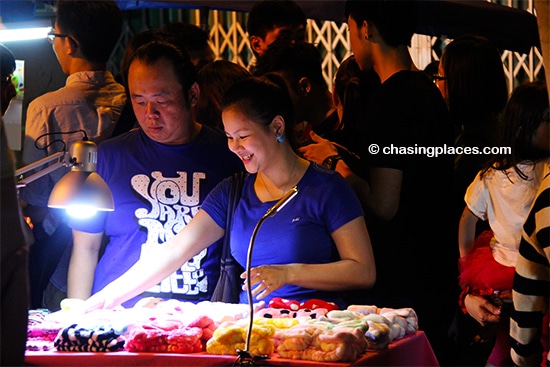 Travel Checklist: Do you have everything you need?
Since Melaka is an extremely popular tourist destination, the market can sometimes feel a bit claustrophobic. Although large crowds can make Jonker Walk exciting, consider taking a detour to get some fresh air.  Many of the tiny narrow streets in the vicinity of Jonker Walk are charming with worthwhile attractions to see.  During our last visit, I walked over to Kampung Kling Mosque.  It was nicely illuminated so I spent 20 minutes or so taking photos from different angles.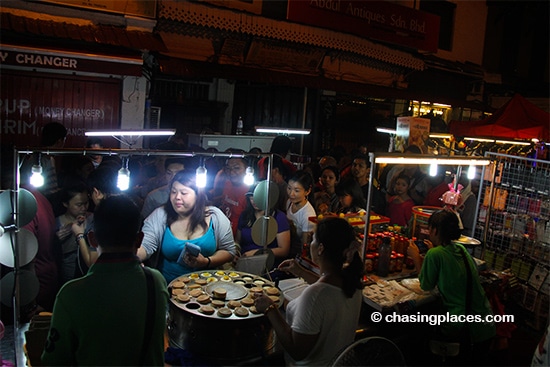 Based on my experience visiting Melaka and Jonker Walk, I would recommend staying at least one night opposed to making it a day trip. There are a few reasons why I say this.  First off all, if you stay at the night market until after 10 pm, the crowds significantly decrease making it a more laidback shopping environment. Also, the area around Dutch Square and the Melaka River take on a whole different ambiance when they are lit up in the evening.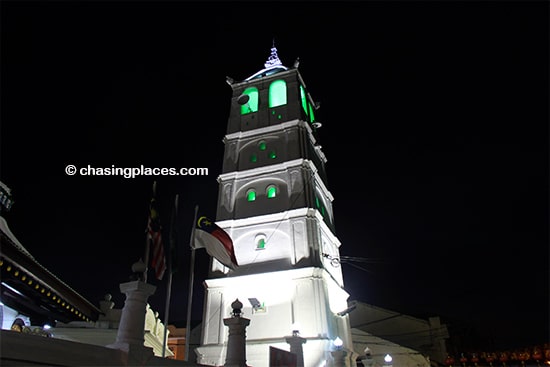 Where did we stay in Melaka?
We have visited Melaka multiple times.  Each time we try to stay very close to Jonker Walk but not directly on the busy street. During our last trip we stayed at Kawan Kawan Guesthouse. It's a nice budget option less than 5 minutes from Jonker. Nothing fancy by any means, but adequate for our budget at the time.  It had a score of 7.8/10 based on 231 verified guest reviews at the time of writing.  If you are looking for something a bit more comfortable then consider Casa Del Rio Melaka Hotel or Majestic Malacca Hotel. Please keep in mind that we don't have a direct affiliation with these properties, this is just our honest opinion.
Want to find the cheapest rooms in Melaka?
Due to Melaka's popularity (especially on weekends) I strongly recommend booking your room online well in advance. Melaka has many well-maintained boutique hotels near Jonker Walk that are conveniently located and very affordable.  But they do fill up early. The most extensive range of hotels in Melaka can be found here. Before, you book however, be sure to use the map tool to find out how far your room is from Jonker Walk and Dutch Square. Melaka can be swelteringly hot, so you don't want to be too far away. Although www.agoda.com is the most popular hotel provider in Malaysia, often our readers prefer www.hotelscombined.com due to their world class price comparison search widgets.  
To save you valuable time:
Top Rated Properties in Melaka (Malacca)
Based on Verified Guest Reviews
Important: Mobile Users must swipe from left to right to see entire table.
Criteria:
Properties rated based on 'overall' review scores from each respective website's verified guests.
Minimum of 50 verified guest reviews required to be considered eligible for comparison.
All star ratings and verified guest review scores are tallied at the time of writing, and therefore, are subject to change.
Use the Search Box below to compare hotels in terms of prices: