One of the major reasons why seasoned travelers make their way to the Hida region of Japan using their rail pass is to visit the villages of Shirakawa-go and Ainokura. And if you're wondering why these particular villages are so special and why they have been declared UNESCO World Heritage Sites; the answer lies on the traditional thatched-roof houses exhibiting the Gassho-Zukuri Architecture.
Why a Gassho House?
Gassho style houses are quite unique and incredibly fascinating due to their design. And although these houses look so lovely during summer and fall against a backdrop of mountains and foliage; the real reason the Japanese folks came up with these ingenious homes is because of the harsh winter that the Hida region experience.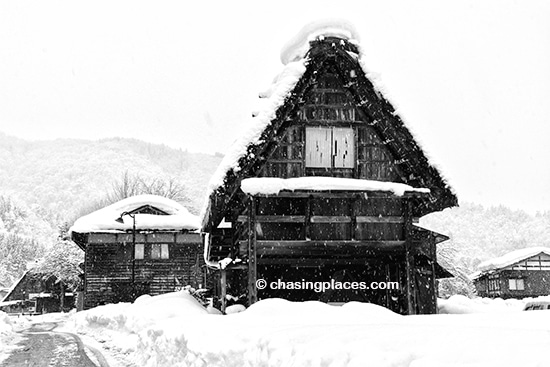 The Ingenious Layout
A Gassho house features a wooden frame and a straw roof that is noticeably steep and slanted. The straw that forms the roof is said to be made of special grass grown in the region. The roofs are intentionally sharply angled to prevent the accumulation of heavy snow. In fact, the term Gassho, means "prayer" in Japanese. This name is in reference to the appearance of the roof, which resembles two hands clasping to pray. Some of the Gassho-Zukuri farmhouses have been in existence for more than 250 years. However, the Gassho roofs can last for about 40 years, and then they need to be changed.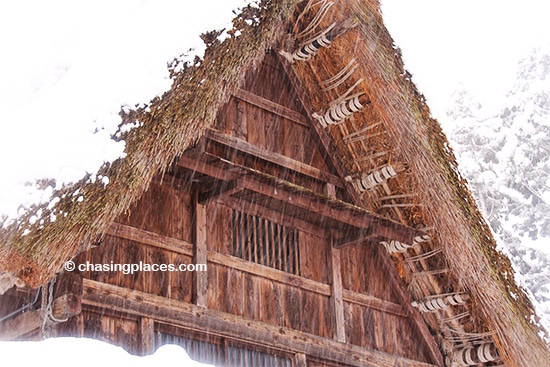 When it's time to change the roofs on Gassho houses it becomes a significant community event.  During this remarkable day, around 300 villagers and volunteers work together to change all the roofs in the entire village. And they finish everything all in one day!  The Gassho-style houses are indeed the perfect representation of Japanese ingenuity, efficiency and strong sense of community.
Gassho houses usually have two floors. The first floor is the main living area for the inhabitants. The second floor or attic was traditionally used for silk cultivation centuries ago. The house's materials are meant to be heat absorbent; such that the smoke that comes out from cooking on the first floor, naturally heats up the entire home! The average Gassho-style home is quite huge and traditionally houses 40 to 45 people.  Lower-income families tend to live smaller Gassho houses.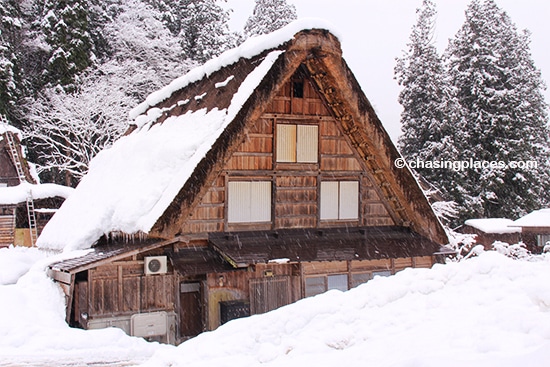 Travel Checklist: Do you have everything you need?
Shirakawa-go and Gokayama
The Ogimachi Village in Shirakawa-go and the Ainokura Village in Gokayama are the two major communities where some of the region's best Gassho-style houses can be found.  Conveniently, these two fascinating villages are just a few hours from the city of Takayama.
The best way to visit these villages is by taking a day tour being offered by several tour companies in Takayama. One of the tour companies called Nohi Bus is located close to the main train station of the city. Here, you can reserve a spot on the tour bus, but you are only required to pay on the day the bus leaves.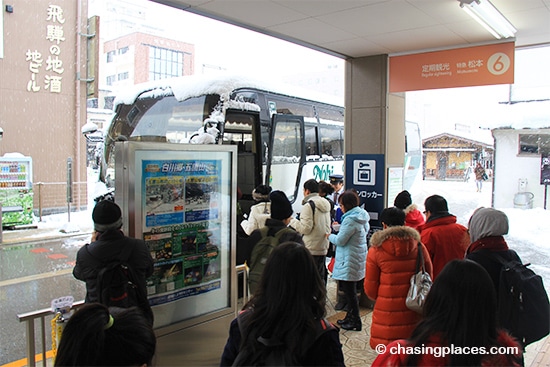 It's possible to reach Shirakawa-go and Gokayama by public transport, but it is not the most straightforward and convenient means as it involves more planning especially if you're visiting in winter.
The Tour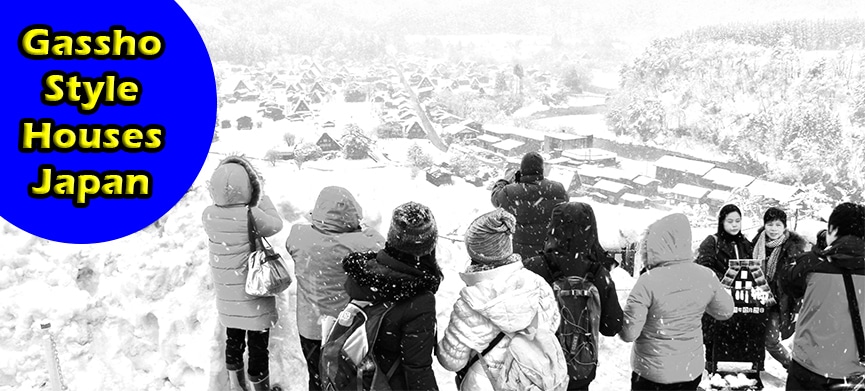 Although we are typically not so fond of organized tours, the tour provided by Nohi Bus was definitely worthwhile.  The tour bus loads around 40 passengers and bring them straight to the two villages.  While on the bus, an English-speaking guide further explains the history and architecture of the Gassho –style houses. She/he will also discuss some pertinent information about the Hida region, including significant landmarks, which the tour bus will pass by.
The whole day itinerary starts with the tour bus first stopping at the more remote Ainokura village. It is a relatively small village that exudes a less touristy ambience. The Gassho homes in Ainokura are all authentic and functional living spaces. Thus, inhabitants here are more concerned about their privacy.  Tourists are more restricted in exploring the village and tour buses are only allowed to stop by for less than hour.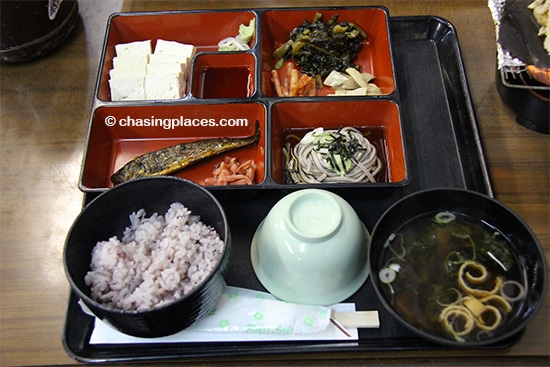 The tour price includes a traditional lunch called Tenshukaku at a restaurant close to Shirakawa-go village. After this, the greater portion of the tour is allocated to exploring Shirakawa-go. Tourists are given a couple of hours to freely roam the bigger village, with has Gassho homes converted into tourism and commercial establishments.
By far the most popular way for tourists to get all the way up to Takayama is by using the Japan Rail Pass. We recommend purchasing one well in advance because you have to order it from abroad before you activate it at a rail station in Japan.
Where did we stay during this trip?
Since we visited these UNESCO sites as part of a day trip from Takayama, we stayed right in the vicinity of Takayama's main bus and train stations.  We really scored with a great place to stay – Ryokan Seiryu Hotel.  We don't have a direct affiliation with this property, but we will still recommend it due to the excellent stay we had.  It was very clean, well managed and it provided the local, authentic Japanese experience we were looking for. The super clean onsen is also a bonus.  At the time of writing it had a score of 8.5/10 based on 87 verified guest reviews.
How to get the cheapest rooms in Takayama?
Takayama is without question the most convenient place to stay if you wish to take a day tour to see these Gassho-style homes. You're best shot at finding the cheapest room will most likely be with a large hotel provider such as www.agoda.com and/or www.booking.com. Alternatively, many of our readers prefer to do a price comparison before they book their room(s).  I personally use www.hotelscombined.com because of the top quality providers that they compare between. To save you some time, I have created links to their property lists for Takayama:
Top Rated Properties in Takayama Based on Verified Guest Reviews
Important: Mobile Users must swipe from left to right to see entire table.
Criteria:
Properties rated based on 'overall' review scores from each respective website's verified guests.
Minimum of 50 verified guest reviews required to be considered eligible for comparison.
All star ratings and verified guest review scores are tallied at the time of writing, and therefore, are subject to change.