Well why not? During our trip to Japan, Takayama was one of those places that pleasantly surprised us, and we are so eager to tell you why.
1. It is Scenic and Charming
Situated in the Hida region, Takayama is a city that acts and feels more like a small town.  Adorned with many lovely bridges that go over rivers and connect streets, Takayama is quite scenic. In our opinion, the beauty and charm of the city is even more elevated during winter when fluffy snow adds more character to the bridges. But it is quite clear that during certain winter days, the city receives more snow that it can handle. In fact, there was a snow storm that did some infrastructure damage the night before we arrived.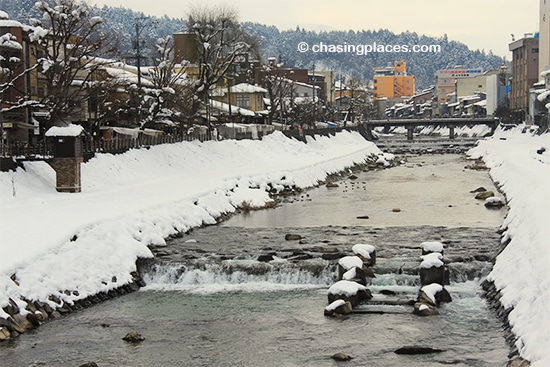 2. It Offers Tourist-Friendly Sites
There are not too many high-rises in the city center. Instead, the commercial buildings tend to be two to three-stories high. It is quite clear that most businesses thrive in tourism and local consumerism. Everywhere we went, we always encountered pubs, bars, restaurants and shops selling all sorts of items. The city is also packed with shrines, temples, museums and galleries that make sightseeing here absolutely enjoyable.
Getting up early in the morning may not sound too enticing when you're on vacation, but it can be quite worthwhile if you're heading out to Takayama's morning markets, locally called Asa-ichi. The two more prominent ones include the Jinya-mae Morning Market and the Miya-gawa Morning Market. Both are only a five-minute walk from each other. You can find Jinya-mae right in front of Takayama-jinya; while Miya-gawa is situated along the east bank of Miya-gawa River.  The morning markets feature various stalls selling snacks, local crafts and fresh produce. The Fuji Apple bought from these markets, are some of the best we have ever had, not to mention that they are sold cheaper here than at supermarkets.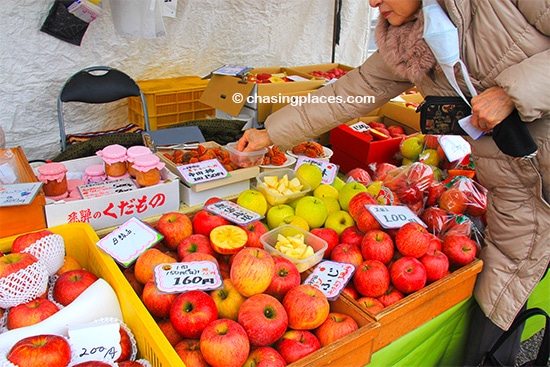 Takayama also hosts the Takayama Matsuri, one of the greatest festivals in Japan, which is divided into two parts. The first one (Sanno Matsuri) being celebrated on April 14th and 15th while the second one (Hachiman Matsuri) is held on October 9th and 10th. The festival is a certified domestic and international tourist magnet so make sure to book your accommodation well in advance if you want to witness this grand celebration.
3. It is an ideal Gateway
One major reason to visit Takayama is its location. The city has been known for being the ideal base to see the major attractions in the Hida region and Northern Japan Alps.  From the city, you can easily book day trips to UNESCO World Heritage Sites like the Shirakawa-go thatched roof villages and the Japanese Alps.  Takayama also has the greatest number of hotels and guesthouses in the region, so it makes sense to make this your home base when you're exploring the region.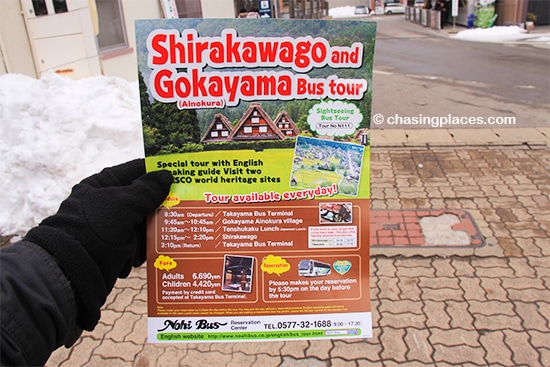 Travel Checklist: Do you have everything you need?
4. It Offers a Great Culinary Experience
Although Takayama is mostly used as a gateway, spend at least one day exploring the city.  Dining here can be a memorable experience especially if you try the local specialties such as the soba and Hida Beef. But be warned that beef is quite pricey in the city – particularly when ordered in restaurants. But if you have the budget, I say go for it! Hoba-miso is also one of the specialties in Takayama and the rest of the Hida region. Hoba-miso refers to a miso paste grilled on a magnolia leaf. The magnolia leaf seems to enhance the flavor of this paste, making it taste sweet, a little sour and smoked at the same time. We fortunately got the chance to try this odd paste, and we highly recommend it to anyone!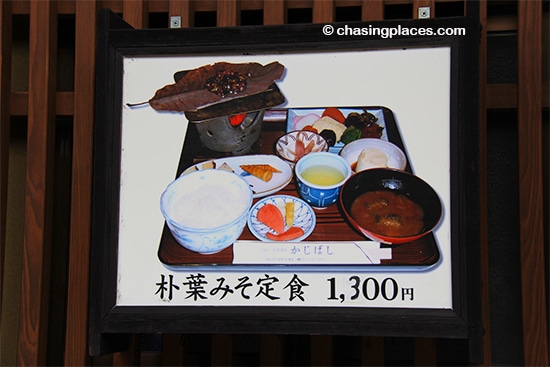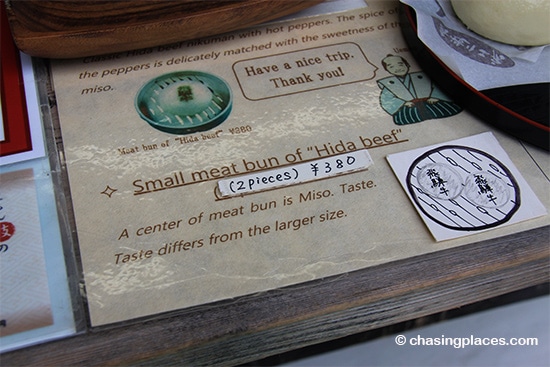 5. It is Accessible by Public Transportation
Takayama is served by Japan Railways (JR), particularly the Takayama Line. Thus it is easy for any visitor who acquired a Japan Rail Pass to reach the city. On a clear day, the train ride to Takayama is very picturesque because of the rivers, valleys and mountainous terrain you will see along the way.  The Takayama Line also serves neighboring cities like Gero, known for its outdoor onsens (hot pools) and Toyama, visited for its fresh seafood dishes.
Want to find the cheapest rooms in Takayama?
Takayama has a solid range of rooms that can suit all budgets.  Try to use a large provided such as www.agoda.com, www.booking.com and/or www.hotelscombined.com. Of these three Agoda has the largest selection, but www.hotelscombined.com is a solid choice if you want to compare prices prior to booking. To save you time, here are the:
Top Rated Properties in Takayama Based on Verified Guest Reviews
Important: Mobile Users must swipe from left to right to see entire table.
Criteria:
Properties rated based on 'overall' review scores from each respective website's verified guests.
Minimum of 50 verified guest reviews required to be considered eligible for comparison.
All star ratings and verified guest review scores are tallied at the time of writing, and therefore, are subject to change.