Visiting Villingili is a convenient day trip from the Malé. Visible from Malé's western shoreline, Villingili is a great spot to take a break from the busy street traffic and the high population density that is found in the capital city of the Maldives. With a couple pleasant beaches and tree-lined roads, consider packing your lunch and spend the day on Villingili. During our recent trip to the Maldives we took the public ferry to Villingili from Malé and we would recommend this mode of transport, taking into account how cheap and convenient our journey was.
Full Transparency: Here are the main websites we used for planning this trip to Male, Villingili and the Maldives:
World Nomads Travel Insurance. 24/7 coverage for 150+ adventure activities. Very Reliable. Get a Quote
Momondo, Booking Buddy. We always use these 2 great price comparison sites to find the world's cheapest flights.
Agoda, Booking.com, HotelsCombined. We have relied on these 3 accommodation sites for over 10 years.
See the Complete List of all the Cost-Cutting Travel Resources we use here….
Below is a step-by-step guide on how to get to Villingili from Malé:
1. The ferries heading to Villingili are located along the southwest corner of Malé Island. The Villingili Ferry Terminal is hard to miss. Just walk along the coastal road and you will be sure to spot it.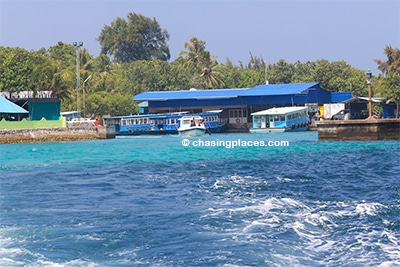 2. Purchase your ticket at the counter. During our trip the one way price to Villingili from Malé was 3.25 MVR (Approx. $0.20 USD). Yeah, it's that cheap!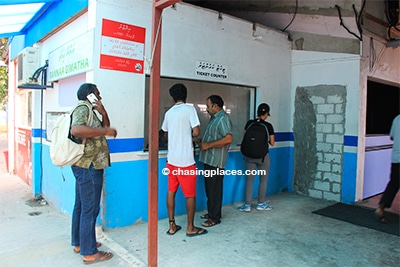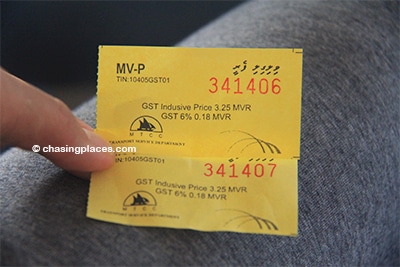 3. Ferries run quite frequently to Villingili from Malé, therefore take your time to make sure that you board the correct ferry. Other ferries depart to other Maldivian islands from the same terminal.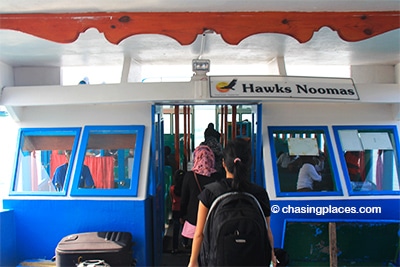 Travel Checklist: Do you have everything you need?
4. Since the trip is very short, it should take only approximately 10 minutes to get to Villingili from Malé or vice versa. 
5. Once you arrive at Villingili's Ferry Terminal simply disembark and you are good to go.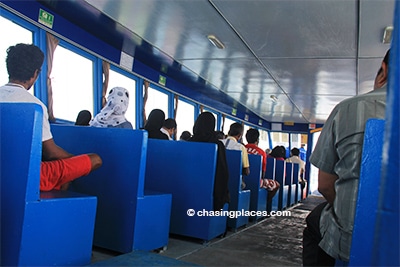 6. Whenever, you are ready to go back to Malé from Villingili proceed to the ticket counter located in the small ferry terminal. The ticket should cost the same amount and the travel time should be 10 minutes.
Want to find the cheapest rooms in the Maldives?
The Maldives can be a ridiculously expensive place to visit if you don't do your homework.  Research early the places you want to visit and accommodation choices available. I primarily used this price comparison site for my entire trip.  Probably your best bet is with www.hotelscombined.com – which has one numerous awards during recent years.
If you want to book a hotel close to the ferry terminal that services trips to Villingili click here. Feel comment below if you have any additional questions about Villingili or our journey to this quiet island getaway.
Enjoy your travels!