Aside from the capital Tokyo, Kyoto is one of the most popular cities in Japan. Kyoto enjoys its world-renowned fame due to the sheer number of historical and cultural sites it possesses.   Kyoto has some of the best Buddhist temples and Shinto shrines in the country, with a large number of them declared as official World Heritage Sites by UNESCO.
If you only have a few days in Kyoto, it may be hard to see all these temples along with other pertinent sites. So if you ask us how to explore Kyoto, our simple answer would be: "It depends…."  As travelers, we all have our individual priorities and preferences. At Chasing Places, we try to strike a balance in terms of visiting attractions especially if we have a limited period of time.  We want to see marvelous architecture, see art up close, experience culture and learn a little about history. We love to be in a very lively atmosphere but also appreciate the serenity offered by nature.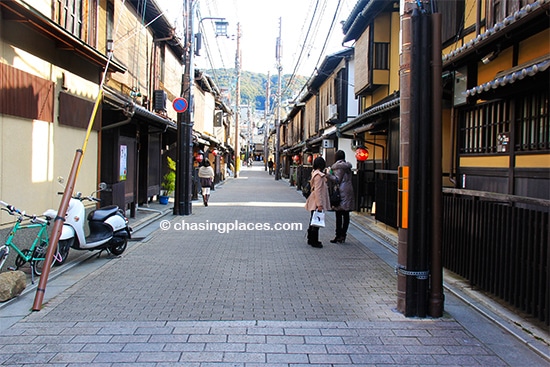 Out of all the temples in the city, a few would definitely stand out like the Golden Pavilion for instance. There are also fascinating districts and streets in Kyoto that are hard to miss.  Luckily, most of these sites are within short distances of each other. Some of them can be reached on foot. While others, require you to take a bus. But the transport system is the least of your worries when you're in Japan, as everything is organized and on time (incredibly right on the dot!) But if you are still confused about what to visit, here are some of our chosen top places to see when in Kyoto.
1. Arashiyama Bamboo Grove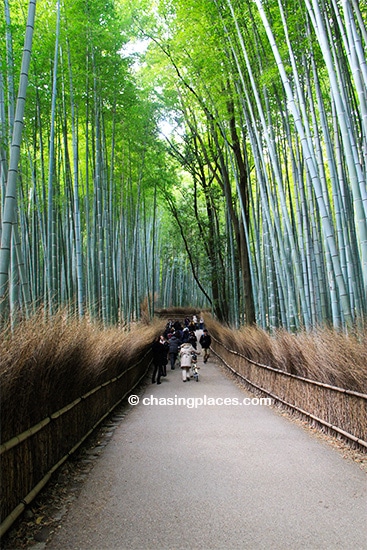 If you want to see something other than pagodas and temples, then the Arashiyama Bamboo Grove in the Sagano Area, makes a refreshing site to visit.  Because it is described as a grove, I expected it to be more extensive than it actually is.  Nevertheless, access to the Bamboo Grove is free. But you do not, technically, go through a thick forest. Instead, the site features a walkway, lined up with multitudes of familiar thin bamboo trees.  The walkway extends less than 1 kilometer; with some parts more impressive than others because of the density of the bamboo stocks sticking out.  Natural lighting from the sun comes through the bamboo trees to add more character to the walkway. If the lighting is soft yet bright, the color contrast to the greenish hue of the trees is simply stunning.  That being said, you may not appreciate it that much if you visit Kyoto's Bamboo Grove on a cloudy day.
At the other end of the walkway, there are other minor attractions like a private garden, a bridge over a nice creek as well as lookout. We visited the Bamboo Grove in the early morning, when there were fewer visitors. The place is quite serene, but it quickly loses its serenity when more people start filling up the walkway. Nevertheless, it was an interesting site worth visiting. Our friends visited the grove at night, and based on their photos, it seemed like the grove has an entirely different appeal at night, when everything around is lit up triumphantly.
2. Gion
Gion is both a modern and historical district. Some parts of the area are filled with commercial establishments and nightlife spots that cater to the massive amount of tourists.  But it also envelops what is called the Geisha District. The first time we heard about this district in Kyoto, we thought it was the only one in Japan. Though we found out that there were other Geisha Districts in the country, apparently, the one in Kyoto is considered one of the most well preserved.
Geishas are the traditional women entertainers during feudal times in Japan.  Geishas are trained to be experts in the fields of art and entertainment.  Cobblestoned streets and lovely old wooden houses dominate the Geisha district. Nowadays, most of these buildings are restaurants and cafes. According to guide books, there are still geishas and maikos (their apprentice) that continue to entertain their rich patrons in the district.  However, they are rarely seen out in the open unless you are willing to pay to see them perform in designated restaurants (locally called Ochaya in the district).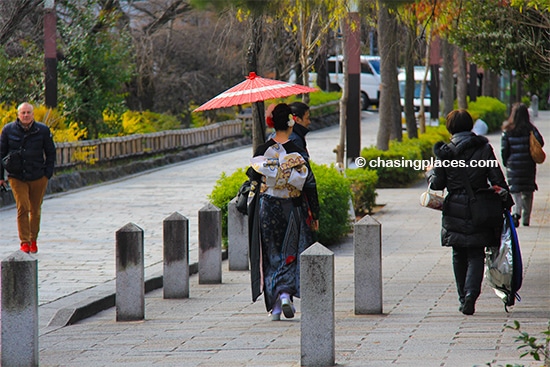 Apparently, Geishas consciously hide from tourists, who have been known to stalk them like the paparazzi.  We actually saw women wearing, what we presumed as, the typical Geisha costumes and makeup. But we were quite sure they were doing this for some kind of pictorial shoot or they just wanted to dupe tourists into thinking they were the real deal!
Geisha or no geisha, the district is worth seeing because of its historical and cultural value. The only problem is that it can get pretty crowded on the main streets as everyone wants a look at this iconic district.
Gion is also home to Shimbashi Street. Also referred to as Shirakawa Minamidori, the street is supposed to be one of the most picturesque in Asia with its cobblestone streets, lovely bridges over canals and cherry blossom trees.
Travel Checklist: Do you have everything you need?
3. Nishiki Market
Nishiki is another refreshing break from your temple-hopping experience in Kyoto.  This extensive market is known for its huge variety of local food and delicacies.  Luckily, Nishiki is not hard to find as it is situated at the center of town, extending all the way to the Tamachi shopping arcade.  The Japanese people love their sushi and seafood, so you will definitely see lots of them. There are also a large number of shops that sell crafts and souvenir items. These items are usually cheaper than the ones sold at stalls near prominent temples.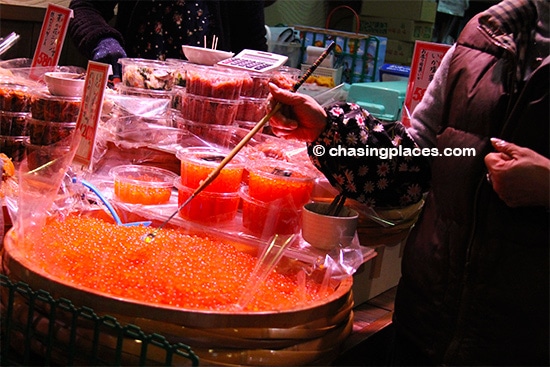 4. Kinkaku-ji Temple (the Golden Pavilion)
If you could only see one temple/shrine in Kyoto, many travel guides recommend the one they refer to as the Golden Pavilion.  Kinkaku-ji is not regarded as Kyoto's most iconic sites for nothing. The pavilion is truly an impressive attraction with its elegant golden exterior that easily glistens under the sun. Too bad the pavilion gives you the 'so near yet so far' treatment as it sits on a piece of land in the middle of a fenced pond. On a clear day, the pond acts as a mirror providing a scenic reflection of the Pavilion.  Visitors can only go around the pond to admire and take pictures of the pavilion from a distance. I guess it is understandable as the temple is centuries old and is the only one of its kind in Japan.  But some visitors may find the entrance fee to the complex, where the Kinkaku-ji lies, to be quite stiff; especially because you are not even allowed to step inside the Pavilion.  Take note that it gets really busy and crowded in the Kinkaku-ji Temple complex especially during holidays.  Try to make it there early in the morning when it opens or late afternoon when most of the crowd usually leaves.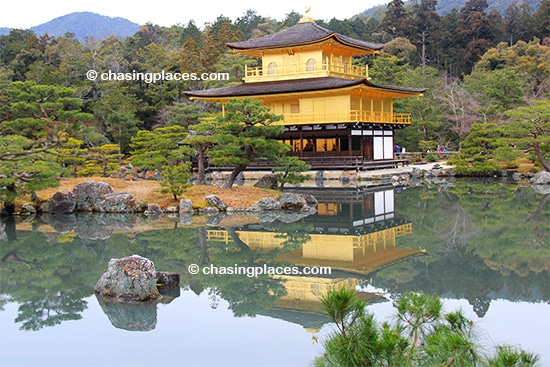 There are other notable temples in Kyoto you can check out if you have the luxury of more time. Some of them include the Kiyomizu-dera Temple and the To-ji temple.
How to find the cheapest rooms in Kyoto?
With so many major attractions in Kyoto it's hard to find a suitable place to stay because you will always be quite far from some of the sights.  During our visit to Kyoto we stayed about five minutes away from Gion.  In our opinion this is the most convenient location for tourists visiting Kyoto.  To select a hotel in the vicinity of the prime attractions in Kyoto click here and use the map tool to double check the location of your hotel in comparison to public transport options. Book well in advance because Kyoto's top trending hotels tend to fill up early due to the high volume of tourists.
Most of our readers prefer one of these three leading providers when it comes to booking rooms in Kyoto (and Japan in general): www.agoda.com, www.booking.com and www.hotelscombined.com.  All of these have solid prices and a wide range of rooms to choose from so they are a good place to start. To save you time, here are:
Top Rated Properties on Kyoto Based on Verified Guest Reviews
Important: Mobile Users must swipe from left to right to see entire table.
Criteria:
Properties rated based on 'overall' review scores from each respective website's verified guests.
Minimum of 50 verified guest reviews required to be considered eligible for comparison.
All star ratings and verified guest review scores are tallied at the time of writing, and therefore, are subject to change.
Alternatively, the search box below will quickly find you the cheapest rooms for your intended dates in the city: