Maafushi Island was once a quiet island in the middle of the Andaman Sea, far removed from tourism and overseas influences. Tourists would visit glamorous resorts and the locals on Maafushi Island would go on with their normal everyday lives. Times have changed, and now, Maafushi Island welcomes tourists with open arms.
Ever since the Maldivian government gave the go ahead for locally inhabited islands to open up guesthouses and small hotels, people who were never exposed to tourism suddenly saw tourists on a daily basis. This drew many questions about how the tourism industry would blossom on these islands, especially considering that the Maldives is an Islamic country with very little Western influence.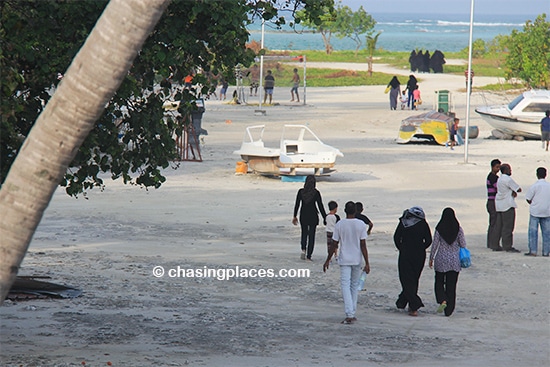 While we were conducting research for our trip to the Maldives I became increasingly excited to see Maafushi. Sure it's smack dab in the middle of the Andaman and surrounded by some of the nicest resort islands in the world, but my excitement was also due to the unique cultural fusion occurring there. I had so many questions about what was appropriate to do on Maafushi and what were the things considered to be culturally insensitive. Would alcohol be served at the guesthouses? Which language(s) would the locals speak? After I took the extremely affordable public ferry from Malé to Maafushi these questions were finally answered.
Full Transparency: Here are the main websites we used for planning this trip to Villingili and the Maldives:
World Nomads Travel Insurance. 24/7 coverage for 150+ adventure activities. Get a Quote
Momondo, Booking Buddy. We always use these 2 great price comparison sites to find the world's cheapest flights.
Agoda, Booking.com, HotelsCombined. We have relied on these 3 accommodation sites for over 10 years.
See the Complete List of all the Cost-Cutting Travel Resources we use here….
Here is my story about our trip to Maafushi Island.
First Impressions of Maafushi
Upon arrival at Maafushi, we were quickly greeted by one of the guesthouse staff members. He quickly whisked our luggage to our room. His level of English proficiency was quite low, but his smile was bright and genuine. Our guesthouse room was bigger than expected. It was clean, nicely decorated and overall much nicer than a typical guesthouse room in South East Asia.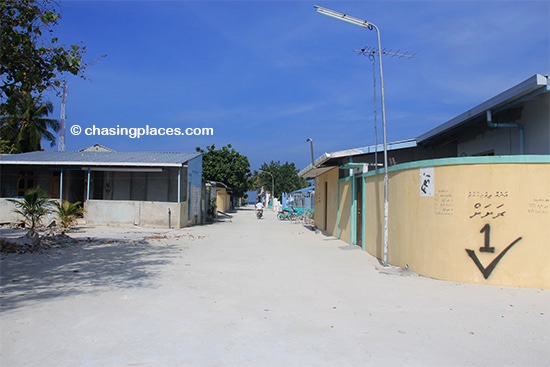 It didn't take us long to start walking around the island. First impressions are always long lasting and I can still remember seeing lots of young local families swimming during sunset, and strolling around the island in a very similar manner to us. The sunsets on Maafushi are best described as stunning. As the sun continued to set that evening more tourists became visible at the candle-lit restaurants along the shoreline.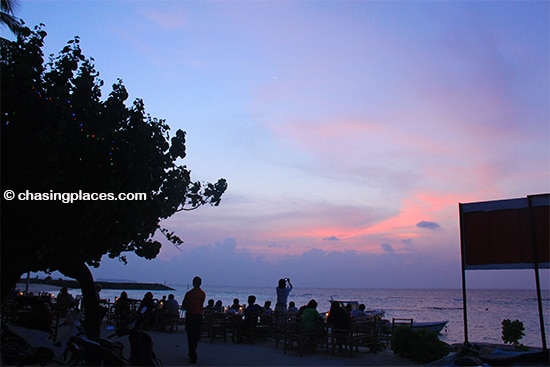 Good Morning…
Before I arrived on Maafushi Island, I also wondered how it would compare with its neighbouring resorts islands in terms of sand quality and water transparency. The next morning I decided to take a stroll to find out. Walking around the island quickly revealed a few interesting observations. First of all, the water along the shoreline of Maafushi is very clear and in certain spots does have same powdery white sand that is seen on postcards of the Maldives around the world. It doesn't, however, have a consistent stretch of sand surrounding it like other resort islands do. The "swimming area" has the widest stretch of sand and as you loop around that end of the island there are some beautiful pockets of sand that stretch out into the ocean which resemble mini shoals. A few times during our stay on Maafushi we saw tourists enjoying picnics and sunset dinners on these pockets of sand – something we strongly recommend doing when you visit Maafushi.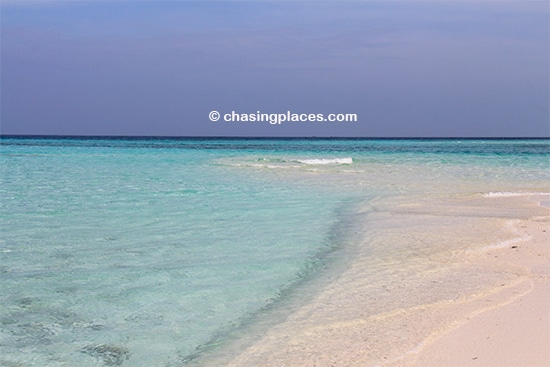 Due to the various day trips available on Maafushi, the island appears to be quite vacant during the day with many tourists island hopping, diving, and visiting resorts. This enable me to take some unobstructed photos of the sandy streets on Maafushi. Many of the properties lining the sea have been converted into small hotels and guesthouses, therefore to get a true feel for the traditional way of living on the island, consider walking through the interior residential area. Here, you will find small homes painted in surprisingly vibrant colours. Most of them are surrounded by prominent cement walls, which appear to be there as a form of protection from heavy rain and winds. We also noticed plenty of homemade chairs outside. Similar to the capital city, Male, Maafushi has a significant number of these steel-framed, mesh chairs that do a great job of creating a comfortable, yet affordable seat. I never saw any locals sitting on these chairs during the hottest hours of the day but early in the morning and after 5 pm it was nice to see some local conversations going on.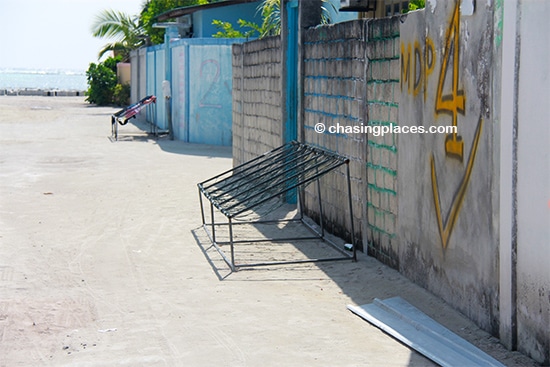 After I finished walking around the island, I decided to wander out onto the rocky wall that protects Maafushi's beaches and anchored boats from the incoming tide. Since the sun was in the process of setting, it coincidentally turned out to be the perfect time to explore this quiet "extension" of Maafushi. Although the sunset was more than enough to keep me entertained, some lively crustaceans began to surface from the shadows below. I couldn't get over how quick they darted back and forth, never allowing me to get within an arm's reach of them. Eventually I managed to get a few photos using a super-fast shutter speed. And as the sun disappeared before me, so did the crustaceans. It was now time to try some other Maafushi delights, as me and my travel companion prepared for a candle-light dinner meters away from the Andaman Sea.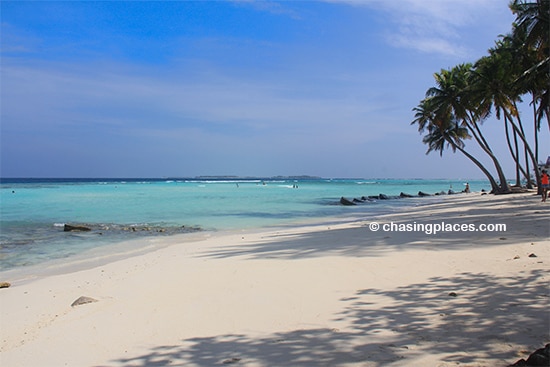 Travel Checklist: Do you have everything you need?
Maafushi Island Post Trip Reflections
When I now think back about my experience visiting Maafushi Island, a couple things come to mind that will hopefully help other travelers who are contemplating a visit to Maafushi. First of all – it's very relaxing. If you want to spend four or five days lazing around in crystal clear waters, far removed from honking horns and traffic jams look no further. But the thing about Maafushi is that due to its location, heavier action is always at your fingertips (diving, snorkelling, big game fishing, etc.). These day trips will indeed seem expensive in comparison to chilling on the beach, but the option is always there.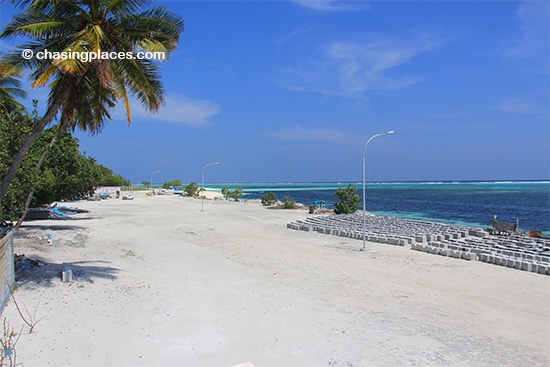 Although the locals dress conservatively on Maafushi, most of the tourists wore similar clothing to anywhere else during our visit on the island. If you plan to wear a bikini, try to wear it only in the swimming area because there is a fence set up to make sure no one offends the locals. You can buy alcoholic drinks on nearby resort islands if you are really thirsty for a beer or a glass of wine.
I also think that Maafushi is an excellent location for family travel, especially if you have small children. No road traffic, a healthy range of restaurants and a very safe environment remove many potential causes for concern. Parents will be able to relax much more knowing that streaking tuk tuks and transport touts will not be passing by every 5 minutes looking for business. The restaurant staff and hotel staff will be able to speak English, so communication shouldn't be an issue if you need to find something. As long as you bring plenty of sunscreen and swimming gear, your children should be more than content splashing in paradise.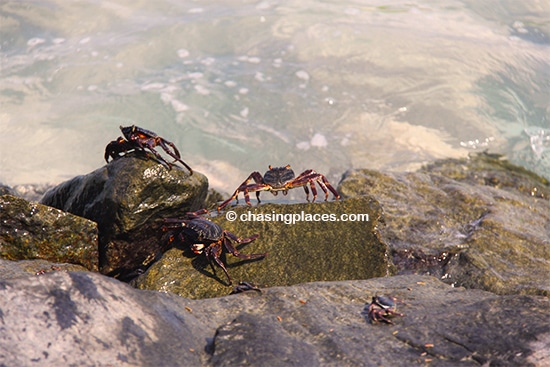 It's also important for me to make it clear that Maafushi is not the place to visit if you want neon disco lights and pulsating night-club music. Early nights and early mornings would be an appropriate way of describing the local life on the island. So if you want a big part scene simply go somewhere else.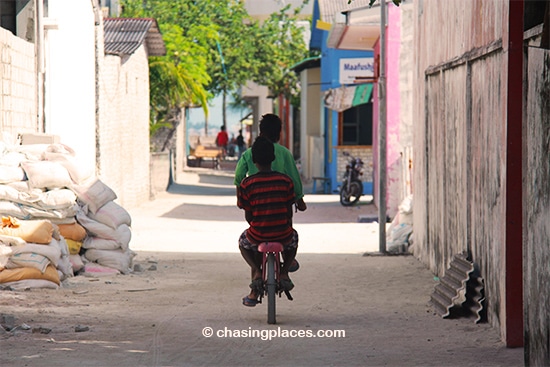 With a country blessed with so many gorgeous islands, it is admittedly quite difficult to find one that will fulfill the needs of every traveller. Maafushi has a lot to offer, but it's not for everyone. Some of our related articles about Maafushi and other locations in the Maldives can be accessed here. If you still need some more information to make your decision, I would be more than happy to help! Just drop a few lines in the comment section below.
How to find the cheapest rooms on Maafushi Island?
Based on our experience talking to the local hotel/guesthouse staff members on Maafushi the most popular booking site that their guests use is www.booking.com. Another solid alternative is using a price comparison site such as www.hotelscombined.com. Since Maafushi is quite remote you want to use a site that has a large selection.  Smaller booking sites might only have a few rooms to choose from which will severely limit your options.
Top Rated Properties on Maafishi Island, Maldives
                 Based on Verified Guest Reviews
Important: Mobile Users must swipe from left to right to see entire table. 
Criteria:
Properties rated based on 'overall' review scores from each respective website's verified guests.
Minimum of 50 verified guest reviews required to be considered eligible for comparison.
All star ratings and verified guest review scores are tallied at the time of writing, and therefore, are subject to change.
We wish you a safe and enjoyable travels!