When our Canadian friend, Dylan, visited the Philippines for the first time, he was so excited to see Pagudpud, as he had heard that it is the "Boracay of the North". But what he didn't know is that comparing Pagudpud to the top commercial beach in the Philippines has more to do with their natural beauty; not infrastructure nor the flow of the visitors they receive. Indeed, there are many things about Pagudpud that make it so different from Boracay. I am not saying that this is a bad thing nor am I favoring one over the other. I personally adore Boracay, with its majestic White Beach that boasts incredibly clear water and powdery sand. But it has to be taken for what it is; a crowd-pleasing party beach coupled with an energetic atmosphere.
The truth is Pagudpud is almost the complete opposite of Boracay. If they were sisters, Pagudpud would definitely be the more laidback and shyer one; who intentionally avoids flashy clothes, accessories and make-up. So it's safe to say that our friend was hugely surprised when he finally set foot on the beach town, nestled along the northwestern coast of the Philippines' Ilocos Region.This young traveler reached Pagudpud by nightfall. As he related to us, he got dropped off at a waiting shed by the bus, which he took from Laoag City at around 7:30 pm.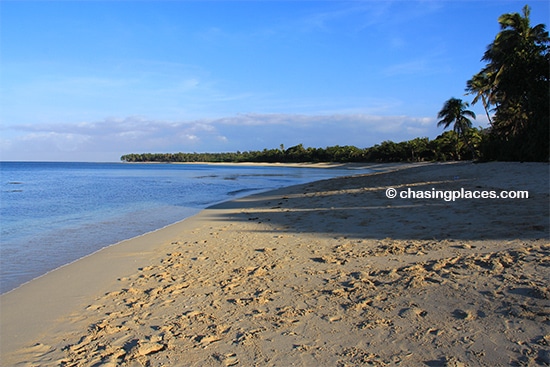 After getting off the bus, the poor guy probably thought that he would be greeted by neon lights, party revelers and quintessential beach tunes like Bob Marley's "Buffalo Soldier". This was not the case. There was no late-night crowd prancing about, no bars filled with drunken pub crawlers, no slew of fancy buffet restaurants. Just him, the dimly-lit waiting shed, and probably, crickets in the background.
"It was pitch dark and there was nothing. I felt I was in the middle of nowhere," he quipped. He eventually saw a tricycle driver who asked him if wanted a ride to his guesthouse. He agreed right away as he did not want to be left alone at the waiting shed. He was taken onto this narrow unpaved road that snakes into a faintly lit neighborhood. He could barely see anything but he immediately noticed some dogs on the street barking and chasing after their tricycle. I imagine he was a little scared then, but he looked more amused while narrated to us his adventure.
To be clear, our friend did not opt to stay at one of the more 'upscale' resorts in Pagudpud. We all decided to meet up and stay at a guesthouse in the municipality of Saud. We arrived much later that night, with an amusing story of our own: We caught the last bus passing through Pagudpud that night; and we had to stand for almost two hours because it was packed!
"Well…. Pagudpud, they say, is the Boracay of the North," Dylan declared while chuckling.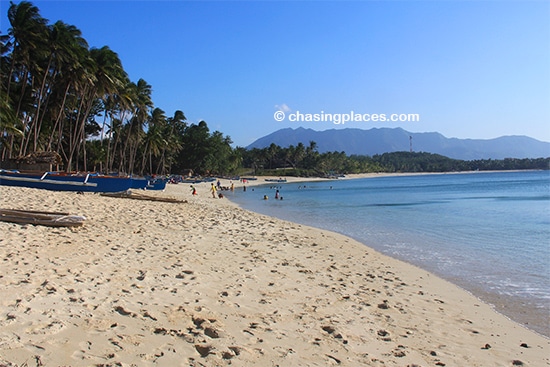 While the beach town may have surprised, and perhaps, slightly disappointed him that night; it eventually managed to astound him in a different ways the day after. The darkness of the night masked the fact that our guesthouse was just a few meters from the beach. Saud Beach is simply captivating. Its sheer vastness, clear blue waters and powdery sand make a wonderful impression on any visitor. This beach features a long stretch of white sand that goes on a slope from the actual ground to the water. Lining the long stretch of sand are palm trees that provide shade. Saud's charm really lies on its raw and serene surroundings.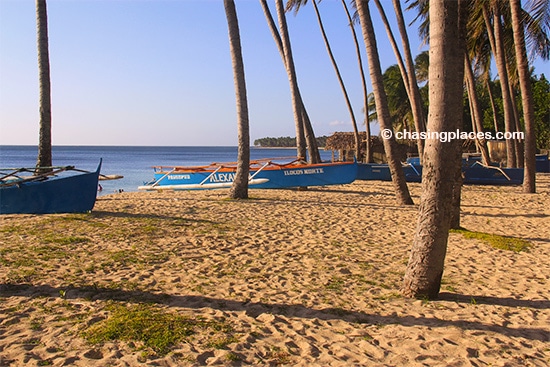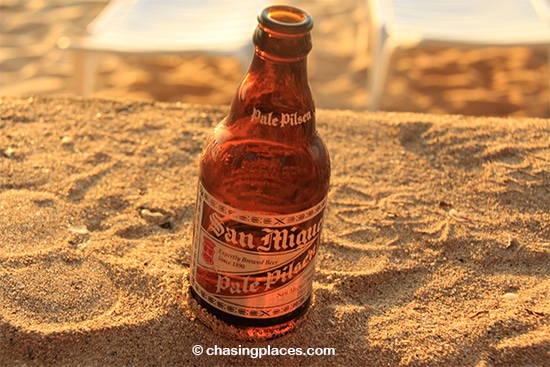 Travel Checklist: Do you have everything you need?
This beach tends to be quite breezy especially during certain times of the year. To harness the natural power of the wind, the local government installed turbines along the province's coastline. From the beach, you can easily see these turbines at work in the distance. Except for the fishermen who were hauling their boats to the shore after fishing early that morning; we did not see a lot of people on the beach that day. As we walked farther from our guesthouse along the shoreline, we eventually encountered some beachside restaurants attached to small and medium-sized resorts. There were not a lot of establishments as one would expect from a beautiful beach such as Saud. In a few random spots there were random picnic huts open along the upper portion of the beach. We even met a group of men who asked us to join them for a drink and mid-afternoon karaoke. Of course this very warm invitation was delightfully amusing to our friend.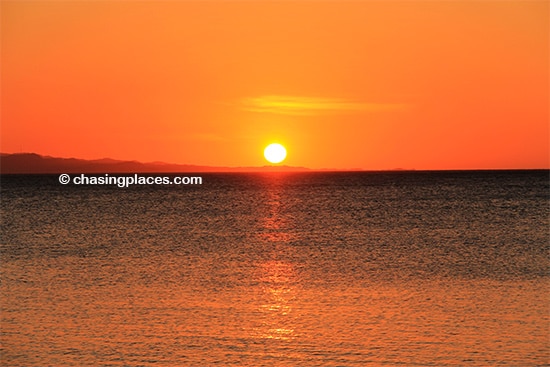 We spent most of the day on the beach; swimming, strolling and just lazily sitting on a hammock. And because Saud is on the west coast, we were also treated to an absolutely gorgeous sunset. In the evening, we had a huge satisfying dinner at one of the seaside restaurants.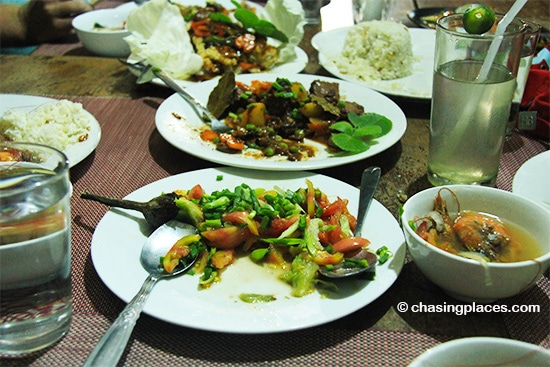 Though he did not say it out loud, the smile and glitter in Dylan's eyes revealed that he thoroughly enjoyed his first beach experience in the Philippines.
"Pagudpud is the Boracay of the North," he repeated cheerfully.
**********
How to get the cheapest rooms in Pagudpud and the surrounding area?
When you start heading towards the northern tip of the Philippines, it becomes increasingly difficult to find rooms online. In this case, your best bet is to use a large hotel provider that offers a suitable selection in the area you want to stay.  I suggest a good place to start is with www.agoda.com. Alternatively, www.hotelscombined.com is another solid option because it's a price comparison site that offers rooms from the world's best providers.
If you have any questions with regards to getting to Pagudpud, Philippines and other destinations mentioned on Chasing Places, please do not hesitate to email us: admin@chasingplaces. We will be happy to answer your travel question(s). Click here to check hotels and resorts in Pagudpud.