Pagudpud is a special town in the Philippines that is blessed with a gorgeous white-sand beach, picturesque scenery and friendly people. We can say that we truly enjoyed our time in this Filipino coastal town.
Part of the reason why Pagudpud does not share the same fame as other beaches in the Philippines is its location. This coastal town is situated in the northwestern tip of the Luzon Island, Philippines.  Thus, getting here is not as straightforward as other Asian beach destinations. But its remoteness is the very reason why Pagudpud is extra special.  If you are jaded with overdeveloped and crowded beaches, Pagudpud makes the perfect choice. Combine its lack of drunken party revelers, as well as its preservation of an ideal raw beach environment with its serene atmosphere and you will fall in love with this town.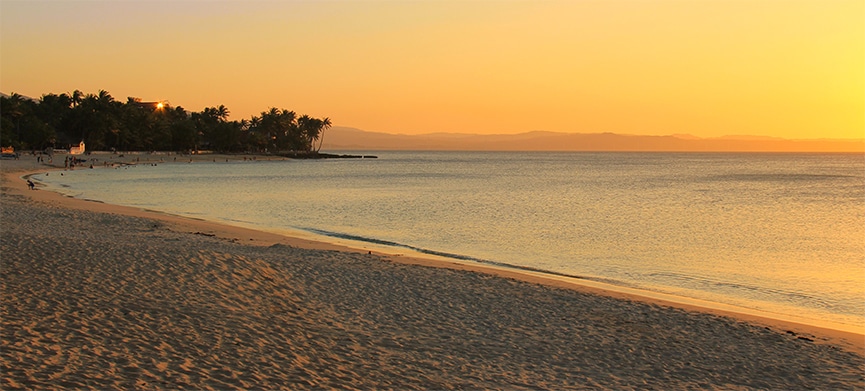 There are couple of ways to reach Pagudpud, and it usually takes more than one transport transfer. But if you want to save some traveling time and maximize your vacation time, here are some steps on how to get to Pagudpud:
1. Book a flight (with Cebu Pacific Airlines or Philippines Airlines) from Manila to Laoag Airport. Laoag is the capital city of Ilocos Norte region of the Philippines and is the main gateway to the town of Pagudpud. It is also a pleasant and clean city in itself. The flight time from Manila to Laoag is about one hour.
Alternative: You also have the option to travel from Manila to Laoag by bus if you have ample time. But take note that the travel time is 12 hours. There are companies that offer sleeper buses that come with built-in toilet, comfortable reclining seats and air-conditioning.
2. Hire a tricycle (local three-wheeled vehicle) from Laoag Airport. Tell the driver that you want to be dropped off at the terminal where jeepneys travel to Pagudpud. The jeepney is a traditional public transport option is cheap but does not have individual cushion seats like a bus. Instead, the seats are set up like benches so you will have to sit side by side with other passengers, and it can get pretty tight!
Click here to see what a jeepney looks like and how to pay for jeepney rides in the Philippines.
The jeepney only leaves the terminal when it is filled up with passengers. But usually the turnover of passengers is relatively quick so you shouldn't have to wait long.  The journey takes about 2 hours. If you have the budget and desire a more comfortable journey; you can also hire a taxi from the terminal to drive you to Pagudpud.
Travel Checklist: Do you have everything you need?
3. If your flight lands at night before 9 pm, chances are there will be no more jeepneys that run to Pagudpud. What you can do is hire a tricycle from Laoag Airport to the city's main bus terminal. Just to make sure, tell the driver that you are catching the bus that goes to Cagayan but drops passengers off in Pagudpud.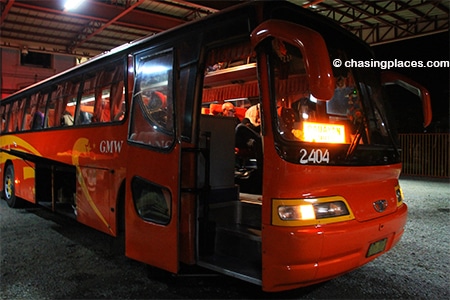 Take note that if you are taking the night buses, especially the last one for the night, a seat is not guaranteed as it is usually packed. Not all passengers are going to Cagayan so the bus dispatcher may ask you if you're willing to stand, while waiting for some passengers to get off. This could be an interesting albeit uncomfortable even risky, travel experience, but if you don't mind the roughness that comes with traveling in Southeast Asia, then it should be something memorable.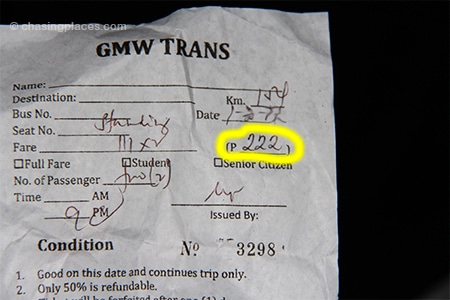 4. If you are taking the bus or jeep, tell the driver the actual barangay (local name for village) you want to go to. But this does not mean that you will be dropped off at the doorstep of your hotel or guesthouse. In most cases, you will be dropped off at a bus stop/waiting shed along the highway.
5. At the bus stop/waiting shed, there will be tricycle drivers who will be waiting to bring you to your exact choice of accommodation. These drivers are locals, so most of the time they will know the owners of the hotels and guesthouses in the area. The tricycle ride should not cost more than 50 pesos.
If you want to get from Pagudpud to Laoag, then simply catch a bus or jeepney heading back along the coastal highway in the opposite direction.  This will take roughly two hours. Once you arrive in Laoag consider staying a night or two as it is an interesting city to visit.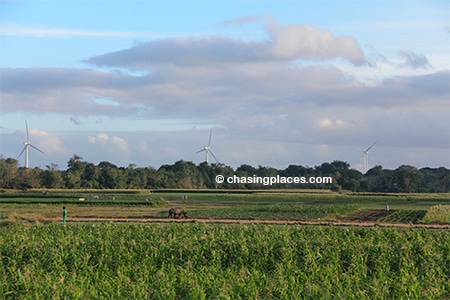 How to find the cheapest rooms in Pagudpud and the surrounding area?
During the planning phase of our trip to the northern region of the Philippines we realized that using a large hotel provider such as Agoda made it a lot easier to find rooms in remote destinations. Agoda worked quite well for us, but many of our readers also prefer using www.hotelscombined.com. Hotelscombined often wins worldwide travel awards for it's highly effective price comparison searches for rooms. Either way, one of these two sites (or both) should help you find the widest selection of rooms at the most affordable prices.
If you have any questions with regards to getting to Pagudpud, Philippines and other destinations mentioned on Chasing Places, please do not hesitate to email us: [email protected] We will be happy to answer your travel question(s). Click here to check hotels and resorts in Pagudpud.